Artists
László Moholy-Nagy
For Educators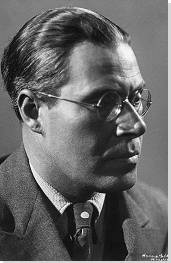 László Moholy-Nagy
Hungarian-American Designer, Filmmaker, Painter, Photographer, Sculptor, and Theoretician
Movements and Styles: Bauhaus, Modern Photography, Straight Photography, Kinetic Art, Op Art
Born: July 20, 1895 - Borsod, Austria-Hungary
Died: November 24, 1946 - Chicago, Illinois

"The enemy of photography is the convention, the fixed rules of 'how to do'. The salvation of photography comes from the experiment."

Synopsis
László Moholy-Nagy is arguably one of the greatest influences on post-war art education in the United States. A modernist and a restless experimentalist from the outset, the Hungarian-born artist was shaped by Dadaism, Suprematism, Constructivism, and debates about photography. When Walter Gropius invited him to teach at the Bauhaus, in Dessau, Germany, he took over the school's crucial preliminary course, and gave it a more practical, experimental, and technological bent. He later delved into various fields, from commercial design to theater set design, and also made films and worked as a magazine art director. But his greatest legacy was the version of Bauhaus teaching he brought to the United States, where he established the highly influential Institute of Design in Chicago.
Key Ideas
Moholy-Nagy believed that humanity could only defeat the fracturing experience of modernity - only feel whole again - if it harnessed the potential of new technologies. Artists should transform into designers, and through specialization and experimentation find the means to answer humanity's needs.
His interest in photography encouraged his belief that artists' understanding of vision had to specialize and modernize. Artists used to be dependent on the tools of perspective drawing, but with the advent of the camera they had to learn to see again. They had to renounce the classical training of previous centuries, which encouraged them to think about the history of art and to reproduce old formulas and experiment with vision, thus stretching human capacity to new tasks.
Moholy-Nagy's interest in qualities of space, time, and light endured throughout his career and transcended the very different media he employed. Whether he was painting or creating "photograms" (photographs made without the use of a camera or negative) or crafting sculptures made of transparent Plexiglass, he was ultimately interested in studying how all these basic elements interact.
Biography
Childhood
László Moholy-Nagy was born in a small farming town in southern Hungary. His father abandoned the family when he was young, and his mother took László and his brothers to live with their grandmother. "I lived my childhood years in a terrible great quietness," he later wrote. Along with his mother and brothers, he left for Budapest in 1913 to study law, but his studies were interrupted when he enlisted into the Austro-Hungarian Army as an artillery officer in 1915. He experienced the horror of war on the Russian and Italian fronts, which remained with him for the rest of his life. During this time as a soldier as he sketched field life, his fellow officers, and the civilians he encountered, he discovered a passion for drawing.
- - - - - - - - - - - - - - - - - - - - - - - - - - - - - - - - - - - - - - - - - - - - - - - -
László Moholy-Nagy Biography Continues

Important Art by László Moholy-Nagy

The below artworks are the most important by László Moholy-Nagy - that both overview the major creative periods, and highlight the greatest achievements by the artist.

Photogram (1926)

Artwork description & Analysis: Moholy-Nagy was fascinated by light throughout his career, and photograms offered the opportunity to experiment with the subtlety of light and shade. To create the photogram, he laid everyday objects on light-sensitive paper before exposing them to light. The brightness of the object's silhouette depended on the exposure time - a longer exposure meant a brighter image. In this photogram a paintbrush lays over Moholy-Nagy's hands, perhaps slyly suggesting the photogram is a medium of art that rivals painting.

Gelatin silver print - Metropolitan Museum of Art, New York

Composition A 19 (1927)

Artwork description & Analysis: Moholy-Nagy's first abstract paintings featured opaque geometric shapes reminiscent of Kazimir Malevich's Suprematist paintings, yet Composition A 19 shows him developing beyond that style into new interests in light and the transparency of forms. The cross motif that appeared in his earlier paintings is here enlarged and doubled, the red and black crossbeams overlapping each other with varying levels of translucency.

Oil on canvas - Art Institute of Chicago

Bauhausbucher 8, Malerei, Fotografie, Film (1927)

Artwork description & Analysis: Moholy-Nagy was responsible for the typography and graphic design of all but three of the Bauhaus books. His primary concern for the design was the rational organization of space. He employed clean lines and typeface to achieve this effect. These designs were his first real exploration of graphic design, which he pursued further in posters and ads after he resigned from the Bauhaus.

Letterpress printed book - Museum of Modern Art, New York
More László Moholy-Nagy Artwork and Analysis:
Influences and Connections
Influences on Artist
Artists, Friends, Movements
Influenced by Artist
Artists, Friends, Movements

Interactive chart with László Moholy-Nagy's main influences, and the people and ideas that the artist influenced in turn.
View Influences Chart

Artists

| | |
| --- | --- |
| | Kurt Schwitters |
| | El Lissitzky |
| | Kazimir Malevich |
| | Piet Mondrian |

Personal Contacts

| | |
| --- | --- |
| | Lajos Kassak |
| | Paul Scheerbart |
| | Walter Gropius |
| | Herbert Read |

Movements

| | |
| --- | --- |
| | Cubism |
| | Constructivism |
| | Suprematism |
| | Dada |

Influences on Artist

László Moholy-Nagy
Years Worked: 1917 - 1946
Influenced by Artist

Artists

| | |
| --- | --- |
| | Robert Brownjohn |
| | Marianne Brandt |
| | Charles Eames |
| | Herbert Bayer |
| | Gyorgy Kepes |

Personal Contacts

| | |
| --- | --- |
| | Walter Gropius |
| | Alfred H. Barr, Jr. |

Movements

| | |
| --- | --- |
| | Geometric Abstraction |
Useful Resources on László Moholy-Nagy
If you see an error or typo, please:
tell us
Cite this page

Content compiled and written by Julia Brucker
Edited and published by The Art Story Contributors
" Artist Overview and Analysis". [Internet]. . TheArtStory.org
Content compiled and written by Julia Brucker
Edited and published by The Art Story Contributors
Available from:
[Accessed ]