"The artist is the only one who detaches himself from life, opposes his personality against it, he is the only one who orders things as he wishes them to be in place of things as they are. Thus for him life is not a fait accompli, it is something to remake, to do again."
"Any art is a concentrated feeling of love elevated to a world view and translated into an artistic language of symbols"."
"Art is not hysteria. Art is as natural to man as is thought, it is a normal function of his brain. Art is observation and consciousness. It is not an instinct, vague, indecisive, sickly. Art is an eternal source - life, and an unlimited expression, the individual. These two elements, well-adapted, make masterpieces."
"My eyes are magical glass [when looking at] the outside world, and it can transform a lot into bewitching beauty."
"Color bites at my heart."
"I want to work. It is an obsession. I am gnawed at the heart by an excruciating desire to manipulate color...I see figures, with an incredible intensity, pass before my eyes."
"Am I a true artist? Yes, yes, yes. Am I a woman? Alas. Yes, yes, yes."
"I am a woman, I lack every [ability for] creation. I can understand everything and cannot create.. .I don't have the words to express my ideal"."
"I adore my life: it is filled with so much true poetry, fine feelings, things many have no idea about. I despise my life, which, being rich, allowed itself to be crammed into the confines of conventions. Between these two opinions pulsates my soul always longing for beauty and good"."
"Our passion must be like our love - illusory and artistic, having no other end than the desire to be beautiful"."
"All bores me in the world of facts, I see an end, a limit to all things and my heart thirsts for the infinite and for eternity. How to speak of the feeling, so serious, that has seized me?"
"I want a lovely life; in order for it to be, harmony and style are necessary. I avow mine to the key of aesthetic sentiment - the constant permanent creation everywhere and in every one."
"I love art with a passion so selfless that when I believed that I saw that I would be able to serve it better by abstaining myself, so that another [Jawlensky] could succeed - I did it."
"I have hell in my soul. I did not trust myself and that is why my life went to the devil. I have a creative soul and was a slave to idleness."
Summary of Marianne von Werefkin
Writing about the diaries which Marianne von Werefkin composed during the 1900s, the writer Natalya Tolstaya noted that they reveal "a soul molded by much suffering and many a loss, the soul of a woman and an artist". This statement might be taken to apply to Werefkin's entire body of work, which was shaped not only by a century's worth of Russian and European artistic tradition, but also by an intense social and spiritual consciousness, and by the peculiar pressures brought to bear on her as a woman in a creative world dominated by men. Her work, still undervalued in relation to that of her peers, including Wassily Kandinsky and Paul Klee, can now be recognized as an important contribution to European Expressionism, her career as breaking down various barriers to women's acceptance as modern artists.
Accomplishments
Various members of the Expressionist movement, including Wassily Kandinksy and Marc Chagall, were of Russian heritage. But Marianne von Werefkin's work provides us with the most striking evidence of the thread that runs through modern painting from late-19th-century Russian Realism to the emotive abstraction of early-twentieth-century Northern-European art. Tutored by the great Realist painter Ilya Repin, Werefkin applied the principles of social and religious awareness she had learned in her youth to the Expressionist idiom of her maturity, finding in the principle of abstraction a new way of expressing the human spirit.
As one of the only women artists attached to the Expressionist movement, Werefkin staked out new ground for female painters. Abandoning her practice for a decade in the 1900s to support the career of her companion artist Alexej von Jawlensky, Werefkin's recognition was set back further when Wassily Kandinsky's influential book Concerning the Spiritual on Art (1911-12) appeared, making - so Werefkin claimed - uncredited use of her ideas. However, from the time of her Self-Portrait in a Sailor's Blouse (1893) onwards, the force of Werefkin's character had been clear, and by the time of her death she had found her own place and status in artistic culture.
Werefkin's works are often populated by cramped, hunched figures in black, generally women, generally implied to be impoverished city-dwellers or laborers. While the Expressionist movement had always been defined by a form of social awareness, Werefkin's work expresses the human concerns underlying the movement more clearly than most. She never followed Kandinksy down the path of pure, lyrical abstraction, always keeping her compositions tethered around recognizable human subjects placed in the rural or urban landscape.
Important Art by Marianne von Werefkin
Progression of Art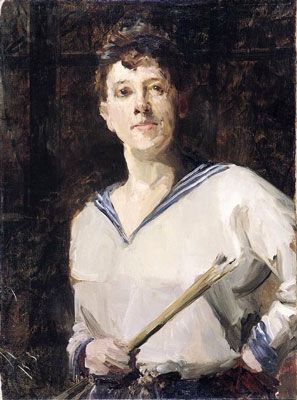 1893
Self-Portrait in a Sailor's Blouse
This self-portrait, painted at the age of 33, is an example of Werefkin's early, Russian Realist-influenced work. She portrays herself in a sailor's blouse, holding her long brushes and engaging the viewer with easy assurance. Werefkin is probably at her family's Blagodat Estate, in modern-day Lithuania, where her studio was located until her emigration to Germany with Alexej von Jawlensky in 1896.

After a series of successful exhibitions, in 1893 Werefkin seemed to be at the start of a prestigious artistic career in her native Russia. Her body of work from this time mainly consists of portraiture, influenced by her tutor Ilya Repin's work in this genre, and by the emphasis which Repin and other Realist painters placed on depicting contemporary Russian life. But whereas Werefkin's earliest paintings, such as Portrait of A Girl in Russian Costume (1883-88) and Portrait of Vera Repin (1881), match the photographic precision of her teacher's work - see Repin's famous Barge Haulers on The Volga (1870-73), for example - this slightly later piece uses a more painterly, expressive style, perhaps reflecting Repin's engagement with French Impressionism during the 1870s. Werefkin was dubbed the 'Russian Rembrandt' for her mastery of oil, and for her capacity to capture both the outer appearance and inner essence of her subject.

Early works such as Self-Portrait in a Sailor's Blouse show the depth of the artistic heritage from which Werefkin's mature, Expressionist persona emerged. Like the great Russian Realist novelists of the nineteenth century - Leo Tolstoy, Fyodor Dostoevsky - Ilya Repin and his Realist comrades saw their work as serving not only a sociological function but also a deep spiritual purpose, a sense of purpose which Werefkin seems to have imbibed, and which emerges again in her statements on the spiritual value of abstract and Expressionist aesthetics.
Oil on canvas painting - Museum of Modern Art, Ascona, Switzerland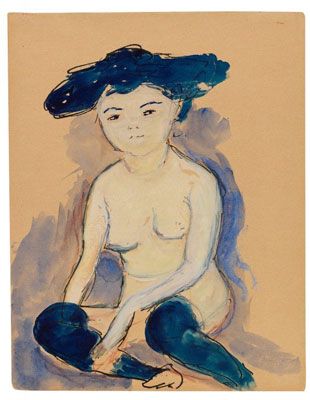 c. 1909
Portrait of Helene
This small painting, showing a half-naked woman in high heels, knee-length stockings and hat, is one of the earliest works created by Werefkin after her return to painting in 1906. Depicting an unknown sitter, the impressionistic quality of the piece reflects Werefkin 's search for a new expressive vocabulary, after the abandonment of her early, Realist style, and following her extensive interactions with painters on the Munich art scene, such as Wassily Kandinsky, Gabrielle Münter, and Franz Marc.

During her hiatus from painting, Werefkin had immersed herself in art history, and had filled countless notebooks with writings and drawings, creating over 400 sketches in a fluid, expressive style. When she began painting again she adapted this style to the canvas, becoming increasingly concerned with capturing the inner life of her subjects in a way that might rupture, or exaggerate, aspects of their outer appearance, combining the visible and invisible qualities of her sitters. At the same time, the sexual frisson of the subject-matter seems to owe something to the depiction of seamy Parisian night-life by Post-Impressionist painters such as Henri de Toulouse-Lautrec. A few years before creating the piece, during 1903-05, Werefkin had travelled to France with Jawlensky, taking in the stylistic advances of artists attached to the Nabi, synthetist and cloisonnist movements, who were attempting to use color and form to convey the emotional and spiritual content of their subjects.

Portrait of Helene can be seen as an important transitional work. It indicates Werefkin's departure from the Realist and Post-Impressionist styles of her early work, while not yet conveying the full scope of her Expressionist idiom.
Gouache, pen and Indian ink on wove paper - Private Collection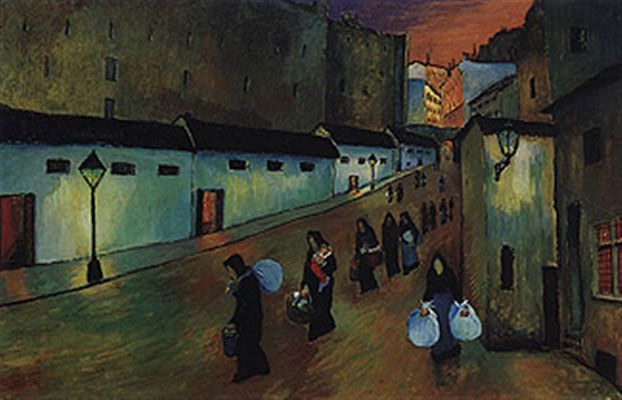 c. 1909
Return Home
This painting shows a group of women walking down a street at night in an urban setting, carrying parcels and babies, in a slow-paced, heavily-loaded procession. Buildings line the road, while the dull glow of the lamplight creates a melancholy mood. The work depicts the city of Kovno in Russia - modern-day Lithuania - where Werefkin was staying with her brother in 1909 while recovering from a leg injury.

Werefkin found the city of Kovno visually captivating, writing in her journal of the gloomy violets and dimness of the light, calling it "a treasure-trove for artists". But it was also the suffering of the city's inhabitants that preoccupied her, as she emphasized in her diary: "All that is here is suffering and this horror of beauty and this horrible life". To better express the inner life of her subjects, she turned to techniques reminiscent of French Cloissonism or Synthetism, the use of heavily outlined, flat blocks of color, from which light seems to emanate as through panels of stained glass. The somber mood of the piece is typical of much European art at this time, owing much to the Post-Impressionist style of Vincent van Gogh, who had depicted peasant women at work - in the fields, by the hearth - in similarly melancholic fashion.

The marriage of a Post-Impressionist, expressive use of color with a somber, anxious mood is in a sense the basis of Expressionism, which was emerging simultaneously across various Northern-European cities around this time. This is also one of the first pieces in which we find the figure of the stooped or hunched woman in black, a recurring motif in Werefkin's work. In various respects, then, Return Home can be considered an important early painting of her mature period.
Tempera on paper - Museum of Modern Art, Ascona, Switzerland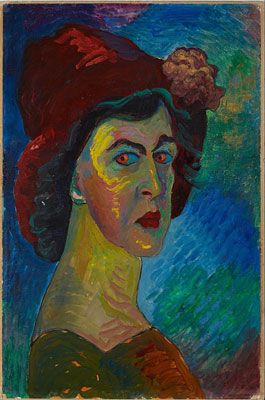 c. 1910
Self-Portrait
This remarkable self-portrait was created during Werefkin's time as a member of the Neue Künstvereinigung Munchen (NKVM), a group which she cofounded with Wassily Kandinsky and others in 1909 to forward ideas associated with Expressionism. The piece epitomizes many aspects of that group's approach to art, particularly in its stylised use of color, and its impression of psychological and spiritual intensity.

Werefkin uses an array of bold colors and tones to convey her own inner life: intense blues and greens for the background; vivid browns, reds, and yellows for her skin, hat, and clothes. The piece uses broad, loose brushwork, with the abstract patterning built up by the repetition of strokes across certain areas of the canvas assuming primary visual significance. In this respect, the painting shows the influence of Vincent van Gogh, whose innovative approach to brushwork Werefkin admired, while the dynamic, emotive use of color speaks to both Gauguin's work and that of the Norwegian Expressionist painter Edvard Munch.

Writing of Werefkin's membership of the NKVM, Adrienne Kochman states that she "often led discussions focused on the pursuit of an 'emotional' art of the future, recalling the work of Delacroix, Van Gogh, and Gauguin". Few paintings epitomize Werefkin's use of color to convey emotional content better than this Self-Portrait, which is now one of her best-known works, and considered a key example of Munich-school Expressionism. The piece is also described (by an unknown original source) as "one of the most unusual female self-portraits in the history of art", and it is difficult to argue, given the enigmatic, assertive expression of the face.
Tempera on paper - Städtische Galerie im Lenbachhaus, Munich
1913
City in Lithuania
This painting shows an old woman walking down a wide boulevard leaning on a crutch, approaching a distant town. She is surrounded by fields, and flanked by trees that seem to sway and bow in the wind. To the right, two ladies shelter in a large red doorway. City in Lithuania was painted in 1913, when Werefkin had again traveled home from Germany to what was then a district of Russia, to recuperate from an injury while staying with her brother. By this time, Werefkin had joined Der Blaue Reiter ('The Blue Rider'), a group which emerged in 1909 from the disintegration of the NKVM, founded by Wassily Kandinsky and Franz Marc. Paul Klee also became a member of the group, which, along with Die Brücke in Dresden, is now considered one of the crucibles of German Expressionism.

Der Blaue Reiter, which shares its name with a 1903 painting by Kandinsky, was founded on the belief that colors and shapes could convey certain innate spiritual values, and that art could transport the viewer beyond the physical, tangible world by engaging them with these forms. This painting sums many of those ideas, bearing obvious similarities to the work of other Blaue Reiter artists from the same period. The color palette, particularly the use of deep blues, is reminiscent of Paul Klee's contemporaneous work, while the convergence of diagonal lines towards the top-right of the painting can be comapred to Franz Marc's visually dynamic compositions, and his desire to find the underlying, organic rhythms of objects and living things. At the same time, the painting shows the clear influence of French Post-Impressionism. The almost liquid quality of the road-surface, for example, and the way the trees seem to dance in the wind, is very reminiscent of Van Gogh's brushwork, and his depiction of rural, roadside scenes.

If the piece indicates Werefkin's Expressionist affinities, it also speaks to her ongoing concern - perhaps owing something to her former tutor Ilya Repin - with depicting the grime and toil of everyday life, particularly the life of the downtrodden female laborer. Again, we find the motif of the hunched woman in black, while the subtly pervasive mood of loneliness, though indicative of the broader concerns of Expressionism, is unique to Werefkin's work. In this sense, City in Lithuania, like Werefkin's paintings of the Blue Rider period more generally, can be considered both exemplary and exceptional.
Tempera on paper over cardboard - Museum of Modern Art, Ascona, Switzerland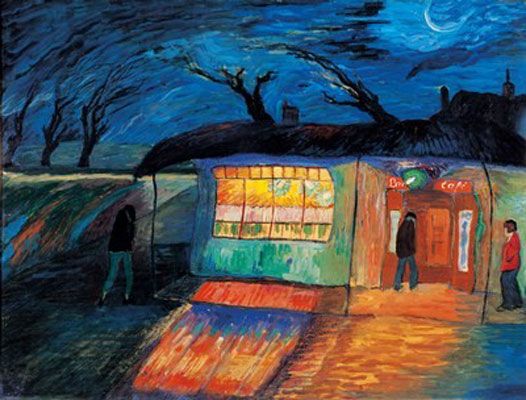 1915-17
Storm Winds (Sturmwind)
Storm Winds (Sturmwind) depicts a small café at night, surrounded by bare trees and stormy skies. Figures approach the lit doorway, hugging their shoulders inwards against the cold, while the window throws a pool of multicolored light onto the ground. This work is a product of Werefkin's post-Munich period, created at some point between 1915 and 1917 as she travelled around Switzerland with her fellow artist Alexej von Jawlenksy, the pair having fled Germany at the outbreak of the First World War.

Werefkin once stated "color bites at my heart", and this work indicates her ongoing fascination with color, combining various intense, vibrant hues within small areas of the canvas. It also shows her sustained interest in the work of Vincent van Gogh, and is perhaps partly a homage to his famous 1888 painting The Night Café. By this point, the extent of Werefkin's differences from other members of the German Expressionist movement is also clear. Whereas artists like Klee and Kandinsky had moved towards a purer form of abstraction, Werefkin's work remained wedded to figurative representation, and thus to the direct exploration of human life and society. In this sense, Storm Winds indicates her movement through and beyond the NKVM and Blaue Reiter groups, towards the unique form of landscape and city-scape painting that she would hone in her later years in Ascona.
Oil on canvas - Albertina Museum, Vienna, Austria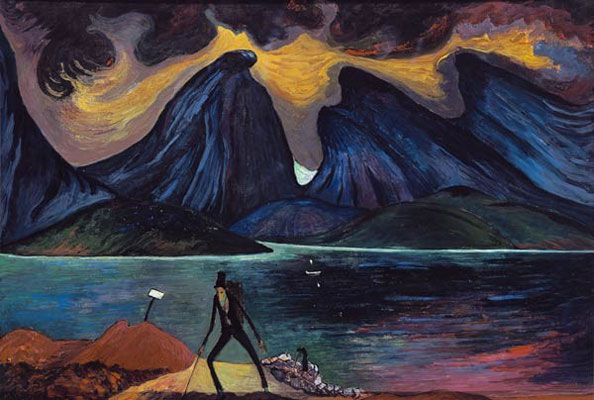 1917
The Rag-and-Bone Man
Painted in 1917, this work shows a rag-and-bone man, a kind of urban scavenger, leaning on a stick as he passes in front of an Alpine landscape. He is surrounded by a dark lake, on which a small rowing boat drifts; in the background, mountains rise up to the moon as vast, hooded figures, while the sky explodes in yellow and black. It was around 1917 that Werefkin relocated to the small lake-side town of Ascona in Switzerland, and this may be an early work composed in that setting.

The depiction of large, simplified, organic shapes, and the use of intense color contrasts, reveals Werefkin's ongoing interest in the use of non-naturalistic color and shape to express the spiritual depths of people and things. The skeletal appearance of the rag-and-bone man - a surrogate for the stooped women who appears across many of her works - epitomizes Werefkin's concern with the isolation and hardship of the poor city-dweller, while also suggesting the emaciating effects of war. Art historian Laima Lauckaite has pointed out the affinities between paintings such as The Rag-and-Bone Man and those of the Lithuanian painter M.K. Čiurlionis. Both artists of Russian heritage, Werefkin and Čiurlionis share a connection to the Romantic and Symbolist traditions, along with a taste "for the motif of mountains, the embodiment of grandeur and eternity". A connection can also be established with works of Edward Munch's such as Despair (1892), which convey the loneliness of the human condition by setting a solitary figure against a dramatic landscape.

Despite the urban connotations of its title, The Rag-and-Bone Man is a good example of Werefkin's approach to landscape painting, a genre she explored throughout her life, especially after her relocation to mountainous Switzerland (as in late works such as The Duel (1933)). The way that the mountains appear almost as animated human bodies indicates Werefkin's belief in the world of the spirit that lay behind physical reality, what Lauckaite calls her fascination with "what does not exist in reality - the intangible, the invisible, the inaudible". In this case, the painting aims to reveal the supernatural force of the landscape.
Tempera on paper over cardboard - Museum of Modern Art, Ascona, Switzerland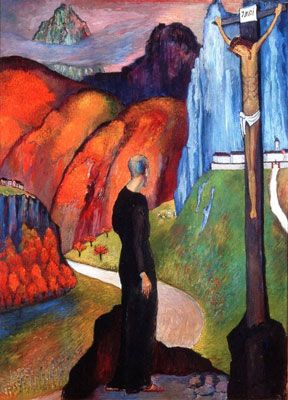 1932
The Monk
Painted four years before Werefkin's death, the religious subject-matter of The Monk is typical of her later work, in which the symbol of the crucifixion appears repeatedly. Behind this central image, the mood and color of the landscape seems to have lifted as compared to earlier Alpine scenes such as The Rag-and-Bone Man. Bright red and orange tones define the mountains on the left, counterbalanced by soft blue on the right, and dark burgundy in the far distance. The sky and ground are soft pink, the only dark tones of the work to be found in the robes of the monk, who seems to be observing not the suffering in front of him, but the wonders of the natural world around him.

Although Werefkin's mature work is defined by a movement through Symbolism - and associated styles such as Cloisonnism and Synthetism - to Expressionism, this painting shares many traits with the work of Symbolist painters such as Odilon Redon: the use of luminous color to portray 'another world', and the focus on religious themes and iconography. The presence of the mountains, which appear in many works from this period, indicates the influence of the Swiss landscape on Werefkin's late style.

Werefkin often took comfort in the Biblical saying "My kingdom is not of this world", and this painting encapsulates her lifelong quest to portray the other, spiritual world that she sensed all around her, finding traces of it both in nature and in the inner recesses of the self. Perhaps based on a new spiritual faith, that hidden world seems divested of the gloom of her earlier work, the color-palette of The Monk instead conveying a mood of bliss and hope.
Tempera on cardboard - Museum of Modern Art, Ascona, Switzerland
Biography of Marianne von Werefkin
Childhood
Marianna Wladimirowna Werewkina was born in Tula, a small city 120 miles south of Moscow, into a wealthy family of the Russian nobility. Her father, Vladimir Nikolaevich Verevkin, was commander of the Ekaterinburg Regiment of the Russian Army, while her mother, Elizabeth Daraga, was a baroness and painter. Werefkin's childhood was spent travelling across Russia as her father was assigned to different locations, though family summers were always spent at the Blagodat Estate in modern-day Lithuania, assigned to her father for his services during the Crimean War by Alexander II. It was there, in her own private studio, that Marianna began to paint.
Education and Early Training
Noticing the young child's enthusiasm and talent for art, her parents arranged for her to have private drawing lessons from the age of 14. A few years later, in 1880, Ilya Repin, at that time considered the most important Russian Realist painter, was assigned as her tutor. She studied with Repin for ten years, applying herself with a devotion that was only broken for a few months in 1888, when she accidentally shot herself in the hand whilst hunting.
Mature Period
In 1892, through Repin, Werefkin met the painter Alexej von Jawlensky, who joined her at the family estate. The two shared many artistic interests, and developed a friendship based on deep creative respect that would last for many years to come, each artist influencing the other's view of their practice. Werefkin was already building a successful career for herself: sometimes referred to as the 'Russian Rembrandt' for her portraits in a broadly Realist tradition, with her work shown at various collective exhibitions of Russian art.
In 1896, Werefkin's father died. In her mid-thirties, Werefkin was allowed to keep his government pension as long as she remained single; the same year, she moved with Jawlensky to Munich, where they became members of a lively artistic community. The two artists lived in adjoining apartments, Jawlensky attending a private art school while Werefkin studied art history. Although she declined a marriage proposal from Jawlensky around this time, the two remained friends. Indeed, such was Werefkin's admiration for Jawlensky's work that she put her own painting career on hold in Munich, instead committing herself to supporting Jawlensky's practice and, as she put it, taking "indefatigable care of his mind and heart". Werefkin's hiatus from art lasted almost ten years; in her journals and letters, she recorded how she had hidden her existing paintings from Jawlensky "so that he wouldn't feel jealous". In 1897, Werefkin formed the St. Lukas Brotherhood, an informal artists' salon which met at her apartment to discuss painting, and which counted Wassily Kandinsky amongst its members. In nascent Expressionist fashion, Werefkin believed that the art of the future would be 'emotional' in its creative basis; indeed, though she had stopped painting herself, she became an important theorist of the Munich scene.
It is said that around this time, Jawlensky sexually abused a helper of Werefkin's named Helene Nesnakomoff, resulting in the birth of a child in 1902, which Werefkin and Jawlensky presented as their own. It was also in this year, during a period of emotional trauma, that Werefkin began keeping a journal in French entitled "Lettres à un Inconnu" (Letters to a Stranger). In a series of entries addressed to an anonymous reader, Werefkin expressed her passions and frustrations as a woman artist, stating that "I can understand everything and cannot create..." She also recorded her theories on art, declaring her aim to "enforce new aesthetic and ethical ideas on mankind". Overall, the journal is a document of Werefkin's idealistic personality, and of the emphasis she placed on imagination, her "love [for] what doesn't exist."
After holidaying together in Normandy in 1903, Werefkin and Jawlensky spent a year and a half in Paris and the south of France, returning to Germany in 1905. While in France, Werefkin was profoundly affected by the paintings of Henri Matisse and the Nabis, especially by their vibrant and emotionally expressive use of color. In 1906, back in Munich, Werefkin began painting again, creating what can be described as her first Expressionist works. The trip to France had also greatly influenced Jawlensky, who was especially enamored of Van Gogh, and of the Fauvists. Together, Werefkin and Jawlensky traced the steps of Van Gogh through Provence to the city of Arles, where he had based himself in the late 1880s, just before his death.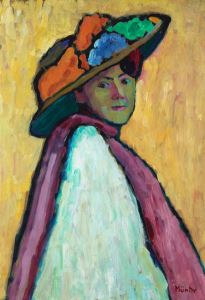 In 1908, Werefkin and Jawlensky, along with the painters Gabriele Münter and Wassily Kandinsky, moved south of Munich to the small Bavarian town of Murnau am Staffelsee, where Münter owned a house. It was in Murnau that the four friends, often painting collectively, or painting each other, began developing the visual language of what would later become known as abstract art. In 1909, Münter created a portrait of Werefkin, showing her as a young woman filled with energy and vitality despite her 49 years. Münter's portrait gives some sense of how Werefkin was appreciated by her contemporaries for her extraordinary charisma.
In the year of Münter's portrait, the four Murnau-based painters, along with other artists including Franz Marc and August Macke, founded the Neue Künstlervereinigung München ('New Association of Artists in Munich') or NKVM, as a forum for discussion and basis for collective exhibitions. In 1911, Werefkin and Jawlensky spent the summer on the Baltic Coast, whose dramatic landscapes affected both artists; the same year Kandinsky's hugely influential book Concerning the Spiritual in Art was published, defining the new artistic paradigm towards which the group had been collectively working. According to Werefkin's biographer Bernd Fäthke, many of the ideas in the book were borrowed from Werefkin without any acknowledgement. After an 'ugly intrigue' Kandinsky, Marc, and Macke left the NKVM to found the - now better-known - Der Blaue Reiter (The Blue Rider) Group, seen as fundamental to the development of Expressionism. Werefkin would ultimately join them in 1913, becoming known as the "Blue Riders' woman rider".
Later Work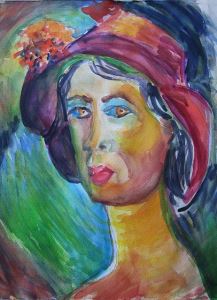 At the outbreak of the First World War, Werefkin and Jawlensky emigrated to neutral Switzerland, moving first to an area near Geneva, then to Zurich, spending about a year in each location. By the close of the war, Jawlensky and Werefkin had moved on again, to the small lake-side town of Ascona, but the pair separated shortly after, bringing to an end a creative relationship that had lasted almost 30 years. Jawlensky went on to marry Helene, the mother of his child, and moved to Wiesbaden in Germany. Werefkin settled in Ascona, which would become her home for the remainder of her life. Though she had lost her father's pension after the Russian Revolution, she enjoyed a comfortable if modest existence, continuing to hone her Expressionist style, while earning a living through commercial postcards and posters, her income occasionally supplemented by her friends.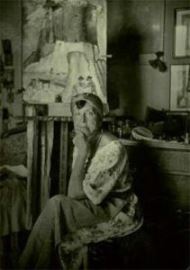 In 1924, Werefkin founded an artists' group named The Big Bear or Ursa Major (after the constellation). During the last decade-and-a-half of her life, she donated many of her paintings to the city of Ascona, where most of them remain. Werefkin died on February 6, 1938 and was buried in the Russian cemetery in Ascona. She was loved by the community there, who founded the Fondazione Marianne Werefkin and the Ascona Museum of Modern Art in her memory.
The Legacy of Marianne von Werefkin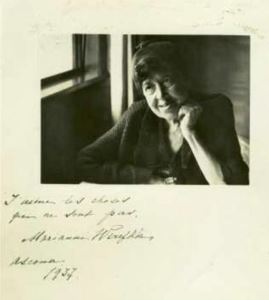 Marianne Von Werefkin is considered one of the most significant artists of the Expressionist movement, and is also acknowledged to have played a crucial role in breaking down boundaries to women's involvement with modern art. She is thus ahead of her time in two respects, not only in her feminist ideals, but also in her thoroughly modern conception of the nature and purpose of painting.
Werefkin described art as "a concentrated feeling of love elevated to a world view and translated into an artistic language of symbols". Some of the roots of this idealistic vision can be found in Romanticism, especially in its exaltation of emotion and love, and in the work of the French Symbolists, Synthetists, and Nabis - such as Paul Gauguin and Emile Bernard - with whom Werefkin is often associated. However, her theories on art far surpassed the movements that influenced her, particularly as she acted as an advocate and critic of other artists' work as much as a painter in her own right. Her ideas concerning the role of spirituality in art profoundly influenced not only her friend and lover Alexej von Jawlensky, but also Gabrielle Münter, Franz Marc, and many other Expressionist artists of the time, including Wassily Kandinsky. Kandinsky's writing on this theme in Concerning the Spiritual in Art would ultimately be assigned more primary significance: the subsequent development of abstraction in Constructivism, for example, is often traced back to the lessons of Kandinsky's great work. But his discussions with Werefkin, as a member of the NKVM and the St. Lukas Brotherhood, were vital to their conception.
Art historian Natalya Tolstaya claims that despite her importance, "the general public in Russia knows little about Marianne von Werefkin", adding that "not a single large Russian museum today owns Werefkin's artwork". However, there is a growing interest in Werefkin's body of work, and in her vital role in the development of late-nineteenth and early-twentieth-century modern art. Moreover, despite her overall lack of recognition, Werefkin's vibrant colors and bold brushstrokes helped to define the very idea of the abstract in art. In many explicit and implicit ways, then, she continues to exert a profound influence on modern art and culture.
Influences and Connections
Influences on Artist

Influenced by Artist
Friends & Personal Connections
Alexej von Jawlensky

Else Lasker-Schüler
Movements & Ideas
Synthetism

Cloisonnism
Artists
August Macke

Albert Bloch
Friends & Personal Connections
Alexej von Jawlensky
Useful Resources on Marianne von Werefkin
Books
The books and articles below constitute a bibliography of the sources used in the writing of this page. These also suggest some accessible resources for further research, especially ones that can be found and purchased via the internet.
Similar Art