Artists
Frank Stella
Biography and Legacy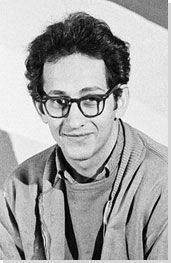 Born: May 12, 1936 - Malden, Massachusetts

"I like real art. It's difficult to define REAL but it is the best word for describing what I like to get out of art and what the best art has. It has the ability to convince you that it's present - that it's there. You could say it's authentic... but real is actually a better word, broad as it may be."
Biography of Frank Stella
Childhood
Frank Stella was born the oldest of three children to first-generation Italian-American parents. In his sophomore year of high school at Phillips Academy in Andover, Massachusetts, he began learning to paint from the abstractionist Patrick Morgan, who taught there. Stella continued taking art courses at Princeton University, while earning a degree in history. His Princeton professors, painter Stephen Greene and art historian William Seitz, introduced Stella to the New York art world by bringing him to exhibitions in the city, thereby shaping his earliest artistic aesthetic.
Early Training
These trips to New York galleries exposed Stella to artists such as Jackson Pollock, Franz Kline, and, most critical for Stella's subsequent development, Jasper Johns, whose geometric paintings of flags and targets inspired Stella's work during his Princeton years. After graduating, Stella moved to the Lower East Side of New York, where he set up a studio in a former jewelry store. Almost immediately, the young artist attracted significant amounts of attention from the art world. Deploying a monochromatic palette and flat application of paint, his early work signaled a break from the thick, gestural brushstrokes of the Abstract Expressionists. Stella famously called a painting "a flat surface with paint on it - nothing more," reflecting his view of art as an end in itself rather than a representation of emotional, intellectual, or physical states. With emphasis on form rather than content, his early paintings are often credited with launching Minimalism. For his first major series, the stark Black Paintings (1958-60), Stella covered canvases with black house paint, leaving unpainted pinstripes in repetitive, parallel patterns. At only 23 years old, he gained instant recognition for these groundbreaking works. The Museum of Modern Art included four in its 1959-60 exhibition Sixteen Americans, and purchased one for its permanent collection. That same year, famed gallery owner Leo Castelli began representing Stella.
Mature Period
From his Black Paintings, Stella moved onto the Aluminum Paintings (1960) and the Copper Paintings (1960-61), for which he created his own geometrically shaped canvases, challenging the traditional rectangular format. Much of his work at this time drew on the stripe motif first deployed in the Black Paintings, but he soon began to embrace complex circular motifs as well as a brighter palette, especially in the Irregular Polygon (1965-67) and Protractor (1967-71) series. During this period, Stella also began delving into printmaking, an aspect of his work he has passionately pursued throughout his career.
In 1970, Stella was the youngest artist to have a retrospective at New York's Museum of Modern Art, and then, receiving a second retrospective 17 years after - the first living artist to earn the latter distinction. Following this exhibition, Stella again explored new artistic avenues, this time incorporating collage and relief into his paintings - an extension of the layered bands of color in his previous works. For the Polish Village series (1970-73), he attached paper, felt, and wood to the canvas. And building on this trajectory, the later Indian Bird series (1977-79) featured an assemblage of painted aluminum forms protruding from the wall, reflecting his growing interest in three-dimensionality and dynamic textures. He continued pushing the idea, creating sculptural works marked by elaborate tangles of curves, spirals, and loops - pieces whose exuberance present a stunning contrast to the more somber Black Paintings that had first brought him into the public eye. Yet for Stella, even these highly sculptural works are still paintings; he asserts, "A sculpture is just a painting cut out and stood up somewhere."
Late Period
In the 1980s and 1990s, Stella expanded his three-dimensional paintings into increasingly explosive, vividly colored, and multifaceted pieces, while continuing his work in printmaking. His series based on Herman Melville's Moby-Dick includes works of many techniques, from metal reliefs to giant sculptures to mixed-media prints combining diverse processes such as woodblock printing, etching, and hand-coloring. After moving in the direction of freestanding bronze and steel sculptures, Stella's work then expanded to encompass architectural structures, illustrating his statement, "It's hard not to think about architecture when you've gone from painting to relief to sculpture." These works include an aluminum band shell in Miami (1999) and a monumental sculpture, Prinz Friedrich von Homburg, Ein Schauspiel, 3X (1998-2001), situated on the lawn of the National Gallery of Art in Washington, D.C. Currently living and working in New York, Stella continues to create large-scale sculptures, as well as designs for potential architectural projects.
The Legacy of Frank Stella
Stella is one of the greatest living artists whose impact is felt in the work of many contemporary American artists and styles. Although he never regarded himself as a Minimalist, Stella's Black Paintings secured their creator's place in art history by inspiring such artists as Carl Andre to create sculptural objects stripped of expressive content and marked by their industrial appearance and seemingly anonymous handling of repeated geometric forms. Stella's color variations, exploration of circular motifs, and shaped canvases influenced artists like Kenneth Noland and served as a catalyst for such developments as Color Field Painting and Post-Painterly Abstraction.
Art critics and theorists took much from Stella's work as well. Clement Greenberg famously said, "Where the Old Masters created an illusion of space into which one could imagine walking, the illusion created by a Modernist is one into which one can look, can travel through, only with the eye." Greenberg derived his concepts of flatness, the integrity of the picture plane, and optical integrity from the work of Stella and other modernists of the time. Stella's ideas also inspired other major theorists of the period such as Carl Andre, Donald Judd, and Michael Fried.
Most Important Art
Harran II (1967)

In his exploration of formal issues, Stella habitually worked in series, developing increasingly complicated variations on selected themes. In contrast to the monochrome Black Paintings, the Protractor series, to which Harran II belongs, deploys a vivid palette and composition consisting of rectangular shapes superimposed on curving and circular forms. As in The Marriage of Reason and Squalor, Harran II's stripes emphasize the flatness of the composition, reminding the viewer that a painting is merely canvas covered with paint. This concept is reinforced by the use of the shaped canvas, which, challenging the conventional rectangular format, further denies the painting's status as illusionistic window and enhances its "object-like" quality. Harran II - whose title comes from the name of an ancient city in Asia Minor - invites parallels with sculpture as well as architecture. Measuring a massive 10 x 20 feet, the work is architectural in scale, while its composition was based on the semicircular drafting tool for measuring and constructing angles.

Read More ...

Frank Stella Artworks in Focus:
Frank Stella Overview Continues Below
If you see an error or typo, please:
tell us
Cite this page

Content compiled and written by Rachel Gershman
Edited and published by The Art Story Contributors
" Artist Overview and Analysis". [Internet]. . TheArtStory.org
Content compiled and written by Rachel Gershman
Edited and published by The Art Story Contributors
Available from:
First published on 21 Jan 2012. Updated and modified regularly.


[Accessed ]