Artists
Kiki Smith
Biography and Legacy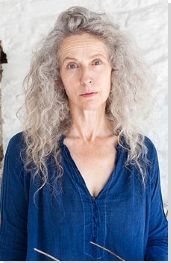 Kiki Smith - Biography and Legacy
American Artist
Movement: Feminist Art
Born: January 18, 1954 - Nuremberg, Germany

From Our Sponsor
"My suffering is that I see that there are these really great forms. They're holy in a way, like they have this really incredible power about them. And all I can do is recognize it."
Biography of Kiki Smith
Childhood
Kiki Smith was born in 1954 to American parents living in Nuremberg, Germany. Her father was minimalist sculptor Tony Smith and her mother was Jane Lawrence, an American actress and opera singer working in Germany at the time Kiki was born. Her artistic lineage also claims her grandfather, who was an altar-carver. When Smith was still an infant her family moved back to the United States to live in her father's childhood home in South Orange, New Jersey. Family friends who visited the house included Jackson Pollock, Barnett Newman, Tennessee Williams, and Mark Rothko. Art, especially contemporary art was present at every stage of Smith's life; she often helped her father make paper models for his sculptures in their living room, and in his studio, after school. Her younger twin sisters, Seton and Beatrice (Bebe), also followed creative paths. Seton is an artist, most noted for her cibachrome (now known as 'Ilfochrome') photography, and Bebe was an actress. They were a tight-knit family and Smith remains close with Seton today.
Early Training
Unsure about what she wanted to do with her life, Smith stated, "As a child I prayed that my calling be revealed - but not with expectation and not with a destination. I became an artist because I didn't know what to do and I thought it was really fun to make things." With that, Smith enrolled at Hartford Art School in Connecticut in 1974. She dropped out eighteen months later and settled in New York in 1976. For the most part Smith is self-taught as an artist. She has talked about how her parents were not education-focused individuals, and that they had said to their daughters, "Oh, we thought you'd find yourself and your own interests."
After arriving in New York she became part of Collaborative Projects, Inc. (Colab), an artists' collective devoted to making art accessible through alternative venues. In 1979 Colab put together the "Times Square Show," which took place in a building that once housed a massage parlor. Exhibiting artists included Smith, Jean-Michel Basquiat, and Keith Haring.
Several years later Smith and her sister Beatrice started training to become emergency medical technicians, and although they didn't complete the course the experience fueled Smith's interest in the human body. Her acquired knowledge is unmistakable in her wax sculptures and etchings, some of which are as detailed as medical school anatomical models.
Mature Period
Smith's first solo show was at the Kitchen Gallery in 1982. . Her sculpted female figures sometimes look unfinished, depicted without skin, or deformed or disfigured in some way. Smith stated, "Catholicism has these ideas of the host, of eating the body, drinking the body, ingesting a soul or spirit; and then of the reliquary, like a chop shop of bodies. Catholicism is always involved in physical manifestations of [spiritual] conditions, always taking inanimate objects and attributing meaning to them. In that way it's compatible with art." In Catholicism a relic is usually a body part of a saint or other holy figure, which people have come to venerate. These objects are housed in ornate reliquaries that dissimulate their contents. As Smith attests, there is a rather morbid obsession with the body in Catholicism, from the idea that followers (symbolically) eat the body and drink the blood of Christ, to the veneration of the body parts of saints, and to the images of suffering and death that are prevalent in churches throughout the world, the Crucifixion being the most recognizable. It is clear that all of these concepts directly influenced her work.
Smith has spoken often about the tragedies surrounding her life, "I grew up in a family with lots of illness. There was a family preoccupation with the body. Also, being Catholic, making things physical, they're obsessed with the body. It seemed to me to be a form that suited me really well - to talk through the body about the way we're here and how we're living." Smith's father died in 1980, her sister, Beatrice, died eight years later of AIDS, and her mother, Jane Lawrence, in 2005. The loss of family has had an ever-lasting impact on Smith's art.
Late Period
Smith continues to live and work in New York. She lives a couple of blocks away from her sister Seton and they own a country home together. After the mid-1990s Smith shifted the focus of her subject matter; although there is still a thread of feminism running through her work, she seems to have departed from the "abject" figurative sculptures that she is known for. She delved into portraying animals and creating works that are based on fairy tales and myths. Some of her latest pieces are digitally woven tapestries portraying animals, women, spider webs, and stylized landscapes. She has stated that her work is "...no longer linear and the narrative imbued in them has fallen apart." Thus, her work may become even more interesting as it motivates the viewer to place their own stories within her works, and with universal themes - connecting with fundamental emotions in a way that rises above other artists.
The Legacy of Kiki Smith
Kiki Smith was one of the first artists to distinguish figurative work within the art world after years of abstraction and Minimalism had dominated the scene. She is considered a pioneer in restoring the figure as acceptable subject matter in contemporary art. She also paved the way for the "abject" in art, which in the past had often been met with critical uncertainty or outright negativity. New York Times art critic, Holland Cotter, summed up Smith's style perfectly, "This is not a fashionable style; for much of the art world it never has been. And maybe that's why, more and more, her art seems to occupy a universe of its own, a floating world where art, like religion, is both high and low, gross and fine, and always about the only essential things."
Her impressive career continues today, and she has influenced generations of artists. Her works have communicated important messages, stressing the seriousness of the AIDS crisis. She continues to inspire artists, encouraging them to reclaim the female body from its historically assigned placement as the subject of the male gaze.
Most Important Art
Untitled (1990)

One of her early large-scale wax sculptures, Untitled explores the human body from within a variety of themes such as religion, procreation, life, and death. The sculpture consists of two life-size, nude figures (one female and one male) placed near one another, each held slightly aloft by vertical props. The anonymous-looking, unidealized figures are Caucasian, depicted in mostly naturalistic skin-tones with areas of red-tinted mottling on each (the male figure is of noticeably ruddier complexion). Both figures slump forward, eyes closed, hanging limply and puppet-like, as if dead. Milk has leaked from the breasts of the woman and runs down her torso, while semen has dripped down the legs of the man.

Although each figure is separate, the similarity of treatment suggests that they are to be viewed as a unified composition. Elevated as they are, their limp postures hint at ideas of death and suffering, perhaps crucifixion, while their gendered presence (along with their bodily fluids) invite associations with procreation and sexuality, and tie them to such religious concepts as Adam and Eve, and, ultimately, notions of Original Sin.

Examined more closely, Untitled characterizes Smith's self-confessed preoccupation with visceral functions associated with life giving bodily fluids - exemplified here by the milk and semen. In contrast to those secretions tied to procreation, the red tinted coloring on both figures (the male more so, imparting a somewhat ruddy hue to his features), certainly implies blood, but might also remind the viewer of the ancient burial practice of adorning the dead body with red ochre. Of further significance is the life/death dichotomy that blood represents as the vector for deadly diseases such as AIDS, from which her sister had recently died and which was then reaching epidemic proportions worldwide.

Smith's prosaic figures are entirely human, with the blemishes, defects, and weaknesses intrinsic to humanity. They challenge the viewer to see the body as more (and less) than beautiful, idealized objects of veneration or attainment; they demand honest self-reflection by the viewer, and acceptance of the frailty, carnality, and vulnerability that are inherent in living in the flesh.

Read More ...

Kiki Smith Artworks in Focus:
Kiki Smith Overview Continues Below
If you see an error or typo, please:
tell us
Cite this page

Content compiled and written by The Art Story Contributors
Edited and published by The Art Story Contributors
" Artist Overview and Analysis". [Internet]. . TheArtStory.org
Content compiled and written by The Art Story Contributors
Edited and published by The Art Story Contributors
Available from:
First published on 11 Mar 2017. Updated and modified regularly.


[Accessed ]