Artists
Julian Schnabel
Biography and Legacy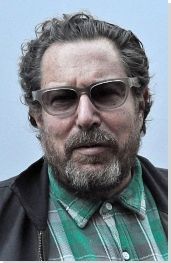 Julian Schnabel - Biography and Legacy
American Filmmaker, Painter, Printmaker, and Sculptor
Movement: Neo-Expressionism
Born: October 26, 1951 - Brooklyn, New York

"When you make art, people try to stop you from doing it, and everything's sort of designed to stop you from doing it. So the fact that it exists is a wonderful thing."
Biography of Julian Schnabel
Childhood
Julian Schnabel was born in Brooklyn, New York, on October 25, 1951 to Esta and Jack Schnabel, the youngest of three children. His long-standing fascination with Mexican culture and Catholic imagery and symbolism, so inherent to much Mexican folk art, was sparked when he was an adolescent. Leaving behind the lively Jewish community of his birthplace, at age thirteen Schnabel moved with his family to Brownsville, Texas., Brownsville was an utterly new, alien world, not far from the Mexican border, which seemed to ignite the creative spark of the inquisitive and innovative teen. As a youth, Schnabel's creative impulse was expressed in various ways; it was during those years that he determined to be an artist. He also sang in a rock band. This creative diversity set the stage for his multifaceted and prolific career.
Early Training
Schnabel received his BA in Fine Arts from the University of Houston in 1973. Shortly thereafter he returned to New York to attend the Independent Study Program at the Whitney Museum. In the late 1970s he spent time traveling in Europe and was especially impressed with the architecture of Antonio Gaudi. After returning to New York City, Schnabel took on various odd jobs, such as cab driver and cook, to support himself while continuing to produce art and promoting his work. Schnabel had his first solo show in 1979 at the Mary Boone Gallery and it was a huge commercial success.
Mature Period
Schnabel continued to live and work in New York and in 1980 he married Jaqueline Beaurang and they had three children. Schnabel's work gained favor in the 1980s in chic, up-and-coming collector circles. After his successful first solo show he continued on with three more solo shows at the Pace gallery in New York in 1984, 1986 and 1989. He was often spotted hanging out with Andy Warhol and was usually seen in public wearing his pajamas.
He is credited with playing an important role in bringing about "the return of painting" after painting had been declared "dead" by prominent theorists and artists, including the Conceptual artist Joseph Kosuth in the late 1960s. Something of a provocative and often controversial figure, Schnabel was criticized at times for making some fairly outlandish statements: for instance, he is famous for having referred to himself as the "lion of the New York art world" and declaring, "I'm as close to Picasso as you're going to get in this fucking life."
Schnabel is best known for his "plate paintings" comprised of broken plates and pottery pieces glued to large canvases and then painted. The frequently massive dimensions of his paintings (a typical work could be as large as eleven feet high and seventeen feet wide or more) and their heavy adornment with materials such as pottery, antlers, Bondo, oil pigment, and so forth could either engage or, conversely, overwhelm the viewer. Indeed, Schnabel maintained that he wanted the viewer to be, "engulfed in an emotional state," when viewing his paintings. He believed that what mattered in painting was, "not what is painted, but how it's painted."
In 1986, while still married to Jaqueline Beaurang, Schnabel met his second wife, Spanish actress Olatz Lopez Garmendia. He left Beaurang, married Garmendia and had twin boys. Schnabel's active personal life did not slow down his creative processes. In addition to painting, Schnabel's prolific creativity extended to music, photography, and film. He released an album in 1995 called Every Silver Lining has a Cloud. In 2002 Schnabel worked on the photography and art direction for the Red Hot Chili Peppers' album, By the Way. He co-wrote and directed the film Basquiat about the life and tragic death of Jean-Michel Basquiat, one of his contemporaries. Schnabel has had considerable success with his directing career, making notable films such as Before Night Falls, The Diving Bell and the Butterfly, Lou Reed's Berlin, and Miral. While filming Miral he met Rula Jebreal, who wrote the screenplay and the book that Miral was based on. Schnabel soon left his second wife for Jebreal but the two never married. He currently spends his time between homes in New York City and Spain.
The Legacy of Julian Schnabel
Schnabel's painting responded to the dry intellectualism and non-objectivity of the Minimalist and Conceptual movements, which to him were antithetical to the powerful emotional expressionism of his own painting. He was among the group of painters deemed "Neo-Expressionists," a contingent of artists of the early 1980s who are considered to have ushered in a new era painting that persists to the present day. Chief among the contributions of Neo-Expressionist artists like Schnabel, Salle, and Basquiat, was the reintroduction to painting of recognizable objects, especially the human body, at various levels of abstraction.
Most Important Art
The Student of Prague (1983)

The Student of Prague is one of Schnabel's famous "plate paintings" in which he applied heavy layers of pigment over broken plates and horns that were glued to a wood panel. The work is exemplary Schnabel's oeuvre of the 1980s in its massive scale and almost baroque ornamentation. The broken plates are in part representative of the influence of the work of Gaudi, whose pottery-fragment mosaics were interesting to Schnabel. Moreover, Schnabel's use of broken crockery as a painting surface signaled an overtly defiant departure from the almost sacred "flat surface" rule of Minimalist painting. This fusion of the everyday and the grandiose were characteristic of the extreme emotionalism of Schnabel's narratives.

Structurally, the work resembles a triptych, a standard format for Christian painting of the Renaissance. It is divided into three distinct sections with the middle partition rising upward and outward above the others. Connected by the unifying surface texture, the work evokes the hinged panels of its medieval and Renaissance predecessors; rough crosses appear here and there, reinforcing the Christian symbolism. The lone, ghost-like figure in the center of the composition is both integrated with and singled out from the rocky landscape of the painting's imagined and material surfaces.

Read More ...

Julian Schnabel Artworks in Focus:
Julian Schnabel Overview Continues Below
If you see an error or typo, please:
tell us
Cite this page

Content compiled and written by Tracy DiTolla
Edited and published by The Art Story Contributors
" Artist Overview and Analysis". [Internet]. . TheArtStory.org
Content compiled and written by Tracy DiTolla
Edited and published by The Art Story Contributors
Available from:
First published on 21 Dec 2011. Updated and modified regularly.


[Accessed ]