Progression of Art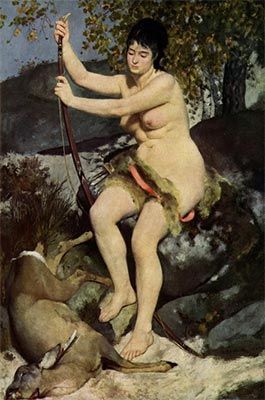 1867
Diana the Huntress
This wonderfully composed piece is far from exemplary when considering Renoir's later body of work. What we see, rather, is a young artist with a gift for oil painting and composition and yet without a truly distinct voice of his own. During his early years, Renoir spent a great deal of time touring the halls of the Louvre and other museums and studying the French masters of the 18th and early-19th centuries. In this canvas, he rendered his mistress Lise Tréhot as the Roman goddess Diana, a common trope in Rococo portraiture. Though the matter-of-fact depiction of a full-figured nude also recalls his love of Realism à la Courbet, he achieves a Classical timelessness that Realism lacked.
Oil on canvas - National Gallery of Art, Washington, DC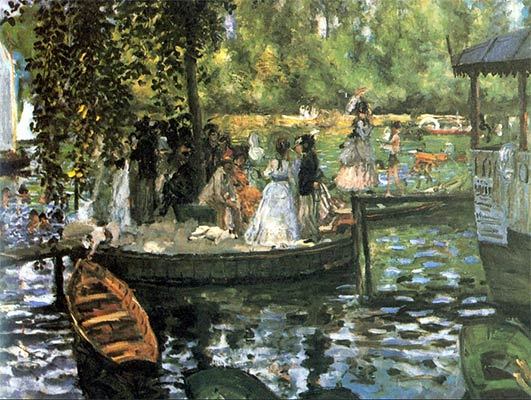 1869
La Grenouillère
At the popular outdoor bathing spot and bar La Grenouillère ("The Frog Pond"), Renoir and Monet, not yet financially successful artists, painted images of middle-class leisure that they hoped to sell to its wealthy clientele. As they worked closely alongside one another, the two simultaneously developed several of the theories, techniques, and practices that would give rise to Impressionism. Both artists painted this scene from this exact vantage point. If Monet's gives a broader perspective and focuses more on the vivid effects of light on the water and surrounding trees, then Renoir's version gives a closer view of the fashionable denizens of the popular resort. Indeed, even when painting nature en plein air, Renoir gave a weight to the human subject perhaps unmatched by his fellow Impressionists.
Oil on canvas - Nationalmuseum, Stockholm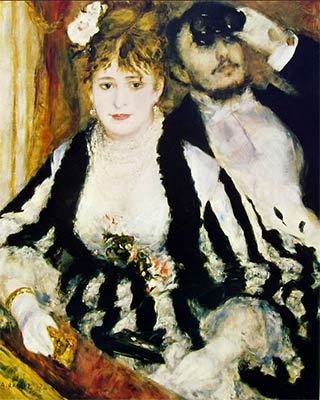 1874
La Loge
Depicting an elegant-looking couple sitting in an elevated theater box, this tribute to Parisian modern life was also the artist's principal contribution to the very first Impressionist exhibition of the same year, and it was met with much acclaim. The theater played a prominent role in Parisian life, from opera to the popular variety shows featuring can-can dancers, and depictions of the theater typically focused on the performers. However, much of the allure of the theater for the middle class was the opportunity to see and be seen, and La Loge deftly captures that complex interplay of gazes. The woman lowers her opera glasses, implying that she is no longer watching the events on stage and allowing her face to be seen. Meanwhile, the man (Renoir's brother Edmond) leans back in his seat, perusing the theatergoers in other balconies through his glasses. With his delicate and masterful rendering of his model's lacy bodice, glinting jewelry, and floral accoutrements, Renoir painted a canvas about seeing that spoke to his own keen eye.
Oil on canvas - The Courtauld Gallery, London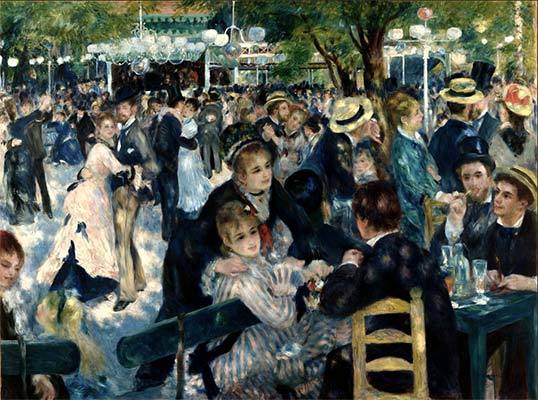 1876
Dance at the Moulin de la Galette
Universally considered among Renoir's masterpieces, Dance at the Moulin de la Galette is a snapshot of everyday life in the fashionable neighborhood of Montmartre. The courtyard of the Moulin de la Galette, still in operation today, was a gathering place for working-class drinking, dining, and dancing. Moulin presented Renoir with a true and unique challenge: the sheer quantity of people, details, and viewpoints to capture, combined with the flickering sunlight and inherent movement that came with such a scene, was an awesome undertaking. His solution was a significantly larger-than-average canvas for an Impressionist painting (over four-by-six feet), in which he unified several vignettes of activity, several couples dancing, a table of friends drinking, and standing groups talking, with colorful brushstrokes that denote zones of shade and light from the canopy of trees overhead.
Oil on canvas - Musée d'Orsay, Paris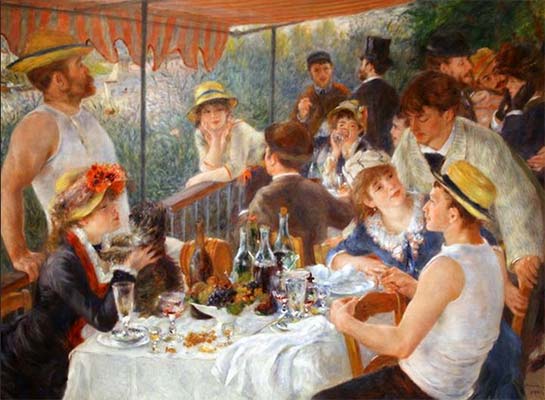 1881
Luncheon of the Boating Party
In Luncheon of the Boating Party, Renoir depicted a number of his close friends, including painters, art dealers, and his future wife Aline Charigot, in a smaller, more intimate setting than in a painting like Dance at the Moulin de la Galette. Though he uses smaller groupings of figures to manage the fourteen partygoers (and one dog), he renders the scene without making it feel staged like a group portrait. Looking beyond the individual subjects of Luncheon, there exists an amount of composition typically foreign to Impressionist canvases. Indeed, in the early 1880s, Renoir began to reintegrate classical notions of composition into his canvases; here, he used the boat's railing to create a diagonal axis from background to foreground, gradually making the scene less congested and more full of patterns of light, shadow, and color. Coupled with his intense study of surface (glass, flesh, straw, various textiles) is a sweetness in the image of Charigot smooching at a toy terrier that is representative of the best of Renoir's work.
Oil on canvas - The Phillips Collection, Washington, DC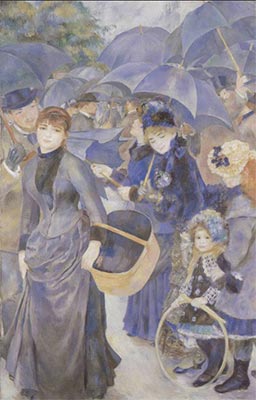 1881
The Umbrellas
Renoir occupies an important place in the history of modern art for being the first to introduce underlying structure into the Impressionist mode of vision. In doing so, he set the stage for the Post-Impressionist Paul Cézanne and for 20th-century movements like Cubism that would deeply analyze form, depth, and perspective in a modern manner. The Umbrellas is a paradigmatic painting in that conversation, as Renoir painted it as an Impressionist canvas in 1881 before reworking it in 1886 with the underpinnings of classical composition he had seen on trips to view Old Master painting in Italy. The finished canvas, then, brings Impressionism's experiments with color and light into cooperation with stronger line and an emphasis on geometric forms, evident in the vivid, brushy trees in the background, the reflections of natural blues and greens onto the dress of the young woman on the left, and the intense interplay of eye contact. The result is a beautifully worked image that captures a temporary moment of being caught in the rain, as a gentleman, presumably taken with the beauty of the young woman, leans in to offer her shelter under his umbrella.
Oil on canvas - National Gallery, London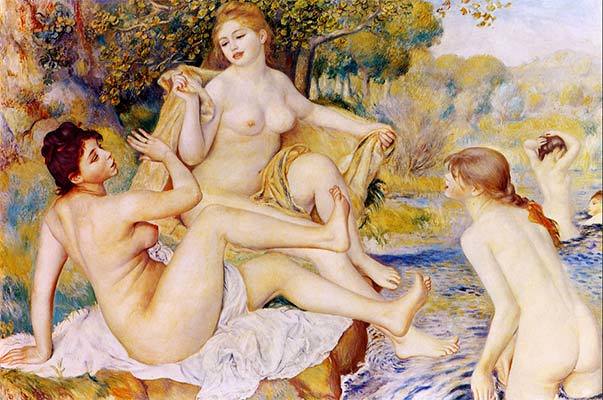 1884-87
The Large Bathers
Beyond merely attempting to bring Renaissance structure into Impressionism, Renoir also courted the timelessness of classical style by painting traditional subjects. With its focus on coloration and its figural group of three beautiful, robust women at the center, The Large Bathers is reminiscent of Peter Paul Rubens's dynamic step beyond High Renaissance techniques. Renoir painstakingly worked and reworked The Large Bathers for three years, including making several preparatory drawings and painted sketches before arriving at the finished product. The monumentality of the canvas and the figures' scale within the canvas was indicative of a step away from the smaller, quickly captured images of Impressionism. Though the painting was received unfavorably at the time, the significance of Renoir's experiments in mingling modern and traditional modes of painting cannot be overlooked.
Oil on canvas - Philadelphia Museum of Art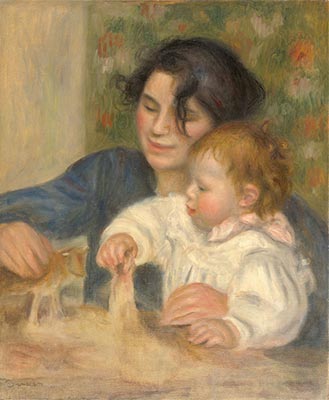 1895-96
Gabrielle Renard and Infant Son Jean
Beyond his grander masterpieces, Renoir's oeuvre is also marked by a great number of very sweet images of families, often his own wife and three sons, in domestic settings. The softly impressionistic Gabrielle Renard and Infant Son Jean shows his nanny (also his wife's cousin) Gabrielle playing with his son, the future film director Jean Renoir. Jean would publish the biography Renoir, My Father in 1962, in which he illuminated parts of his upbringing and the enormous influence his father had on his artistic career. Much of our most intimate knowledge of Renoir the painter relies on the research and personal anecdotes written down by his son; here, the father portrayed an intimate moment into his son's early life, as he is entertained with a stuffed animal.
Oil on canvas - Musée de l'Orangerie, Paris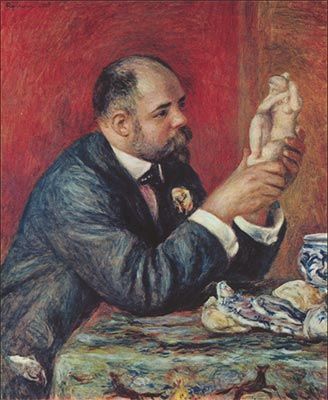 1908
Portrait of Ambroise Vollard
Ambroise Vollard was a dealer, friend, and supporter of Renoir's art in the later stages of the artist's career, even going so far as to publish a biography of the artist in 1925. Renoir celebrated their friendship by painting Vollard many times in many different guises. As a painting, Portrait of Ambroise Vollard, reveals Renoir's considerable abilities as a portraitist, through a delicately rendered image that at once touches upon the more recent artistic experiments of Paul Cézanne (multiple points of view) and Henri Matisse (large planes of color), while retaining Renoir's structure, coloration, and impressionistic application of paint. Moreover, he depicted Vollard as an intelligent connoisseur of art and an admirer of beauty who holds a small, classically inspired sculpted nude. This is particularly poignant in hindsight, as it was Vollard in 1913 who would suggest to the ailing, arthritic Renoir, for whom painting was becoming increasingly difficult, that he consider sculpting, going so far as to locate and provide for the aging artist a young, talented sculptor to help him achieve his designs. In 1908, then, despite his failing health, Portrait of Ambroise Vollard still shows Renoir capable of considerable artistic achievement.
Oil on canvas - The Courtauld Gallery, London
Similar Art
Related Artists
Related Movements & Topics