Biography of Georgia O'Keeffe
Childhood and Early Training
Georgia O'Keeffe was born near Sun Prairie, Wisconsin in 1887, the second of seven children. She received early encouragement to study art from her mother and took watercolor lessons from a local artist, Sara Mann. O'Keeffe came from a family where female education was stressed and she was fortunate to attend the School of the Art Institute of Chicago from 1905 to 1906 where she studied with John Vanderpoel.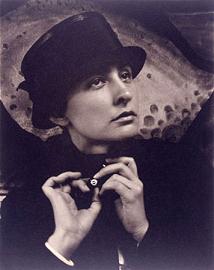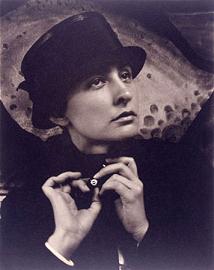 In the fall of 1907, O'Keeffe moved to New York City and attended classes at the Art Students League, studying under the artist-teacher William Merritt Chase. A prize she won for one of her still lifes, allowed her to attend the League's summer school in Lake George, New York. While in NYC, she frequented exhibitions at Gallery 291, which was owned by photographer Alfred Stieglitz and was one of the few places in the United States where European avant-garde art was exhibited. For the first time O'Keeffe was exposed to popular European artists, such as Auguste Rodin and Henri Matisse. She abandoned the pursuit of art as a career in 1908 for four years, taking a job in Chicago as a commercial artist.
She began focusing on her art again in 1912, after attending a drawing class at the University of Virginia's summer school. Her teacher, Alon Bement, professed an innovative teaching style that was heavily influenced by the artist Arthur Wesley Dow. While teaching at Columbia College in South Carolina in 1915, O'Keeffe began to experiment with Dow's theory of self-exploration through art. She took natural forms, such as ferns, clouds, and waves, and began a small series of charcoal drawings that simplified them into expressive, abstracted combinations of shapes and lines. After completing this series, O'Keeffe mailed a few of them to her friend Anita Pollitzer, a former classmate, who brought the drawings to the attention of Alfred Stieglitz in January 1916.
Mature Period
Recognizing her potential, Stieglitz began a correspondence with O'Keeffe. Unbeknownst to O'Keeffe, he exhibited ten of her charcoals at his Gallery 291. He sent her photographs of her drawings on exhibit and this began their professional relationship. While O'Keeffe continued to teach, she returned to New York in 1917 to view her first solo exhibition, arranged by Stieglitz at 291. During this time, O'Keeffe and Stieglitz began a love affair that would last until his death. In 1918, Stieglitz offered to financially support O'Keeffe for one year so that she could live and paint in New York. She took a leave of absence from her teaching position and for the first time dedicated herself solely to making art. Stieglitz divorced his first wife, and he and O'Keeffe married in 1924.
During the 1920s, Stieglitz introduced O'Keeffe to his friends and fellow artists - the Stieglitz Circle - that included Marsden Hartley, Arthur Dove, John Marin, and Paul Strand. Stieglitz and his Circle, as they were called, championed modernism in the United States. O'Keeffe was profoundly influenced by Strand's photography and the camera's ability to behave like a magnifying lens, as well as Charles Sheeler's Precisionism. Following these interests, she began making large-scale paintings of natural forms at close range, and, during this time, also switched from watercolors to oil paint. In addition to flowers, O'Keeffe depicted New York skyscrapers and other architectural forms. By the mid-1920s, O'Keeffe was recognized as one of the most significant American artists of the time and her art began to command high prices.
O'Keeffe's fascination with the landscape of New Mexico began in 1929, when she was a guest of famous arts patron, Mabel Dodge Luhan, at Dodge's ranch near Taos. O'Keeffe became enamored with New Mexico's landscape of vistas and barren land, returning every summer until 1949 to paint. Works produced from this landscape captured the beauty of the desert, its vast skies, distinctive architectural forms, and bones, which she collected in the desert. O'Keeffe's eventual purchase of two properties in New Mexico further connected her to the land.
During the 1930s and 1940s, O'Keeffe's popularity continued to grow and she was honored with two important retrospectives, the first in 1943 at the Art Institute of Chicago and the second in 1946 at the Museum of Modern Art, their first retrospective of work by a woman.
Late Years and Death
In 1949, three years after Stieglitz's death, O'Keeffe moved permanently to New Mexico. In the 1950s, she produced a series of works that featured the architectural forms of her patio wall and door at Abiquiu, one of her two homes near Santa Fe. O'Keeffe began to travel extensively, gathering inspiration for her work. She received many accolades, including membership in the American Academy of Arts and Letters, the Medal of Freedom, and the National Medal of Arts. Despite waning popularity in the 1950s and 1960s, a retrospective held by the Whitney Museum of American Art in 1970 revived her career and brought her to the attention of a new generation of women in the era of feminism. Despite failing eyesight, O'Keeffe continued to produce art, working in watercolor, pencil, and clay throughout the 1970s. Although she had lost her central vision by the age of 84, she continued to paint. Her last paintings consist of simple abstract lines and shapes and hearken back to her early charcoal drawings.
The Legacy of Georgia O'Keeffe
Georgia O'Keeffe spent 70 years making art and contributing to the development of American modernism. She was a prominent member of the creative Stieglitz Circle, influencing early American modernists. She is notable for her role as a pioneering female artist, and although she disavowed their interpretation of her work, she was a strong influence on the artists of the Feminist art movement, including Judy Chicago and Miriam Shapiro, who saw feminine imagery in O'Keeffe's flower paintings. A prolific artist, she produced more than 2000 works over the course of her career. The Georgia O'Keeffe Museum in Santa Fe is the first museum in the United States dedicated to a female artist, and its research center sponsors significant fellowships for scholars of modern American art.
Content compiled and written by The Art Story Contributors
Edited and published by The Art Story Contributors
"Georgia O'Keeffe Artist Overview and Analysis". [Internet]. .
TheArtStory.org
Content compiled and written by The Art Story Contributors
Edited and published by The Art Story Contributors
Available from:
First published on 05 Dec 2014. Updated and modified regularly
[Accessed ]