Progression of Art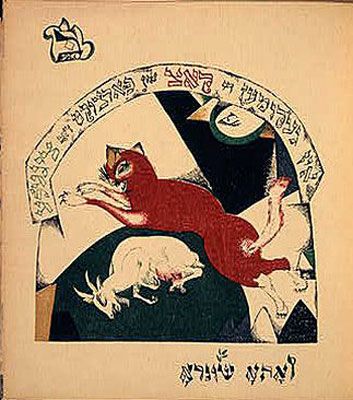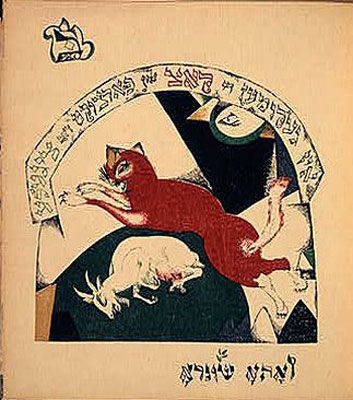 1919
Had Gadya
"Had Gadya" is a song that is sung by Jewish families on the first evening of Passover. It tells the tale of a billy goat (representing the Jewish people) who is attacked by a cat, which is in turn attacked by a dog. These animals represent the oppressors of Jews throughout history. Lissitzky originally created gouache paintings of the ten animals, Had Gadya is a painting in a fluid manner, reminiscent of the style of Marc Chagall. This 1919 version, created for a children's book, features quaint, naturalistic animals contained within curvilinear compartments that overlap. These geometric elements - harbingers in a sense - speak not to the overt simplicity of Lissitzky's later style, but they also create a sense of movement within the composition.
Lithograph - Private collection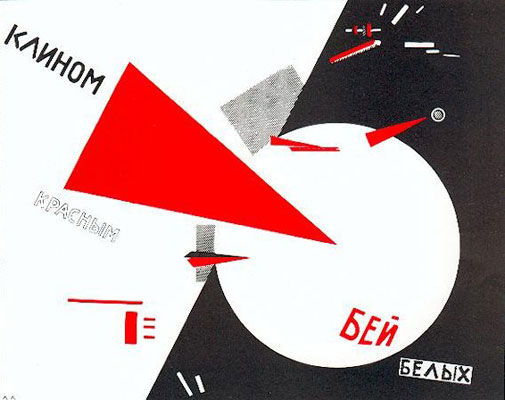 1919
Beat the Whites with the Red Wedge
Beat the Whites with the Red Wedge is one of Lissitzky's earliest attempts at propagandistic art. He produced this politically charged work in support of the Red Army shortly after the Bolsheviks had waged their revolution in 1917. The red wedge symbolized the revolutionaries, who were penetrating the anti-Communist White Army. Here Lissitzky uses his signature coded color combination of red, white and black, which reinforces the message indicated by the work's title. Colors and shapes take on directly symbolic significance. For example, the smooth, curvilinear walls of the white circle are pierced by the sharp point of the red triangle: the Red Army has pierced the defenses of the White Army. Dramatic color contrasts also create confusion regarding space-which area is positive? Which is negative? Meanwhile, small geometric forms in the limited color scheme float like tiny projectiles through the space along with text. Here, basic forms combine with actual text: painting and typography are fused. This work is an important precursor to Lissitzky's Prouns, when Suprematist art moved onto a three-dimensional visual plain.
Lithograph - Municipal Van Abbemuseum, Eindhoven, The Netherlands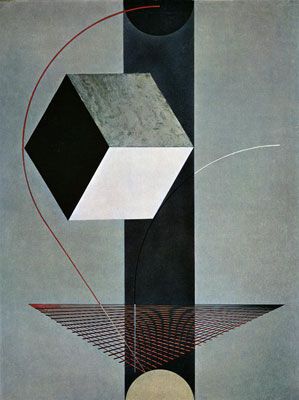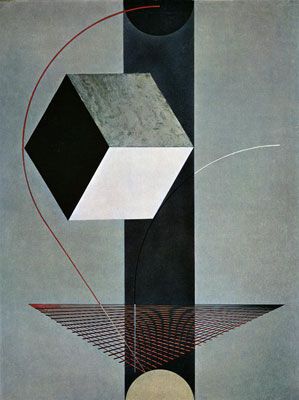 1925
Proun 99
Lissitzky's Prounen or Proun work, which spanned a variety of media from painting and illustration to physical installation, was the artist's effort to create three-dimensional environments in which two-dimensional shapes could exist in direct contrast to the space they inhabited. The end result for Lissitzky was ideally to create an ongoing tension between open, negative, three-dimensional space and flat, purely abstract, geometric forms. Painting and drawing, which had formerly existed independently of the three-dimensional media of sculpture and architecture, could now be fused to them to create new, integrated forms - ideally, the futuristic, Suprematist-style buildings Lissitzky envisioned.
Watercolor and metallic paint on wood - Yale University Art Gallery, New Haven, CT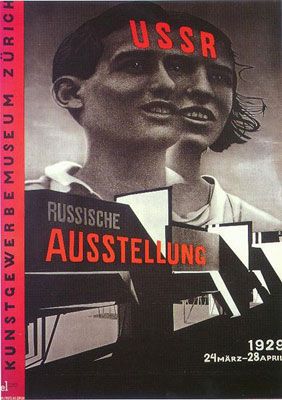 1929
USSR, Russische Ausstellung
This poster was created for a 1929 exhibition at the Kunstwerbemuseum or Museum of Decorative Arts in Zurich. Lissitzky's Constructivist art and his political beliefs had become virtually interchangeable at this point in his career. In this work, the two colossal busts of a man and a woman loom over the sprawling horizontal structure. These figures are fused to emphasize the equality of the sexes in the Communist idiom and they are the essence of the State. Lissitzky had long envisioned his countrymen rising to new heights, both physically and spiritually.
Photogravure in red and black - Museum fur Gestaltung Basel, Switzerland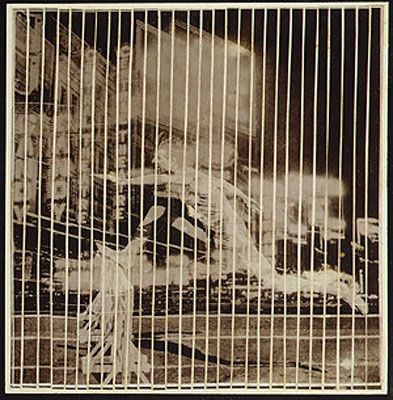 1930
The Runner
Lissitzky once wrote of photography, "...photography possesses properties not available to painting. These properties lie in the photographic material itself and it is essential for us to develop them in order to make photography truly into art." With The Runner, Lissitzky converted his 1926 gelatin silver print Runner in the City into a stunning new visual reference to the modern celebration of speed and dynamism by splicing the photo into equal, vertical sections. The segmented photo mimics the effect of perceiving objects in motion (the objects are moving and/or the viewer is also in motion): there is a sense of visual fragmentation as one glimpses the parts rather than the whole. Lissitzky's effort to make a form of media then considered trivial into high art was in fact another evolutionary step for the artist's own Constructivist style. The prevailing idea was to construct something grand and utterly new, and in this sense, the very notion of photography as a pure art form, or what the Soviets regarded as a "medium for enlightenment," was something truly avant-garde.
Photomontage - State Tretiakov Gallery, Moscow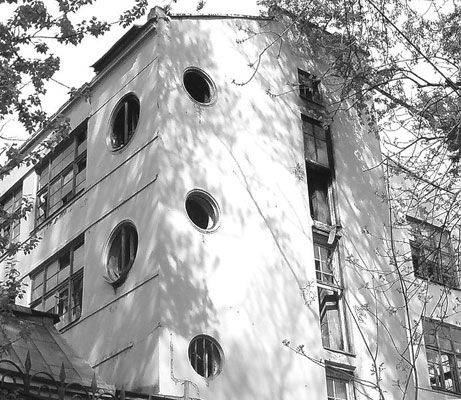 1932
The print shop of Ogoniok
For Lissitzky, architecture was an enduring passion. Ironically, in some regards his passion for architecture was also his greatest challenge to his own productivity. His utopian aspirations were often realized in Lissitzky's sketches and blueprints for buildings that would have been impossible to construct. In this renderings, towering monoliths seem to float weightlessly in mid-air, defying gravity and denying very real considerations (such as budget constraints). Not without a sense of the practical, Lissitzky modified his architectural visions. The print shop for the magazine Ogoniok in Moscow that was commissioned in 1932 stands as Lissitzky's sole extant work of architecture. Unfortunately the actual building is far from what he imagined, containing virtually none of the horizontal skyscraper elements that became Lissitzky's signature design.
Moscow, Russia
Similar Art
Related Artists
Related Movements & Topics