Biography of Fernand Léger
Childhood
Fernand Léger was born in rural Normandy on February 4, 1881 and raised by his family to take up a valuable trade, like his father who was a cattle dealer. While Léger was not encouraged to become an artist, when he showed talent for drawing, he was sent to apprentice with an architect in Caen. After finishing his military training in 1903, he studied in Paris at the École des Arts Décoratifs and Académie Julian. During his studies, he made a living doing architectural drawings and retouching photographs. His paintings during this early period show influence from Impressionism, but the 1907 retrospective of Paul Cézanne at the Salon d'Automne changed the direction of his art.
Early Training
In 1909, Léger moved to Montparnasse and painted early Cubist works such as Le Compotier sur la Table (1909). Though he had met Georges Braque, Pablo Picasso, and Henri Rousseau, his closest friends were the writers Guillaume Apollinaire and Blaise Cendrars. At the 1911 Salon des Indépendants, Léger exhibited paintings that led to his recognition as a major Cubist artist, particularly Nudes in the Forest (1909-1910). He continued to exhibit at the Indépendants and at the Salon d'Automne until he was drafted in 1914, returning with a head injury after being gassed at Verdun in 1916. His war experience fueled Léger's interest in the human figure. He claimed that he forgot the abstraction of 1912-13 because of the "crudeness, variety, humor, and downright perfection of certain men around me, their precise sense of utilitarian reality and its application in the midst of the life-and-death drama we were in ... made me want to paint in slang with all its color and mobility."
Mature Period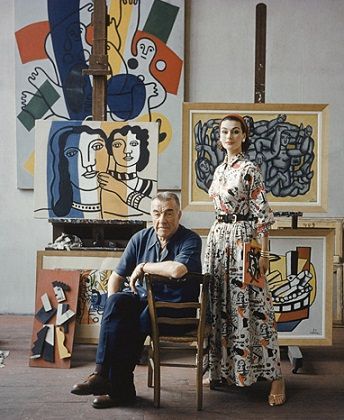 In 1920, Léger married Jeanne-Augustine Lohy and also met Le Corbusier with whom he would remain close friends. He aligned himself closely with the circle around Le Corbusier who were interested in machinery and depicting speed and motion. His clean, figurative style and retreat from abstraction in this period are evident in Three Women (Le Grand Déjeuner) of 1921. There are also obvious nods to Futurism in some of his works from this period.
During the 1920s he branched out into other methods of creative expression. He illustrated books, made sets and costumes for ballet and theater performances, and even made the film, Ballet Mechanique, in 1924. It was also in 1924 that he founded a free school for modern art in Paris with Amédée Ozenfant where he taught alongside Marie Laurencin and Aleksandra Ekster.
His subject matter during the 1920s and 1930s reflected his interest in social equality. He was part of the loose Interwar Classicism movemetn, and during this period, Léger began several series of paintings that have been called "cycles," which show different groups of men in action such as construction workers, cyclists, and divers. These works often combined his interest in depicting technology and machinery with a growing focus on the human form, as in Constructor series.
Late Years and Death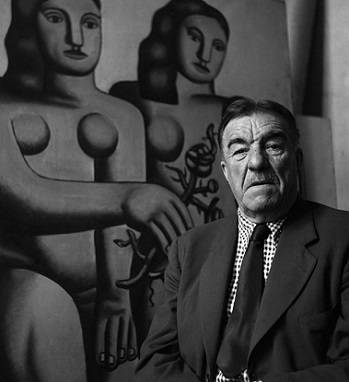 Léger first visited the USA in 1931 and relocated to New York City to escape World War II. Between 1940-45 Léger influenced many New York School painters and also administered a lecture series at Yale University called, "Color in Architecture." On his return to France in 1945, he joined the Communist Party. His wife died in 1950 and he was re-married to Nadia Khodossevitch in 1952. Léger became increasingly interested in large-scale public art and in the years before his death produced mosaics, stained glass windows, and murals in Europe and South America. Fernand Léger died at his home in Gif-sur-Yvette, France on August 17, 1955.
The Legacy of Fernand Léger
Léger's unique form of Cubism that relied on cylindrical forms was influential to many abstract painters and sculptors, including Henry Moore, while his bold use of color in combination with his idea of art as something that "everyone can understand" inspired many Pop artists. Léger's belief that art can unify people may even have influenced community-based art as activism movements, such as Fluxus.
Content compiled and written by The Art Story Contributors
Edited and published by The Art Story Contributors
"Fernand Léger Artist Overview and Analysis". [Internet]. .
TheArtStory.org
Content compiled and written by The Art Story Contributors
Edited and published by The Art Story Contributors
Available from:
First published on 05 Apr 2014. Updated and modified regularly
[Accessed ]