Artists
Jeff Koons
Biography and Legacy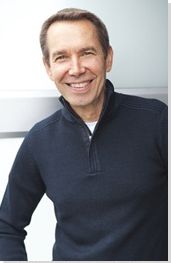 Jeff Koons - Biography and Legacy
American Painter, Illustrator, Sculptor
Movements and Styles: Neo Pop Art, Neo-Geo
Born: January 21, 1955 - York, Pennsylvania

From Our Sponsor
"The job of the artist is to make a gesture and really show people what their potential is. It's not about the object, and it's not about the image; it's about the viewer. That's where the art happens."
Biography of Jeff Koons
Early Life
Born in Pennsylvania on the first day of 1955, by the age of eight years old, he had begun creating replicas of Old Master paintings, which he signed 'Jeffrey Koons' and sold at his father's antique shop. After graduating from high school, he enrolled at the Maryland Institute College of Art in Baltimore, where he painted neo-surrealist dreamscapes heavily inspired by his hero Salvador Dalí.
In 1974, Koons viewed an exhibition at the Whitney Museum of American Art in New York City by the Chicago Imagist Jim Nutt, which came to represent a watershed moment in his life and career. On the basis of that show, he transferred to Chicago, in order to work with Nutt and other Chicago Imagist teachers, among them Karl Wirsum and Ed Paschke. After studying directly under Paschke in Chicago for a year, Koons returned to the Maryland Institute College of Art, where he graduated with a B.F.A in 1976. He was awarded an honorary degree from the Chicago Institute of Art some 30 years later.
In 1977, after graduating from college, Koons moved to Manhattan and took a job selling memberships at the Museum of Modern Art. In New York City, he explored the New Wave and Punk music scenes at the now legendary clubs CBGB and the Mudd Club, and mingled with David Salle and Julian Schnabel, slightly older artists with an established reputation in New York. It was during this period that he began producing the first inflatable sculptures, which would become a hallmark of his practice.
In 1980, Koons left MoMA and began selling stocks and mutual funds for the First Investors Corporation, building on his background in sales. This financed the body of work that would constitute The New series. In 1980, he debuted the series in the New Museum's storefront window on 14th Street in Lower Manhattan, which included three illuminated vacuum cleaners encased in plexiglass vitrines. Koons received almost instantaneous critical acclaim for his work. Only three years after this public debut, critic Roberta Smith declared him one "of the strangest and most unique of contemporary artists."
Mature Work
The New Series garnered Koons significant critical attention throughout the early 1980s, but it was not until 1986 that he achieved major media traction, when he - along with fellow artists Peter Halley, Ashley Bickerton, and Meyer Vaisman - made the much publicized jump from International With Monument gallery to the esteemed Sonnabend Gallery, collectively acquiring the title "The Hot Four" on the cover of New York Magazine. Two years later, Koons unveiled the Banality series which catapulted him to international fame. The series, featuring sculptural amalgamations of stuffed animals, plush toys and magazine imagery among other inspirations, debuted nearly simultaneously at Sonnabend Gallery in New York, Max Hetzler in Cologne and Donald Young in Chicago. Having been featured in the pages of Time Magazine and on the cover of the Wall Street Journal, Koons' renown grew exponentially when, a year later, he released his most controversial series to date, Made in Heaven, consisting of monumental photographs depicting him nude and in sexually explicit acts with his then girlfriend, soon-to-be wife Ilona Staller, the famed Italian porn star also known as Ciccolina. Brazenly flouting conventions of good taste, the series elicited an overwhelmingly condemnatory response from critics and the public alike, threatening to dethrone Koons from art world preeminence. Ultimately, however, Made in Heaven proved the adage that any publicity is good publicity. News from Missouri to Helsinki covered Koons' outrageous suite of pictures, and his subsequent engagement to Staller. Koons retained his title as a bona fide art star.
From then on Koons' reputation has continued to grow. Riding the wave of interest and rising values of contemporary art, his work in recent decades has explored themes related to sexuality, kitsch, celebrity, consumerism, and childhood. Series such as Hulk Elvis, Gazing Ball, and Balloon Dog resonate with critics and the public alike. He remains one of the most celebrated figures in contemporary art.
The Legacy of Jeff Koons
Since the 1980s, Koons has been a prevalent influence on contemporary artists who explore commercialism, advertising strategies, Duchampian conceptualism and pop aesthetics. His career is fascinating to contrast with that of West Coast artist Mike Kelley, an artist who used similar materials, but whose sculptural experiments with stuffed animals, balloons and other expressions of childhood merriment, are ultimately about dejection and angst. The influence of Koons is manifest in the work of a panoply of artists. Canonized figures such as Mike Kelley, and Isa Gentzken, and emerging art stars such as Darren Bader and Nick Darmstaedter are among those artists who have been impacted by his work. In his ability to identify themes that resonate with and captivate the public, he is most comparable to Damien Hirst, his slightly younger contemporary whose art star status in England parallels Koons' in the U.S. Hirst's world famous shark suspended in a tank of formaldehyde is especially indebted to Koon's early work. Koons' forays into advertising laid the groundwork for Hank Willis, who has delved more deeply into the racial implications of contemporary marketing imagery.
Most Important Art
New Hoover Convertibles Green, Blue; New Hoover Convertibles Green, Blue; Double Decker (1981-1987)

In Koons' work, the vacuum cleaner is an important recurring symbol. In conversations about it, he has called attention to its anthropomorphic and androgynous qualities, almost as if it were a totemic figure. "It is a breathing machine" he once stated, which "displays both male and female sexuality. It has orifices and phallic attachments." In a series entitled "The New," Koons explores America's fetishization of pristine commodities and their relationship to notions of sexuality, innocence, and cleanliness. Here, four commercial vacuum cleaners housed in a monolithic plexiglass vitrine are lit from below with fluorescent lights. Duchamp's original 'readymades', especially his presentation of a urinal in 1919 as art, are obvious precedents for this work. Whereas Duchamp turned the urinal on its head and signed it (R. Mutt), however, Koons one-ups Duchamp, giving us no visible sign of his involvement in the work. The categorization of New Hoover Convertibles as art transforms the retail display into a shrine to commerce. As "art," it evokes a host of miraculous events depicted by artists, from the raising of Lazurus to the Resurrection of Christ. We are reminded of the ways in which modern life has been transformed by living, "breathing machines." Whether Koons is celebrating or condemning this transformation is an open question. Koons' ability to put his finger on the pulse of such moral ambiguities, without telling the viewer what to think, is perhaps his greatest strength as an artist.

Read More ...

Jeff Koons Artworks in Focus:
Jeff Koons Overview Continues Below
If you see an error or typo, please:
tell us
Cite this page

Content compiled and written by The Art Story Contributors
Edited and revised, with Synopsis and Key Ideas added by Ruth Epstein
" Artist Overview and Analysis". [Internet]. . TheArtStory.org
Content compiled and written by The Art Story Contributors
Edited and revised, with Synopsis and Key Ideas added by Ruth Epstein
Available from:
First published on 07 May 2016. Updated and modified regularly.


[Accessed ]