Bonus Section – Koons
01

Moved by Music

Koons moved to New York after attending university in Chicago. He was apparently inspired to make the change after hearing Patti Smith's first album, Horses on the radio. Smith was a major player in the burgeoning New York punk rock scene at the time and was closely linked to controversial photographer Robert Mapplethorpe. Koons has since noted in a number of interviews the profound impact that music has had on him during his life, claiming that, "It enhances our senses, everything in it is about feelings".
02

Members Only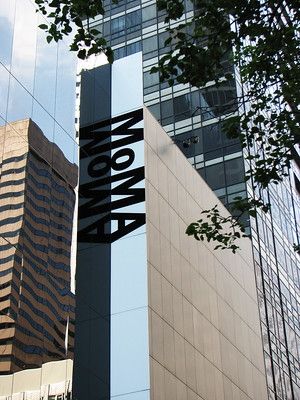 Koons worked at MoMA to support himself when he first moved to New York in 1977
Whilst working on the membership desk at New York's Museum of Modern Art, Koons became known for his flamboyant style, including dyed hair, polka-dot shirts, glittery vests, and colorful bow-ties. He also occasionally sported an inflatable flower as a buttonhole. He enjoyed the performative aspects of the role and during his time in the job allegedly doubled memberships to the museum.
03

Milking It

Koons featured in the 2008 film, Milk, playing a cameo as the politician Art Agnos and appearing in a short debate scene with star Sean Penn. Director, Gus Van Sant said, "I saw him on a morning show…I thought he'd be good - he was such a good salesman". He has also appeared in two high-profile documentaries, David Bowie: Sound and Vision (2003) and Jeff, Embrace Your Past (2014). The filmmakers of the latter were allowed a great deal of personal access to Koons and focused on his controversial career and particularly his 1992 exhibition at the San Francisco Museum of Modern Art.
04

Merde Happens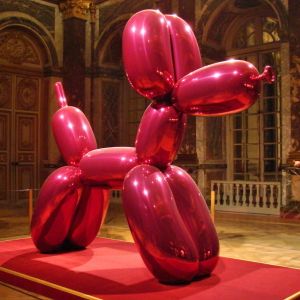 Koons' Balloon Dog (Magenta) on display in Versailles in 2008
When visiting his controversial exhibition at Versailles (2008-09), Koons and his second wife, artist Justine Wheeler-Koons, thought it would be fun to eavesdrop on the crowd. This resulted in them hearing a security guard declare loudly to visitors that it was all, "Merde, merde, merde [shit, shit, shit]".
05

Naked Ambition

Ahead of the 2014 retrospective of Koons' work at the Whitney Museum of American Art he was the subject of a Vanity Fair article for which he was photographed working out naked by American portrait photographer Annie Leibovitz. Leibovitz is known for her intimate images of celebrities including a 1981 photograph of the rock star John Lennon and artist Yoko Ono taken on the day Lennon was murdered and a 1991 Vanity Fair cover which featured a naked, pregnant Demi Moore.
06

Bag a Bargain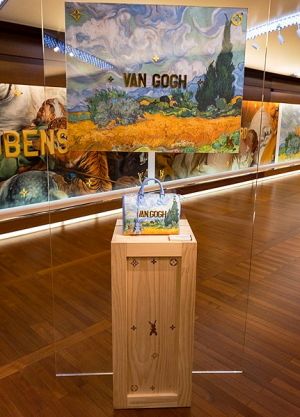 The Van Gogh edition of the Louis Vuitton and Jeff Koons handbag collaboration (2017)
Koons has participated in a number of high-profile commercial collaborations including designing the exterior of the BMW entry for the famous Le Mans motor race in 2010 and producing a Dom Perignon champagne case based on his Balloon Venus sculpture. In 2014, he worked with H&M to create a limited-edition black leather bag that had his famous Balloon Dog on it. It sold out within hours of its release. More recently, he has collaborated with Louis Vuitton to create a series of handbags featuring details from his Gazing Ball paintings.
07

Going Once…
Koons' Rabbit (1986) is currently the highest grossing artwork sold at auction by a living artist
Koons is the current record-holder for the most expensive art work sold at auction by a living artist. His stainless-steel Rabbit (1986) sold for $91.1 million with fees in May 2019. This is not the first time that Koons has held this record. He last held it with Balloon Dog (Orange) in 2013, until he was dethroned by David Hockney in 2018.
08

A Desirable Collection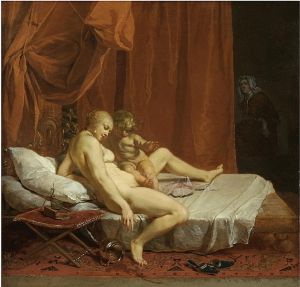 Venus and Cupid by Nikolaus Knupfer
Koons is an avid and prolific art collector and owns a large number of both Old Masters and more modern artists including Picasso, Dali, Courbet, Monet, Poussin, Magritte, and Fragonard which hang in his New York home. These inspire his work and he links the majority of the pieces he owns to themes of sex and desire, seeing these as universal to the human experience.
Koons' has said Venus and Cupid (1635) by Nikolaus Knupfer is one of his favorite pieces in his personal art collection, noting that Venus "is not a young woman; she has birthed quite a few times…I find her very, very beautiful."