Biography of Ernst Ludwig Kirchner
Early Training
Ernst Ludwig Kirchner was born on May 6, 1880 in Aschaffenburg, Bavaria, and began studying architecture at the Dresden Technical High School in 1901 at the encouragement of his parents. While attending classes, he became close friends with Fritz Bleyl, who shared his radical outlook on art and nature. During this time, Kirchner chose to dedicate himself to fine art rather than architecture.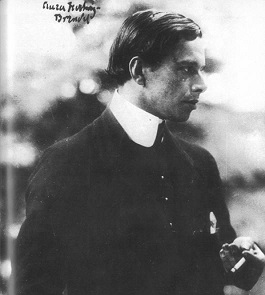 In 1905, Kirchner and Bleyl, along with fellow architecture students Karl Schmidt-Rottluff and Erich Heckel, founded the artist group Die Brücke ("The Bridge.") The aim was to eschew traditional academic styles and to create a new mode of artistic expression, forming a "bridge" between classical motifs of the past and the present avant-garde. Die Brücke expressed extreme emotion through crude lines and a vibrant, unnatural color palette. The group would meet in an old butcher's shop that served as Kirchner's studio to practice figure drawing. (Studio meetings, however, would often devolve into casual lovemaking and general nudity.) Much of the artwork created by Die Brücke was a direct response to the graphic work of Albrecht Dürer and the bold color palette of the Neo-Impressionists. Kirchner held a particular interest in the woodcarvings of Dürer, and sought to modernize them with his own unique style of pared-down lines and dynamic compositions.
Mature Period
In 1906, Kirchner and Die Brücke held their first group exhibition in a lamp factory. The female nude, inspired by late-night studio meetings, was the primary subject of the exhibition. Kirchner's woodcut print, Nude Dancers (Nackte Tanzerinnen) (1909), exemplifies the energetic tone of the exhibition. The crude, graphic lines depict naked women dancing on a stage. Die Brücke ended in 1913 with Kirchner's publication of Chronik der Brücke (Brücke Chronicle), which focused on the "freedom of life and of movement against the long-established older forces."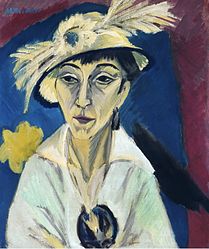 Thereafter Kirchner desired to establish his own identity as an artist. He developed an interest in industrialization and the alienation experienced by individuals in cities. Gradually, he turned his attention away from the female nude and toward the Berlin streets with the creation of the Strassenbilder series in 1915. These paintings focus on the energetic life of modern Berlin, as he observed the changing political situation of World War I and its impact on German culture. Kirchner depicted crowds of people with bold, expressive brushstrokes and in brash colors of blue, green, orange, and pink. Perspective was often skewed, the figures looming and teetering either toward or away from the picture plane, as a rejection of the academic conventions that he learned in his architecture courses.
Late Years and Death
Kirchner voluntarily joined the military in 1915, though he was released shortly after due to a nervous breakdown. He recovered in several Swiss hospitals between 1916 and 1917. Scarred by his military experience, in 1918 he moved to a farmhouse in the Alps, near Davos, where his new residence inspired a series of mountain landscapes.
His reputation as a leading German Expressionist continued to grow with exhibitions in Switzerland and Germany in the 1920s. His first monograph and catalog of graphic works were published in 1926. He was commissioned to create several murals in the Folkwang Museum in 1927, and in 1928 was invited to take part in the Venice Biennale. In 1931, as his success continued, Kirchner became a member of the Prussian Academy of Arts.
In 1933, however, German Nazis branded Kirchner as "Degenerate artist," forcing him to resign from the Berlin Academy of Arts. Over 600 of his works were detained or destroyed by the Nazi regime. The traumatic impact of these events led to his suicide on July 15, 1938.
The Legacy of Ernst Ludwig Kirchner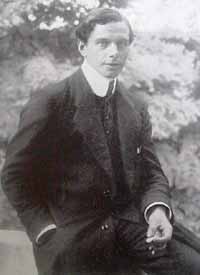 Ernst Ludwig Kirchner was a leading force behind the Expressionist movement in Germany. Since 1913, his work has gained international recognition, extending its popularity into America. His art captures German culture at a critical point in pre-World War I history. Although his work speaks to a specific culture, his expressive skill as a painter and printmaker has influenced generations. Many attempt to emulate Kirchner's distorted sense of perspective. The graphic, agitated lines and highly-keyed color palette are timeless and distinct to the artist. Kirchner's work continues to be exhibited and sold around the world. It has also been a significant influence on new generations of Expressionists, including artists such as Georg Baselitz and Jörg Immendorf.
Content compiled and written by Larissa Borteh
Edited and published by The Art Story Contributors
"Ernst Ludwig Kirchner Artist Overview and Analysis". [Internet]. .
TheArtStory.org
Content compiled and written by Larissa Borteh
Edited and published by The Art Story Contributors
Available from:
First published on 22 Nov 2011. Updated and modified regularly
[Accessed ]