Progression of Art
2003
What if the Phone Rings
What if the Phone Rings? is comprised of three life-like, hand-colored wax sculptures of nude women in traditional neoclassical poses: seated, supine, and prone. Each figure has wicks placed in one or more parts of the body, which are lit at the start of the exhibition. During the show cavities formed in the figures as they slowly grew disfigured and disappeared before the audience's eyes. The title reflects this constantly morphing artwork by suggesting that a momentary absence of attention would cause the viewer to miss out on a pivotal moment of the piece's life and inevitable disintegration.

Fischer's wax sculpture works confront the viewer with ideas surrounding death, disintegration, and decay through a poetically slow means. Tom Morton when writing about this work for Frieze, ties his use of time and material to the "impossibility of ever experiencing a work of art in a meaningfully 'final' way (how can we, if its form changes the moment we turn our backs?), it's also an affirmation that there are other forces at work in the world aside from the artist's hand, and that these, too, play a part in the art-making process." The title of the work What if the Phone Rings?, in a tongue-in cheek-way, links to this concept of the work not having a single viewing experience, suggesting that by answering the phone the viewer would be miss out on seeing the work change.

These melting candle women, originally staged in "ideal" classical forms, challenged traditional sculpture. The works, made through the process of subtraction, began as Styrofoam blocks from which the female nudes were roughly carved, hands and feet emerging from block-like pedestals, faces rough and angular. By lighting his female nudes, Fischer ignited a physical transformation, in which these naked human forms become elegant and organic fountains of wax. This change of state transformed traditional sculpture and morphed it into something more ephemeral, seen only once before being gone forever. This work, shown the same year as Fischer's first inclusion in the Venice Biennale, was a major formative moment in his career: widely exhibited on the international stage, and set a precedence for his works.
Wax, pigment, and wicks in three parts - Galerie Hauser & Wirth & Presenhuber, Zurich
2004-05
Bread House
Bread House is a Swiss chalet constructed entirely of loaves of bread and crumbs supported by wood, polyurethane foam, silicone, acrylic paint, tape, screws, and rugs. The installation's design leaves every ingredient exposed for the viewer to see. The bread sculpture was left to rot over the duration of the exhibition, with its strong smell infusing the gallery space. The viewer was left to ponder the slow destruction of the work.

In some instances of this work being installed, live parakeets were present, picking away at the artwork as viewers watched.

In the article "Roll With It," written for Frieze magazine, Tom Moore emphasized the fact that "Fischer shows us what this world might look like when the rot sets in." This is all too true for Fischer's Bread House as what would have been once a fully formed house inevitably falls and crumbles under its own weight and decay.

This work has been shown multiple times, each with a newly constructed house. The critical reception of the work has varied dependent upon where in the world it was shown. Fischer commented that, "In Austria, they said it's about the body of Christ. In the US, it's about gluten." Food is at the center of our lives, yet so controversial across cultures. This work not only shines light on the natural process of decay, but also connects us to global issues around food production and waste. When discussing this in an interview with Post Magazine, Fischer stated, "Where I grew up, bread is the core of everything...it's not a joke."

Fischer's use of bread and other non-standard materials in his work challenged ideas about what sculpture could be, bringing a sense of wit and cynical humor into a staid and semi-rigid tradition, and marrying it with Conceptual Art.
Sculpture with bread, wood, polyurethane foam, silicone, acrylic paint, tape, screws and rugs - In the collection of Angela and Massimo Lauro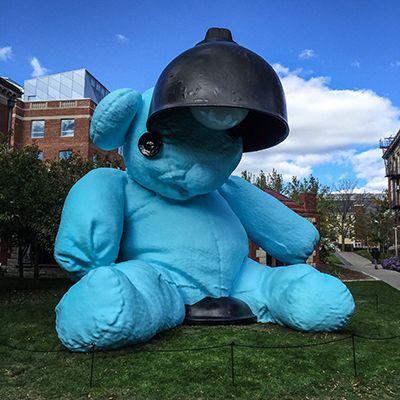 2005-06
Untitled Lamp/Bear
One of Fischer's best known works Untitled (Lamp/Bear) is a seven meter high lacquered bronze teddy bear with a functioning LED light attached to its head. The bear was based on the artist's own beloved teddy bear from childhood. In contrast to the more ephemeral nature of his past works like Bread House, this sculpture weighs almost seventeen tons. At night, the lamp illuminates the bear within its surrounding area, injecting a playful humor into the dark atmosphere of night.

Three bears have been made, two yellow and one blue. The blue bear was placed on loan with Brown University in 2016, its home on the Simmons Quad. The University described this work as "rooted in playfulness, with an element of irreverence." Untitled (Lamp/Bear) is from a series of works that explore what the artist calls 'the inner mechanics of duality.' By playing with pairing two objects together, Fischer questions what happens when two specific objects meet in an imagined space. In this case the childhood teddy bear, slumped over due to wear, shines bright light late into the evening on a university campus, mimicking many of the students who attend the school. One of the yellow bears was exhibited to great acclaim at the Museum Boijmans Van Beuningen, Rotterdam, and still another was sold at auction.

Francesco Bonami, an independent curator who has worked with Fischer for several shows in Europe, categorizes him as a "perfectionist in imperfection," and while he knows Fischer greatly admires fellow artist Jeff Koons, his work is the antithesis of Koons, "Urs's sloppiness is absolute perfect sloppiness...it's almost the platonic ideal of sloppiness." Untitled (Lamp/Bear) shows this well when comparing it to Koons's Celebration series of balloon animals blown up to fantastic proportions. Fischer's work has the characteristic of wear and tear from a childhood of use, and when bisected by the desk lamp not only has the feel of nostalgia for childhood but also a melancholy over its loss.

The large bear, which characteristically would be covered in soft fur, is now hard metal, textured and creasing with life-like realism. Fischer's teddy bear, in its use of beloved childhood nostalgia, contributes to the work of other artists using the motif such as Mike Kelley or Yoshitomo Nara who also use iconic toys to express a connection to childhood and innocence.
Bronze sculpture with acrylic glass and functioning LED - Steven and Alexandra Cohen Collection
2007
You
For Fischer's show at Gavin Brown's Enterprise in 2007, he excavated the gallery's main room, bringing in contractors to dig an eight-foot hole where the floor had been and called it You. A sign at the entrance warned: "THE INSTALLATION IS PHYSICALLY DANGEROUS AND INHERENTLY INVOLVES THE RISK OF SERIOUS INJURY OR DEATH." Curious visitors climbed down into the pit, while others peered down from the edge.

Brown took pride in the fact that You could "only have been done in a commercial gallery, where the landlord didn't know what we were doing, and where by the skin of your teeth we could get away with it." With this work, Fischer aimed to create a show where there was less than you might see if you had visited the gallery before. He described the thought behind the removal of the gallery floor as a sculptural problem, "If you really want to make it boring - it's a sculptural problem. You can add or deduct as a basic mode of operation." By treating the room as the inherent material, Fischer transformed something usually seen as concrete and permanent into something as malleable as clay.

The New York critic Jerry Saltz, when writing about You, discussed its links to earth works from the sixties and seventies, expressing both indoors and outdoors at the same time, as well as fetishizing the attributes of the gallery. When entering the piece, the viewer was confronted with the realization that the floor they would normally be standing on was now actually a few feet above their heads. Saltz commented that Fischer's work touched on previous interventions similarly seen in artists like Gordon Matta-Clarke. Removing walls in a gallery is something which Fischer would do throughout his career as well, linking back to the 'sculptural problem' he referenced with You, in its intention of being only able to add or remove material.

The fetishizing of the gallery, of which Saltz also referred, comes from the notion that the gallery was traditionally seen as a presentation space akin to the "sacredness of churches, the austerity of courtrooms," as described by art critic Brian O'Doherty. Yet in this piece, that notion was undermined and transformed by literally smashing it into pieces. While holes and cavities have played part in his work prior, You deliberately removes the external action of melting wax and brings the sculptural action of removal into the hands and supervision of the artist. You was sold and then recreated under Fischer's supervision by a private foundation in New York.
Bought by a private collector
2011
Problem Painting
Fischer's Problem Painting was the first in a series of works which were comprised of stock portraits of Hollywood stars, digitally altered and mounted on aluminum panels, that were further obscured by silk screened images of eggs, peppers, and fruits, as well as twisted bolts and half-smoked cigarettes. The pairing of vintage headshots and random objects clashed, drawing visual parallels with the portrait and the image, creating humorous exaggerated facial features. In Problem Painting, an enlarged raspberry covers the face, acting as a disguise while also alluding to an orifice or large set of lips.

This pairing harkens back to Fischer's interest in the 'mechanics of duality' as seen in the Untitled (Lamp/Bear) sculpture works, by pairing objects to see how they react to one another. The pairing of objects in this work is deliberate, as he commented in an interview with Kevin McGarry from the New York Times magazine, "There is a correlation between the thing and the face. Mostly adhering to gender binaries (which I understand were fairly well adhered to in Old Hollywood)."

Fischer commented in an interview with Jonathan Griffin that, "The things in the foreground are much more universal than the things in the background. That's what people misunderstand because they look at the wrong layer of the painting." There is an age difference between the viewer who will recognize the stars of old Hollywood and the viewers who won't. Most of the critical reception of this work focuses on the connection to the famous figures featured, the stars of Hollywood were often characters created to fit into the spotlight. Fischer comments that, "It's a specific way of sculpting an image of a person that is not personal, it's idealized." By pairing these recognizable figures with food, Fischer comments on how celebrity is often just another commodity that we consume. This series of portraits brings the playfulness of his sculptural works into the 2D plane, while simultaneously relating this consumerist mentality onto the modern actor, singer, and artist celebrity.

The work also reflects an evolution of the Pop Art mentality in which seemingly disparate iconic imagery is presented in its own right, absent of its original connotations.
Digital painting and silkscreen print
2017
The Kiss
Fischer showed a large-scale replica of Auguste Rodin's The Kiss in Sadie Coles HQ. The sculpture was recreated and cast in white plasticine, and visitors were encouraged to remold the famous image of lovers embracing over the duration of the month-long exhibition.

This sculpture drew upon traditional Western art history and popular culture, combined with Fischer's impetus toward transformational artworks, allowing the public to use his own art as material and express their own thoughts with the sculpture. Fischer stated that the sculpture itself was a very intimate one in that the audience could choose to interfere with it by either breaking apart this loving moment or choosing to repair and heal it. In contrast with his clay and wax works, which eventually crumbled and melted, this work could be constantly reshaped and reused.

This piece has two editions, one of which was shown at Art Basel in the same year. Andrew Russeth from ArtNews commented that he was at first shocked by seeing people touching and digging into the sculpture. However, out of the 100,000 people that walked through the art fair, one woman's instincts to carefully smooth out the letters other people had carved into the statue surprised him, restoring the work before their eyes. In an interview with Jethro Turner at Purple Diary, he stated that he was interested in some of the comments made of Fischer's sculpture, as visitors not only remolded and added to the sculpture itself but took its material to write on the windows and walls of the gallery. Visitors expressed their views on global and local political climate, comments about the upcoming Brexit vote, and the work became more than a transforming sculpture but a way to start a conversation because of the participatory nature of the work.
Plasticine sculpture with metal framework
Similar Art
Related Artists
Related Movements & Topics