Artists
Yoko Ono
For Educators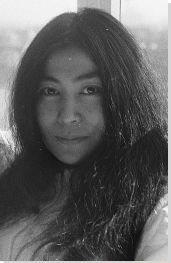 Yoko Ono
Japanese-American Conceptual and Performance Artist, and Musician
Movements and Styles: Happenings, Fluxus, Performance Art, Conceptual Art
Born: February 18, 1933 - Tokyo, Japan

"What I'm trying to do is make something happen by throwing a pebble into the water and creating ripples...I don't want to control the ripples."

Synopsis
Well before her famous partnership with John Lennon, Yoko Ono was the "High Priestess of the Happening" and a pioneer in performance art. Drawing from an array of sources from Zen Buddhism to Dada, her pieces were some of the movement's earliest and most daring. With unprecedented radicalism, she rejected the idea that an artwork must be a material object. Many of her works consist merely of instructions. In Cloud Piece (1963) for example, she instructs us to imagine digging a hole in the garden, and putting clouds into it. Ono faced the considerable challenge of remaining visible as an artist, not just a rock star's wife. For brief periods, the media's intrusive presence stopped her from working altogether. Remarkably, however, she persisted in sustaining a career that was well-established before Lennon's arrival on the scene, and which deserves to be admired in its own right.
Key Ideas
Ono's fundamental contribution to the formation of
Conceptual Art
was involving the audience into the completion of the work. It is designed so that anyone can make it - a crucial dimension of its meaning.
Ono was one of the strongest feminist voices to emerge from the art world in the 60s. Her Cut Piece (1964), a first for feminist art performance, invited audience members to take turns cutting off her clothes using a pair of scissors. It also brought the audience into close contact with the artist, which was a new concept and crossed traditional boundaries.
A path-breaking force in eliminating boundaries among the arts, in the early 1960s, Ono opened her home to dancers, composers, and artists and encouraged them to work together. The building of interdisciplinary community is another great area of achievement in her career, and a fundamental aspect of her practice.
A pioneer in music as well as art, Ono was trained as a classical pianist. She was also steeped in Japanese Imperial music (Gagaku). Her familiarity with both traditions captivated experimental Western musicians
La Monte Young
and
John Cage
(Cage's
4'33''
is essentially a translation of the famous Zen koan "What is the sound of one hand clapping?"). She in turn was influenced by them.
Experiences, events, and performances form the backbone of her artistic practice. In this respect she is the quintessential conceptual artist. Her work is designed to redirect our attention to ideas, instead of appearances.
Though her name has been unfairly associated with a woman who negatively affects a man's professional performance (Beatles fans often blame her for their breakup), Ono helped John become much more conceptual. She assisted him in moving away from the mainstream that the Beatles had previously inhabited, and encouraged him to develop an independent voice as a composer and musician.
Biography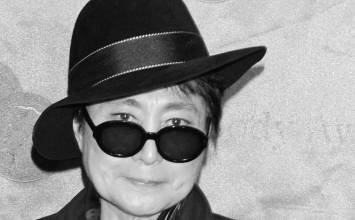 Early Years
Yoko Ono was the eldest of three children, born to Isoko and Eisuke Ono, conservative Japanese aristocrats. Yoko's mother was a painter. Her father wanted to be a concert pianist, but had given up his dream career to be a banker, and sought to live vicariously through his talented daughter Yoko, sending her to music school at the age of four. She later moved on to one of Japan's most exclusive schools, Gakushuin. Ono had a strained relationship with her mother, who resented her own children, feeling that they were a drain on her enjoyment of upper class life in Tokyo. She later told Ono never to marry and never to have children. Ono's childhood was isolated. Despite being wealthy, she was neglected by her parents, who were too busy to show affection. As a child, she rang for the maid simply in order to see someone. Her creativity and musicality provided the comfort she very much needed.
- - - - - - - - - - - - - - - - - - - - - - - - - - - - - - - - - - - - - - - - - - - - - - - -
Yoko Ono Biography Continues

Important Art by Yoko Ono

The below artworks are the most important by Yoko Ono - that both overview the major creative periods, and highlight the greatest achievements by the artist.


Artwork Images

Painting to Hammer a Nail (1961)

Artwork description & Analysis: Ono's most well-known works of the early 1960s are her "instructional pieces," so-called because the viewer is given instructions to follow. Following these instructions is an active part of making the work. This work consists of a canvas on a wood panel. Connected to the canvas is a hammer hanging from a chain. Nearby is a chair, with a jar of nails on it. Directions for the work ask the viewer to hammer a nail into the panel, and wrap a strand of his or her hair around it. Exhibited in 1966 in a gallery in London, the work was considered finished when the surface was completely covered in nails. Relinquishing her status as the author and empowering the public to complete the work was an incredibly radical concept for the time.

The idea that the work of art would be completed by the audience did, however, have antecedents in music. This is essentially an equivalent to John Cage's experimental "Four minutes, thirty-three seconds" (1952), in which the ambient noises in the room (furnished by the audience) throughout that brief period of time are considered the work. An early instance of Ono's brilliance as an innovator, this demonstrates her capacity to fuse musical concepts with new ideas that pushed the boundaries of visual art.

Canvas, Hammer, Chain, Nails - Seattle Art Museum


Artwork Images

Bag Piece (1964)

Artwork description & Analysis: More open-ended and audience focused than earlier "instructional pieces", Bag Piece instructed two individuals to enter a large black bag (an environment of complete darkness) and remove their clothes. After a few minutes, they were to put their clothes back on and exit. It was up to them to decide what to do while inside the bag. In this work, Ono's aim was to create a situation that diminished the power of race, gender, class, and other traditional distinctions. While for the two individuals inside the bag, these distinctions were diminished by blindness and vulnerability, observers on the outside were also unable to draw conclusions based on these traditional categories. The figures could be anyone. The work was inaugurated in Tokyo at the Sogetsu Art Center by Ono and Anthony Cox, her husband at the time.

Two audience members, and a black bag (Performance)


Artwork Images

Cut Piece (1964)

Artwork description & Analysis: A landmark work, and one of the artist's best-known, Cut Piece was presented at the Sogetsu Art Center, the same Tokyo venue that had hosted her Bag Piece. Ono wore one of her best suits and knelt on the stage holding a pair of scissors. She invited audience members to cut pieces of her clothing off using the scissors. The artist remained still and silent until she was down to only her underwear. The process of witnessing clothes cut from the body elicited a range of responses from the audience. Themes of materialism, gender, class, and cultural identity were central to the work.

According to Ono, her original intention was to harness the Buddhist mentality (Buddha, born a wealthy prince, achieved enlightenment by giving up everything and sitting under a tree for seven years), with a feminist subtext: women too often need to give up everything. This performance was a demonstration of that reality. Ono's Cut Piece was the first performance piece to address the potential for sexual violence in public spectacle. It is also among the first examples of Performance Art.

Body, Clothes, and Scissors (Performance piece)
More Yoko Ono Artwork and Analysis:
Influences and Connections
Influences on Artist
Artists, Friends, Movements
Influenced by Artist
Artists, Friends, Movements

Interactive chart with Yoko Ono's main influences, and the people and ideas that the artist influenced in turn.
View Influences Chart

Artists

| | |
| --- | --- |
| | Meret Oppenheim |
| | Walter de Maria |
| | George Maciunas |
| | George Brecht |
| | Marcel Duchamp |

Personal Contacts

| | |
| --- | --- |
| | John Cage |
| | Jackson Mac Low |

Movements

| | |
| --- | --- |
| | Happenings |
| | Dada |

Influences on Artist

Yoko Ono
Years Worked: 1956 - present
Influenced by Artist

Artists

| | |
| --- | --- |
| | Marina Abramović |
| | Charlotte Moorman |

Personal Contacts

| | |
| --- | --- |
| | Andy Warhol |
| | Keith Haring |
| | Peggy Guggenheim |

Movements

| | |
| --- | --- |
| | Fluxus |
| | Conceptual Art |
| | Performance Art |
| | Feminist Art |
Useful Resources on Yoko Ono
Books
Websites
Articles
More
The books and articles below constitute a bibliography of the sources used in the writing of this page. These also suggest some accessible resources for further research, especially ones that can be found and purchased via the internet.
biography
More Interesting Books about Yoko Ono

If you see an error or typo, please:
tell us
Cite this page

Content compiled and written by Laura Fiesel
Edited and revised, with Synopsis and Key Ideas added by Ruth Epstein
" Artist Overview and Analysis". [Internet]. . TheArtStory.org
Content compiled and written by Laura Fiesel
Edited and revised, with Synopsis and Key Ideas added by Ruth Epstein
Available from:
[Accessed ]