Beginnings of Purism
Amédée Ozenfant
In 1915 Amédée Ozenfant, who became the leading theorist and pioneer of Purism, founded the magazine L'Elan with Guillaume Apollinaire and Max Jacobs. While editing the magazine in the following year, he began formulating the concepts of Purism in articles including his 1916 essay "Notes sur le cubism,"(Notes on Cubism). He critiqued Cubism in a number of works, as art historian Kenneth Silver wrote, "The ways and means of Cubism are meant to look out of date: instead of indeterminacy, simultaneity, the mutability of time and space, the Purists will substitute something stable and durable."
In 1917 Ozenfant met the architect and painter Charles-Édouard Jeanneret in Paris and his ideas compelled the architect to primarily turn toward painting from 1918 to 1922. Working in close collaboration in Ozenfant's studio, Ozenfant later wrote that, "'they' became 'we'." The two strove to have every aspect of their artistic practice align with the tenets of Purism, which touted elementary forms devoid of detail, as they stripped away all extraneous elements. They were particularly influenced by Paul Cézanne's work, writing, "Cézanne a dit, après que tous les grands maîtres l'aient connu: Tout est sphères et cylindres," ("Cézanne said, what all the great masters knew: Everything is spheres and cylinders").
Ozenfant's first Purist masterwork was the painting Le Carafe (1918). His zeal for Purism also influenced the Russian painter Serge Charchoune, who said of his first encounter with Ozenfant's aesthetic, "I think that I did not come out of it in one piece!" In later life, Ozenfant was to describe his commitment to Purist ideals as his "period of vacuum-cleaning." As contemporary art historian and curator Carol Eliel said, "It's the perfect metaphor for this sensibility. The artists really were trying to pare down and peel off and get rid of the excess," and "They made no distinction between art, architecture, design and urban planning. Everything existed in a totality."
Le Corbusier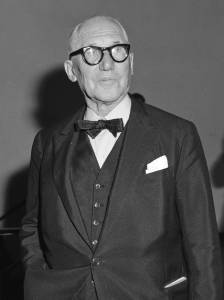 Before later changing his name, Jeanneret's contributions to Purism were influenced by his study at the German Werkbund from 1910-11. There he encountered the late Jugendstil ideas of Hermann Muthesius, who advocated for Typsierung, or typficiation, the use of standardized designs that would be both suited to modern mass production and reflect a uniquely German style. While studying at the Werkbund, he was also influenced by the work of Bruno Paul, who was then developing his Typenmöbel, or 'type furniture' where prefabricated units could be assembled to create various furniture items. Subsequently, Jeanneret apprenticed with Peter Behrens, who was the German electrical company AEG's artistic director and a pioneer of modernist and industrial design. Purism was informed by both the Werkbund's advocacy for the "total work of art" and design that applied to all the arts, urban planning, and architecture, and by Behrens' "machine aesthetic."
Après le Cubisme (After Cubism) 1918
In 1918 Ozenfant and Jeanneret wrote Après le Cubisme (After Cubism) for their first exhibition at the Galerie Thomas in Paris. The exhibition of twenty paintings by Ozenfant and ten by Jeanneret marked the public debut of the movement, while the publication critically defined it. Stating that, "The value of painting derives from the intrinsic qualities of plastic elements and not from their representational or narrative potential," the movement emphasized elemental types and pure forms, and opposed anything "accidental, exceptional, impressionistic, inorganic, contestatory, picturesque."
L'Esprit Nouveau 1920-1925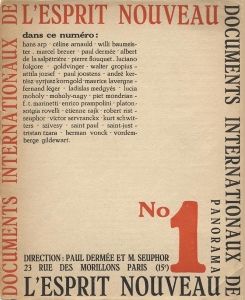 In 1920, the two artists launched the magazine L'Esprit Nouveau, which expressed their evolving theories, as their essay, "Sur la Plastique," appeared in the magazine's first issue. Discussing the phenomenological effects of form and color while employing an approach that emphasized logic, they defined a number of various categories including Primary Elements, Rhythm, Composition, Standards, Modules and Consequence. As historian Susan Ball wrote, "The most important factors were (1) the means by which to procure the sensation of mathematical and lyrical order, (2) the choice of subject - the 'Purist element' - and the development of this 'object-type,' and (3) the method for rendering the chosen elements." In publishing their articles, the two men used a number of individual pseudonyms and a collective pseudonym for collaborative efforts, which had the effect of suggesting a larger number of participants in the movement to lend it larger credibility. Both men believed that Purism was not only a theory of art, but of life. By 1923, Jeanneret had cemented this notion by changing his name permanently to Le Corbusier reflecting his new focus on architecture and his departure from painting. The name, ambiguously, came from the French word for raven.
The magazine also included illustrations of representative works, as well as articles on the sciences, transportation, music, and advertising for any number of products from household items to sporting goods. A number of leading thinkers, including the politician Victor Basch and the art critics Maurice Raynal and George Waldemar, contributed to the magazine's widening circles of influence. In 1920, Fernand Léger became close friends with both men as art historian Carol S. Eliel wrote, his "work increasingly reflected his assimilation of the Purist aesthetic." A second Purist exhibition, held in 1921 at the Galerie Druet in Paris further publicized the movement and the magazine.
Continuing the movement's outreach, in 1924 Ozenfant and Léger opened the Atelier Libre, or free Studio, in Paris where the artists Marie Laurencin and Aleksandra Ekster also taught. The magazine published twenty-eight issues before it ceased publication in 1925.
Pavillon de l'Esprit Nouveau (Pavilion of the New Spirit, 1925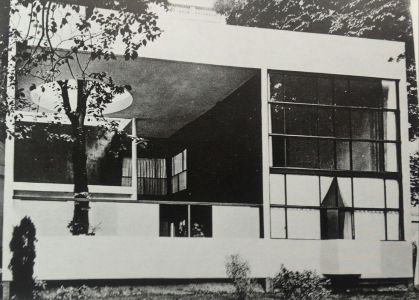 In Paris, in 1925, Le Corbusier built the Pavillon de l'Esprit Nouveau (Pavilion of the New Spirit) for the International Exposition of Decorative and Industrial Arts. The building embodied ideas the architect had expressed in a number of articles published from 1923-24 in L'Esprit Nouveau. As art historian Christopher Green noted, he "demanded a new anti-decorative, functional approach to interior design, according to which all furnishings and fittings were treated as 'tools' and nothing more, and they extended the 'type-object' idea to include all the most fundamentally useful, most formally Purist of modern, mass produced products." The building, a white cube, elevated on columns, or pilotis, with an atrium entry, included paintings by Le Corbusier, Ozenfant, Fernand Léger, and Juan Gris, and two of Jacques Lipchitz's sculptures. In conjunction with the Pavillon, Le Corbusier published his L'Esprit Nouveau articles as L'Art decorative d'aujourd'hui (The Decorative Art of Today) (1925), and he and Ozenfant published La Peinture modern (Modern Painting).
The building was both the synthesis and apotheosis of the movement, as it marked the last Purist collaboration. Le Corbusier designed the Villa la Rouche from 1922-1925 and became enraged at Ozenfant's hanging of the art, saying, "I insist absolutely that certain parts of the architecture should be entirely free of paintings." The quarrel caused a break in their collaboration, effectively ending Purism.
Concepts and Trends
Objet Type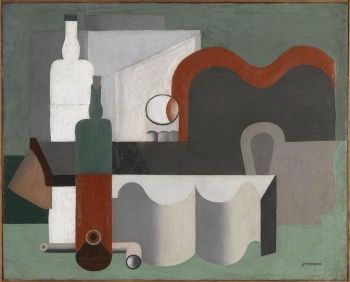 An important concept of Purism was the objet type, or object type, a standardized and reproducible object that included things such as drinking glasses, pipes, architectural components, and musical instruments like the guitar and violin. The object-type was viewed as a kind of building block for still life compositions. As art historian Stanislaus von Moos wrote, "objets types symbolize the virtues of the new industrial world: its order, its anonymity, and its purity - in short, its purism."
The term was intended to convey more than just a new approach to painting; it stood for the distinctive characteristics of modern thought. Seen in retrospect, it represents a synthesis of French enlightenment and German Werkbund pragmatism. In the Purist world, engineers occupy center stage...Haunted by the moral and aesthetic virtues of modern engineering, they develop a kind of rationalist cosmology in which nature functions as a machine whose adherence to physical laws is the very reason for its beauty." The Purists viewed these objet types as applicable to all the arts, and the concept became fundamental to Le Corbusier's architectural designs.
Painting
The still life was the primary subject for Ozenfant and Le Corbusier, as they composed images of a variety of ordinary objects, from kitchen plates, to scientific test tubes, arranged as volumetric and geometric forms. Fernand Léger's painting of the odalisque and the human form added a new subject matter to the movement, and his geometric and mechanized treatment transformed the figurative mode. Unlike the two founders who emphasized a kind of calm order, he interjected what he called "the law of contrasts" as he wrote in 1923, "I group contrary values together; flat surfaces opposed to modeled surfaces; volumetric figures opposed to the flat facades of houses; molded volumes of plumes of smoke opposed to the active surfaces of architecture; pure, flat tones opposed to gray, modulated tones or the reverse." Juan Gris' first solo exhibition at the Galerie de l'Effort moderne in 1919 led to his being dubbed the 'purest' of the Cubists, as he emphasized a geometric composition, where elements were flattened into a unifying plane, and he subsequently exhibited with the Purists.
Sculpture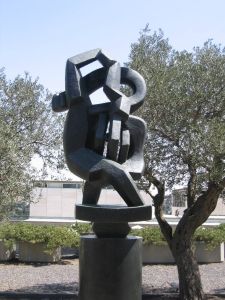 Jacques Lipchitz was the leading sculptor briefly associated with the Purists, as his sculptures were a notable aspect of the Pavillon de l'Esprit Nouveau. Around 1920 his Cubist works began to reflect the call of the "return to order," as they became based entirely upon geometric abstraction and emphasized an architectonic structure. He is thought to have influenced Le Corbusier's concepts of architectural design, as well as his later interest in sculpture in the 1930s. Additionally, Auguste Herbin's series Objets monumentaux (1918-20), which were painted assemblages on wood, carved into architectural motifs, including borders and garlands, blurred the boundaries between sculpture and painting.
Architecture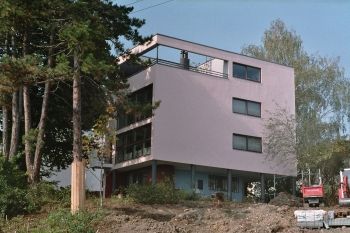 In 1923 Le Corbusier wrote, "The problem of the house is a problem of the epoch. The equilibrium of society today depends upon it. Architecture has for its first duty, in this period of renewal, that of bringing about a revision of values, a revision of the constituent elements of the house." Focusing on architecture, he translated the concept of the objet type to prefabricated components of which buildings could be constructed. He saw this new architecture, which he called the "House Machine," as connected to the "search for human scale, for human function."
One of his early designs the Domino House (1914) had already employed pre-fabricated components and the use of concrete. In 1920, he evolved these principles to design the Citrohan house, its name a play upon the French automobile company Citroën, as he emphasized "the absolute necessity of standardization" and argued that the house should be as efficient as a car. His ideas in modular units were applied to an entire city in his Villa Contemporaine design (1922). The principles he developed in his writing and practice were published in his L'Art décoratif d'aujourd'hui (The Decorative Art of Today) (1925) and became one of the leading tenets of modernist architecture.
Film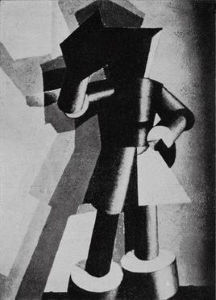 Purism's concept of the objet type not only influenced Léger's paintings but also his film Ballet mécanique (Mechanical Ballet) (1924). As he said of the film, "I thought that through film this neglected object would be able to assume its value...I took very ordinary objects that I transferred to the screen by giving them a very deliberate, very calculated mobility and rhythm." Interested in creating an art that was equivalent, rather than representative, of modern life, he wrote, "I have made use of the machine as others have used the nude body or the still life...The manufactured object is there, a polychrome absolute, clean and precise, beautiful in itself." The short film was composed of startling contrasts of repetitive human movements, fragmented images of the human body, juxtaposed with visuals and audio effects of mechanical motors and pistons. As he wrote, "You will see moving images presented like a picture, centered on the screen with a judicious range in the balance of still and moving parts (the contrast of effects); a still figure on a machine that is moving, a modulated hand in contrast to a geometric mass, circular forms, abstract forms, the interplay of curves and straight lines (contrast of lines), dazzling, wonderful, a moving geometry that astonishes you."
Later Developments - After Purism
Purism as a movement came to an end in 1925, though Léger's use of cylindrical forms would go on to influence sculpture as seen in the work of Henry Moore, as well as subsequent abstract painters.
Purism's primary impact was on architecture, as Le Corbusier became a leading architect of the 20th century. His designs and principles influenced architects throughout the world, and also informed the International Style and Brutalism.
Ozenfant's essays arguing for "color solidity" in architecture published in Architectural Review in the 1930s became a primary influence on the British Architectural Association. The architect David Medd adopted many of Ozenfant's tenets in his color standards, which were taught in art schools in Britain for the next two decades. Ozenfant was also influential as a teacher as he opened the Académie Ozenfant in 1932, followed by his 1936 move to London where his students at the Ozenfant Academy of Fine Arts included Hamed Saeed, Leonora Carrington, Stella Snead, and Sari Dienes.
Key Artists
Le Corbusier was a twentieth-century Swiss-French architect, urban planner, designer, writer and painter. Le Corbusier was a pioneer in modern architecture and his priciples were integral to the hugely popular International Style of architecture.

Juan Gris was a Spanish painter and sculptor, and one of the few pioneers of Cubism. Along with Matisse, Léger, Braque and Picasso, Gris was among the elite visual artists working in early-twentieth-century France.

Influenced by Cubism and Futurism, the French painter Fernand Léger developed a unique style of Cubism using cylindrical and other geometric forms with mechanically smooth edges. Often colorful and punctuated by patterns, his paintings range from still lifes and figures to abstract compositions.
Do Not Miss
Europe experienced a harsh interwar period after the chaos and aftermath of World War I, and with the onset of the Great Depression. Meanwhile artists focused on the so-called "return to order" (rappel a l'ordre), a renewal of depictions of Greek and Roman topics and imagery.

Cubism was developed by Pablo Picasso and Georges Braque between 1907-1911, and it continued to be highly influential long after its decline. This classic phase has two stages: 'Analytic', in which forms seem to be 'analyzed' and fragmented; and 'Synthetic', in which pre-existing materials such as newspaper and wood veneer are collaged to the surface of the canvas.

The International Style was a style of modern architecture that emerged in the 1920s and '30s. It emphasized balance, the importance of function, and clean lines devoid of ornamentation. Glass and steel buildings, with less emphasis on conrete, is the most common and pure realization of structures in this style.

New Objectivity, or Neue Sachlichkeit, was a style of German art that emerged in the 1920s in reaction to post World War I trauma and difficulties. Artists such as Otto Dix were savagely satirical and critical of society, while others evolved a cool and classical style that echoes other European art movements at this time.
Content compiled and written by Rebecca Seiferle
Edited and revised, with Summary and Accomplishments added by Kimberly Nichols
"Purism Movement Overview and Analysis". [Internet]. .
TheArtStory.org
Content compiled and written by Rebecca Seiferle
Edited and revised, with Summary and Accomplishments added by Kimberly Nichols
Available from:
First published on 25 Apr 2019. Updated and modified regularly
[Accessed ]