Artists
Weegee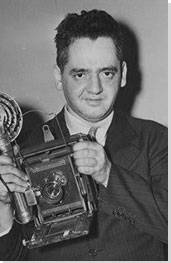 Born: June 12, 1899 - Lemberg, Austria (now in Ukraine)
Died: December 27, 1968 - New York City, USA

"To me a photograph is a page from life, and that being the case, it must be real."

Summary of Weegee
Weegee was a legendary news photographer, whose stock and trade were candid shots of people in the streets, in bars, and at crime scenes. His professional name was Weegee (spelled phonetically), after the popular fortune-telling game, Ouija board, to which his supposed sixth sense for crime was compared. This "sense" led him to the scene well ahead of the police - although it turns out that he actually had his radio tuned to the police frequency. Thus, Weegee created his own legend and reveled in his own notoriety. Yet, more importantly, his voyeuristic photographs exhibited the underbelly of New York City, melding popular culture with the experience of immigrants and the working classes, catching the attention of both the news media and the fine art community.
Key Ideas
Weegee's
Photojournalism
focused on the picture's narrative content and visual punch, making his human interest stories novel. They drew attention to the extremes and foibles of the city crowd, who constitute an unknown underworld. As historian Graham Clarke points out, Weegee thus "images a secret city: murder victims, muggers, transvestites,... [as well as private moments] - anything that might feed his hungry eye in search of the sensational and murky photograph."
Weegee worked at the PM Daily paper which established a new model of reportage that Weegee took full advantage of to introduce new subjects as well as expand his own repertoire of images to include crime scenes, street people, and circus performers. His photographs had their own meaning, and served as a source for various kinds of photo-essays, which ultimately appear in his photo book Naked City.
Like the progressive press he worked for, Weegee was caught up in the field's newness, sense of possibility, and influence. He therefore organized his last chapter in Naked City as a long essay on what he called "Camera Tips." He told aspiring photographers, "Don't try to guess focus, just practice six and ten feet." He advised amateur photographers, tempted by the fancy new flashes, against using them and told them "I still use a flash bulb." The press flash-gun, Weegee's preferred mode of illumination, literally exposed his subjects in a sensational manner.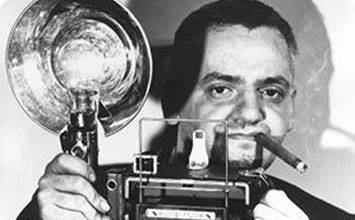 Weegee was born Usher Fellig on June 12, 1899 near the city of Lemberg, Austria, what is today Zolochiv, Ukraine. Yet, his story begins once he immigrated with his family to the United States in 1909 at age 11. Upon arriving at Ellis Island, his name was immediately changed to the more American sounding Arthur. Like most immigrants, Arthur grew up in extreme poverty, and spent his childhood living in a Lower East Side tenement building in New York City, along with his parents and three other siblings. His father, Bernard Fellig, sold goods from a pushcart around the neighborhood for a meager wage. Bernard became an ordained orthodox rabbi and kept the Sabbath, even though it hindered him from earning money for his family.
Important Art by Weegee

The below artworks are the most important by Weegee - that both overview the major creative periods, and highlight the greatest achievements by the artist.


Artwork Images

Simply Add Boiling Water (1937)

Artwork description & Analysis: This image captures firefighters attempting to battle a fire engulfing the American Kitchen Products building that bears a Hygrade Frankfurters billboard. The sign across the center of the building that reads: "Simply Add Boiling Water," lends this image its title. It describes in a tongue-in-cheek manner the firefighters act of dousing the building, ironically located on Water Street, with water. Weegee's ability to seize on the irony in even the most horrific of images became his stock and trade, and improved his chances of selling the photo to a newspaper. In the July 1937 issue of Minicam Photography, this image was used in a how-to article with the caption: "The sign across the center of the building refers to the frankfurters, not the firemen!" - referencing Weegee's unrivaled ability to infuse an image with dark humor.

Like film noir movies, a cinematic genre begun in the 1940s, Weegee's photographs are a darkly stylized version of reality. His distinctive images inspired film noir because of "[their] lack of naturalness. ...[the very] source of their melodramatic power," according to the art historian John Szarkowski; "It is as though terrible and exemplary secrets were revealed for an instant by lightning," namely Weegee's flash. Previously known as melodramas, black and white, moody film noir movies used murder as a typical plot device and were characterized by their fatalistic and menacing nature. Simply Add Boiling Water could easily pass as a still from one of these films.

Gelatin Silver print - Whitney Museum of American Art, New York


Artwork Images

Body of girl hit by car on Park Avenue, New York (1938)

Artwork description & Analysis: In Body of girl hit by car on Park Avenue, New York, is a simple, but moving image about the outcome of a typical, yet gruesome car accident. Weegee creates a powerful work by focusing on the dead body lying in the street covered by a white sheet. The starkness of the white sheet against the darkness of the night created what Weegee called his "Rembrandt light," in which he catches the covered body in the white glare of his flash while the rest of the scene is enveloped in darkness. A police officer, unable to do anything else, walks away from the scene and towards his car in the distance. Weegee carefully surveyed the scene, searching for the best angle to shoot in order to create the most stylized image and to capture the telling detail of a black purse next to the body. The purse is the only clue that indicates the victim is a female.

For the first decade of his career, Weegee worked after hours, spending every night traveling the streets of New York capturing one gruesome scene after the next. As art historian, Mark Svetov explains, "Weegee's news pictures were never haphazard snapshots, albeit they were taken by a man who had happenstance and chance as his helpmates... [his] pictures seem perfectly arranged, and what we focus on is their human content." His ability to select the most telling and significant moment of an event made his work respected by both the fine art community and the public. A feat which is still unusual today.

Gelatin Silver print - International Center for Photography, New York


Artwork Images

Balcony Seats at a Murder (1939)

Artwork description & Analysis: In Balcony Seats at a Murder, Weegee captures police investigating a man who has just been killed outside his shop, while onlookers gawk at the scene from the tenement's fire escape. Weegee explains the image in his own words: "I arrive, right in the heart of Little Italy, 10 Prince Street, here's a guy who had been bumped off in the doorway of a little candy store. This was a nice balmy hot summer's night, the detectives are all over, but all the five stories of the tenement, people are on the fire escape. They're looking, they're having a good time, some of the kids are even reading the funny papers and the comics. [...] I step all the way back about a hundred feet, I use flash powder and got this whole scene. The people on the fire escapes, the body, everything... To me this was drama, this was like a backdrop." Weegee understood the social phenomenon that surrounded a murder; it was as much a spectacle for rubberneckers at the crime scene as it was for those paying to read about it in the newspaper. By including the action surrounding the victim, Weegee set himself apart from other photojournalists, who instead focused their lens solely on the victim.

Weegee's interest in the whole scene enables him to create a narrative that focused on the surroundings and on the aftermath of the murder. Because of his ability to express the unfolding drama in one image, Weegee's photos became the perfect visual accoutrement for tabloid news. Weegee could very well proclaim himself the "Official Photographer of Murder Inc.,"having photographed over 5,000 murders during his decade-long career as a crime photographer.

Gelatin Silver print - International Center for Photography, New York
More Weegee Artwork and Analysis:
Influences and Connections
Influences on Artist
Artists, Friends, Movements
Influenced by Artist
Artists, Friends, Movements

Interactive chart with Weegee's main influences, and the people and ideas that the artist influenced in turn.
View Influences Chart

| | | | | |
| --- | --- | --- | --- | --- |
| Artists | | Personal Contacts | | Movements |

Influences on Artist

Weegee
Years Worked: 1935 - 1968
Influenced by Artist

| | | | | |
| --- | --- | --- | --- | --- |
| Artists | | Personal Contacts | | Movements |
If you see an error or typo, please:
tell us
Cite this page

Content compiled and written by Katelyn Davis
Edited and published by The Art Story Contributors
" Artist Overview and Analysis". [Internet]. . TheArtStory.org
Content compiled and written by Katelyn Davis
Edited and published by The Art Story Contributors
Available from:
First published on 21 Dec 2017. Updated and modified regularly.


[Accessed ]