Biography of George Frederic Watts
Childhood
George Frederic Watts was born in Middlesex, a historic county in the south east of England that has since been swallowed up by London. His father was a piano maker and because of his love for music, named his son after the composer, George Frederic Handel, who shared the same birthday. The young Watts was a sickly child and as such was unable to attend school regularly. He was instead home-schooled by his father, both in a conservative Christian fashion but also with the introduction of interesting literature including Homer's The Iliad. Watts loved and held dear the inspiration that such ancient Greek texts brought him throughout his career, but resented and rejected the strict sabbatarian and evangelical household in which these were presented. Watts was deeply affected by the severe routine that he experienced on Sundays, and general restriction had a negative impact on his overall view of organized religion. As such, he questioned traditional biblical teachings and his own reimagining notions of 'the creator' can be seen in works through to the end of his life.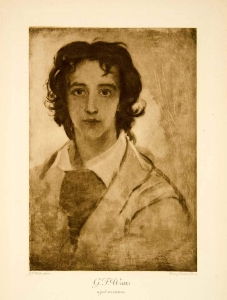 Watt's artistic talent emerged early - drawing often - and by the age of ten he had already found inspiration in the studio of the sculptor William Behnes in Dean Street, Soho. This relationship led him to discover the Elgin Marbles in the British Museum - the works, also known as the Parthenon Marbles, are a collection of Classical Greek sculptures made under the supervision of the architect and sculptor Phidias and his assistants. "The Elgin Marbles were my teachers. It was from them alone that I learned", Watts said. Asides from beginning to amass his own personal awareness of classical art history, like many Victorians, Watts' childhood was tragically overshadowed by death. He lost his three younger brothers at an early age and his mother died when he was nine. Traces of these early experiences of trauma never really leave the artist's work; he spent much of his career exploring the themes of death, mysticism, and spiritual purpose in life.
Early years and training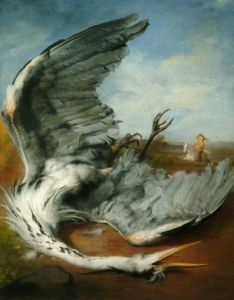 Watts initially studied work by respected Old Masters, as well as more immediate predecessors including Richard Westall and John Hamilton Mortimer, and made accurate imitative sketches of various works. He joined the Royal Academy at the age of 18 and further developed his art historical studies. At this point however, he had already secured the patronage of Alexander Constantine Ionides and began to work successfully as a portrait artist. In 1837, Watts exhibited his much-praised A Wounded Heron painting in the Royal Academy Summer Exhibition.
Although Watt's humble background prevented him from taking the traditional Royal Tour, he did manage an extended stay in Italy during 1843, at which time he further cultivated his love for Italian Renaissance painters. Indeed, his love of classicism earned him the title "England's Michelangelo". Upon his return to England he started to wear the rich, exuberant, and scholastic robes and skullcap of a Renaissance sage, and his friends started to call him "Signor".
Watts forged a reputation as an excellent portraitist, gaining critical acclaim and being commissioned to paint the imminent political and cultural figures of the time. He became prolific, producing vast amounts of art covering almost every theme across a range of media. While his earlier works were traditional in their composition and had a strong narrative, he later departed from the popular romantic style and moved towards a more complicated allegorical mode that examined the complexities of a rapidly changing era. Indeed, one critic wrote: "The studio of Mr Watts is not merely a gallery of pictures but a museum of ideas."
Mature Period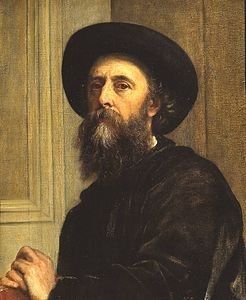 Later in the 1840s Watts reached a turning point in his art as he moved towards social realism - a term used for work designed to draw attention to the everyday conditions of the working class and to voice the authors' critique of the social structures behind these conditions. Watts had become disturbed by the increasing poverty seen in London and Ireland, where mass starvation and disease had become symptoms of the potato famine. This was exacerbated by his own failing health - he suffered from chronic headaches - and a depressed state of mind and the subject matter of his work took a bleak turn. This can be seen in four paintings of note: Found Drowned (1848-50), The Seamstress or The Song of the Shirt (1850), The Irish Famine (1845-49) and Under a Dry Arch (c. 1848-50). He was influenced by the social theory of the philosopher Thomas Carlyle, who said art should be "both spiritual and intellectual" and that artists should play a political role. This was a revelatory moment for Watts and he began to express social concerns in a symbolic manner.
Around this time he became a frequent visitor to Little Holland House, in London's Kensington, which had become a bohemian artist's hub, attracting Watts' friends Dante Gabriel Rossetti, William Makepeace Thackeray, Alfred Tennyson, and Frederic Leighton. His host, Sara Princep, said later: "'He came to stay three days; he stayed thirty years." He helped the Princep family to renew their 21-year lease on the property and lived with them there for the entire period after.
Watts was an enigmatic man and would often shun the limelight. As his painting became more powerful and more renowned, he twice refused a baronetcy offered by Queen Victoria, and other honors, including a reported offer to become president of the Royal Academy. His closest brush with scandal came in 1864 when he met the young and beautiful actress Ellen Terry. Terry was also famously immortalized in an exquisite portrait photograph by Julia Margaret Cameron. She became Watts' muse and whilst he initially thought of adopting her, he then changed his mind and decided to marry her instead despite their 30-year age difference - she was just 16. The marriage was short-lived and they separated after ten months. Watts agreed to pay her £300 a year "so long as she shall lead a chaste life".
In 1886, Watts was remarried to the Scottish potter, designer, and pioneering suffragist Mary Seton Fraser-Tytler in Surrey. Again there was an age difference - Mary was 36, whilst Watts was 69. Despite this, the pair had much more in common, including a belief that art could and should communicate something worthy to everyone, to uplift the soul and mind, and to comfort the troubled. A few years later they leased land at Compton, Surrey, and commissioned the Arts and Crafts architect Sir Ernest George to build their home Limnerslease. The couple moved here in 1891 and henceforth lived out their years producing work that spoke of their strong shared social conscience. Both Watts and Fraser-Tytler had very progressive socio-political positions. They were good friends with George Meredith, a woman's suffrage supporter, and Josephine Butler, a women's rights worker. Watts painted the portraits of both of these people and the four figures together existed at the heart of a wider emergent Feminist community at the time. This interesting theme of Feminism surrounding Watts after his marriage to Fraser-Tytler is the subject of a 2016 academic journal article published by Taylor and Francis.
Watts believed that art could transform lives both on a spiritual and practical level. So much so that he opened his studio in London to the public for free on certain days. Furthermore, in Compton he and Mary set up a pottery house to train local people in ceramics. This was crucial at a time when farm work was becoming scarce due to industrialization. Compton Pottery closed in the 1950s but his home now houses an Artists' Village ensuring the Watts legacy lives on.
Late Years and Death
In 1884 Watts was bestowed with the honor of becoming the first living artist to be offered a solo exhibition at the Metropolitan Museum of Art in New York. Indeed, he was hailed at this time to be "the greatest painter since the Old Masters". Social concerns continued to preoccupy the artist - although themes were also highly poetic and allegorical as well - and in 1887 he wrote to the national press proposing a record of heroic deeds of common people as a fitting jubilee memorial. Thus, Postman's Park in the city of London is now home to a remarkable structure on the walls of which are a series of ceramic tiles commemorating long ago acts of heroic self-sacrifice by ordinary men, women, and children.
Ultimately, Watts successfully attained celebrity status during his lifetime and by 1902 was among the first person to be honored with Edward VII's Order of Merit. He continued to be prolific, working well into his eighties, despite battling deafness and rheumatism. His life ended in 1904, when the Times Newspaper wrote "the most honored and beloved of English artists is dead". By this point, he was considered one of the most famous painters in the world, having produced around 800 canvases.
The Legacy of George Frederic Watts
Despite being famous at the end of his career, Watts' critical appeal quickly declined, and after his death he was dismissed as "one of the great failures of British art". He was branded "irrelevant" and sidelined as a Victorian oddity, with the work of the Pre-Raphaelites often being remembered as Britain's most interesting contribution to art at the time.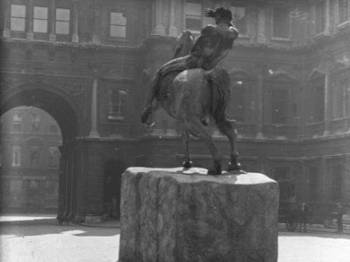 However, early in the 1970s the then president of the Royal Academy, Christopher Le Brun rediscovered the work of Watts, stating "it was thrilling to be confronted with such huge intellectual and artistic ambition". Le Brun visited the Watts Gallery in Surrey and was further impressed to discover a physical legacy - as well as the usual legacy of influence - connected to Watts and his art. As well as housing a cast of the equine sculpture Physical Energy - an imposing 4-meter tall statue of a man riding a rearing horse which had been Watts' last submission to the RA's Summer Exhibition in 1904 - the Watts Gallery gives site to a large pottery, a chapel, various gardens, and a woodland. The Gallery claims: "We follow in the footsteps of our founders by using the transformative power of the arts to move, inspire and engage and by driving social change, self-development and empowerment through the arts."
From the perspective of concept and ideas, it is Watts' later works, including Hope (1886) and Dweller in the Innermost (c. 1885-86) that best reflect the artist's worldview; he had an exceptional imagination and explored themes mostly avoided by other painters. He left behind a body of Symbolist work that addresses the Victorian loss of faith, child prostitution, and a certain immaturity in the dealing with emotions. Like the artists William Morris and William Blake he saw art as a means to social reform, as well as the most valuable tool to free the human mind and imagination from societal restraints.
Watts' inspirational reach can be seen in the work of a new generation of modern artists. Hope, especially, with the figures' intentionally distorted features and broad sweeps of blue are interesting to consider as echoed in Pablo Picasso's The Old Guitarist (1903-04). Piet Mondrian declared too that he felt a clear affinity for Watts' moody transcendentalism and said that he had particularly been inspired by the Watts' trio of paintings of Eve, exhibited in London. The Impressionist Camille Pissarro said he was influenced by the artist's philosophy. Watts' work also had a profound influence on the English painter Annie Louisa Robinson Swynnerton, as well as on that of one of the most important and innovative photographers of the 19th century, Julia Margaret Cameron, his friend and protégé. His work directly feeds into the deep exploration of Symbolism by the painter Odilon Redon, and beyond this movement, even into the dreamy and experimental early collage work by the Surrealist Max Ernst.
Content compiled and written by Sarah Ingram
Edited and revised, with Summary and Accomplishments added by Rebecca Baillie
"George Frederic Watts Artist Overview and Analysis". [Internet]. .
TheArtStory.org
Content compiled and written by Sarah Ingram
Edited and revised, with Summary and Accomplishments added by Rebecca Baillie
Available from:
First published on 23 Nov 2018. Updated and modified regularly
[Accessed ]