Artists
Kara Walker
Biography and Legacy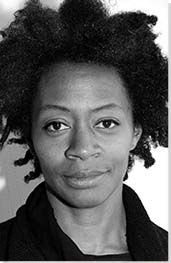 Kara Walker - Biography and Legacy
American Artist
Movement: Conceptual Art
Born: 26 November, 1969 - Stockton, California

From Our Sponsor
"I think really the whole problem with racism and its continuing legacy in this country is that we simply love it. Who would we be without the 'struggle'?"
Biography of Kara Walker
Childhood
A painter's daughter, Walker was born into a family of academics in Stockton, California in 1969, and grew interested in becoming an artist as early as age three. When her father accepted a position at Georgia State University, she moved with her parents to Stone Mountain, Georgia, at the age of 13. In sharp contrast with the widespread multi-cultural environment Walker had enjoyed in coastal California, Stone Mountain still held Klu Klux Klan rallies. At her new high school, Walker recalls, "I was called a 'nigger,' told I looked like a monkey, accused (I didn't know it was an accusation) of being a 'Yankee.'" Walker felt unwelcome, isolated, and expected to conform to a stereotype in a culture that did not seem to fit her. She escaped into the library and into books, where illustrated narratives of the South helped guide her to a better understanding of the customs and traditions of her new environment.
Early Training and Career
Walker attended the Atlanta College of Art with an interest in painting and printmaking, and in response to pressure and expectation from her instructors (a double standard often leveled at minority art students), Walker focused on race-specific issues. She then attended graduate school at the Rhode Island School of Design, where her work expanded to include sexual as well as racial themes based on portrayals of African Americans in art, literature, and historical narratives. Walker, an expert researcher, began to draw on a diverse array of sources from the portrait to the pornographic novel that have continued to shape her work. Other artists who addressed racial stereotypes were also important role models for the emerging artist. While still in graduate school, Walker alighted on an old form that would become the basis for her strongest early work. Widespread in Victorian middle-class portraiture and illustration, cut paper silhouettes possessed a streamlined elegance that, as Walker put it, "simplified the frenzy I was working myself into."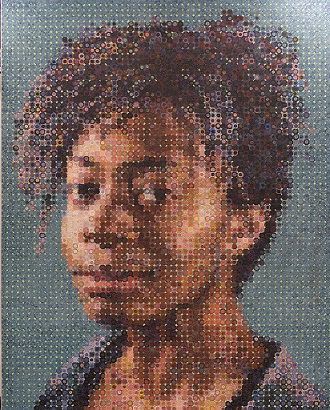 A mosaic of Kara Walker at the 86th Street subway station in New York City. Artist Chuck Close created the mosaic from a photo he himself took a number of years earlier.
Walker's first installation bore the epic title Gone: An Historical Romance of a Civil War as It Occurred Between the Dusky Thighs of One Young Negress and Her Heart (1994), and was a critical success that led to representation with a major gallery, Wooster Gardens (now Sikkema Jenkins & Co.). A series of subsequent solo exhibitions solidified her success, and in 1998 she received the MacArthur Foundation Achievement Award. Despite a steady stream of success and accolades, Walker faced considerable opposition to her use of the racial stereotype. Among the most outspoken critics of Walker's work was Betye Saar, the artist famous for arming Aunt Jemima with a rifle in The Liberation of Aunt Jemima (1972), one of the most effective, iconic uses of racial stereotype in 20th-century art. Nonetheless, Saar insisted Walker had gone too far, and spearheaded a campaign questioning Walker's employment of racist images in an open letter to the art world asking: "Are African Americans being betrayed under the guise of art?" Walker's series of watercolors entitled Negress Notes (Brown Follies, 1996-97) was sharply criticized in a slew of negative reviews objecting to the brutal and sexually graphic content of her images. Saar and other critics expressed concern that the work did little more than perpetuate negative stereotypes, setting the clock back on representations of race in America. Others defended her, applauding Walker's willingness to expose the ridiculousness of these stereotypes, "turning them upside down, spread-eagle and inside out" as political activist and conceptual artist Barbara Kruger put it.
Mature Period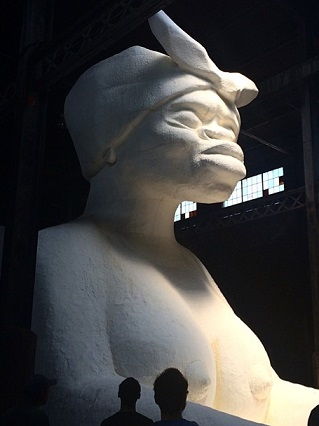 A side view of the monumental work A Subtlety, or the Marvelous Sugar Baby an Homage to the unpaid and overworked Artisans who have refined our Sweet tastes from the cane fields to the Kitchens of the New World on the Occasion of the demolition of the Domino Sugar Refining Plant (2014)
Walker, still in mid-career, continues to work steadily. Despite ongoing star status since her twenties, she has kept a low profile. In 1996 she married (and subsequently divorced) German-born jewelry designer and RISD professor Klaus Burgel, with whom she had a daughter, Octavia. Interviews with Walker over the years reveal the care and exacting precision with which she plans each project. They also radiate a personal warmth and wit one wouldn't necessarily expect, given the weighty content of her work. When an interviewer asked her in 2007 if she had had any experience with children seeing her work, Walker responded "just my daughter... she did at age four say something along the lines of 'Mommy makes mean art.'"
Recent projects include light and projection-based installations that integrate the viewer's shadow into the image, making it a dynamic part of the work. Walker's most ambitious project to date was a large sculptural installation on view for several months at the former Domino Sugar Factory in the summer of 2014. As a Professor at Columbia University (2001-2015) and subsequently as Chair of the Visual Arts program at Rutgers University, Walker has been a dedicated mentor to emerging artists, encouraging her students "to live with contentious images and objectionable ideas, particularly in the space of art."
The Legacy of Kara Walker
Fierce initial resistance to Walker's work stimulated greater awareness of the artist, and pushed conversations about racism in visual culture forward. In 1998 (the same year that Walker was the youngest recipient ever of the Macarthur "genius" award) a two-day symposium was held at Harvard, addressing racist stereotypes in art and visual culture, and featuring Walker (absent) as a negative example. Rising above the storm of criticism, Walker always insisted that her job was to jolt viewers out of their comfort zone, and even make them angry, once remarking "I make art for anyone who's forgot what it feels like to put up a fight." In 2007, TIME magazine featured Walker on its list of the 100 most influential Americans. In 2008 when the artist was still in her thirties, The Whitney held a retrospective of Walker's work. Though Walker herself is still in mid-career, her illustrious example has emboldened a generation of slightly younger artists - Wangechi Mutu, Kehinde Wiley, Hank Willis-Thomas, and Clifford Owens are among the most successful - to investigate the persistence and complexity of racial stereotyping.
Most Important Art
Gone: An Historical Romance of a Civil War as it Occurred b'tween the Dusky Thighs of One Young Negress and Her Heart (1994)

This extensive wall installation, the artist's first foray into the New York art world, features what would become her signature style. The work's epic title refers to numerous sources, including Margaret Mitchell's Gone with the Wind (1936) set during the Civil War, and a passage in Thomas Dixon, Jr's The Clansman (a foundational Ku Klux Klan text) devoted to the manipulative power of the "tawny negress." The form of the tableau, with its silhouetted figures in 19th-century costume leaning toward one another beneath the moon, alludes to storybook romance. The tableau fails to deliver on this promise when we notice the graphic depictions of sex and violence that appear on close inspection, including a diminutive figure strangling a web-footed bird, a young woman floating away on the water (perhaps the mistress of the gentleman engaged in flirtation at the left) and, at the highest midpoint of the composition, where we can't miss it, underage interracial fellatio.

Silhouetting was an art form considered "feminine" in the 19th century, and it may well have been within reach of female African American artists. Walker uses it to revisit the idea of race, and to highlight the artificiality of that century's practices such as physiognomic theory and phrenology (pseudo-scientific practices of deciphering a person's intelligence level by examining the shape of the face and head) used to support racial inequality as somehow "natural." Walker's black cut-outs against white backgrounds derive their power from the silhouette, a stark form capable of conveying multiple visual and symbolic meanings. Fanciful details, such as the hoop-skirted woman at the far left under whom there are two sets of legs, and the lone figure being carried into the air by an enormous erection, introduce a dimension of the surreal to the image. When asked what she had been thinking about when she made this work, Walker responded, "The history of America is built on this inequality...The gross, brutal manhandling of one group of people, dominant with one kind of skin color and one kind of perception of themselves, versus another group of people with a different kind of skin color and a different social standing. And the assumption would be that, well, times changed and we've moved on. But this is the underlying mythology... And we buy into it. I mean, whiteness is just as artificial a construct as blackness is."

Read More ...

Kara Walker Artworks in Focus:
Kara Walker Overview Continues Below
If you see an error or typo, please:
tell us
Cite this page

Content compiled and written by Janet Oh
Edited and revised, with Synopsis and Key Ideas added by Ruth Epstein
" Artist Overview and Analysis". [Internet]. . TheArtStory.org
Content compiled and written by Janet Oh
Edited and revised, with Synopsis and Key Ideas added by Ruth Epstein
Available from:
First published on 23 Jan 2016. Updated and modified regularly.


[Accessed ]