Artists
Anne Truitt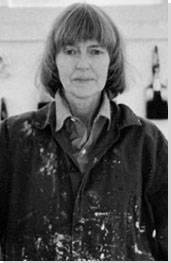 Born: March 16, 1921 - Baltimore, Maryland
Died: December 23, 2004 - Washington, D.C.

"As I work to understand my life, its scale seems to diminish, as a tree I gaze up into flattens when I walk up a mountain and look down on it. Humility is really more natural than pride, which seems to me always to involve a lie."
Summary of Anne Truitt
In the wake of Abstract Expressionism during the Cold War, Anne Truitt created complex, subtly nuanced sculptures that belie their simplicity. Known for her hand-painted columnar sculptures, Truitt explored the realms of her emotional and psychological life with the most minimal of means. Interested in how we walk through and inhabit the physical world, Truitt's sculpture induces an embodied, and not simply an optical, response from the viewer.

While Truitt gained acclaim in the 1960s as one of the earliest Minimalists and was briefly championed by the art critic Clement Greenberg, she remained distant from the New York art scene and spent decades balancing her artistic practice with raising a family. Feeling apart from current artistic trends, Truitt's art and her process would be influential for younger artists interested in the poetics of form and material such as Roni Horn and Rachel Whiteread.
Key Ideas
Truitt's sculptures are resolutely abstract and seemingly non-narrative, but each is steeped in Truitt's own biography: her memories growing up, her time in Japan, and her home in Washington, D.C. The subtle juxtapositions of color and form create emotional resonances with her own memories of certain events and times.
Often cast as a Minimalist, Truitt, much like the painter
Agnes Martin
, had more affinities with the earlier movement of Abstract Expressionism than with her contemporaries. Her art was suffused with emotion, and she wished to engage the viewer on a bodily level in order to elicit the viewer's emotional response.
While Truitt's sculptures stylistically resemble work being done by Minimalist artists like
Donald Judd
and
Carl Andre
as well as Washington Color School artists such as
Kenneth Noland
and Gene Davis, Truitt's artistic intentions were often diametrically opposed to theirs. While many of the Minimalists had their works fabricated by others, Truitt constructed and painted all of her own sculptures. Her personal involvement as well as the personal meanings that imbue her work put her at odds with the more cerebral, conceptual, and anonymous art of the Minimalists. Additionally, her interest in the viewer's physical relation with the work of art contrasted with the Washington Color School's interest in pure opticality.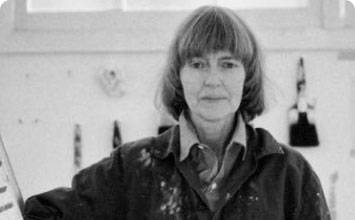 Born Anne Dean in Baltimore, Anne Truitt grew up in the coastal town of Easton on the shores of Maryland. As a happy, sprightly child, Truitt and her two younger twin sisters flourished in an affluent household under her mother's maxim: "Children should be brought up like cabbages - with lots of sun and space and let alone to grow." Roaming around the local streets with a sense of wonder and discovery, Truitt later remembered, "[A]nd so it was with the little town of Easton...an orderly scattering of houses, mostly white clapboard, so small that even on my short legs I was able to encompass the town's dimensions."
Important Art by Anne Truitt

The below artworks are the most important by Anne Truitt - that both overview the major creative periods, and highlight the greatest achievements by the artist.


Artwork Images

First (1961)

Artwork description & Analysis: Three slender, peaked white planks point upwards to the sky, joined together at the back by two horizontal bands and standing on a thin plinth. At first glance, the work resembles a section of suburban garden fence, but on closer examination the three posts reveal subtle variations from one another in height, width and point shape, giving them a fragile, almost human quality. The central pillar is taller than the two on either side, and the upper horizontal beam resembles outstretched arms holding them together into a tight group, perhaps a reference to the experience of Truitt and her younger twin sisters during their childhood.

As referenced in the work's title, this sculpture was the first Truitt made in a new, pared down abstract style. After a revelatory trip to New York City in 1961, Truitt made a dramatic change in her art practice. She recalled, "I saw Ad Reinhardt's black canvases...then I...saw the paintings of Barnett Newman. I looked at them, and from that point on I was home free. I had never realised you could do it in art. Have enough space. Enough color."

These early sculptures made allusions to her own experiences in the world, resembling the picket fences, tomb stones and clapboard houses in the coastal town of Easton where she grew up. This marriage between minimal geometry and personal experience came to characterise all of Truitt's work even as her sculptures became increasingly abstract, lending her practice an individuality that would prove hugely influential.

Acrylic on wood - Baltimore Museum of Art


Artwork Images

Sea Garden (1964)

Artwork description & Analysis: An angular form, resembling a rocky outcrop in a barren landscape, spreads across the floor in earthy shades of green, beige, and navy. Truitt carefully choreographed the relationship between the sculpture's color and form to suggest balance, stillness, and the subtlest suggestion of movement, akin to the lull of lapping water.

Truitt made this sculpture after moving to Japan with her family. Although they only stayed for three years to follow her husband's work, Truitt found the experience unsettling, admitting she never felt grounded or at home amidst the unfamiliar surroundings. This disjointed feeling of unease was reflected in the drawings and sculptures she made during this time, which juxtapose sharp, jagged angles and irregular shapes. In the publication Anne Truitt in Japan art historian Anna Lovatt wrote, "[T]he temporal disjunctions of the Japanese works - the unexpected jolts and ruptures that confront anyone who circumvents them - speak at once to Tokyo's startling juxtapositions of old and new and the jarring sense of anachronism that Edward Said has identified with the condition of 'exile,' a word the artist herself used to describe her experiences of Japan."

During her time in Japan Truitt made a departure from wood, choosing instead to work with aluminium in which she discovered a lightness and flexibility that allowed for greater experimentation. Three years later, on returning to America, Truitt destroyed much of the work she made during this three year sojourn and returned to working with wood, yet as Lovatt points out, her largely negative experiences in Japan were part of a "process of discovery" which allowed her to experiment and fail, or as Truitt herself put it, "If I had not gone to Japan, I would not know anything. I would not know what is what."

Marine paint on aluminum - Private Collection


Artwork Images

A Wall for Apricots (1968)

Artwork description & Analysis: This tall, elegant tower contains three bands of vivid color stacked on top of one another. The work is deceptively simple, with closer inspection revealing a delicate balance between colors and shapes that invokes order, harmony, and stillness. The rich, ochre yellow brings warmth into the adjoining green, while the white on top suggests the blinding light of summer sun. Truitt's column stands almost 6 feet tall, indicative of its human scale.

Truitt made A Wall for Apricots upon her return to the U.S. from Japan, and she has often spoken of the relief she felt on returning to Washington, to the familiar "latitude and longitude" of her home country. Truitt's color range expanded and became more vivid, which writer Ken Johnston described in the New York Times as "exquisitely nuanced, whether tending to eye strainingly dark combinations...to pale Impressionist pastels or to Pop-like candy bright hues." Johnston points out the multiple references Truitt collapses together into her columnar sculptures, including ancient steles or tombstones and science fiction monoliths. Her upright work also resembles the stance of the human body, yet she creates a sense of weightlessness with a recessed plinth, making it appearas if the work is hovering just above the floor. The sensitive, human quality of her sculptures set her apart from many of her Minimalist contemporaries and proved hugely influential on Post-minimalist artists such as Roni Horn, who combines poetic subject matter with geometric forms.

Acrylic on wood - Baltimore Museum of Art
More Anne Truitt Artwork and Analysis:
Influences and Connections
Influences on Artist
Artists, Friends, Movements
Influenced by Artist
Artists, Friends, Movements

Interactive chart with Anne Truitt's main influences, and the people and ideas that the artist influenced in turn.
View Influences Chart

| | | | | |
| --- | --- | --- | --- | --- |
| Artists | | Personal Contacts | | Movements |

Influences on Artist

Anne Truitt
Years Worked: 1960s - 2004
Influenced by Artist

| | | | | |
| --- | --- | --- | --- | --- |
| Artists | | Personal Contacts | | Movements |
If you see an error or typo, please:
tell us
Cite this page

Content compiled and written by Rosie Lesso
Edited and published by The Art Story Contributors
" Artist Overview and Analysis". [Internet]. . TheArtStory.org
Content compiled and written by Rosie Lesso
Edited and published by The Art Story Contributors
Available from:
First published on 11 Jun 2019. Updated and modified regularly.


[Accessed ]