Biography of Stanley Spencer
Childhood
Stanley Spencer was the second youngest of nine children born to William and Anna Spencer. He was born in Cookham-on-Thames, a quaint village in Berkshire that was to become an integral subject throughout his work. His family had a long history in the area; his grandfather had built a number of buildings in Cookham, including the villa in which Stanley was born. It was attached to an identical house, in which the artist's cousins lived. He was brought up a Methodist, and his spirituality would always have heavy bearing on his artistic output.
William Spencer worked as a builder initially, but he later earned a living as a teacher and musician. The family were creative; they loved playing instruments and performing, and were also devout; taking it in turns to read from the bible each day. Spencer and his younger brother Gilbert (who also became a notable artist) were both home-schooled by their father and sisters, leaving time from an early age to draw and develop their artistic skill. Stanley would sketch scenes from Cookham and also copy illustrations from his father's vast library. He was especially inspired by the children's illustrator, Arthur Rackham, and found his calling to art as a child.
Early Training and Work
Spencer's first formal training came from a local artist called Dorothy Bailey, who taught both him and his brother Gilbert how to successfully use watercolors. When he was 15, Stanley enrolled at the Technical Institute in Maidenhead, before moving to the prestigious Slade School of Fine Art in London the following year, which he would commute to via train every day from Cookham. Spencer studied at The Slade between 1908-1912 where he became a skilled draughtsman having spent hours studying statues and drawing from life models. His contemporaries included the likes of Dora Carrington, Paul Nash, and David Bomberg, but he didn't build lasting friendships with any of them.
He did however exhibit the painting John Donne Arriving in Heaven (1911) and some drawings at Second Post-Impressionist Exhibition, organized by Roger Fry. Furthermore, the immediate three years that followed having left The Slade saw what was arguably the most productive period of Spencer's artistic life. Looking back on it, he referred to it as his "Golden Age", a period when his vision was most intense and when he produced his best work. "When I left Slade, and went back to Cookham, I entered a kind of earthly paradise," he said.
He wrote at the time:
"I feel fresh awake and alive; that is the time for visitations. We swim and look at the bank over the rushes I swim right in the pathway of sunlight I go home to breakfast thinking as I go of the beautiful wholeness of the day. During the morning I am visited and walk about being in that visitation."
The paradise was not to last long for shortly afterwards came the outbreak of World War I. Spencer joined the Royal Army Medical Corps, where he worked as an orderly at the Beaufort War Hospital near Bristol. The following year he was posted to Macedonia and in 1917 he became an infantryman in the 7th Battalion of the Royal Berkshires in the Balkans. He spent more than two years on the front line, but was sent home after contracting Malaria. He did not paint during the war, but on his return to Cookham when the conflict was over, he produced a number of works recalling his service.
Mature Period
The early 1920s marked a period of great psychological change for the young Spencer, changes which have been attributed both to his traumatic experiences in war, and to his new burgeoning romantic life. His love life, which although started late, quickly grew in intensity and complexity. He was reportedly a virgin until his thirties and said that the first time he touched a woman that it felt as though he was performing a miracle (again the union of sex and religion). In December 1919, Spencer met Hilda Carline who came from a family of artists. He proposed to her on a painting holiday in Bosnia and then reportedly broke off the engagement multiple times before they finally married in Suffolk in February 1925. A few months later, their first daughter, Shirin, was born and the couple moved to Burghclere in Hampshire.
In 1927, Spencer exhibited his breakthrough work The Resurrection, Cookham (1924-27) at London's Goupil Gallery and received great critical acclaim. In 1930, Hilda gave birth to their second child, Unity. Sadly though, the domestic bliss of the family's early years soon faded as Spencer suffered with recurring painful kidney stones and it is likely that Hilda suffered from depression. Spencer was an emotionally demanding man to live with. He was described as "small and wiry" with a "very energetic yet engaging personality". According to the Stanley Spencer Gallery: "He could also be quite exhausting and would talk for hours with his mind flying free." He talked so much that Hilda would occasionally fall asleep while listening to him.
From the early 1930s onwards, Spencer's work became increasingly preoccupied with sex, as his own personal affairs became more unusual and multiple. Critics were dismissive of the works produced during this period, and despite being a member of the Royal Academy, the institution rejected two of Spencer's paintings, and so the artist resigned from the academy feeling misunderstood.
Spencer had moved his family back to Cookham in 1932, which is the same moment that he became utterly infatuated with the younger and very glamorous artist Patricia Preece, whom he had met a couple of years before. Spencer was still married to Hilda, and Preece was in a relationship with another artist, Dorothy Hepworth. Therefore, instead of embarking on a romantic relationship at this time, Preece became Spencer's agent, and she encouraged him to produce more landscapes for which he was well paid. Spencer though, continued to woo Preece, spending thousands on clothes, furs and jewelry for his love, all the while expecting his wife and children to survive on only 30 shillings per week. After years of struggle, and humiliation for Hilda, she and Spencer finally divorced in 1937. Four days later, despite the fact that Patricia was a lesbian, she and Spencer married.
Different accounts exist for what happened next, but according to art historian Kitty Hauser, Spencer had always planned to continue his relationship with both Hilda and Patricia. Before the second couple's honeymoon in the artists' hub of St Ives, Spencer slept with his first wife. On learning this, Patricia was reportedly furious, and refused to stay in Spencer's room. Instead, she stayed with Dorothy, who had joined them on the Cornwall trip. Preece in fact refused outright to ever have sex with Spencer, and indeed, the marriage was never consummated.
Spencer said of the situation: "The law does not allow me to have two wives. Yet I must and I will have two." It seemed though, that his fantasy and reality did not align here and by 1938 both women had rejected him. He was being chased by Hilda's solicitor for maintenance payments, and by the Inland Revenue for tax contributions. Spencer was distressed and considered suing the War Office for compensation for what he had suffered in service.
By 1942 Spencer asked Hilda to remarry him but she refused, saying "You are too much of an artist to have satisfactory relations with any woman." The pair continued to be close however and Spencer would write to her often - every day sometimes. She was later admitted to a psychiatric hospital for nine months. In 1947 she was diagnosed with breast cancer and she died in 1950, with her husband at her side. The two were even buried together in Cookham cemetery, with the inscription beneath their headstone reading, "Everyone that loveth is born of God and knoweth God he that loveth not knoweth not God for God is love".
Late work
Spencer's landscapes were popular with the art buying public, but he was by no means passionate about making them. He described them as "dead, dead", but continued to produce them because they were lucrative. Painting landscapes en plein air he said made him feel lonely and he wanted instead to produce pictures that explored the intricate and gritty relations between figure and place.
After the war, Spencer struggled to return to the contentment of his now much earlier "golden age". His eccentricities became more pronounced; known to wear his pajamas under his suit if it was cold, eating mainly jam sandwiches, and often seen wandering the lanes of Cookham pushing an old pram in which he carried his canvas and easel. He also became itinerant, and would spend much of his adult life staying at different friends' houses. Without the comforting domestic security of his early years, his visions were harder to access. He would obsessively make records of his paintings, writing lists of them, and cataloguing them in reference to themes or sequences.
During the 1940s and 1950s Spencer's work fell out of favor with some, and was criticized for its form and technique. Artist and critic Wyndham Lewis cruelly wrote about Spencer's "aggressively corpulent" women and his "lower-middle-class" subject matter. He added: "He is endlessly repetitive. One feels he could turn out a thousand figures as easily as a hundred, it would take him ten times as long that is all." This seems unnecessarily harsh in many respects and missing much of Spencer's skill. Luckily though, he did remain popular with many, and in 1950 Spencer was reinstated at the Royal Academy. In 1959, in recognition of the artist's overwhelming achievements and rich career, he was awarded the highest honor of knighthood.
Spencer was also a prolific writer, fascinated with self-analysis, and he would write in his journals every day. In December 1958 Spencer was diagnosed with cancer and he died a year later at the Canadian War Memorial Hospital in Cliveden, Berkshire, having worked right up to his death. When he died, he left several trunks full of notebooks, diaries, letters, lists and other writing, later acquired by the Tate.
The Legacy of Stanley Spencer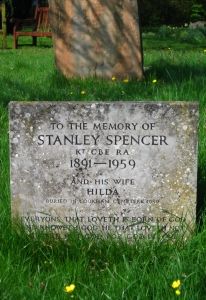 Spencer's work can be charming in its optimism, but equally it can be haunting in the unreachable demands that it highlights in terms of attachment and relationships. His style, in many ways seems to mirror the artist's childlike idealism. However, cultural historian Fiona McCarthy warns: "To see him as an unschooled primitive, a Home Counties Alfred Wallis, would be absolutely wrong. He trained at the Slade, then the leading London art school, in a pre-first world war generation that included Edward Wadsworth, Paul Nash, David Bomberg, and Mark Gertler. Spencer was singled out by the Slade's famous teacher of drawing, Professor Henry Tonks, as the most original of all Slade students, and his precocious work was included in the Second Post-Impressionist Exhibition in 1912, shown alongside paintings by Matisse, Picasso and Cézanne."
Indeed, it is important that Spencer's work is examined within its own historical context. The sexual overtones of his work may seem relatively tame by today's media standards, but at the time things were very different. It has been reported that in 1950, the outgoing president of the Royal Academy, Sir Alfred Munnings, acquired some of Spencer's scrapbook drawings and initiated a police prosecution against Spencer for obscenity, which was only dropped once the pictures had been destroyed.
Arguably though, Spencer was in no way perverse, but more of a visionary. His fascination with his own life and psychology, as well as his unflinching representation of obsessive (sometimes dangerous) personality traits looked forward to a new and emerging trend in British art that would include the work of Lucian Freud, Francis Bacon, and Frank Auerbach. Like the above, and also notable, Alice Neel, Spencer was a majestic portrait painter. There are not many artists that can capture the sensitive, acute, and delicate likeness of a sitter, whilst encompassing both the light and dark side of a personality.
Hauser said: "Since his death, his critical reputation has fluctuated, according to the broader fortunes of figurative painting and narrative art. Until the 1970s, his willful parochialism meant that writers could only accommodate him into an art history dominated by modernism, by aligning him with a lineage of visionary 'outsiders' in British art, notably William Blake." More open-minded and less definite recent decades have seen resurgence in his popularity, and in the past forty years, Spencer's work has been exhibited in Britain, Europe, and America. His legacy also lives on in the Sandham Memorial Chapel in Burghclere, Hampshire, and in the talent of his daughter, Unity Spencer, who also became an accomplished artist in her own lifetime.
Content compiled and written by Sarah Ingram
Edited and revised, with Summary and Accomplishments added by Rebecca Baillie
"Stanley Spencer Artist Overview and Analysis". [Internet]. .
TheArtStory.org
Content compiled and written by Sarah Ingram
Edited and revised, with Summary and Accomplishments added by Rebecca Baillie
Available from:
First published on 20 May 2019. Updated and modified regularly
[Accessed ]