Biography of David Salle
Childhood
David Salle was born in Oklahoma but spent his formative youth in Wichita, Kansas. His parents were working class people of Russian Jewish heritage; Salle was among the second generation of his family to be born in America. As a young boy, he took life-drawing classes through a local art organization in Wichita. His interest in drawing and painting persisted throughout his adolescence, and he continued to take classes several days a week as a high school student.
Early Training
In 1970, Salle entered the California Institute of the Arts in Valencia, north of Los Angeles. There, he studied under John Baldessari, whose paintings often dealt with altered photographic imagery. In a 2013 interview with his former teacher in Interview, Salle says, "He was my mentor when I was a student at CalArts in the early '70s, and it's fair to say that meeting him redirected my trajectory as an artist - as it did for innumerable others. His legendary class in Post-Studio Art bestowed on those of us with enough brains to notice, a feeling of unbelievable luck of being in exactly the right place at the right time for the new freedoms in art - we arrived in time for the birthing, so to speak." The friendship between the two men has lasted over 40 years.
While a student at CalArts, Salle explored various mediums, including video, installation art, and conceptual pieces. He also focused on abstract painting. He earned a BFA in 1973 and stayed at CalArts for graduate study, earning his MFA two years later.
Salle then left Southern California for New York, where he supported himself with a number of part-time jobs throughout the late 1970s. He taught art classes, worked in restaurants, and worked for the designer and installation artist Vito Acconci. One of his more unusual gigs consisted of doing page layout and paste-ups for a pornographic magazine. When the publication went out of business, Salle took some of the stock photographs to use for his own work. These included sexually explicit nude images, as well as generic 'news' materials.
Mature Period
In 1980, Salle was living and working in a converted loft space in the city's Tribeca neighborhood when he began to find success as an artist. Following his first solo show in New York City, he formed his association with noted gallery owner Mary Boone, who continues to represent him today.
During this time, the painter expanded his practice to include theatrical design. He designed the set and costumes for Kathy Acker's The Birth of the Poet, and went on to design staging and costumes for productions by the dancer and choreographer Karole Armitage. The internationally renowned dancer Mikhail Baryshnikov asked Armitage to create a new work for the American Ballet Theater; Armitage then approached Salle with the project. The collaboration was a fruitful one: the ballet was a success, and Salle and Armitage became lovers, living together for seven years. He met with a tremendous amount of success as an artist during the early 80s, and though his popularity slipped somewhat during the 1990s, he earned a very comfortable living as an artist.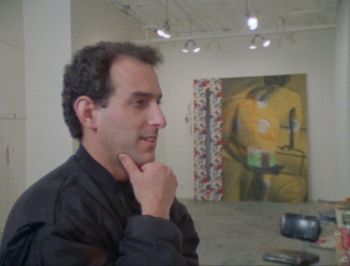 Salle continued to challenge his creativity through the exploration of different art forms. During the 1990s, he began producing sculptures, and also started exhibiting his photography. Many black-and-white images became the basis for his painted canvases. Salle made his Hollywood directorial debut in 1995 with Search and Destroy, an adaptation of Howard Korder's stage play about a washed-up, middle-aged businessman who wants to adapt a self-help book into a movie. Though the film attracted some major Hollywood names including actors Christopher Walken, Dennis Hopper, and Ethan Hawke, with Martin Scorsese as producer - the film met with a mixed reception.
Current Work
Salle eventually moved out of Tribeca to Long Island. He now lives and works in the coastal town of East Hampton, New York.
Over the years, he has become a prolific writer on art, contributing to Artforum, The Paris Review, Town and Country, Interview, and a number of other publications. He has given a number of interviews in art publications as well as mainstream glossies such as Vanity Fair and Architectural Digest, and while he is candid about his philosophy of life and his creative process, he consistently reveals very little about his personal life, friends, or family.
From 2004 onward, Salle has experimented repeatedly with the vortex motif, mixing representational images with what has typically been an abstract and cartoonish form. One of his more recent series, Late Product Paintings, revisits his Early Product Paintings series of 1993, in which collaged renditions of product advertisements provides the basis for an exploration of the complex relationships between image, subject, and object.
Though his romance with Armitage did not last, the two remain close friends and resumed their collaboration on her dance productions in the mid-2000s. In a 2007 interview, Armitage observed that Salle "has an uncanny ability to understand the requirement of a huge range of media from stage to film and even dance costumes - which have very specific technical limitations. I don't understand how he is so facile and intuitive while also keenly analytical."
The Legacy of David Salle
Salle's creative endeavors as a painter, printmaker, and stage designer have played a significant role in shaping the sensibility of postmodern art, often mingling 'high' and 'low' art together on a single canvas and blending disparate images and styles into an innovative form of pastiche that speaks to the unique joys and frustrations of life in a late-capitalist society. Though he has been an influential figure in the American art world since the 1980s, his popularity has never been without controversy; he has drawn consistent criticism from feminists who object to his frequent use of nude and scantily clad women in his painting.
Along with his contemporaries, among them Robert Longo and Julian Schnabel, Salle ushered in a return to large-scale, gestural expressionism following the minimalism of painting and sculpture in the 1970s. His work has had a major impact on a number of artists, including the Pop-inspired collage canvases of Jeff Koons, multi-panel compositions of found photography by Julia Wachtel, and the lampooning of American media saturation, comic-book heroes, and religiosity in the paintings of Jerry Kearns.
Content compiled and written by Jen Glennon
Edited and revised, with Summary and Accomplishments added by Kimberly Nichols
"David Salle Artist Overview and Analysis". [Internet]. .
TheArtStory.org
Content compiled and written by Jen Glennon
Edited and revised, with Summary and Accomplishments added by Kimberly Nichols
Available from:
First published on 22 Sep 2016. Updated and modified regularly
[Accessed ]