Artists
Chris Ofili
Biography and Legacy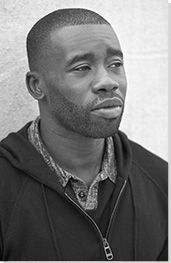 Born: 10 October 1968 - Manchester, England

From Our Sponsor
"The studio is a laboratory, not a factory. An exhibition is the result of your experiments, but the process is never-ending. So an exhibition is not a conclusion."
Biography of Chris Ofili
Childhood
Born in 1968 in Manchester, England, to Nigerian parents, Chris Ofili was the second of four children. His parents had only been in the country for three years when he was born, and they worked hard to give their children a good life. They were both employed in the McVities biscuit factory, but Ofili's father, Michael, left the family when Chris was 11 years old and went back to Nigeria where he had another family.
His mother, May, worked hard for 30 years to ensure she could support Chris, his sister and two brothers through college - and her work ethic rubbed off on her son, who had no interest in art as a child and never visited galleries. Brought up Catholic and an altar boy he heard Bible stories being read out repeatedly, and they stayed with him, dominating his work. But in secondary school he stopped going to church to concentrate on schoolwork and playing football.
Early Years and Training
After embarking on an art foundation course at Tameside College, he fell in love with painting and abandoned the idea of becoming a carpenter. Ofili was inspired by Chris Clark, a teacher who would famously encourage his students to lie down and meditate before they embarked on a painting.
In 1991 he completed his Bachelor of Fine Arts from the Chelsea College of Arts where he befriended artist Simon Ling and Scottish painter Peter Doig, who was seven years his senior. Doig said: "Chris always seemed the older one. I don't think he ever lacked self-confidence, in his work or in himself." Two years later Ofili achieved his Masters of Fine Arts from the Royal College of Art, London.
The following year, on an art scholarship in Berlin, he threw himself into the vibrant nightlife and learned how to translate his love of hip hop into his art. He said: "They allowed twenty-four-hour access to the school, and there was a night club in a bombed-out basement in Potsdamer Platz with amazing hip-hop music. Music was the battery, fully charged. I wanted to paint things that would feel like that music."
Ofili had grown up in a politically turbulent time. He was born in the year MP Enoch Powell made his infamous "Rivers of Blood" speech, a polemic on what he perceived to be the dangers of immigration. In the 1980s, racist political groups like the National Front stirred up tensions and riots took place across the nation. Then on April 22nd1993, when Ofili was in his twenties, black teenager Stephen Lawrence was murdered in a racially motivated attack while he waited for a bus in Eltham, South East London. Dissatisfaction with the police investigation caused racial tensions, and police integrity fell into disrepute.
Growing up witnessing such discord had left an impression on Ofili, and he began to explore issues of race and identity in his work.
In 1997, riding the tide of "Cool Britannia", the movement that saw the UK rebranded as a fresh and vibrant cultural capital, Ofili's work shot to fame. In September that year, renowned art collector Charles Saatchi's Sensation! show opened at London's Royal Academy, exhibiting works from Damien Hirst, Tracey Emin, Marcus Harvey and the Chapman Brothers, who would become known collectively as the Young British Artists. The exhibition caused near universal outrage, not least because among these pieces were Chris Ofili's The Holy Virgin Mary depicting a black Madonna and collaged with images of vaginas, and incorporating elephant dung, a motif that would become a trademark for the young artist.
Ofili's career went into orbit when The Holy Virgin Mary controversially won him one of the highest accolades awarded to British artists - the Turner Prize. He was just 30 and he was the first black winner. That year he held solo shows in New York, London, and Berlin.
He was invited to become a member of the prestigious Royal Academy, but he declined: "Does it come with a parking space outside the Royal Academy? Because, if not, I can't see anything in it for me."
Mature Period
In 1999 Ofili became an international figure of controversy when his Holy Virgin Mary was taken for exhibition at the Brooklyn Museum in New York. The piece caused furious condemnation from Mayor Rudy Giuliani (who said "its sick"), the Archbishop of New York, Cardinal John O'Connor and Donald Trump (who called it "degenerate stuff"). The Mayor threatened to withdraw funding and the show was closed down.
The ensuing media circus unsettled Ofili. He said: "I was scared. It was this American rage. I was brought up in Britain, I don't know that level of rage." But he also wanted to escape notoriety and the feeling that he was being pigeonholed. He didn't want to be known as "black British artist" or "pachyderm shit Giuliani guy", and the following year he travelled to Trinidad to host an art workshop with his close friend Peter Doig.
Success had come at an emotional price for Ofili - fame left him with a "slight sense of guilt" - and he went quiet, refusing to speak to the press and staying out of the spotlight during the controversy. "Success can overwhelm you," Ofili said, "The perception of you can be elevated to such a status that it's not you any more. But you start playing you. You have to leave the real you at home because the fake Chris Ofili has been invited to dinner. I was being invited to all kinds of functions and meeting all kinds of interesting people. But I went to very, very few because it was hard to be the person they thought I was. There was a point in time where the thought of people even talking about me made me anxious. Physically."
In 2002 he married Roba El-Essawy, a singer and songwriter from London hip-hop outfit Attica Blues and three years later they moved to Trinidad, where they had two children, a girl called Amel and a boy, Dalil. They kept their house in the English capital and he continues to work in New York and London while based in Trinidad.
His wife told a reporter in 2014, "Chris is the most private person I have ever met. I'm pretty sure that to this day most people here on the island don't know what he does for a living."
The Legacy of Chris Ofili
Ofili's decorative, brightly colored paintings were entirely unlike the work being produced by his YBA contemporaries in the 1990s, and his expression of black British experience remains extremely important for British artists of color. Ofili brought painting back into the spotlight, alongside artists like Jenny Saville, and in 1998 he was the first painter to win the Turner prize in 13 years. In the words of architect David Adjaye "he positioned himself as an artist who could redefine art practice by affirming the relevance of painting for the 21st century", inspiring a new generation of painters from both sides of the Atlantic.
Most Important Art
The Holy Virgin Mary (1996)

This life-size painting shows an abstracted black Virgin Mary with a vibrant yellow background. One breast is exposed, as is traditional in classical depictions of the Virgin Mary and, less traditionally, is embellished with elephant dung. All around her flutter butterflies made from buttocks and vaginas cut from pornographic magazines.

The painting is Ofili's attempt to deal with his childhood questions about race and virgin mothers, in particular which women are permitted to be holy, to be pure, and to be considered 'good mothers'. The black Madonna is often seen in Catholic iconography in Africa and the Caribbean, although Ofili's depiction is an intentionally provocative rendering of the subject. He said: "When I go to the National Gallery and see paintings of the Virgin Mary, I see how sexually charged they are. Mine is simply a hip-hop version."

The piece was well received in England, and then in Germany when it was exhibited in Berlin, but caused a public fury when exhibited in New York. Then-mayor Giuliani famously threated to remove funding from the MoCA after losing a lawsuit to shut down the YBA Sensation exhibition where the painting was featured. A 72-year-old pensioner called Dennis Heiner also defaced the painting with white paint because he was offended by its "blasphemy". He pretended to be ill to distract the security guard, and then squirted the paint behind the shield protecting the work.

Combining pornography, elephant dung, and an image central to Catholicism was intended to shock and challenge the gallery-going public, even if Ofili could not have foreseen the violent protest of the work by conservative Christian America. However, the work is also a rigorous investigation into religion, race, representation, and desire: The Holy Virgin Mary speaks to hybrid cultures in Africa and the Caribbean, which mix Catholicism and traditional spirituality; challenges the way that whiteness is associated with purity in art history (the white virgin's breast is never sexual); and situates the Holy Virgin as a real woman with a real and messy body - she rests on elephant dung to bring her closer to earth.

Read More ...

Chris Ofili Artworks in Focus:
Chris Ofili Overview Continues Below
If you see an error or typo, please:
tell us
Cite this page

Content compiled and written by Sarah Ingram
Edited and published by The Art Story Contributors
" Artist Overview and Analysis". [Internet]. . TheArtStory.org
Content compiled and written by Sarah Ingram
Edited and published by The Art Story Contributors
Available from:
First published on 24 Aug 2018. Updated and modified regularly.


[Accessed ]