Biography of Henry Moore
Childhood
Henry Moore was born in Castleford in Yorkshire, on July 30, 1898. The seventh of eight children of a mining engineer and homemaker, Moore was encouraged by his often financially struggling father to pursue higher education and a white collar career. And his father's strong opposition to the harsh physical lifestyle of mining created conflict when Moore later chose sculpting as his vocation, a job his father regarded as manual labor. Inspired by Michelangelo, Moore began modeling in clay and wood at his school in Castleford, where several of his siblings had attended and to which he had been granted a scholarship.
Early Training
In 1919, after a brief period of teaching, and serving in the Civil Service Rifles regiment during World War I, Moore was awarded an ex-serviceman's grant with which he enrolled at Leeds School of Art, becoming their first sculpture student. There he met and was strongly influenced by Barbara Hepworth. Moore received a scholarship two years later to pursue studies at the Royal College of Art in London. While there he spent much time at the British Museum studying their ethnographic collections, which strongly informed his later monumental figurative works. In 1924 he toured Italy and France for six months where he was impressed by the art of Giotto, Masaccio and Michelangelo. Upon his return to Paris, he enrolled in classes that periodically met at the Louvre. And it was in Paris, at the Musée d'Ethnographie, that he encountered a plaster cast of the Chacmool, an Aztec sculpture from c.900-1000 AD that would be a crucial influence on his early work (the original sculpture is in the collection of the Museo Nacional de Antropologia, Mexico City). The Chacmool encouraged his inclination to create direct carved, single figures focused on their mass and form.
Mature Period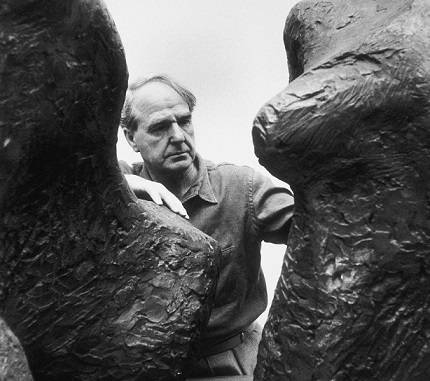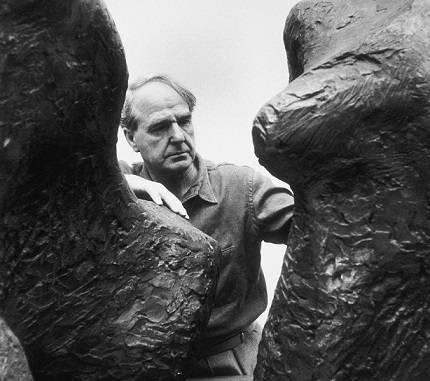 After his schooling, Moore accepted a seven year teaching position at the Royal College of Art in London. In 1928, he quickly received his first public commission, West Wind, from the London Underground. During this time he also married Kiev-born painting student Irina Radestsky, and they joined a group of enclave of artists, architects and writers - including Barbara Hepworth, Ben Nicholson, Naum Gabo and Piet Mondrian - living in north London.
Moore became Head of the Department of Sculpture at the Chelsea School of Art in 1932. During this time he joined forces with Hepworth, her partner Ben Nicholson, and several other abstract modernists, to dominate the Seven and Five Society. Together they regularly visited Paris to see work by Picasso, Braque and Giacometti. Moore abandoned a brief interest in Surrealism in 1936 after his role as an organizer of the "London International Surrealist Exhibition" and returned to his modernist figurative work in 1937 with a career-changing sale of Mother and Child to a private collector whose public display of the monumental work created two years of protest and controversy in his conservative Hempstead community.
Moore was forced to resign his teaching post and accept a commission as a war artist at the onset of World War II. During this time he made a series of drawings of Londoners sheltering from bombing raids on the platforms of subway stations. He spoke of being struck by the sight of the figures - so like his own sculptures - stretched along the platforms, and rendered them almost as cocoons, or hibernating animals. In 1940, Moore's own home was bombed, so they moved to a farm house in Perry Green where he lived and worked for the rest of his prolific career.
Late Period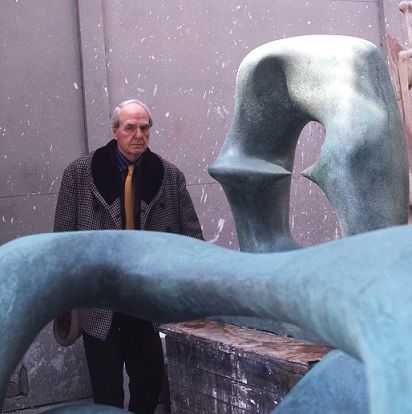 In 1946, Moore traveled to America for the first time to view his retrospective at the Museum of Modern Art in New York. At the same time, with the birth of his daughter, Mary, and the death of his mother, his usually single-figure work transformed to reflect his new family structure, and he began to be interested in the mother and child motif. Yet his work also became more abstract. He became interested in the idea of puncturing the previously integral form of his sculptures with holes, and playing on the contrast of positive versus negative space. In 1950, he completed a multi-figured sculpture called Family Group, his first large-scale public bronze, commissioned by a secondary school in Stevenage. During the 1950s, Moore's public works were in steady demand. Prices for his pieces increased significantly and his profile as an international artist was heightened. With increasingly larger and more complicated commissions, including UNESCO's Reclining Figure, Moore added apprentices and assistants to his workshop, a move that while practical, drew criticism from some art world purists.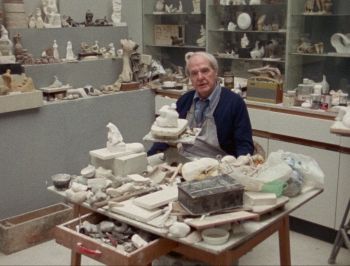 By the 1970s, Moore's work was included in over 40 shows a year and he was one of the most financially successful living artists in the world. At the end of that decade, the Henry Moore Foundation, which now manages his home as a gallery and museum, was founded to promote the preservation and publicity of his public works. Many honors were bestowed upon him, including receiving knighthood in 1951 (which he turned down), the Companion of Honor in 1955, the Order of Merit in 1963; and later gained positions as a Trustee at both the National Gallery and the Tate.
The Legacy of Henry Moore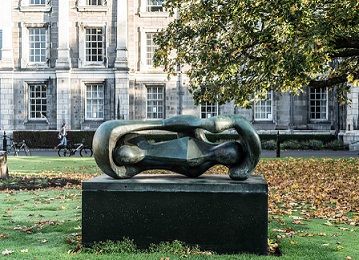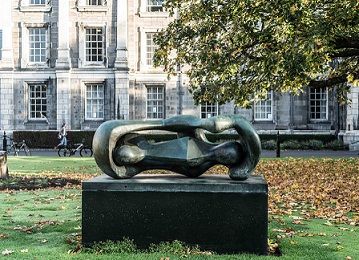 During his lifetime, Moore became synonymous with modern sculpture in England, America and beyond, introducing a wide public to modern styles such as Surrealism and primitivism. Indeed he is almost synonymous with the many worldwide institutions outside which his grandest public sculptures stand, encapsulating their humanitarian mission. His reputation has declined since his death, a consequence in part of the prolific production of his later years, and in part due to a distaste for his soft, sometimes cloying humanism. Yet he undoubtedly had a great impact on the generation that followed him, inspiring figures as diverse as Eduardo Paolozzi, William Turnbull, and - because they were at one time assistants in his studio - Anthony Caro and Phillip King.
Content compiled and written by The Art Story Contributors
Edited and published by The Art Story Contributors
"Henry Moore Artist Overview and Analysis". [Internet]. .
TheArtStory.org
Content compiled and written by The Art Story Contributors
Edited and published by The Art Story Contributors
Available from:
First published on 21 Jan 2012. Updated and modified regularly
[Accessed ]