"You do not paint with your hands: the painting should be born in your soul, pass through your brain, and then your emotions must spill it onto a canvas, panel, or wall."
"I try to make my work reflect the true Mexico, which I feel and love. I avoid anecdotal, folkloric and political themes because they do not have expressive or poetic strength, and I think that, in the world of art, a painting is an open window to human imagination."
"Above all women must unite and fight together strongly to improve their condition. Women have to cease being luxury objects and transform themselves into a factor within the class struggle; they ought to evolve socially and participate directly in the revolutionary struggle."
"It is a crime to be born a woman and have talent."
Summary of María Izquierdo
Developing her unique visual language during the post-revolutionary decades in Mexico, María Izquierdo brought indigenous motifs into the present and gave them new layers of meanings. In her hands, evocations of Mexico's heritage invited reflections on both personal and social histories (as well as the two's intertwinement). Izquierdo stood out from her (male-dominated) artistic circle especially by using her art to bring attention to the struggles facing modern Mexican women living under traditional patriarchy. Today she is celebrated as a pioneering woman artist who fought against oppression and censorship by the art establishment and who provided a path for younger generations to follow in creating new works that proudly celebrated their heritage and identity.
Accomplishments
Izquierdo is known for her signature sculptural rendering of human figures that drew inspiration from indigenous sculptures and reliefs. Such a method allowed her to allude to Mexico's pre-Hispanic heritage without necessarily painting traditional imagery. Rather, her rendering technique brought the reference into the contemporary, showing the over-layering of the present and the past in modern life.
While the use of indigenous motifs was not new in Mexican art at the time, Izquierdo paved the way for traditional motifs and folklore to be used in new and more artistically capacious ways. They were no longer restricted to serving as symbols of patriotic values for a male-centered nationalist narrative. She redefined what it meant to portray modern Mexican identity "without falling into Mexican curios," as she put it, that is, the use of heritage objects as a signifier of a monolithic traditional identity. Instead, she incorporated those motifs within the framework of a dynamic and international Mexican modernism.
Izquierdo imbued her works with a feminist consciousness that was ahead of her time. Through her artworks she gave new meanings to womanhood and femininity, celebrating power, courage, and independence, and breaking from conventional gender roles and ideas of women as subservient to men. She brought the personal into an art world that valorized public and masculine national identity and resisted women's participation. Her artworks align with the later feminist credo, "The personal is political," as art historian Nancy Deffebach has noted.
The Life of María Izquierdo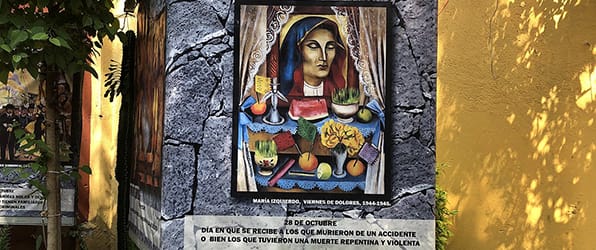 At fourteen, Izquierdo's grandparents convinced her to take part in an arranged marriage with an older soldier. When the marriage didn't work out, and with artistic aspirations of her own, Izquierdo left her husband and enrolled in formal art studies while also taking care of her three children. She would continue throughout her life to be a voice advocating for women's rights and independence. Her politics and works served as inspiration for many younger women artists.
Important Art by María Izquierdo
Progression of Art
Biography of María Izquierdo
Childhood
María Cenobia Izquierdo Gutiérrez was born on October 30, 1902, in San Juan de Los Lagos, a northeastern municipality in Jalisco, Mexico. The town is a pilgrimage site, where a small image of the Virgin Mary called Our Lady of San Juan de Los Lagos is housed within a seventeenth-century basilica. The area is also known as a cradle of folklore, popular arts and customs, festivals, and circuses, all subjects which would later appear in her artworks.
Izquierdo grew up in a lower middle-class family of mestizo heritage. Living in a rural town, she developed, early on, a connection with her indigenous roots. At age five, her mother moved to the city of Torreón after the death of Maria's father. Her upbringing was then delegated to her maternal grandmother and aunt until her mother remarried. They raised her according to Catholic traditions, and Izquierdo's childhood greatly influenced her art, as evidenced in her frequent references to Catholic imagery.
From a very young age Izquierdo showed interest in art. She spent most of her time alone and taught herself art techniques. At age fourteen, however, her independent learning of art was abruptly halted when she was convinced by her family to marry a senior army officer in an arranged marriage. By the time she was seventeen years old, she had borne three children with him.
Early Training and Work
In 1923 Izquierdo and her family moved to Mexico City where she had the opportunity to study art and develop as a professional artist. In 1928 she divorced her husband and started studying at the Escuela Nacional de Bellas Artes (National Academy of Fine Arts). The period after the Mexican Revolution (1910-1920) saw many changes in the country, including in the arts. Whereas previously academic art instruction had drawn on European examples, the role of art now shifted towards the purpose of uplifting Mexican values and heritage, ideals that resonated with Izquierdo. Diego Rivera, then director of the school, was an early supporter of her work, declaring her "the only one" with artistic merits among her student peers.
While attending the National Academy of Fine Arts, Izquierdo was instructed by artists Rufino Tamayo, German Gedovious, Manuel Rodriguez Lozano, and Adolfo Best Maugard, whose influence can be seen in her early work's use of lines as inspired by Art Deco. The most influential of her teachers, however, was Tamayo, with whom she also had a romantic relationship. They were together from 1929 to 1933, during which time they shared a studio in the heart of Mexico City's historic center. He introduced her to watercolor, a technique for which she would become known.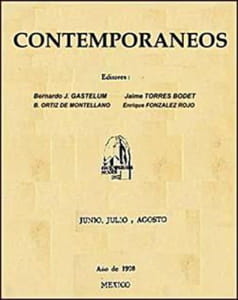 Izquierdo also joined a circle of young writers and artists who identified themselves as the "Contemporáneos," (the Contemporaries), of which Tamayo was part. They published a literary and art journal of the same name from 1928-1931. In philosophical opposition to the Muralists (who were the most powerful figures in the art world then), they looked to create art that would celebrate Mexico's traditions while also moving towards universal cosmopolitanism under the avant-garde idea of Art for Art's Sake, what they called arte puro, pure art. The group was interested in situating Mexican literature and cultural identity in connection with international art, rather than relying on heritage and folkloric elements as atemporal signifiers of mexicanidad. Objecting to "an overly determined nationalism," they "prioritized creative freedom over political ideology," explains art historian Nancy Deffebach. They published writings in translation by European modernist writers and poets such as Guillaume Apollinaire, Jean Cocteau, and T.S. Eliot. In this more permissive milieu, Izquierdo developed a style that referenced Mexican popular traditions while building on her interest in personal and everyday subjects such as still-lifes, altars, and portraits of women - all of which were seen as at best apolitical and at worst feminized and decadent by some of her peers at the Academy, who saw more value in straightforwardly leftist and masculinist political messages in art. Contemporáneos published several of her paintings, and the artistic network established through this group would continue to support her career.
In 1929 Izquierdo had her first solo exhibition at the Gallery of Modern Art in the Palace of Fine Arts in Mexico. Many of the works shown were produced at the Academy, consisting mostly of still-lifes and portraits of friends and family, such as Belem's portrait (1928), a depiction of her half-sister. The exhibition was well received, and important art world figures took notice of her work. The introduction to the exhibition's catalog, in fact, was written by Diego Rivera. He described her as one of the most appealing figures in the art scene at the time, considering her "safe and concrete." Through this show she became known as a rising female artist whose work stood out for her ability to portray Mexican identity from an alternative point of view.
In an artistic climate dominated by leftist art, it should be noted that easel painting had been rejected by many artists preferring "monumental" and "heroic" art (such as public murals). Paintings were often seen as reactionary, serving only the interests of elites who decorated their homes with them. In this regard, Izquierdo's decision to make easel paintings (which she would continue to do throughout her career) was already a statement about her artistic direction. Rather than decorative objects for the homes of the rich, however, her works would show how painting could be a complex medium allowing the interplay of personal reflection, culture, and history.
Mature Period
Izquierdo gained international recognition in 1930 when she became the first Mexican woman to have a solo exhibition in the United States, at the Art Center in New York City. The exhibition, which was funded and organized by Frances Flynn Paine, consisted of fourteen oil paintings. These works showcased her mature, signature style: representations drawn from her life, rendered in a sculptural style in a low-key palette dominated by red, earthy, and neutral tones, and a loose application of watercolor in a thick, painterly style that could easily be mistaken for gouache or even acrylic. Her chosen color palette signified, to her, Mexican identity. Her subject matter included "circus scenes, still lifes, nudes, allegorical figures, portraits, self-portraits, and landscapes." Later she would reflect on her choice of subjects: "I flee from anecdotal, folkloric, and political subjects," she wrote, "because these subjects do not have aesthetic or poetic force."
During the 1930s Izquierdo's artworks provided a complex picture of the roles of modern Mexican women that contrasted greatly with the period's conventional ideas linking womanhood with self-sacrifice, submission, maternity, and purity. In this sense, Izquierdo's artworks brought together discourses that were often seen as separate: nationalism, women's representation, and modernism. After her marriage to the Chilean painter Raul Uribe in 1938, she began to experiment more with the inclusion of Mexican folkloric elements in her paintings, with an eye toward a wealthy South American clientele secured through her husband's connections. The inclusion of pre-Hispanic elements and symbols was also important to her personally, however. It was around this time that she developed her own use of such motifs as a tool to denounce problems faced by contemporaneous Mexican women. Her art provided a window onto the lives, limitations, and struggles faced by women in the post-revolutionary context. She broadened the possibility of meanings for pre-Hispanic motifs while also re-signifying Mexican female identity through a feminist perspective.
By the early 1940s, Izquierdo was at the peak of her career and was "a prominent member of the bohemian circle of artists and writers" that would meet at the Café de Paris in Mexico City. She also welcomed guests to her house, which also became an artistic hub. Her artworks reached an international audience, and she was one of only two women artists included in the "Mexican Arts" exhibition at the Metropolitan Museum of Art in 1930 (the other being Isabel Villaseñor). In 1937 Antonin Artaud organized an exhibition of her art in Paris at the Galerie Van den Berg. Three years later her artworks were included in the exhibition "Twenty Centuries of Mexican Art" at the Museum of Modern Art (MoMA) and, in 1943, in "Mexican Art Today" at the Philadelphia Museum of Art. These, along with other exhibitions around the world, helped cement Izquierdo's international reputation. In 1944 she was appointed ambassador of Mexican art and sent to Peru and Chile, where she showed her works in multiple solo exhibitions.
Late Period
In 1945 Izquierdo was given an important commission to make a mural representing the history of Mexico City in the stairwell of the Department of the Federal District, making her the first woman to be granted a major governmental mural commission. Having already developed her preparatory plans for the mural, however, Izquierdo received a note from Mexico City's governor revoking the commission citing technical reasons. In fact, it was Diego Rivera, the man who once was her supporter, along with David Alfaro Siqueiros, who was responsible for hindering her career. Rivera and Siqueiros were part of the "the big three" muralists (the third being José Clemente Orozco). They had convinced the governor, Javier Rojo Gómez, that Izquierdo did not have the qualifications necessary to make the mural. For his part, Siqueiros would later deny that gender or talent had anything to do with the decision, pointing instead toward Izquierdo's technical inexperience. Izquierdo (and others who provided accounts of the incidence), however, maintained that gender discrimination was behind the decision. As art historian Robin Adèle Greeley writes, the men had been outraged that the commission had gone to "a young, inexperienced, and female artist." This is not to mention Izquierdo's plan to feature women as central figures in her mural, which would have been an affront to the male-centered tradition that prized virile and heroic monumentality.
Izquierdo openly spoke about the incidence and denounced what had happened. Instead of receiving support from other artists and critics, however, she was met with a backlash. The press took the side of the established male muralists, and she came under attack for having spoken out. Regardless, she never backed down from her insistence that she deserved the commission. She rebutted the men's actions with what is now her famous quote: "It is a crime to be born a woman and have talent." On the gender dynamic of the art world at the time, Izquierdo angrily wrote: "The first obstacle that a woman painter must overcome is the old belief that a woman belongs in the home with her domestic duties. When she succeeds in convincing society that she also can create, she meets a great wall of incomprehension caused by the envy or superiority complex of her male colleagues [...]." Rather than seeing woman painters as colleagues, she wrote, male artists "see in her an obstacle, an inferior competitor whom they must attack venomously."
The incidence serves well to illustrate the rift within the Mexican art world then, with Izquierdo already before the commission being regarded as one of the most prominent voices of the Contemporáneos-aligned circle who advocated for a more expansive definition of Mexican identity. In this, explains Greeley, Izquierdo's status as a woman artist from a rural and indigenous background played an important role in positioning her as an alternative to the "warrior hero" ideal proffered by the muralists in their monopoly (Izquierdo's term) on national identity. (It should also be noted that many of the male artists in the Contemporáneos group were queer. Their opposition to the machismo of the muralists speaks to the need, much like Izquierdo's, to carve out a space for more diverse viewpoints in the conceptualization of art and national identity.)
After losing the mural commission battle, Izquierdo began to experience constant nightmares that left her sleepless. One of her last paintings, Sueño y premonición (Dream and Premonition, 1947) depicts one such scene. In it we see the artist holding her own severed head weeping as her own headless body runs towards a desolate landscape with felled trees and figures without torsos. This artwork ominously foretold the suffering she would endure in her final years: in 1948 she had a stroke that left her paralyzed on her left side and without speech. Izquierdo did not stop painting, however. She trained herself to paint with her non-dominant hand and continued to make work until she was physically unable to. After a second stroke in December 1955, she died in Mexico City.
The Legacy of María Izquierdo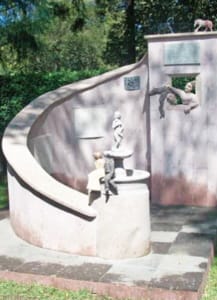 Izquierdo's work opened up new possibilities for using symbols tied to Mexican traditions in a way other than to serve the nationalist discourse in art at the time. Izquierdo believed in art for art's sake and wanted to go beyond the bounds of political art then. While the concept of art for art's sake traced back to nineteenth-century European avant-gardes, in her context of post-revolutionary Mexico, this direction in art especially bucked the trend of using art as a propagandistic tool. Instead, art's meaning, for Izquierdo, could be personal and variegated, not following the lines set by the politically powerful art establishment then. In this she differed from Frida Kahlo, her more widely-known contemporary whose marriage to Rivera linked her to the muralists and the leftist agendas celebrated in their art (Izquierdo and Kahlo were acquaintances; evidence points to Izquierdo's reputation being on equal footing with Kahlo's during their lifetimes, despite Kahlo's outsize posthumous fame.)
In portraying Mexican identity in her own way, Izquierdo contributed to the imagining and visualizing of alternatives to a Mexicanidad modeled on male virility. Furthermore, as Greeley explains, through her works, the muralists' public image as "socialist champions of Mexican workers and peasants" was also destabilized by images of other lives and subjectivities that had been precluded from the men's art. With regards to the portrayals of women, in particular, Izquierdo's use of indigenous imagery in conjunction with expressive figures rendered in bright, strong hues broke with traditional representations of women then and presented an alternative picture of women not only as self-sacrificing mothers but as human beings. At the same time, as Deffebach notes, her evocations of land and structures such as indigenous granaries in a series of paintings from the 1940s also aligned land with womanhood and women's contributions to nation-building (land was central to the leftist discourse of uprisings from below). Through her art, Izquierdo showed another way of representing women's experiences, problems, and possibilities - as well as their equal roles and participation in national identity. Her artworks helped open the door for many women artists in Mexico.
Influences and Connections
Influences on Artist

Influenced by Artist
Artists
German Gedovious
Friends & Personal Connections
Raul Uribe
Artists
Antonin Artaud

Lola Alvarez Bravo

Celia Arredonde
Friends & Personal Connections
Raul Uribe
Movements & Ideas
Mexican Modernism
Useful Resources on María Izquierdo
Books
The books and articles below constitute a bibliography of the sources used in the writing of this page. These also suggest some accessible resources for further research, especially ones that can be found and purchased via the internet.
biography
artworks