Artists
Jean-Auguste-Dominique Ingres
Biography and Legacy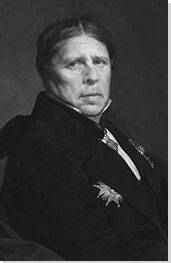 Jean-Auguste-Dominique Ingres - Biography and Legacy
French Painter
Movement: Neoclassicism
Born: August 29, 1780 - Montauban, France
Died: January 14, 1867 - Paris, France

From Our Sponsor
"Drawing is the probity of art. To draw does not mean simply to reproduce contours; drawing does not consist merely of line: drawing is also expression, the inner form, the plane, modeling. See what remains after that!"

Biography of Jean-Auguste-Dominique Ingres
Childhood
The eldest child of the sculptor, painter, and musician Jean-Marie-Joseph Ingres, Jean-Auguste-Dominique was born in 1780 in Montauban, a small town in southern France. Under his father's tutelage, he showed a talent for violin and a proclivity for drawing at a young age; his earliest-known signed drawing dates to 1789. His Parisian education at the Collège des Frères des Écoles Chrétiennes was cut short when the school closed during the French Revolution. In 1791, Ingres's father sent him to nearby Toulouse, enrolling him in the Académie Royale de Peinture, Sculpture et Architecture where he studied with the painters Guillaume-Joseph Roques and Jean Briant and the sculptor Jean-Pierre Vigan. He also continued his interest in music, performing second violin with the Orchestre du Capitole de Toulouse from 1794 to 1796. Ingres's musical abilities would later give birth to the phrase "Ingres's violin," used to describe a prodigious, but secondary talent, overshadowed by one's primary occupation; the term would later serve as the title for a famous 1924 Surrealist photograph by Man Ray.
Early Training
Following the typical progression for ambitious young artists, Ingres left Toulouse for Paris in August 1797; his father had secured him a place in the studio of the illustrious Neoclassical master, Jacques-Louis David. Here he would benefit from not only the instruction of David, but also the vibrant Parisian art world. The recent French military victories in Holland, Belgium, and Italy had brought to Paris trophies from historical art collections, providing Ingres with an unprecedented access to masterpieces of Renaissance art. His love of Raphael, in particular, was stoked by the presence of the Madonna della Sedia (c. 1512) from the Florentine Palazzo Pitti and the Vatican's Coronation of the Virgin (1502-04).
As David's pupil, he formed close relationships with his fellow students, notably Étienne Delécluze, later one of the foremost critics and defenders of Neoclassicism; he also befriended prominent former students such as Anne-Louis Girodet and Antoine-Jean Gros. This "School of David," adopted many precepts of their master, but also broke with his example; in particular, they began to favor more emotionally evocative and sensuous subjects, which encouraged a less rigid style of painting. According to Delécluze, Ingres tended to work in isolation, studiously concentrating on developing his own personal style. This penchant for resolute independence would follow him throughout his career, giving him a reputation for solitude and, later in life, even narrow-mindedness.
Ingres's early work demonstrates his mastery of academic convention, as well as his experimental breaks with that tradition; this combination brought his early success, his Ambassadors of Agamemnon (1801) was awarded the Prix de Rome. Political uncertainties and financial shortages, delayed his departure for Rome for five years. During this time, Ingres continued to work in Paris, quickly establishing his talent for portraiture. He submitted five portraits to Salon of 1806, including an early self-portrait, the Rivière family portraits, and, most notably, Napoléon I on his Imperial Throne (1806). It was only on the road to Rome that Ingres would learn of their lukewarm reception, with even his teacher David calling his Napoléon "unintelligible." Ingres decided that he would remain in Italy until he could return triumphant to Paris.
Mature Period
As the winner of the Prix de Rome, Ingres was expected to send work to Paris to demonstrate his progress; he was determined to excel in his contributions. Instead of merely sending back an academic male nude, his Oedipus and the Sphinx (1808) transformed that exercise into a history painting, the genre most celebrated by the Academy. Ingres also deliberately cultivated relationships with wealthy patrons, using his contacts at the Académie to gain commissions for both history paintings and portraits. While he felt portraiture was an unimportant use of his talent, it was profitable and necessitated by his 1813 marriage to Madeleine Chapelle. Indeed, it was only by virtue of his reputation as a portrait painter that Ingres survived the financial fallout of the Napoleonic Wars, ending in the Empire's collapse in 1814. While he was encouraged by the state's purchase of his Roger Freeing Angelica from the Salon of 1819, his other works were not so well received, and so he remained in Italy, moving to Florence in 1820.
Only weeks after his arrival in Florence, Ingres received the most important commission of his career. The French ministry of the interior requested a large-scale religious painting for the cathedral at Montauban, the artist's hometown, to memorialize the consecration of France by Louis XIII to the Virgin Mary in 1638. The result was The Vow of Louis XIII, completed in 1824 and received at that year's Salon as an unqualified success. The definitive turning point in Ingres's career, he became the chief defender of the classical tradition in opposition to the growing trend of Romanticism (represented at the same Salon by Eugène Delacroix's Scenes from the Massacres at Scio). Ingres's success at the Salon and his election to the Académie des Beaux-Arts as a corresponding member in 1823, allowed him to return to Paris in 1824 as a success after 18 years abroad. The following year, he received the Cross of the Legion of Honor from Charles X and another commission for a grand history painting on a ceiling at the Louvre, The Apotheosis of Homer (1827).
Despite this official recognition, Ingres occasionally stumbled. The Martyrdom at Saint Symphorian, completed in 1834 for the cathedral at Autun was poorly received at that year's Salon; critics disparaged its dark tonalities, disorderly composition, and the anatomical distortion of his figures. True to his temperamental reputation, Ingres swore that he would neither exhibit at the Salon nor accept government commissions ever again. Shuttering the doors to his Parisian studio, he sought the directorship of the Académie de France in Rome. After edging out fellow painter Horace Vernet by one vote, he returned to Rome in December 1834.
Late Period
Despite his dramatic exit from Paris, the still-ambitious Ingres was not entirely true to his word. Commissioned by Prince Ferdinand-Philippe, an esteemed collector and son of King Louis-Philippe, Antiochus and Stratonice (1840) was very well received in a private exhibition staged in the patron's residence. On the heels of this success, Ingres returned to Paris after his six-year term of heading the Académie in Rome in 1841, writing to a friend, "I am well vindicated. Although I have always been a modest and humble little boy before the Ancients, [...] I must admit it is very flattering to see tears flow in from my works, and by those with good and refined sensibilities.". As art historian Gary Tinterow explained, "Unlike the heroes he immortalized, Napoleon and Homer, Ingres organized and witnessed his own apotheosis."
Although he had vowed to never exhibit his work in public again, Ingres agreed to participate in in 1846 retrospective featuring Jacques-Louis David and his most formidable students. Ingres held a position of honor; after his master, he had the largest number of works on display and reviews focused on his portraits, calling him "our century's master without equal with regard to his portraits." Then, in 1855 he was honored with a monographic retrospective and a gallery devoted entirely to him at the Exposition Universelle. Despite this sign of respect, the ever-ornery and paranoid Ingres was outraged at having to share the grand medal of honor that year with nine other artists, including his rival, Delacroix, the anointed king of Romanticism and so-called "apostle of the ugly."
A particularly interesting episode on the rivalry between Ingres and Delacroix is highlighted by the author and art writer Julian Barnes in his book Keeping an Eye Open (2015). "[The 19th-century writer Maxime] Du Champ tells the story of a banker who, innocent of artistic politics, managed mistakenly to invite both painters to dinner on the same evening. After much glowering, Ingres could no longer restrain himself. Cup of coffee in hand, he accosted his rival by a mantelpice. 'Sir!' he declared, 'Drawing means honesty! Drawing means Honor!' Becoming ever-choleric in the face of the cool Delacroix, Ingres upset his coffee down his own shirt and waistcoat, then seized his hat and made for the door, where he turned and repeated, 'Yes, sir! it is honor! It is honesty!'"
In the last decade of his life, Ingres's practice became increasingly private, as he focused on producing works for his close friends and family. He was revered, Emperor Napoléon III even appointed him Senator in May 1862, yet his final working years were spent revisiting old motifs and long-abandoned canvases, including modified versions of The Apotheosis of Homer, Antiochus and Stratonice, and Oedipus and the Sphinx. His final recorded work, listed in a notebook as "a large Virgin with the Host and two angels" is dated December 31, 1866. Within two weeks, Ingres would be dead of pneumonia. He bequeathed the contents of his studio to (what later became) the Musée Ingres at Montauban.
The Legacy of Jean-Auguste-Dominique Ingres
Though closely associated with the Académie and its reputation for conservatism, Ingres's interest in linear beauty and his willingness to distort his subjects to achieve a more pleasing visual form have impacted the avant-garde. His multiple canvases of female harems and odalisques inspired other artists to take up the subject; Édouard Manet's Olympia (1863) would reinvent the odalisque as a Parisian prostitute (shocking Salon audiences) while Henri Matisse would emphasize the Orientalist exoticism of his reclining female nudes. Edgar Degas would look to Ingres as a master draftsman, emulating his linearity underneath his Impressionist brushstroke. Gustave Moreau embraced Ingres's academicism, extending the lessons of classical contours and narratives into the late-19th century. Pablo Picasso pushed Ingres's figural distortions to new levels, but also looked to his highly finished portraits as a model for his interwar classical style. Indeed, Cubism's insistence on art as an intellectual and cerebral undertaking has been connected directly to the Neoclassical example, which emphasized looking as a thoughtful, rather than emotional or sensational experience. The impeccable illusionism and abstracted bodies of Ingres's work create a sense of strangeness that would inspire the Symbolists and Surrealists with its combinations of the familiar and the peculiar.
In the 20th century, many artists have acknowledged the subtlety with which Ingres pushed the limits of academic style in his work, manipulating human anatomy and the norms of composition. Because Ingres willingly sacrificed illusionism in favor of aesthetic and compositional effects, Barnett Newman identified him as a predecessor of Abstract Expressionism, stating in an interview, "That guy was an abstract painter. [...] Kline, de Kooning - none of us would have existed without him." Other artists, including the Guerrilla Girls, have criticized Ingres as the chief representative of retrograde art-making practices that exploited the female nude to a male gaze and have taken issue with his eroticized, colonialist subjects.
Most Important Art
Napoléon on his Imperial Throne (1806)

Perhaps now the most iconic portrait of Emperor Napoléon I, Ingres's painting was originally dismissed as overly gothic, archaic, and even "barbaric." Opulently adorned, the newly crowned emperor is represented among a hodgepodge of Roman, Byzantine, and Carolingian symbols. The intention, to legitimize his claim to authority, is overshadowed by the strangeness of this imposing frontality; his pallid face emerges from layers of ostentatiously regal garb to look past the viewer with a stony gaze.

Ingres's painting was inspired by art historical depictions of power; it was a strategy similarly employed by Napoleon himself, who often used symbolism associated with the Roman and Holy Roman empires to reinforce his rule. Pictorially, Ingres looks directly to the God the Father panel from Jan van Eyck's Ghent Altarpiece (looted during the Napoleonic Wars, this altarpiece was part of the new Musée Napoléon); replacing God with Napoleon, encircled by the golden laurel wreath and throne, Ingres suggests his sitter's power, even divinity. This pose also recalled the legendary statue of Zeus at Olympia by the ancient Greek sculptor Phidias. Although that statue had been lost in antiquity, the Neoclassical interest in such relics made it a newly relevant and recognizable reference for the 19th-century viewer.

Coupled with these art historical references, the presentation of Napoleon's body and accessories underscores his power. Indeed, Ingres uses every inch of the considerable, nearly 9' tall, canvas to project Napoléon's political and martial prowess, assembling an eclectic yet legible iconography: Napoléon's robes are of rich purple, a color long associated with royalty and the Roman empire; a heraldic shield bearing the crest of the Papal states can be seen above his left shoulder, a reference to his position as King of Italy; his Legion of Honor medal rests on a lavish ermine collar; and the hand of justice sits atop a rod that crosses subtly with a bejeweled sword (modeled after the sword of Charlemagne, a ruler that the emperor sought to emulate), representing a balance of fairness and might. Most pointedly, Napoléon grasps a scepter in his right hand topped with a statuette of Charlemagne who holds the fleur-de-lis (associated with the royal Bourbon family) and the Imperial orb. This scepter, believed to have belonged to Charles IV, positions Napoleon as the successor to the French royal family as well as the historical line of Emperors.

Despite these art historical precedents, Ingres's portrait was soundly criticized at the Salon of 1806; it was even dismissed as "unintelligible" by his own teacher, Jacques-Louis David. As the Neoclassical style began to ebb, with tastes preferring a more natural and contemporary representation of power, Ingres's complex compendium of historical motifs seemed retrograde and outdated. Even though it was the target of scorn, with this complicated web of iconography and symbolism, Ingres ushered in a new twist on the Neoclassical and demonstrated his interests in art historical references and stylistic experiments.

Read More ...

Jean-Auguste-Dominique Ingres Artworks in Focus:
Jean-Auguste-Dominique Ingres Overview Continues Below
If you see an error or typo, please:
tell us
Cite this page

Content compiled and written by The Art Story Contributors
Edited and revised, with Synopsis and Key Ideas added by Sarah Archino
" Artist Overview and Analysis". [Internet]. . TheArtStory.org
Content compiled and written by The Art Story Contributors
Edited and revised, with Synopsis and Key Ideas added by Sarah Archino
Available from:
First published on 03 Aug 2017. Updated and modified regularly.


[Accessed ]