Without the public these works are nothing...I ask the public to help me, to take responsibility, to become part of my work, to join in.
there is no private space anymore. Our intimate desires, fantasies, dreams are ruled and intercepted by the public sphere
Meaning can only be formulated when we compare, when we bring information to our daily level, to our 'private' sphere. Otherwise information just goes by. Which is what the ideological apparatuses want and need. 'You give us thirty minutes and we give you the world.' A meaningless one. So public life and private life. In our culture, we live in a world of interrelations. As Lenin said, 'everything is related to everything.'
Above all else, it is about leaving a mark that I existed: I was here. I was hungry. I was defeated. I was happy. I was sad. I was in love. I was afraid. I was hopeful. I had an idea and I had a good purpose and that's why I made works of art.
I think more than anything else I'm just an extension of certain practices, minimalism or conceptualism, that I am developing areas I think were not totally dealt with. I don't like this idea of having to undermine your ancestors, of ridiculing them, undermining them, and making less out of them. I think we're part of a historical process and I think that this attitude that you have to murder your father in order to start something new is bullshit.
Something I tell my students is to read once; then if you still have problems with it, read it a second time. If you still have problems, get drunk and read it a third time...and you might get something out of it.
Let's move forward to a certain degree, in terms of the kind of protest art that says all Capital is bad, Bennetton is bad. We know that! We really do know that. We don't need a gallery space to find out something we read in the news.
I think if I started this list of influences again I would start with [Bertolt] Brecht. I think this is really important because as Hispanic artists we're supposed to be very crazy, colorful-extremely colorful. We are supposed to "feel," not think. Brecht says to keep a distance to allow the viewer, the public, time to reflect and think. When you get out of the theater you should not have had a catharsis, you should have had a thinking experience. More than anything, break the pleasure of representation, the pleasure of the flawless narrative. This is not life, this is just a theater piece. I like that a lot: This is not life, this is just an artwork. I want you, the viewer, to be intellectually challenged, moved, and informed.
When you read Greenberg you can get lost in page after page on how a line ends at the edge of the canvas, which is very fascinating - I love that, I can get into that, too. But when some of us, especially in the younger generation, get involved with social issues we are put under a microscope. We really are and we have to perform that role, which includes everything. It includes the way we dress to where we are seen eating.
It's a riot when I show these pieces in a museum because people aren't supposed to touch the art much less take it with them. At the 1991 Whitney Biennial people would ask the museum guard if it was true that they could really take a piece from the stack of paper. The guards got into it.
When people ask me, "Who is your public?" I say honestly, without skipping a beat, "Ross." The public was Ross. The rest of the people just come to the work. In my recent show at the Hirshhorn, which is one of the best experiences I have had in a long time, the guards were really in it. Because I talked to them, I dealt with them. They're going to be here eight hours with this stuff. And I never see guards as guards, I see guards as the public. Since the other answer to the question "Who's the public?" is, well, the people who are around you, which includes the guards. In Washington people asked me, "Did I train the guards, did I give them a lecture?" I said, "No, I just talk to them when I'm doing the work." They said, "You know we have never been to an exhibit where the guards go up to the viewers and tell them what to do, and where to go, what to look at, what it means." But again, that division of labor, that division of function is always there in place to serve someone's agenda.
But as we know aesthetics are politics. They're not even about politics, they are politics. Because when you ask who is defining aesthetics, at what particular point - what social class, what kind of background these people have - you realize quickly again that the most effective ideological construction are the ones that don't look like it. If you say, I'm political, I'm ideological, that is not going to work, because people know where you are coming from. But if you say, "Hi! My name is Bob and this is it," then they say, that's not political. It's invisible and it really works. I think certain elements of beauty used to attract the viewer are indispensable. I don't want to make art just for people who can read Fredrick Jameson sitting upright on a Mackintosh chair. I want to make art for people who watch the Golden Girls and sit in a big, brown, Lazy-boy chair. They're part of my public too, I hope.
Biography of Felix Gonzalez-Torres
Early Life
Felix Gonzalez-Torres was born in Guaimaro, Cuba in 1957, the third of four children. He and his sister Gloria relocated that year to an orphanage in Madrid, Spain before eventually settling in Puerto Rico with their uncle. He graduated from Colegio San Jorge in 1976, and began to take art classes at the University of Puerto Rico while becoming involved in the local art scene.
In 1979, he moved to New York City to pursue a degree in photography at Pratt Institute. This was an exciting time to be in New York: artists were responding to the exhaustion of the Minimalist movement with the opposing strategies of Neo-Expressionist painting and the various approaches of Postmodernism, often emphasizing photography, appropriation, and cultural critique. During this period Gonzalez-Torres participated in the Whitney Independent Study Program twice, once in 1980 and a second time in 1983, the year he received his BFA. In 1987 he received an MFA from the International Center of Photography, but it was the Whitney program that he credited with introducing him to the theoretical framework that shaped his early artistic practice.
In a 1993 interview with artist Tim Collins, Gonzalez-Torres said that feminism and the writings of philosophers Roland Barthes, Bertolt Brecht, Walter Benjamin, and Michel Foucault (among others) were critical to his development. "[Without them] I wouldn't have been able to make certain pieces, to arrive at certain positions. Some of their writings and ideas gave me a certain freedom to see. These ideas moved me to a place of pleasure through knowledge and some understanding of the way reality is constructed, of the way the self is formed in culture, of the way language sets traps, and of the cracks in the 'master narrative,' those cracks where power can be exercised."
One of Gonzalez-Torres's most significant inspirations was his long-term relationship with Ross Laycock. Laycock was a Canadian who moved to New York in 1980, though he later returned to Toronto to study biochemistry and English, before eventually becoming a sommelier and AIDS activist. The two met in 1983 and were "intertwined like a helix." Following a lengthy illness, Laycock died of AIDS-related complications in 1991; his life and his loss had a profound effect on Gonzalez-Torres, who wrote that his art was "First and foremost [...] about Ross."
From 1987 to 1991 Gonzalez-Torres was an active member of Group Material, a New York based collective founded in 1980 by artists including Julie Ault, Tim Rollins, and Doug Ashford. By the time he became a member, the group was small but well known for their collaborative ethos (against the authorial voice of a single artist), cultural activism, and Institutional Critique. Group Material used the exhibition as their medium, calling attention to social issues like homelessness, US intervention in Latin America, gender inequality, and sexuality. Most of all, Group Material shared his belief that aesthetics and politics are inseparable - refusing to be labeled "political" artists, their work, and Gonzalez-Torres's individual practice, insisted on the importance of the aesthetic experience and personal history. Incorporating these influences, Gonzalez-Torres took up the legacies of Minimalism and feminism in surprisingly simple but affective ways.
Mature Work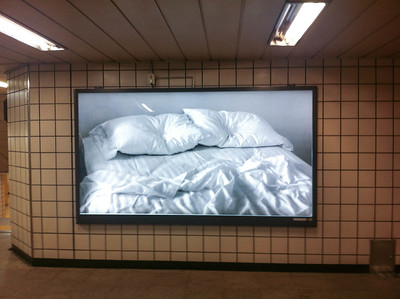 Many of Gonzalez-Torres's mature artworks were series or editions that iterated on similar materials or forms. The most famous of these include his "datelines" of text and dates printed on monochromatic backgrounds, begun in 1987, and which later evolved into his word-portraits; the billboards and stacks, which both originated in 1989 as public art anti-monuments; the light-strings, which first appeared in 1991 when his lover Laycock died; and the candy spills, which emerged in 1990.
Gonzalez-Torres's rise to prominence in the late 1980s was swift. Following his third solo gallery show in New York in 1988, the artist was invited to do a solo project at the New Museum. In 1989, the Berkeley Art Museum and the Pacific Film Archive asked Group Material to participate in an exhibition at the MATRIX Gallery in Berkeley, California focused on the AIDS epidemic. Also, in 1989, Gonzalez-Torres erected a billboard in Sheridan Square, New York City, commemorating the 20th anniversary of the Stonewall Rebellion, the uprising by members of the LGBTQ community against police oppression considered a seminal event in the gay rights movement. During this year, he also began producing the "stacks" of pages printed with text and/or images that the artists intended to be depleted and replaced as gallery goers took sheets from the pile.
In 1990, Gonzalez-Torres began exhibiting with Andrea Rosen Gallery, which continues to represent the estate of the artist today. The same year, during Roni Horn's solo exhibition at the Museum of Contemporary Art in Los Angeles, Gonzalez-Torres encountered her Gold Field (1980-82) sculptures, consisting of two pounds of gold compressed into a radiant rectangular mat. Later, he created his candy spills, comprised of either piles or carpets of wrapped candies, many of which were explicitly portraits or metaphors for the body. Acknowledging Horn's influence, Gonzalez-Torres created a gold cellophane candy spill inspired by her, named "Untitled" (Placebo - Landscape - for Roni). That year, he was honored with a fellowship from the National Endowment for the Arts for the second time (the first was in 1989).
In 1991, Gonzalez-Torres's partner of eight-years, Ross Laycock, passed away from complications related to the AIDS virus. Coinciding with this tragic loss was a time of fertile productive output, during which the artist inaugurated some of his most impactful works. In 1991, the artist also realized the first examples of his curtains of gilded beads, which suggest the possibility of a mystical portal into another dimension (or afterlife), and evoke the orbs that present in a molecular model - an oblique reference to the scientific efforts to find a cure for HIV/AIDS. Gonzalez-Torres also first debuted his light string sculptures consisting of two intertwining cords connected to an array of low-wattage lightbulbs - a poetic and stirring meditation on mortality and loss. In 1992, he was granted a DAAD fellowship to live and work in Berlin. Toward the end of his life he had several important museum exhibitions, including a retrospective at the Guggenheim (1995) and "Traveling," which went from the Museum of Contemporary Art, Los Angeles to the Hirschhorn Museum, Washington, D.C. and the Renaissance Society, Chicago (1994).
The artist continued to innovate despite his own illness, repurposing materials that might otherwise be excluded from a fine art gallery, but that he found beautiful or meaningful. He created a series of curtains of plastic beads, for example, whose titles, like "Untitled" (Chemo) and "Untitled" (Blood), caused typically dissonant associations in contrast to their visual appearance, which evoke festive decorations and discos. Gonzalez-Torres died in Miami of AIDS-related illness complications in 1996. He was 38 years old.
The Legacy of Felix Gonzalez-Torres
The Felix Gonzalez-Torres Foundation was set up in 2002 to honor and continue the artist's legacy. In 2007, Gonzalez-Torres became the second American artist, after Robert Smithson, to be posthumously chosen to represent the United States at the Venice Biennale. Gonzalez-Torres's body of work continues to resonate with a new generation of artists, searching to create stirring and interactive art experiences, and to produce subtle artworks that are both politically radical and stand on their own as aesthetic objects. The combination of minimalist forms and personal history evident in the work of Alex Da Corte also reflects the conceptual influence of Gonzalez-Torres, as does the audience participation aspect of Tino Sehgal and Rikrit Tiravanijas' practices. His influence is also clearly felt in the work of artists who use performance or forms of abstraction to address urgent social and political issues, including Doris Salcedo and Santiago Sierra.
Content compiled and written by The Art Story Contributors
Edited and published by The Art Story Contributors
"Felix Gonzalez-Torres Artist Overview and Analysis". [Internet]. .
TheArtStory.org
Content compiled and written by The Art Story Contributors
Edited and published by The Art Story Contributors
Available from:
First published on 24 Apr 2017. Updated and modified regularly
[Accessed ]