Artists
Audrey Flack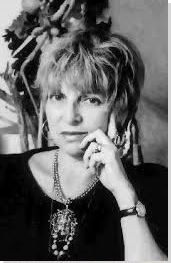 Born: May 30, 1931 - New York

"For me art is a continuous discovery into reality, an exploration of visual data which has been going on for centuries, each artist contributing to the next generation's advancement."

Summary of Audrey Flack
Following an early, and comparatively successful, flirtation with Abstract Expressionism, Audrey Flack turned to figurative self-portraiture, a change in direction that was a response in part to challenging personal circumstances. Once her domestic situation had improved, however, Flack moved away from the 'self' and addressed herself to the object world using the copying, tracing, and enlarging methods associated with the aesthetics of Photorealism. Flack's new-found success was such that she became a highly revered and established figure within the art establishment. But rather than try and repeat her greatest triumphs, Flack turned to sculpture as a means of exploring issues of history and female representations, chiefly through the three-dimensional figure of the classical goddess. Latterly she has returned to two-dimensional work using painting and printmaking in her quest to rework the heroic - post-modern - female figure.
Key Ideas
Moving away from the large-scale gestural abstractions that marked the very beginnings of her career, Flack turned to narrative subject matter via a series of authentic self-portraits. Having formally studied anatomical art, Flack took her lead from no less a figure than Rembrandt, producing what were unadorned self-examinations typically realized, like Rembrandt, through sombre, earthy tones.
As she moved into Photorealism, Flack turned her gaze onto the outside world. She achieved the photo-real effect by projecting, tracing, and re-coloring real historical events onto over-size canvases. She also produced Vanitas works - traditionally still-life paintings featuring religious and moral symbolism - through which she brought iconic photographic images from the past into new relationships with everyday perishables and chattels. Flack would often use an airbrush as a means of bringing the burnished gleam of advertising to her subject matter thus lending her art a dramatic, hyperrealistic quality.
Turning her attentions to three-dimensions, Flack used sculpture as a means of exploring ideas around the politics of female representation. Her new female icons were typically based on ancient mythology - Medusa (1989) and Sofia (1995) for instance - only reimagined by Flack for the post-modern age. She brought her figures into the contemporary sphere through many self-conscious and kitsch allusions to pop culture. Her sculptures contested the idea of mythical and archetypal representations of women by making her figures instantly relatable for contemporary spectators.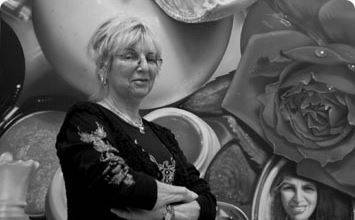 Audrey Flack was born in Washington Heights, New York in 1931 into a middle-class family. Her parents were Eastern-European emigres and, so she would become a successor to the Jewish tradition and culture, young Audrey was taught Hebrew and attended Jewish camp during the summer holidays. At junior high school, however, Flack was a restless and disruptive student and as punishment she was often sent to a desk in the corridor where she was given pencils and paper to keep her occupied. Somewhat ironically, it was through her expulsions from class that she discovered her vocation. Flack had found a sense of purpose in art and she duly graduated to "class artist" making calendars and art displays for the school. On a more personal level, Flack had become so entranced by the swimmer-cum-actress Esther Williams that she made a diorama in her heroine's honour. Her admiration for iconic female figures would serve her well in her later career too.
Important Art by Audrey Flack

The below artworks are the most important by Audrey Flack - that both overview the major creative periods, and highlight the greatest achievements by the artist.


Artwork Images

Abstract Force: Homage to Franz Kline (1951)

Artwork description & Analysis: At the start of her career, Flack became immersed in the Abstract Expressionist movement. While still a student at New York's Cooper Union, Flack joined the Artists Club in Greenwich Village, becoming one of a select group of women to become directly involved in the Abstract Expressionist scene. Her expressive, yet ordered, paintings captured the movement's zeitgeist and the brave creative spirit that lay behind her early paintings was widely acclaimed. Most influential amongst her early supporters was the Bauhaus artist Josef Albers. It was he who persuaded Flack to take up a scholarship at Yale with the mission of shaking up the institution's stuffy academic reputation. Although her studies would lead her away from abstraction toward realism, the principles of structure and form in her early paintings would stay with her throughout her career.

Flack once recalled a conversation she had had with Franz Kline who she questioned on his black and white abstractions: "I remember saying to him once, 'How about using color?' Because I love his work. He... said, 'Maybe yellow. Yeah, maybe I'll use yellow.'" Abstract Force then becomes a response to that conversation: an homage to Kline's black and white abstractions to which she brings her own preference for vibrant color (with yellow hues). Flack achieved this gestural abstraction through a series of broad, angular brushstrokes that form a tight, grid-like structure across the picture plane. The image does not only invoke Kline however. One sees here Flack's stated admiration for the likes of Picasso, Braque and Gris who emerge as a secondly reference to the Cubist technique of deconstructing symmetrical patterns.

Oil on canvas - Collection Norman and Sherry Bunin, New York


Artwork Images

Self Portrait (The Memory) (1958)

Artwork description & Analysis: In this intimate self-portrait Flack paints her own image with muted, sombre tones and anxious, agitated brush marks. With one hand on her hip and the other jutting forward she appears confident with her identity as an artist. Gazing outwards at the viewer, she has a contemplative expression. Between 1952 and 1960 Flack painted a series of self-portraits which borrowed their sombre tone from Rembrandt's work. We find this connection not only in the subject matter but in the use of earthy colors also. Elements of Flack's previous expressionist style had by now developed into narrative, figurative subject matter, which she painted by looking into a mirror. Her numerous portraits of the time document a journey of artistic and personal exploration. This painting - subtitled The Memory - was made just after Flack's father had died. In painting her own image Flack subverts the traditional male/female role of voyeur/muse by performing both, her aim being to break with the stereotypical image of the glamorous 1950s American woman.

Oil on canvas - Miami University Art Museum, Oxford, Ohio


Artwork Images

Kennedy Motorcade (1964)

Artwork description & Analysis: John and Jackie Kennedy are seen here leaving Dallas airport on November 22, 1963, just moments before his assassination. Flack wrote: "People were horrified at the subject matter. Everybody is smiling, and, of course, you know that one moment later Kennedy is going to get shot.'" The couple sit in the back of a convertible car surrounded by security and airport staff, waiting to make their ill-fated parade through downtown Dallas. Flack reproduced this scene from a color newspaper photograph of the Kennedys published at the time. Caught squinting in the glare of the Texan sun, the Kennedy's, accompanied by state governor John Connally, appear relaxed and happy, unaware of the momentous tragedy (and historical event) which is about to unfold.

Close inspection reveals the potential for a sinister reading of the image; Connally's hand is seen slipping inside his jacket while an ominous shadow is cast across John Kennedy's torso. Flack was one of many artists who moved beyond the introspection of abstraction towards the re-staging of popular imagery and culture. However, in the 1960s, and even in the wake of Pop Art, it was still considered divisive for 'proper' artists to directly copy photographs. Whatever one's view on the meaning of 'original' art. Audrey Flack's Kennedy Motorcade ranks as an innovative example of a Photorealist style that invites the spectator to reflect on the very ontology of art. On a personal level, meanwhile, Photorealism allowed Flack the freedom to push beyond the confines of her own life story and to look outward into the wider world for thematic stimulus.

Oil on canvas - Private collection
More Audrey Flack Artwork and Analysis:
Influences and Connections
Influences on Artist
Artists, Friends, Movements
Influenced by Artist
Artists, Friends, Movements

Interactive chart with Audrey Flack's main influences, and the people and ideas that the artist influenced in turn.
View Influences Chart

| | | | | |
| --- | --- | --- | --- | --- |
| Artists | | Personal Contacts | | Movements |

Influences on Artist

Audrey Flack
Years Worked: 1949 - Current
Influenced by Artist

Artists

Personal Contacts

| | |
| --- | --- |
| | Margaret Ponce |
| | Robert C Morgan |

Movements
If you see an error or typo, please:
tell us
Cite this page

Content compiled and written by Rosie Lesso
Edited and published by The Art Story Contributors
" Artist Overview and Analysis". [Internet]. . TheArtStory.org
Content compiled and written by Rosie Lesso
Edited and published by The Art Story Contributors
Available from:
First published on 09 Aug 2018. Updated and modified regularly.


[Accessed ]