"For me inspiration always comes from Iran, from my history, from my childhood, for better or for worse. I always go with the feeling of my eyes, and with my heart, and that is my main inspiration."
"My work is largely based on geometry which, as you know, always begins with a single point and can move from there into a circle. Or a point can become three leading to a triangle, or four to a square, five to a pentagon, hexagon, octagon, and so on - it's endless. I was inspired by the geometry I found in old mosques with their tile, metal, wood, and plaster work."
"Around 1971, I went to a certain shrine [in Iran],...and I became very awed with the way the mirror pieces were reflecting back images of the people there - the beggars, the holy men. It was so beautiful, so magnificent. I was crying like a baby."
"I read up on Sufi cosmology and the arcane symbolism of shapes," Farmanfarmaian wrote in A Mirror Garden, "how the universe is expressed through points and lines and angles, how form is born of numbers and the elements lock in the hexagon."
"The mirror reflects the sky, the water, and every color. It is a symbol of light and life, and when you stand in front of my mirror work and see the reflections, you are part of the work itself."
"Geometry has many different possibilities to create unlimited designs."
"I am not intellectual. I am very optical."
Summary of Monir Shahroudy Farmanfarmaian
Monir Farmanfarmaian switched her residency between Iran and the United States frequently throughout her life. Her artwork was equally cross-cultural, bringing together the time-honored craft traditions of her Persian homeland with the stylistic innovations of the international avant-garde. A vibrant, adventurous individual and artist, Farmanfarmaian was born into political and religious "royalty," but was equally at home with the progressive, rebellious New York City art scene of the 1950s and 60s.

Best known for her kaleidoscopic, superbly crafted mirror-pieces Farmanfarmaian the artist was as multifaceted as her work, someone who flew in the face of artistic and societal expectations. As a woman who worked in the conventionally male craft tradition of mosaic, and as an Iranian who easily bridged the divide between the sacred geometry of Islam and the minimalist geometry of Western contemporary art, Farmanfarmaian defied the existing categories and preconceptions of the art world, reinterpreting media, styles, and motifs with her own singular vision.
Accomplishments
Farmanfarmaian's "epiphany" while visiting the mirrored interior of the 14th century mosque Shah Cheragh in Iran led to a remarkable period of artistic innovation, one which saw her experimenting constantly at the intersection between craftsmanship and conceptualism and between folk art and fine art traditions.
Farmanfarmaian's famous Mirror Balls, which superficially resemble 70s disco balls but are based on her experiences in Iran and time-honored Persian painted and cut-glass techniques, are the perfect emblem of the seamlessness and flair with which she reconciles the dual realms of her life and art, as well as of the past and present.
Although Farmanfarmaian did not directly describe her work as feminist, critics have seen in the dazzling and sensual surfaces of her mosaic mirrored pieces a desire to highlight the feminine at the heart of Islamic ornamental form and to subvert and literally fracture the conventional image of woman as object, not subject, of the artistic gaze.
Geometry was the visual basis as well as the symbolic foundation of Farmanfarmaian's mature style, encapsulating her beliefs in cosmology, mathematical purity, and the spiritual principle of infinitude.
The Life of Monir Shahroudy Farmanfarmaian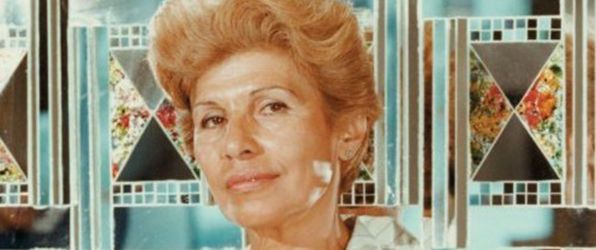 Farmanfarmaian, who early on complained that her American peers treated her like a pretty, exotic Persian carpet, lived for decades in New York City; for much of that time in exile from her homeland, Iran. She never forgot her origins, however. Her art is deeply imbued with the Islamic principles of harmony, balance, and unity, which she combined with the minimalist abstract vocabulary of Western Modern art she shared with her close friends Andy Warhol, Frank Stella, and Robert Morris, among others.
Important Art by Monir Shahroudy Farmanfarmaian
Progression of Art
Biography of Monir Shahroudy Farmanfarmaian
Childhood
From an early age, Monir Shahroudy Farmanfarmaian encountered a world of overwhelming beauty, both natural and human-made. Born in Qazvin, a small city in Northwestern Iran, she spent her first years in a grand house filled with stained glass, wall paintings, and nightingales. Her parents were both progressive and highborn. Her mother Fatemeh was an Ottoman aristocrat and her father, Bagher Farmanfarmaian, was descended from a long line of ayatollahs (religious leaders) and traders. Moreover, Bagher was a designer of carpets who based his patterns on garden motifs, which he then had crafted by the finest artisan weavers. Farmanfarmaian's earliest memories, not surprisingly, reflect the lushness of this early life - the peach, almond, and walnut trees of her hometown, the overflowing stalls of the bazaars (where she once, unwisely, teased a camel), and the palaces and mosques filled with finely-crafted objects, color, and light. As she wrote of her childhood, "Walking in the bazaar, being in the presence of all the beauty created by the dexterous hands of artisans; going to the houses of the nobility with that lapidary attention to the geometry of objects and the composition of colors; visiting religious monuments, mosques and tombs of saints, with that overabundance of light, color, and refracted images, all of these became the foundations of my aesthetic vision, although, I still didn't know how they would affect my life."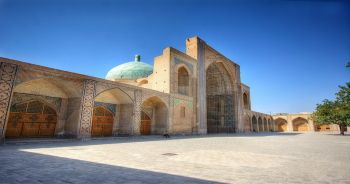 Farmanfarmaian attended the first girls' school in Qazvin, founded by her father. In 1932, when he was elected to Parliament, the family moved to the capital city of Tehran, which was becoming more modernized and westernized under the Shah. Attending a Zoroastrian school for girls from a variety of religious backgrounds encouraged Farmanfarmaian's free thinking, and the once-a-week art classes, while somewhat confusing to her at first, were, in her words "more fun than math." The family home was filled with paintings of birds and flowers, motifs that would continue to appear in her later art, and she studied and copied postcard images of western still-lifes, landscapes, and portraits. Given that Farmanfarmaian grew up in a culture that prized exquisite textiles, weaving, and pattern design, it is not surprising that she pursued various forms of needlework, including sewing, knitting, crocheting, embroidery, and lacemaking, which, in any case, suited her more than her academic pursuits.
Education and Early Training
Although Farmanfarmaian began studying art in earnest in 1944 at the Faculty of Fine Art at the University of Tehran, she soon dreamed of going abroad to see firsthand the art she had encountered only in postcards. Inspired by her French teacher Madame Aminfar, who had introduced her to the works of the Impressionists and Post-Impressionists and enthralled her with lively stories of her time in Paris, Farmanfarmaian hoped to continue her education in that city. In the midst of World War II, however, Paris was not an option. Instead, Farmanfarmaian made her way from India via steamboat to Los Angeles, where she immediately boarded a train to New York City, which was rapidly becoming the center of the world's art scene. Although she would later claim that "for sheer scale of big-city bustle and the impact of the strange and exotic, New York could hardly compete with Bombay," she nevertheless spent a dozen years there in the first stay of what would end up being a total of thirty-eight years.
If Iran represented one pole of Farmanfarmaian's artistic education, New York was the other. She was quickly welcomed into the inner circle of avant garde artists such as Jackson Pollock, Willem de Kooning, Robert Morris, Joan Mitchell, Louise Nevelson, and Barnett Newman, frequenting their meetings at venues like the 8th Street Club. With her new friends, she would attempt to discuss art history, aesthetic theory and art-world gossip, although she admitted at times to having little idea what was being said. These conversations often took place at the famed Cedar Tavern, a bar in Greenwich Village where artists and poets gathered. Of those times, Farmanfarmaian later joked in 2015, "I was not drinking; I was a good Muslim at that time. Now, I've become very bad."
After her divorce from her first husband, the artist Manoucher Yektai, in 1953, and with a young daughter to support, Farmanfarmaian found a niche in the world of New York fashion. With her background in needlework and having studied fashion drawing at Parsons School of Design, Farmanfarmaian achieved commercial success as a freelance fashion illustrator, creating dress and textile designs for magazines such as Glamour. Incidentally, while working full-time in the layout department of the upscale department store, Bonwit Teller, a drawing she had made of Persian violets years prior was bought by the store and adorned their shopping bags for a long time. It was also at Bonwit Teller that she met Andy Warhol, who was at that time working as a commercial artist for the store. She later recalled of Warhol that "Conversation was not his strong suit, but we made a connection in spite of his ghostly shyness." The two became lifelong friends. When Warhol passed away in 1986, one of Monir's sculptures, a mirror-flecked ball she had given to him when he visited Iran, was found sitting in a place of honor, at the center of his living room table.
Mature Period
Farmanfarmaian had a daughter with her first husband, but she viewed her marriage to him as "loveless" and resented being cast in the supporting role in his career, there only to provide "financial support, unending praise, and gracious entertainment for any gallery owners and wielders of influence who crossed our path." Artistically, this period was mainly important for introducing her to the community at Woodstock, New York, especially to the artist Milton Avery, whose daily ritual of drawing from nature for precisely two hours inspired her own practice of drawing from life: "It was the beginning of an easy habit that would follow me the rest of my life," she recalled," like a loyal seeing-eye dog: a sketchbook, a bottle of ink, three pens and sometimes a brush. I found that I could look at a flower very carefully and trust my hand to follow in a spontaneous line from the top of the page to the bottom."
Farmanfarmaian's second marriage in 1957 to Abol Bashar, an aristocratic lawyer descended from Iranian princes, was, by all accounts, a supremely happy one. Together they had a second daughter, Zahra, and Farmanfarmaian's career began to flourish. By 1957, Tehran had become home to one of the Middle East's most vibrant art scenes, and, in this new context, she developed a new fascination with working with traditional Iranian art forms, in particular Ayeneh Kari, the Safavid practice of cutting mirrors into small pieces and arranging them into decorative shapes over plaster. As the story goes, this technique had a practical origin in that mirrors that were imported from Europe were often shattered by the time they arrived in Persia, and so the pieces had to be used in their broken state. In the hands of Sufi artisans, however, these mosaics took on a dazzling visual beauty as well as a cosmic significance, an expression of the universe through points, lines, and angles locked into the shape of a hexagon.
One particular visit to a 14th century Shah Cheragh mosque in Shiraz led to an epiphany. "Imagine stepping inside the center of a diamond and staring at the sun," Farmanfarmaian said of the experience. The brilliant tiles and colored glass reflecting light off one another made the space seem, in her words, "on fire, the lamps blazing in hundreds of thousands of reflections." These crystalline spaces, in which "solids fractured and dissolved in brilliance" became the inspiration for the lustrous mirrored pieces for which Farmanfarmaian is best known.
In her quest to bring the experience of the mosque to her own works, Farmanfarmaian began learning from Iranian craftsmen, spending time with Turkish silversmiths, studying cosmology, and working alongside archaeologists. Ultimately, she collaborated with Hajji Ostad Mohammad Navid, a glasscutter with 35 years of experience, and then began designing her own mirror and glass works using the same time-honored techniques. Visually, her works blended the principles of Islamic art and Sufi architecture, based on mathematics and mysticism, with the conceptual and geometric bases of the modern art she had become familiar with during her years in New York - the work of her friend Frank Stella, for example. She said she wanted to "create works that were inspired by the surrounding environment while retaining their contemporariness."
While living in Iran, Farmanfarmaian served as a cultural bridge-builder. In 1966, she brought the artists Robert Morris and Marcia Hafif to the mosque in Shiraz, and later, in 1976, she arranged for Andy Warhol to come and paint portraits of the Shah, Mohammad Reza Pahlavi, and his wife the Empress Farah Pahlavi. It was during this visit that Warhol gifted a silver silkscreen of Marilyn Monroe to Farmanfarmaian.
All of that changed in 1979, when the Shah was overthrown and the Revolution took hold. Relations between the US and Iran deteriorated. Visiting New York City for the holidays, Farmanfarmaian and her husband were forced into an exile that would last for twenty-five years.
Separated from her home and family and from the materials and other resources she relied on for her art, Farmanfarmaian began a period of experimenting with other media, out of necessity, often using very humble objects and supplies. With guidance from her friend, the artist Lucas Samaras, for example, she began producing collages on wood made of netting and other "found materials." Sitting in her Fifth Avenue apartment, listening helplessly to the news about Iran, she also embarked on a series of drawings using felt-tip markers and colored pencils. The ingenuity and beauty of these pieces speak to her resilience and determination to continue her creative production regardless of circumstances.
Late Period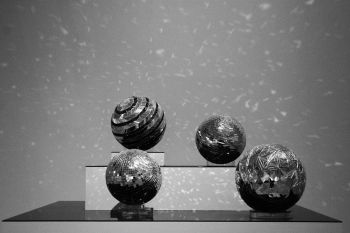 In 1991, Farmanfarmaian's beloved second husband died of leukemia. The following year she returned for a brief visit to Iran, where she discovered that all of her possessions, including her home, her artwork, her collection of antiquities and rugs, and even her gift from Andy Warhol, had been confiscated, sold, or destroyed during Ayatollah's regime. She later wrote that "The best antiques and carpets found their way into the mullahs' homes. Were my mirror mosaics hanging now on some mullah's wall?" In 2004, Farmanfarmaian returned to Iran for good, settling in the affluent neighborhood of Tajrish, on the Northern outskirts of Tehran, where she had a home and small studio. As had happened during the Iranian Revolution and the Gulf War, after 9/11 tensions grew dramatically between the United States and Iran. Farmanfarmaian observed that "After September 11 - my God. No way. Rather than being a woman, it was difficult just being Iranian."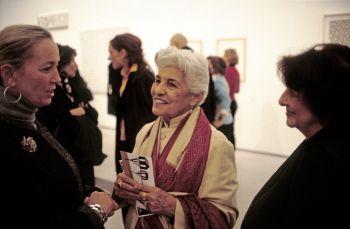 Nevertheless, she threw herself back into her mirror works, collaborating with a large workshop of artisans, and saw her international reputation continue to grow. In 2014, Monir, a documentary film about her life and work, was released, and a year later she was named one of the BBC's "100 Women" of 2015. As late as 2016, at the age of 93, she said, "I am dying to do new things." On April 20, 2019, at 96, Farmanfarmaian died at her home. She is survived by her daughters Nima Isham and Zahra Farmanfarmaian, along with grandchildren and great-grandchildren.
The Legacy of Monir Shahroudy Farmanfarmaian
As the first internationally famous Iranian woman artist, Monir opened the way for others to follow, although it is difficult to gauge her precise influence on any individual artist. She was the first Iranian woman to have a museum in Tehran dedicated exclusively to her work, and the first Iranian artist of any kind to have a solo exhibition at the Guggenheim Museum (in 2015). Monir influenced, as much as she was influenced by, the star roster of American Abstract, Minimalist, and Conceptual artists, with whom she maintained decades-long friendships.
Her world-wide stature and groundbreaking practices have impacted artists across many cultures and media. Few artists have been able to meld influences as seamlessly, especially influences as seemingly contradictory as the centuries-old folk and decorative art traditions of Iran and the coolly minimalist and abstract tendencies in American art of the late-20th century.
One of her overarching legacies was to create, for Western viewers through the shared vocabulary of geometry, new possibilities for experiencing abstract art. As a New York Times critic wrote in her obituary, "Where some theorists of abstraction in Europe and the United States sought to purge painting of all ornament and historical lineage, Ms. Farmanfarmaian produced an abstract art proud of its debts to local architecture, interior design, and contemporary fashion." As Monir herself asserted, "My love for my culture is in everything I create." Her remarkable achievement was to infuse the mysticism, wonder, and longing she felt for that culture into works that spoke to an international audience.
Influences and Connections
Influences on Artist

Influenced by Artist
Artists
Hajji Ostad Mohammad Navid
Friends & Personal Connections
Movements & Ideas
Geometric Abstraction

Islamic Art
Artists
Pari Ehsan

Mandana Moghaddam

Taher Asad-Bakhtiari
Friends & Personal Connections
Movements & Ideas
Geometric Abstraction

Multimedia Art
Useful Resources on Monir Shahroudy Farmanfarmaian
Books
The books and articles below constitute a bibliography of the sources used in the writing of this page. These also suggest some accessible resources for further research, especially ones that can be found and purchased via the internet.
written by artist
artworks