Progression of Art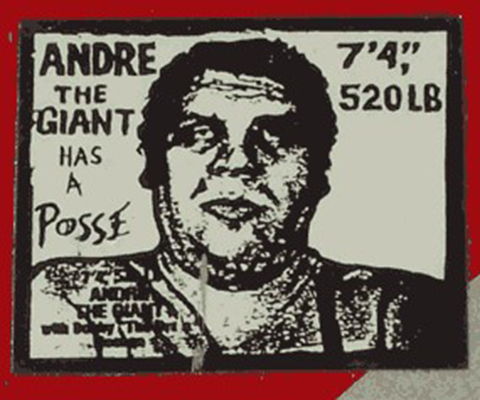 1989
Andre The Giant has a Posse
Fairey created this sticker, which shows the face of French wrestler André René Roussimoff (perhaps best known for his role as Fezzik in The Princess Bride), while showing a friend how to make stencils. He spotted the image in a newspaper, created a stencil and added the words "has a posse" as a nod to hip hop culture. He then made a few more "as a joke" and used his fake ID to get into clubs where he would post them, as well as placing them on outside street signs.

He described the stickers as a "skateboarding chain letter" which were just supposed to be seen by the people within his community. They started to gain wider attention, however, with a local paper appealing to find out who the artist was and what was behind them. Fairey said: "I noticed that putting stickers in a few places that were just supposed to be noticed by my friends was actually catching the attention of a lot of people and that started to raise issues of the control of the public space and image absorption...I quickly realized that disrupting the usual semiotics of consumption and control of public space was actually really powerful and provocative." Fairey took the campaign one step further by posting an enlarged version of the design over the head of politician Buddy Cianci in a local election billboard. Fairey added: "The media took hold and everyone read into it. Only a few people knew it wasn't a commentary but it made me realize the power of scale. That really impacted the conversation." The design has now become so iconic, that it is regularly manipulated and parodied by others.

This experiment made Shepard examine the public space, and how people view and absorb what is put in it by commercial bodies and governments. Based on this experience, Fairey wrote a manifesto the following year that reviewed sticker campaigns as an experiment in phenomenology (the philosophical study of the structures of experience and consciousness). This manifesto was later updated in line with his new campaigns. In the manifesto, he noted that "The first aim of phenomenology is to reawaken a sense of wonder about one's environment...to stimulate curiosity and bring people to question both the sticker and their relationship with their surroundings... The sticker has no meaning but exists only to cause people to react, to contemplate and search for meaning in the sticker."
Sticker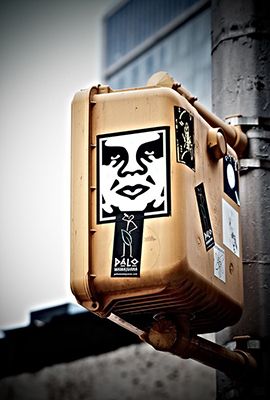 1996
Obey Giant
Based on his initial success, Fairey adapted his first sticker to create his Obey campaign, featuring a stylized and simplified image of Andre The Giant's face. This was disseminated as a sticker, but also painted onto buildings through the use of a stencil. Fairey printed the word "Obey" beneath the image, and this word informed his brand both commercially (OBEY Clothing) and artistically (Obey Giant).

Fairey posted the Obey Giant image in cities across the world in a move that he thought "democratized art". He wanted to make art accessible and show that there was room in the public space for more than advertising and government signage. As Art writer Alex Rayner notes: "What sets Fairey apart from other graffiti fanatics is the scale of his Giant campaign. The Andre image predates most other street-poster graffiti artists and Giant heads have been plastered up in Japan, Russia, Italy and Paris, as well as numerous sites throughout the UK and the US. Even British stencil artist, Banksy, cites Fairey as an influence."

Inspired by the dissenting music of the Dead Kennedys, and the fiction of Ray Bradbury and George Orwell, Fairey wanted to question the "homogeny, hegemony, conformity and systems of oppression" within the US. He was struck by the word "Obey" and how people follow the path of least resistance. He said: "People are told 'This is the right way to do it, these are expectations, these are the rules'...But when 'Obey' confronts you it makes people question: 'What makes you the authority? Do I want that? Do I want to buy that?'"

With Obey Giant, graphic artist and designer Barbara Kruger's influence is clear in both the color scheme and the Futura typeface. Fairey wrote: "Kruger's style was eye catching and seemed to universally say 'pay attention and take this seriously'". He has described the image as his own propaganda, and the style also looks back to Russian Constructivism. Art professor Dr. Hwa Young Caruso notes that: "Fairey's Obey series stands out as an example of the authoritarian influence of propaganda poster art. In Benito Mussolini's fascist Italy the credo of the Fascist party was 'believe, obey, fight'. Fairey's posters combine elements of world history, blending fascist symbols with the communist propaganda art of the former Soviet Union, the People's Republic of China, Vietnam, and the imperialistic goals of modern Japan."
Stencil/Sticker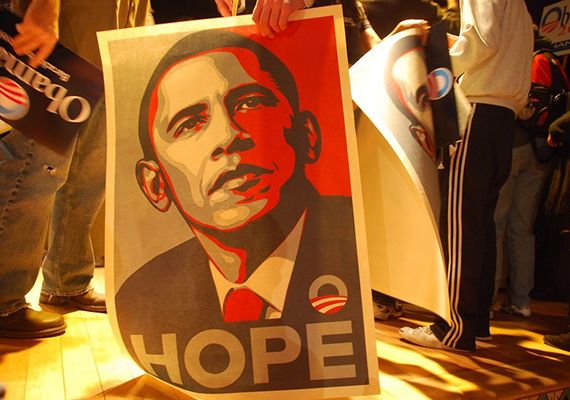 2008
Hope
In Hope we see a close up of presidential candidate Barack Obama's face, as he looks into the distance in an optimistic and noble stance that is reminiscent of imagery of JFK. Rendered in the colors of the American flag, the image also reflects notions of patriotism. The work has become one of the best-known and most successful election posters in the Western World. Fairey created it from his own initiative after he was inspired by Obama's speech at the Democratic National Committee conference. At the time Fairey was protesting the Bush agenda and the Iraq War and when he learnt that Obama was supporting free healthcare and environmental protections, he decided it was time to promote something, rather than object to it. As Fairey remembers: "Obama was facing the challenge of being non-white. So my idea was to use red, white and blue to portray him as someone with vision in a stylized and idealized way." Originally he had used the word "progress" as a caption, but when the image began going viral, the campaign requested that he change it to "hope" and adopted it as an official image. Fairey added: "In the Bush years people felt hopeless, so it was aspirational."

Eventually, 300,000 posters and 500,000 Hope stickers were printed. Fairey didn't request payment for the work. He also put a free download on his website, so that people could print it out for themselves. Art writer Janelle Zara wrote that: "Hope, a gold version of which is now in the Museum of Modern Art's permanent collection, entered an art-historical canon of indelible political slogans, up there with Kruger's 'Your Body is a Battleground', and Jenny Holzer's 'Abuse of power comes as no surprise'." The piece catapulted Fairey into the mainstream, leading to claims from some quarters that he had "sold out."
Hand-finished collage, stencil and acrylic on paper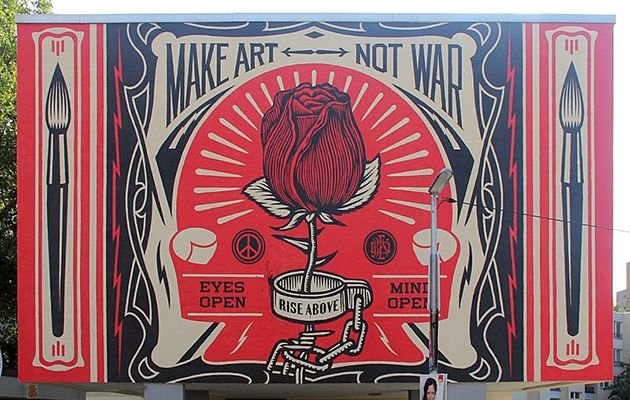 2014
Make Art Not War
"Make Art Not War" is a slogan Fairey has used repeatedly in posters, prints and murals to promote an agenda of global peace. This large mural combines a number of Fairey's iconic designs; at the heart of which is a rose, the symbol of love, growing up towards the light despite being shackled in a cuff stating "rise above" - perhaps a nod to Fairey's many brushes with the law and authority. The edges of the mural are embellished with Art Nouveau decoration, and bordered by two stylized paintbrushes. The words "eyes open" and "mind open" also draw reference to his "obey" message, inviting the viewer to be aware of their surroundings and wider role in society. To the left of the rose is the ban the bomb logo used by the CND (Campaign for Nuclear Disarmament) and mirrored on the right are the letters of OBEY joined in an emblem.

References to propaganda art and Russian Constructivism are clear in the bold design, the red, black and white color scheme and the use of symbols, text and decoration. But it is also reminiscent of punk album covers and pop art - Fairey has noted Robert Rauscenberg and Jasper Johns as influences and again we see the red and black of Barbara Kruger's political art. Art professor Dr. Hwa Young Caruso explained: "Fairey's street art helped him to fulfill a personal dream of reconciling love and war. He tries to awaken the sleeping silent majority by questioning every aspect of authority. Individuals should empower themselves by adding their personal voices to the democratic process. Fairey has empowered himself and others through his expression, and his voice continues to develop." He reprised a similar theme to this in 2015 in the colors of the tricolor in opposition to the terror attacks in France.
Spray-painted mural - Berlin-Kreuzberg
2015
Earth Crisis
Fairey was the first artist ever permitted to create an installation at the Eiffel Tower in Paris, and it was unveiled to time with the COP21 Climate Conference in the city. Fairey had been promoting a sustainability agenda since the 1990s when he began designing campaign material for influential environmental groups and this work marked a continuation of those themes. The eight-meter wide sphere hung from the second floor of the tower, and depicted images that promoted harmony along with others that showed the impact mankind was having on the earth. The floral motifs sent a message of unity and optimism, alongside an image of a woman shielding her eyes from the burning sun with a newspaper - a warning against apathy. Standing directly beneath, a viewer could look up to see a mandala, reminding them of their debt to future generations.

The installation departed from the reds, oranges and golds characteristic of Fairey's other work. Instead he chose a color palette of blue and aqua tones in a reminder that we need clean air, water and vegetation to sustain the planet. The globe's suspension represented the fragility of human life on the planet and the work was accompanied by a number of mixed media paintings on canvas and paper, prints, collectible globe sculptures, and books. Fairey said: "The installation, the murals, the fine art, and the prints - they are all different platforms to put across the message that we are facing an earth crisis. I think that art is a way to engage people. Art can initiate conversations when other media fails....I hope that it appeals visually and sparks the needed conversation about protecting our planet for future generations."
Installation - The Eiffel Tower, Paris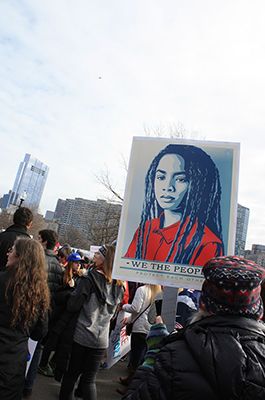 2017
We The People
For Trump's inauguration in 2017, in an attempt to protest his xenophobic rhetoric, Fairey produced a number of posters alongside artists Ernesto Yerena and Jessica Sabogal depicting minority Americans. Depicting black, Latina, Muslim and Native American women, the images were reminiscent of the Hope poster in the stylized features, red, white and blue color scheme and messages of strength and optimism. Fairey has long used iconic images from Americana to question what it really means to be an American citizen, and his use of a woman in a hijab adorned with stars and stripes, is an extension of that, showing modern America as diverse and promoting a message of inclusivity.

The posters included the first three lines from the American Constitution, "We the people", along with post scripts "protect each other" and "defend dignity". The posters were printed in newspapers and made available on the Obey Giant website, where people could download them for free. (Banners were not allowed at the inauguration, but the posters fell within accepted size requirements.) They were also used at varying women's marches which were held at 600 locations across the world. Fairey said: "It's really about making sure that people remember that 'we the people' means everyone, it means all the people...[It's] just reminding people to find their common humanity, and look beyond maybe one narrow definition of what it means to be American."
Poster - col
Related Artists
Related Movements & Topics