Artists
Egon Schiele
For Educators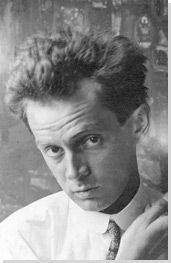 Egon Schiele
Austrian Draftsman, Painter, and Printmaker
Movement: Expressionism
Born: June 12, 1890 - Tuln an de Donau, near Vienna, Austria
Died: October 31, 1918 - Vienna, Austria

"Art cannot be modern. Art is primordially eternal."

Synopsis
With his signature graphic style, embrace of figural distortion, and bold defiance of conventional norms of beauty, Egon Schiele was one of the leading figures of Austrian Expressionism. His portraits and self-portraits, searing explorations of their sitters' psyches and sexuality, are among the most remarkable of the 20th century. The artist, who was astoundingly prolific during his brief career, is famous not only for his psychologically and erotically charged works, but for his intriguing biography: his licentious lifestyle marked by scandal, notoriety, and a tragically early death of influenza at age twenty-eight, three days after the death of his pregnant wife, and at a time when he was on the verge of the commercial success that had eluded him for much of his career.
Key Ideas
Schiele's portraits and self-portraits helped re-establish the vitality of both genres with their unprecedented level of emotional and sexual directness and use of figural distortion in place of conventional notions of beauty. Frequently depicting himself or those close to him, Schiele's portraits often present their sitters in the nude, posed in revealing, unsettling angles—frequently viewed from above—and devoid of secondary attributes often depicted in the portrait genre. At times, Schiele used traditional motifs, giving the intensely personal images a more general, allegorical statement on the human condition.
Creating some three thousand drawings over the course of his brief career, Schiele was both an extraordinarily prolific and unparalleled draughtsman. He regarded drawing as his primary art form, appreciating it for its immediacy of expression, and produced some of the finest examples of drawing in the 20th century. Even his painterly oeuvre revealed a style that captured some of drawing's essential characteristics, with its emphasis on contour, graphic mark, and linearity.
Painter
Gustav Klimt
was the primary influence on Schiele's development, serving as Schiele's friend and mentor. While Schiele inherited Klimt's focus on erotic images of the female form (and shared Klimt's insatiable sexual appetite), the emotionally intense, often unsettling Expressionist idiom Schiele eventually developed, with its investigation of his sitters' inner life and emotional states, in some ways directly opposed his mentor's Art Nouveau–inspired style, with Klimt preferring a more brilliant palette and glimmering, patterned surfaces.
Biography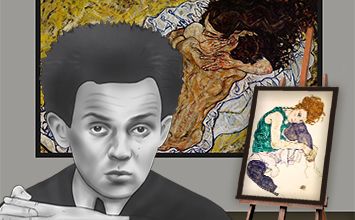 Childhood
Egon Schiele was born into modest means in Tulln an der Donau ("on the Danube"), a small but vibrant Austrian town also known as Blumenstadt, or "city of flowers." He was the third child born to Adolf Schiele, who worked as a stationmaster for the Austrian State Railways, and Marie Soukupova, who originally hailed from the Bohemian town of Cesky Krumlov (Krumau), now the site of the Egon Schiele Art Centrum, a museum dedicated primarily to the artist's work. Schiele had two older sisters, Melanie and Gerti (Gertrude), the latter of whom often modeled for Schiele and eventually married Schiele's close friend, the painter Anton Peschka.
- - - - - - - - - - - - - - - - - - - - - - - - - - - - - - - - - - - - - - - - - - - - - - - -
Egon Schiele Biography Continues

Important Art by Egon Schiele

The below artworks are the most important by Egon Schiele - that both overview the major creative periods, and highlight the greatest achievements by the artist.

Portrait of Gerti Schiele (1909)

Artwork description & Analysis: This is one of Schiele's many portraits of his younger sister, Gerti, the artist's favorite model during his early career and the member of his family with whom he was the closest. Painted when Gerti was a teenager, this early portrait demonstrates both the strong stylistic link between Schiele's work and that of Klimt, as well as the shift away from the style of his mentor. In her pose and adornment composed from a series of flat patches with gold and silver accents, Gerti's figure is reminiscent of Klimt's works such as Portrait of Adele Bloch-Bauer (1907). But unlike the Klimtian predecessor, the image is not so much decorative as static and soft, as if Schiele were casting his sitter in clay. In addition, Schiele replaced Klimt's richly shimmering, gold-dominated palette with more muted colors, creating an image that appears dried-out, suggestive of decay rather than growth.

Oil, silver, gold-bronze paint, and pencil on canvas - The Museum of Modern Art, New York

Self-Portrait (1910)

Artwork description & Analysis: Schiele's self-portraits are extraordinary not only for the frequency with which the artist depicted himself, but for the manner in which he did so: eroticized depictions where he often appears in the nude, in highly revealing poses—male self-portraits virtually unparalleled in the history of Western art. In this drawing, the artist has created an intense and almost frightening vision of himself: emaciated, with glowing red eyes, legs deformed and footless, his body fully exposed, yet with his face partially hidden, perhaps suggesting a sense of shame, and in a twisting pose indebted, as many writers have suggested, to the important influence of modern dance. Characteristic of the Expressionist mode that Schiele was increasingly practicing at this time, he expresses his anxiety through line and contour, and flesh that appears abraded and subjected to harsh elements.

Black chalk, watercolor and gouache on paper - Leopold Museum, Vienna

Self-Portrait with Chinese Lantern Plant (1912)

Artwork description & Analysis: This is perhaps Schiele's most celebrated self-portrait, and certainly the most storied. In this work, painted during a time in which he was participating in numerous exhibitions, Schiele gazes directly at the viewer, his expression suggesting a confidence in his artistic gifts. Although Schiele deploys less distortion than in other self-portraits, the painting refuses to idealize its subject, featuring scars and other lines characteristic of the contoured manner of the artist's drawing style.

Exhibited in Munich in 1912 alongside work by a number of other Expressionist artists, the painting has a companion portrait depicting his lover at the time, Wally Neuzil (the Wally portrait was stolen by the Nazis from the home of a Jewish Austrian, only to be returned to Vienna in 2010 following a prolonged, twelve-year legal battle). It now serves as a "poster child" for the Leopold Museum in Vienna, which houses the largest Schiele collection in the world.

Oil on canvas - Leopold Museum, Vienna
More Egon Schiele Artwork and Analysis:
Influences and Connections
Influences on Artist
Artists, Friends, Movements
Influenced by Artist
Artists, Friends, Movements

Interactive chart with Egon Schiele's main influences, and the people and ideas that the artist influenced in turn.
View Influences Chart

Artists

| | |
| --- | --- |
| | Gustav Klimt |
| | Vincent van Gogh |
| | Jan Toorop |
| | Edvard Munch |
| | Wassily Kandinsky |

Personal Contacts

| | |
| --- | --- |
| | Gustav Klimt |
| | Oskar Kokoschka |

Movements

| | |
| --- | --- |
| | Post-Impressionism |
| | Art Nouveau |
| | Symbolism |
| | Expressionism |

Influences on Artist

Egon Schiele
Years Worked: 1907 - 1918
Influenced by Artist

Artists

| | |
| --- | --- |
| | Gunter Brus |
| | Otto Muehl |
| | Francis Bacon |
| | Julian Schnabel |

Personal Contacts

| | |
| --- | --- |
| | Oskar Kokoschka |

Movements

| | |
| --- | --- |
| | Expressionism |
| | Neo-Expressionism |
Useful Resources on Egon Schiele
Special Features
Books
Articles
Videos
More
The books and articles below constitute a bibliography of the sources used in the writing of this page. These also suggest some accessible resources for further research, especially ones that can be found and purchased via the internet.
books about schiele
More Interesting Books about Egon Schiele

Egon Schiele $40m Sale Settles Nazi Compensation Case


ArtLyst
June 23, 2011

Schiele and Picasso Draw Interest at London Auctions


By Carol Vogel
The New York Times
June 22, 2011

Egon Schiele: Women – Review


By Jonathan Jones
The Guardian
May 16, 2011

A Schiele Going, A Schiele Staying


By Carol Vogel
The New York Times
May 5, 2011

With the End of a Legal Dispute, a Schiele Comes to Manhattan


By Randy Kennedy
The New York Times
July 29, 2010

Egon Schiele as Printmaker


By Karen Rosenberg
The New York Times
January 8, 2010

The Wider, Not Wilder, Egon Schiele


By Ken Johnson
The New York Times
October 21, 2005
More Interesting Articles about Egon Schiele

in pop culture
Excess & Punishment


This German film from 1980 focuses on Schiele's life and attempts to delve into the psychological and emotional undercurrents that drove his artistic career and precluded his untimely death.

"The Art of New York Fashion Week"


Fashion Designed Isabella Tonchi creates dresses based on motifs by Egon Schiele
If you see an error or typo, please:
tell us
Cite this page

Content compiled and written by Justin Wolf
Edited and published by The Art Story Contributors
" Artist Overview and Analysis". [Internet]. . TheArtStory.org
Content compiled and written by Justin Wolf
Edited and published by The Art Story Contributors
Available from:
[Accessed ]