Artists
Mark Rothko
For Educators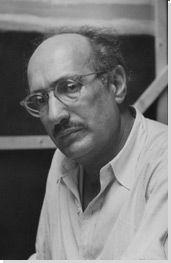 Mark Rothko
American Painter
Movements and Styles: Abstract Expressionism, Surrealism, Color Field Painting
Born: September 25, 1903 - Dvinsk, Russian Empire
Died: February 25, 1970 - New York, New York

"If you are only moved by color relationships, you are missing the point. I am interested in expressing the big emotions - tragedy, ecstasy, doom."

Synopsis
A prominent figure among the New York School painters, Mark Rothko moved through many artistic styles until reaching his signature 1950s motif of soft, rectangular forms floating on a stained field of color. Heavily influenced by mythology and philosophy, he was insistent that his art was filled with content, and brimming with ideas. A fierce champion of social revolutionary thought, and the right to self-expression, Rothko also expounded his views in numerous essays and critical reviews.
Key Ideas
Highly informed by
Nietzsche
, Greek mythology, and his Russian-Jewish heritage, Rothko's art was profoundly imbued with emotional content that he articulated through a range of styles that evolved from figurative to abstract.
Rothko's early figurative work - including landscapes, still lifes, figure studies, and portraits - demonstrated an ability to blend
Expressionism
and
Surrealism
. His search for new forms of expression led to his Color Field paintings, which employed shimmering color to convey a sense of spirituality.
Rothko maintained the social revolutionary ideas of his youth throughout his life. In particular he supported artists' total freedom of expression, which he felt was compromised by the market. This belief often put him at odds with the art world establishment, leading him to publicly respond to critics, and occasionally refuse commissions, sales and exhibitions.
Biography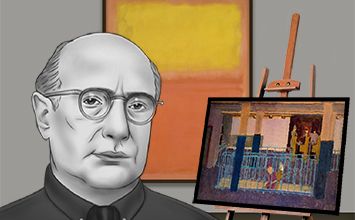 Childhood
Born in Dvinsk, Russia (in what is now Latvia), Marcus Rothkovich was the fourth child born to Jacob and Anna Rothkovich. As Russia was a hostile environment for Zionist Jews, Jacob immigrated to the United States with his two older sons in 1910, finally sending for the rest of his family in 1913. They settled in Portland, Oregon, though Jacob died only a few months after the family's arrival, requiring them to earn a living in their new country though they only spoke Hebrew and Russian. Rothko was forced to learn English and go to work when he was very young, resulting in a lingering sense of bitterness over his lost childhood. He graduated early from Lincoln High School, showing more interest in music than visual art. He was awarded a scholarship to Yale University, but soon found the environment at Yale conservative and exclusionary; he left without graduating in 1923.
- - - - - - - - - - - - - - - - - - - - - - - - - - - - - - - - - - - - - - - - - - - - - - - -
Mark Rothko Biography Continues

Important Art by Mark Rothko

The below artworks are the most important by Mark Rothko - that both overview the major creative periods, and highlight the greatest achievements by the artist.


Artwork Images

Crucifixion (1935)

Artwork description & Analysis: Rothko was among several artists invited by Joseph Brummer to exhibit in Paris at the Galerie Bonaparte in November 1936; Crucifixion was one of the paintings included. French critic Waldemar George noted that Rothko's paintings revealed nostalgia for 14th-century Italian art, and that they displayed "an authentic coloristic value." This painting has thematic ties to Renaissance religious painting, but it also carries references to Rembrandt's Lamentation of the Dead Christ (1637): the two crosses in the extreme foreground; the third isolated in the back; and the figure groupings, all echo Rembrandt's picture. This work is signed Rothkowitz, as he did not officially become Rothko until 1940.

Oil on Canvas - Location Unknown


Artwork Images

Entrance to Subway (1938)

Artwork description & Analysis: This early figurative work demonstrates Rothko's interest in contemporary urban life. The architectural features of the station are sketchily recreated, including the turnstiles and the "N" on the wall. Although the mood of the pictures is softened somewhat by the influence of Impressionism, it reflects many of the artist's feelings towards the modern city. New York City was thought to be soulless and inhuman, and something of that is conveyed here in the anonymous, barely rendered features of the figures.

Oil on canvas - Kate Rothko Prizel Collection


Artwork Images

Oedipus (1944)

Artwork description & Analysis: Greek mythology was an important theme of Rothko's work in the early 1940s. Oedipus, who is said to have solved of the riddle of the Sphinx, was his father's murderer and his mother's lover. His tale has inspired artists and psychologists alike. For Rothko, he embodied the victim of pride and passion, which the artist believed were at the center of man's destructive nature. As in other representational works of this time, Rothko has dismembered and then recombined his figures so intricately that they became a single mass of human conglomeration. In this way, Rothko sought to suggest how mankind is bound together by tragedy. The figures appear oddly huddled in the corner of a room with strange architecture. The blue and green zigzag pattern recurs in several of his mythological pictures. As Rothko said: "If our titles recall the known myths of antiquity, we have used them again because they are the eternal symbols upon which we must fall back to express basic psychological ideas.. …(they) express something real and existing in ourselves."

Oil on linen - Unknown
More Mark Rothko Artwork and Analysis:
Influences and Connections
Influences on Artist
Artists, Friends, Movements
Influenced by Artist
Artists, Friends, Movements

Interactive chart with Mark Rothko's main influences, and the people and ideas that the artist influenced in turn.
View Influences Chart

Artists

| | |
| --- | --- |
| | Pablo Picasso |
| | Paul Cézanne |
| | Marc Chagall |
| | Joan Miró |

Personal Contacts

| | |
| --- | --- |
| | Willem de Kooning |
| | Adolph Gottlieb |
| | Joseph Solman |

Movements

| | |
| --- | --- |
| | Impressionism |
| | Fauvism |
| | Expressionism |
| | Cubism |
| | Surrealism |

Influences on Artist

Mark Rothko
Years Worked: 1923 - 1970
Influenced by Artist

Artists

| | |
| --- | --- |
| | Barnett Newman |
| | Clyfford Still |
| | Morris Louis |

Personal Contacts

| | |
| --- | --- |
| | Dore Ashton |
| | Michelangelo Antonioni |
| | Milton Avery |

Movements

| | |
| --- | --- |
| | Abstract Expressionism |
| | Color Field Painting |
Useful Resources on Mark Rothko
If you see an error or typo, please:
tell us
Cite this page

Content compiled and written by The Art Story Contributors
Edited and published by The Art Story Contributors
" Artist Overview and Analysis". [Internet]. . TheArtStory.org
Content compiled and written by The Art Story Contributors
Edited and published by The Art Story Contributors
Available from:
[Accessed ]