Artists
Paul Gauguin
For Educators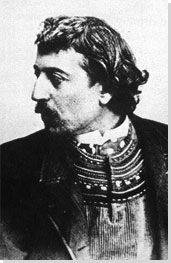 Paul Gauguin
French Draftsman, Painter, Printmaker, and Sculptor
Movements and Styles: Post-Impressionism, Symbolism, Primitivism in Art
Born: June 7, 1848 - Paris, France
Died: May 8, 1903 - Atuona, Marquesas Islands, French Polynesia

"I am trying to put into these desolate figures the savagery that I see in them and which is in me too... Dammit, I want to consult nature as well but I don't want to leave out what I see there and what comes into my mind."

Synopsis
Paul Gauguin is one of the most significant French artists to be initially schooled in Impressionism, but who broke away from its fascination with the everyday world to pioneer a new style of painting broadly referred to as Symbolism. As the Impressionist movement was culminating in the late 1880s, Gauguin experimented with new color theories and semi-decorative approaches to painting. He famously worked one summer in an intensely colorful style alongside Vincent Van Gogh in the south of France, before turning his back entirely on Western society. He had already abandoned a former life as a stockbroker by the time he began traveling regularly to the south Pacific in the early 1890s, where he developed a new style that married everyday observation with mystical symbolism, a style strongly influenced by the popular, so-called "primitive" arts of Africa, Asia, and French Polynesia. Gauguin's rejection of his European family, society, and the Paris art world for a life apart, in the land of the "Other," has come to serve as a romantic example of the artist-as-wandering-mystic.
Key Ideas
After mastering Impressionist methods for depicting the optical experience of nature, Gauguin studied religious communities in rural Brittany and various landscapes in the Caribbean, while also educating himself in the latest French ideas on the subject of painting and color theory (the latter much influenced by recent scientific study into the various, unstable processes of visual perception). This background contributed to Gauguin's gradual development of a new kind of "synthetic" painting, one that functions as a symbolic, rather than a merely documentary, or mirror-like, reflection of reality.
Seeking the kind of direct relationship to the natural world that he witnessed in various communities of French Polynesia and other non-western cultures, Gauguin treated his painting as a philosophical meditation on the ultimate meaning of human existence, as well as the possibility of religious fulfillment and answers on how to live closer to nature.
Gauguin was one of the key participants during the last decades of the 19
th
century in a European cultural movement that has since come to be referred to as
Primitivism
. The term denotes the Western fascination for less industrially-developed cultures, and the romantic notion that non-Western people might be more genuinely spiritual, or closer in touch with elemental forces of the cosmos, than their comparatively "artificial" European and American counterparts.
Once he had virtually abandoned his wife, his four children, and the entire art world of Europe, Gauguin's name and work became synonymous, as they remain to this day, with the idea of ultimate artistic freedom, or the complete liberation of the creative individual from one's original cultural moorings.
Biography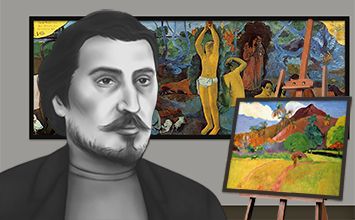 Childhood
Paul Gauguin was born to Clovis Gauguin, a journalist, and Alina Maria Chazal, daughter of the socialist leader and early feminist activist Flora Tristan. At the age of three, Gauguin and his family fled Paris for Lima, Peru, a move motivated by France's tenuous political climate that prohibited freedom of the press. On the trans-Atlantic journey, Clovis fell ill and died. For the next four years, Gauguin, his sister, and mother lived with extended relatives in Lima.
- - - - - - - - - - - - - - - - - - - - - - - - - - - - - - - - - - - - - - - - - - - - - - - -
Paul Gauguin Biography Continues

Influences and Connections
Influences on Artist
Artists, Friends, Movements
Influenced by Artist
Artists, Friends, Movements

Interactive chart with Paul Gauguin's main influences, and the people and ideas that the artist influenced in turn.
View Influences Chart

Artists

| | |
| --- | --- |
| | Eugène Delacroix |
| | Paul Cézanne |
| | Claude Monet |
| | Camille Pissarro |
| | Edgar Degas |

Personal Contacts

| | |
| --- | --- |
| | Vincent van Gogh |
| | Theo van Gogh |
| | Charles Laval |
| | Émile Bernard |
| | Emile Schuffenecker |

Movements

| | |
| --- | --- |
| | Japonism |
| | Impressionism |
| | Cloisonnism |
| | African Art |

Influences on Artist

Paul Gauguin
Years Worked: 1880-1903
Influenced by Artist

Artists

| | |
| --- | --- |
| | Paul Cézanne |
| | Pablo Picasso |
| | Henri Matisse |
| | André Derain |
| | Arthur Frank Mathews |

Personal Contacts

| | |
| --- | --- |
| | Vincent van Gogh |
| | Ambroise Vollard |
| | Charles Laval |

Movements

| | |
| --- | --- |
| | Primitivism in Art |
| | Fauvism |
| | Cubism |
| | Orphism |
| | Arts and Crafts Movement |
If you see an error or typo, please:
tell us
Cite this page

Content compiled and written by Justin Wolf
Edited and published by The Art Story Contributors
" Artist Overview and Analysis". [Internet]. . TheArtStory.org
Content compiled and written by Justin Wolf
Edited and published by The Art Story Contributors
Available from:
[Accessed ]