Artworks and Artists of The Group of Seven
Progression of Art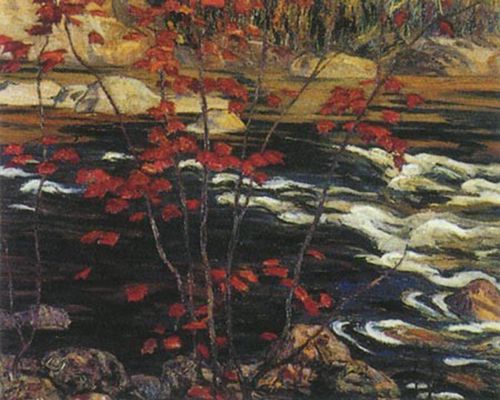 1914
Red Maple
Born in 1882 in Montreal, Jackson left school at the age of twelve to begin work at a local printing firm. In 1906, he became a student at the Art Institute in Chicago before, a year later, enrolling at the Académie Julian Jackson in Paris. While in France he also met with plein air painters at the Étaples art colony, but, having returned home in 1912, he was so discouraged by the reception his work, he considered relocating to the United States. His fortunes turned around when J.E.H. MacDonald and Lawren Harris invited Jackson to Toronto. Having found his kindred spirits in Toronto, the patron James MacCallum offered to buy sufficient numbers of Jackson's paintings to guarantee him a year's income. Jackson became especially close to Tom Thomson and the two shared a studio, often fishing and sketching together in Algonquin Park. Jackson's landscapes, which eschewed conventional composition by extending the image to the edges of the canvas, often featured views of water seen through trees and this became a favourite subject amongst the Group.

In this dense, rhythmic image, Jackson depicts a typical autumnal scene - leaves seen hanging precariously to young branches - from Canada's Algonquin Park and the stirring rapids of the Oxtongue River. The vivid impasto red leaves seem to hover in contrast to the sinuous dark blues, and foaming white, of the water. Jackson's painting owes much to Japanese print-influenced Impressionism, the symbolist landscapes of Scandinavian painters, and the vibrating, expressionistic line of Edvard Munch. When Thomson first saw Jackson's painting at a 1913 Ontario Society of Artists exhibition, he said it opened his eyes to the possibilities of the Canadian landscape.
Oil on canvas - National Gallery of Canada
1915-16
The Supply Boat
Born in Durham (England) to a Canadian father and English mother, MacDonald emigrated to Canada in 1887. He studied at the Hamilton Art School and the Central Ontario School of Art and Design, in Toronto. He began professional life as a commercial artist at the Grip Ltd. design studio where Harris persuaded him to start painting full time.

In this work, a steamboat "chugs" past a number of rowing boats, in a stylised, Oriental-like, landscape. The steam of the boat echoes the clouds and the curves of the trees which lock together like jigsaw pieces with the deep blue sky. MacDonald's commercial training is clearly visible in an image in which the graphic lines, unusual low viewpoint, and vivid blocks of colour are strongly reminiscent of Japanese prints. His treatment of the landscape reveals a further European influence in its debt to the symbolic elements of the post-Impressionists, most notably, Van Gogh and Gauguin.

MacDonald was especially revered by his colleagues as a "wonderful poetic soul, full of humour and patience". His 1911 exhibition at the Arts and Letters Club of Toronto so impressed Harris that he asked if they could work together. In January 1913, the two men attended an Exhibition of Contemporary Scandinavian Art and saw post-Impressionist and Expressionist landscape paintings by Gustaf Fjaestad and Vilhelm Hammershøi. The two men were agreed that the Scandinavian approach could offer the inspiration on which to style a different landscape art and Macdonald's former colleagues at Grip would share in this future vision for a uniquely Canadian art. MacDonald was also a writer and a volume of his poetry, West by East, was published posthumously.
Oil on canvas - National Gallery of Canada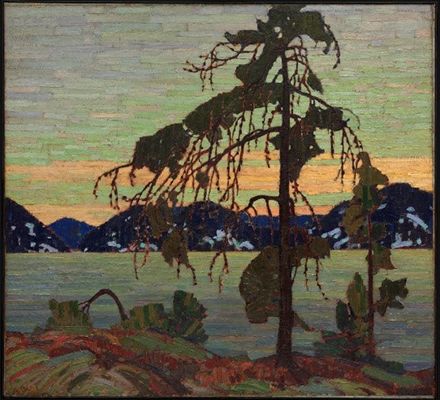 1916-17
The Jack Pine
Born near Claremont, Ontario, Thomson, spent his youth exploring his natural surroundings, growing into an expert forester and canoeist. Spending most of his time at Algonquin Park, where he worked as a wilderness guide, Thomson spent his downtime painting the environment to which he had become so devoted. Having discovered new clearings ad vistas, he could disappear for days at a time to produce preparatory sketches.

The Jack Pine is probably his finest and most famous painting. He endows the lone Jack Pine tree, Canada's most broadly distributed pine, with a sentinel-like, mystical quality. The tree - outlined in red and silhouetted against a serene sunset - both bisects and connects the horizontal elements of sky, curving hills, lake and foreground. Bold, horizontal bricks of green, purple and pink decoratively describe the evening sky. Lismer described The Jack Pine as a symphony in which "[all] the instruments are playing a part, and none is out of harmony with the whole". The painting has come to symbolise Canada's hardy national identity as the tree grasps the solid rock for survival against the biting winter wind. As art critic David P. Silcox put it, the painting was one of "a galvanizing set of icons that largely define the Canadian visual identity".

Thomson's influence on the Group of Seven was crucial, both in the manner in which he celebrated the wonders of nature, and in the way he brought his environment to life through sweeping, expressive brushwork. As Harris noted, Thomson was "a part of the movement before we pinned a label on it". While working in Algonquin Park during, and soon after completing The Jack Pine, Thomson disappeared in mysterious circumstances during a canoeing trip (in July 1917). The discovery of his body a week later devastated the Group. Jackson said of the tragedy that "Without Tom, the north country seems a desolation of bush and rock [...] He was the guide, the interpreter, and we the guests, partaking of his hospitality so generously given". Despite his vital contribution, Thomson never saw the official birth of the Group of Seven.
Oil on canvas - National Gallery of Canada
1918
Algoma Tapestry
Like many other Group members, Johnson joined Grip Ltd. as a commercial artist. Although one of its original members, his association with the Group remained somewhat brief. He participated in their exhibition at the National Gallery in 1920, but by 1921 he had left Toronto to take up the role of principal at the Winnipeg School of Art in Manitoba. Johnston bought into the camaraderie and philosophy of the group but his work proved to be the most independent stylistically. Indeed, Algoma Tapestry is typical of Johnson's preferred choice of panoramic vistas and patterns in nature.

Algoma Tapestry emerged out of the first of the famous boxcar trips Johnston, Harris and MacDonald took to Algoma. On this extended outing, the men spent a week painting the changeable landscape with Johnston himself producing 33 plein air sketches from which he produced several studio works for the exhibition. At the exhibition, the Group was still trying to convince a sceptical audience that the collected works were "evidence that Canadian artists were interested in the discovery of their own country". But since he presented a more agreeable view of the Canadian landscape, Johnston was already enjoying strong sales through his own solo shows.

Johnston was a free-spirited and strong-willed character who had long wanted to pursue his own artistic interests. Having arrived in Winnipeg, he spearheaded the largest arts exhibition the city had ever seen and even led a drive to establish art galleries in local department stores. In 1927, he changed his name from Frank to "Franz", a move that was in keeping with his shift away from his decorative style towards a greater realism and a preoccupation with representing different qualities of natural light.
Oil on panel - Private Collection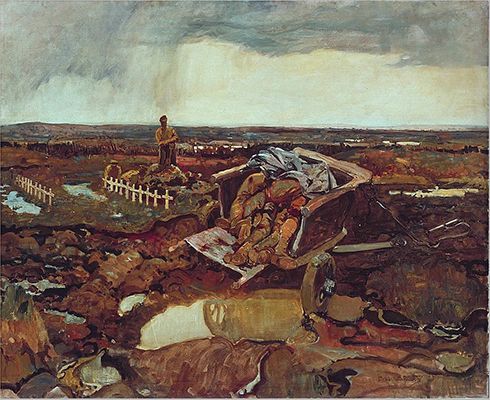 1918
For what?
A native of Sheffield in England, Varley studied art at the Sheffield School of Art before completing his arts education at the Académie Royale des Beaux-Arts, in Antwerp. Encouraged by his childhood friend Arthur Lismer, Varley emigrated to Canada in 1912 where he soon found work in the field of commercial design. Having served, like Jackson, as an official war artist, he became increasingly interested in figurative painting though he never lost his affinity with the landscape.

In this bleak World War One image, a cart filled with dead bodies sinks slowly into the muddy soil of a devastated battlefield. Swathes of brown and ochre paint are thickly applied to recreate the texture of the churned up ground. In the distance, a more realistically rendered gravedigger leans on his shovel. Framed by a rows of graves (marked by crosses) he stands beneath a steely grey sky, the light of which is reflected in the deep puddled potholes that pockmark the barren landscape.

Varley and Jackson were both hired by the Canadian War Memorials Fund to record the country's participation in the conflict. Varley was especially affected by what he had witnessed. "We'd be healthier to forget, and that we never can", he wrote to his wife, "We are forever tainted with its abortiveness & its cruel drama - and for the life of me I don't know how that can help progression. It is foul and smelly - and heartbreaking. Sometimes I could weep my eyes out when I get despondent". Varley's vision of the landscape as a foreboding hinterland would influence the manner in which other members of the Group of Seven represented their surroundings. The artist himself developed a nomadic streak and his love of the wilderness took him to some of the remotest areas in the world including the Arctic and the furthest reaches of Russia. He returned to his adopted home in 1945, settling in Toronto for the rest of his life.
Oil on canvas - Canadian War Museum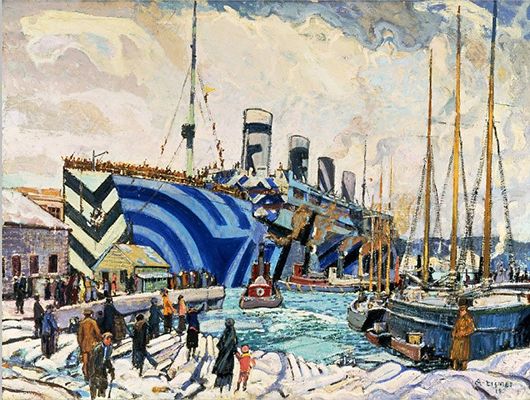 1919
RMS Olympic in dazzle at Pier 2 in Halifax, Nova Scotia
British born Lismer emigrated from Sheffield (like Varley) to Toronto in 1911. He worked at Grip Ltd. where he met Thomson. Over the next decade Lismer often joined Thompson and the other Group members on sketching trips to Algonquin Park and Georgian Bay. Lismer was influenced by his experiences in Europe where he was inspired by the Barbizon School and the Post-Impressionists. He described adventurous wilderness treks with his painter friends as turning points in his artistic life. Lismer was an anti-establishment figure whose energy and quick-wit brough a different dimension to the Group. Indeed, he delighted his friends by creating cartoon drawings of those he/they perceived to be enemies of their Group. While his paintings often exhibited the same spiritual approach to the landscape as his colleagues, he remains better known for his paintings of ships in dazzle camouflage.

When Lismer learned that artists were being hired by the Canadian War Memorials Fund, he requested to paint Halifax, Canada's main wartime naval base. "It's intensely interesting and graphic & no one is painting it," he wrote. Lismer's well-known image of the return of Canadian personnel from the Great War shows the Olympic (sister ship of the Titanic) still bearing its multi-coloured dazzle camouflage. Despite poor light on the day that the Olympic arrived in dock, Lismer recorded the scene literally. In March 1919, he wrote: "There are [...] thousands of people who will remember that day and the painting has to be absolutely correct as to wind, weather, and tide". Lismer was a dedicated teacher and later established one of the most successful children's art programs in North America. In 1936, he set up school arts programs in South Africa and published many important articles on Canadian art.
Oil on canvas - Canadian War Museum
1926
North Shore, Lake Superior
Harris was born in Brantford, Ontario into a wealthy conservative family. His comfortable upbringing allowed him to concentrate on his love of painting and as a nineteen-year-old he travelled to Germany where he studied for three years. He returned to Canada during the war years, teaching musketry at Camp Borden in Ontario. Following his military service, Harris was able to organize what would become his famous boxcar trips to Algoma, Ontario. The last of these trips took place in 1921, when Harris and A.Y. Jackson went to the North Shore of Lake Superior. It was here that Harris was overcome by the stark and barren landscape and the experience dictated a whole new direction that reflected his interest in Theosophy and biology and his search for deeper spiritual meaning through painting.

On a rock at the side of Lake Superior, what remains of a grey and black tree stump stands totem-like against the sky, illuminated by bands of sunlight. The stump seems to be reaching up towards the light, drawing it down to itself. Harris's image is simplified and highly stylised, with a graphic Art Deco quality. Harris's previously expressive brushwork has given way here to smooth and evenly applied paint, removing any trace of the human process; colours are used symbolically, the blue expressing transcendence and the white, unity.

Harris believed that "art is a realm of life between our mundane everyday world and the world of the Spirit". He painted versions of Lake Superior every year between 1921 and 1928, responding to views that chimed with his spiritual sensibilities. In this work, often described as the most remarkable of his career, Harris offers a metaphysical reading of the scene, rooted in his interest in Theosophical teachings; the belief that God not only created nature but is present within it. "Visible nature is but a distorted reflection of a more perfect world," Harris wrote, "and the creative individual viewing her is inspired to perceive within and behind her many garments that which is timeless and entirely beautiful".
Oil on canvas - National Gallery of Canada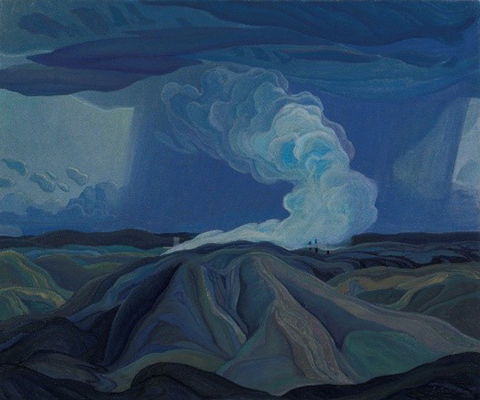 1928
The Nickel Belt
Carmichael (the youngest member of the Group of Seven) grew up in Orillia, Ontario. Having worked in his father's shop as a carriage striper, his early foray into art saw him draw and color images of carriages. His interest in drawing took him to Toronto, where he studied art at the Central Technical School and the Ontario College of Art. Running parallel to a highly successful career as a commercial artist and designer, Carmichael gained an early reputation as a fine watercolourist, but he also used oil paints, charcoal and other mediums to render the famous locales around Ontario, including Georgian Bay and the North Shore of Lake Superior. It was, however, the La Cloche Hills, the home of the Carmichael family cottage, that became his favourite painting location.

Carmichael's later work often explored northern Ontario's mining region and The Nickel Belt is arguably Carmichael's most iconic (a most ominous) work. Hidden behind a landscape of rocky hills, an industrial complex releases its smoke into the expansive skyline. Reflecting the artist's reverence for the Northern Ontario landscape, the work carries a blunt critique of industry's impact on the natural environment to which he had dedicated his artistic life. Art historian Rosemary Donegan said of the work, "The dramatic beauty of the burnt blue-green rolling hills, seen from a bird's-eye perspective, is subverted by the distant smoke plumes and smelter stacks, which raise questions about the effect of ore smelting on the local landscape".

In commemoration of the centenary of the Group's first exhibition in 1920, the McMichael Canadian Art Collection - "the spiritual home to the Group of Seven and a destination for all Canadians who cherish the artistic legacy of the country" - planned a national exhibition featuring close to 300 pieces by all Group members across five different galleries. Announcing the landmark event, the McMichael's Executive Director, Ian A.C. Dejardin, wrote: "The Group of Seven not only translated what they saw into a vivid visual language of their own, but through that language they taught us to appreciate the natural beauty of Canada in all its vast scale and variety. Many Canadians continue to see the country through the Group's eyes, and it is thrilling to have an occasion to share the breadth and richness of the McMichael's collection with visitors on this seminal anniversary".
Oil on canvas - Ottawa Art Gallery