Ideas
Federal Art Project of Works Progress Admin
History and Concepts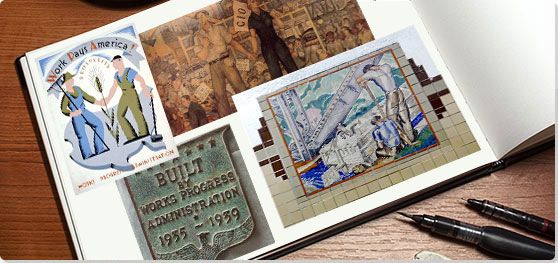 Federal Art Project of Works Progress Admin - History and Concepts
Started: 1934
Ended: 1943

"The Project was terribly important. It gave us enough to live on and we could paint what we wanted. It was terrific largely because of its director, Burgoyne Diller. I had to resign after a year because I was an alien, but even in that short time, I changed my attitude toward being an artist. Instead of doing odd jobs and painting on the side, I painted and did odd jobs on the side. My life was the same, but I had a different view of it. I gave up the idea of first making a fortune and then painting in my old age."


The Origins
In the mid 1930s, the United States remained at the center of a global economic depression. In an effort to provide economic relief to citizens who were having trouble finding work President Franklin Delano Roosevelt established the Works Progress Administration. Several months later, a subdivision of the WPA called the Federal Art Project was developed in order to assist struggling artists.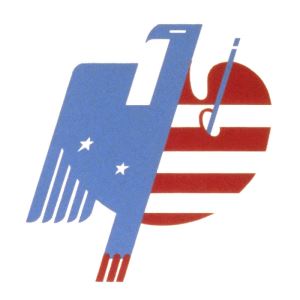 Eagle and Palette, Federal Arts Project logo, designed by Louis Siegriest
Prior to the creation of the FAP, Roosevelt made other attempts to provide relief for artists, including the Public Works of Art Project (PWAP), which only lasted a year, from 1933 to 1934. The Treasury Department Section of Painting and Sculpture was created in 1934 after the PWAP was dissolved, but it too was unsuccessful.
For artists to be considered for the Federal Art Project, they first had to apply for Home Relief to confirm that they were impoverished and then submit samples of their work to demonstrate they were actively creating art. Once approved, an artist's stipend was about $24 per week.
Only a few months after the Federal Art Project was announced, more than 1100 artists were working for the WPA, including artists such as Stuart Davis, Jackson Pollock, and Arshile Gorky.
The Divisions of the FAP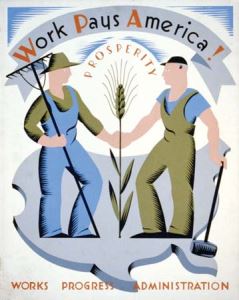 Poster by Vera Brock, Work Pays America! Posterity (1936)
Within the FAP, an artist could work on any number of divisions. A large number of artists, including Willem de Kooning, Ilya Bolotowsky, Ben Shahn, and Arshile Gorky, worked in the mural division. Murals were designed by one or two artists for a specific place and then executed by a team of artists. Often the murals were created in situ, but just as common was to paint the murals on large canvases that would then be installed at the site. Many of the artists who worked on the FAP murals looked to the Mexican Muralists Diego Rivera, José Clemente Orozco, and David Siqueiros. Their painting techniques as well as their social and political subject matter greatly influenced the younger generation of artists. Other artists, including Mark Rothko and Jackson Pollock, worked on the easel division. These artists would create individual paintings of their own design and composition in their personal studios and deliver one or two of them every four weeks to the WPA office. There were also divisions devoted to photography, print making, hand crafts, and graphic design.
The Early Years
The curator and arts administrator Holger Cahill was chosen to direct the FAP, overseeing art research, instruction, and production. Artists began creating easel pictures, murals, theater sets, photographs, and posters, and community art centers began to open. The art research arm of the FAP culminated in the massive Index of American design, which presented a comprehensive study of American material culture. Almost 18,000 decorative objects in museums and private collections from the colonial period through the 19th century were rendered in watercolors by hundreds of artists around the country. The illustrations were exhibited across the country and a selection was finally published in 1950.
On December 27, 1935, the WPA opened the Federal Art Project Gallery at 225 West 57th Street in New York City. Included in one of its first exhibitions were rare watercolors by Jackson Pollock. Cahill understood the need to have this federally funded art legitimized by the mainstream art world. To that end, he employed his wife, Dorothy Miller, who was a curator at the Museum of Modern Art, to organize an exhibition of works made during the first year of the FAP. "New Horizons in American Art" opened at MoMA in the fall of 1936.
While Willem de Kooning had been employed as a window designer for a shoe store, he quit his job and eventually found his way into the mural division of the FAP in late 1935. In typical fashion, de Kooning forged life-long and consequential relationships. Here he met the then poet, soon to be critic, Harold Rosenberg, who at the time was working as an assistant to muralist Max Spivak. Mural painters worked in teams, usually with one artist preparing the design and others executing it, sometimes in situ but often on panels that were then transported to the site. In contrast, the painters on the easel division worked alone in their studios, and they were required to bring a new oil painting to the FAP office every four to six weeks.
By 1936, the FAP employed around 6000 artists. While on the Project, many artists, like Adolph Gottlieb, also joined the Artists' Union, which acted in the artists' interests in bargaining with the government and supported artists who were fired. In subsequent years, Mark Rothko submitted a series of figurative portraits for another subdivision of the WPA, the Treasury Relief Art Project, including Untitled (Two Women at the Window) (1937) and Untitled (Subway) (1937) before joining the easel division.
In the summer of 1937 the U.S. government announced that all WPA workers had to be legal U.S. citizens. This edict meant that Mark Rothko (Latvian), Arshile Gorky (Armenian) and Willem de Kooning (Dutch) could no longer legally participate in the FAP, although it would take some time for the federal government to track down all non-citizen WPA workers. Gorky and Rothko continued to work after the late-summer announcement, but De Kooning, fearing deportation, resigned from the WPA.
The Last Years Prior to World War II
In the later 1930s, there was increasing concern (largely unfounded) among conservative politicians of Communist infiltration in the FAP. Many artists were baselessly accused of being Communists, and they were required to sign a loyalty oath. In January 1939, the Federal Art Project began laying off some of its artists. Within that same year, Arshile Gorky became an American citizen and once again was eligible to receive FAP relief, but Mark Rothko (still a non-U.S. citizen) was dropped from the roles on August 17th.
The WPA Dissolves
As the U.S. entered World War II, many of the arts related divisions were incorporated into the war services division and refocused their production to creating camouflage, designing training manuals and pamphlets, and teaching art appreciation classes on military posts. Within a year of going to war, on June 30th, the Federal Art Project disbanded and ceased providing funds of any kind to artists.
In December 1943, the government auctioned off thousands of FAP-funded paintings in a warehouse in Queens. Paintings weren't sold individually, but by the pound. Reportedly, a local plumber purchased a large number of paintings in bulk for the purposes of insulating pipes with used canvases, but he discovered that when the pipes got too hot, the melting paints produced an odd smell. Herbert Benevy, the owner of a local frame shop, also purchased a large number of paintings for $3 per canvas. Among those he bought were paintings by Milton Avery, Mark Rothko, and Jackson Pollock.
Legacy
In all, nearly 200,000 artworks were created under the Federal Art Project. And while many of those works have since become lost or were destroyed, much of the country was able to experience art in person for the first time, either in public places like post offices and apartment buildings or in community art centers where they also took classes and heard lectures. The FAP also demonstrated that art was worthwhile work and not a leisure activity to be pursued on the side. Perhaps its most enduring legacy, however, is that it fostered a group of young artists in New York City who would go on just a decade later to create some of the most powerful paintings of the 20th century. The artists of the FAP created enduring images of America's founding and progress that were wrapped into the nation's idealized narrative of its past and future potential, while also democratizing the ideas and the making of art.
Most Important Art
Aerial Map (1935-37)

Aerial Map is one of two surviving murals that Gorky painted for Newark Airport's Administration Building. Originally ten murals comprised the cycle, entitled Aviation: Evolution of Forms under Aerodynamic Limitations. Drawing on his study of Pablo Picasso and Fernand Leger, Gorky's composition relies on bold colors and simple, superimposed shapes to convey a sense of the terrain that one would see from the air or perhaps the shape of the airport itself. The short black dashes and dots in the white shape at the center of the canvas, which roughly resembles the outline of the United States, call to mind flight routes that one would map out. While Gorky's mural was controversial at the time because of its abstract nature, Gorky insisted that an art of the future was necessary to depict the transportation of the future.

The murals were painted over when the airport was turned into a military base during World War II. They were thought lost, but in 1972 they were rediscovered, concealed under fourteen coats of paint that had been applied over the years as part of regular maintenance. Two of the panels were recovered and restored and now on view at the Newark Museum.

Read More ...

Federal Art Project of Works Progress Admin Artworks in Focus:
Federal Art Project of Works Progress Admin Overview Continues Below
If you see an error or typo, please:
tell us
Cite this page

Content compiled and written by The Art Story Contributors
Edited and published by The Art Story Contributors
" Definition Overview and Analysis". [Internet]. . TheArtStory.org
Content compiled and written by The Art Story Contributors
Edited and published by The Art Story Contributors
Available from:
First published on 19 Sep 2018. Updated and modified regularly.


[Accessed ]