Biography of John Sloan
Childhood and Education
John French Sloan was the oldest child and only son of James Dixon Sloan and Henrietta Ireland Sloan. While his mother's family were wealthy paper and stationery merchants, his father struggled in business. Yet, as an amateur artist, his father encouraged the artistic interests of young Sloan, along with those of of his sister, Marianna, who would also grow up to be an artist. At the age of 16, he left school and began working full-time to support his family.
Early Training
Sloan worked at the Philadelphia bookstore, Porter & Coates, where he taught himself by copying the prints sold in the store. His etchings were so good that the shop's owner offered them for sale.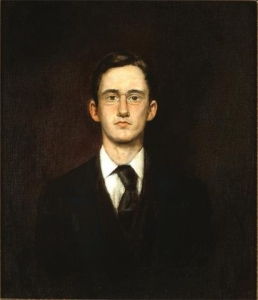 Not until 1890 did Sloan begin formal art training, enrolling in a class at the Spring Garden Institute in Philadelphia. With growing confidence in his skills, in 1891 he set out as a freelance artist. Eventually he began working for newspapers as an illustrator, a career that would last for decades. Enjoying the camaraderie of his fellow staff artists, he later described this time as better than college with "all the fun and no examinations." The posters and advertisements he created for these newspapers were based in an Art Nouveau style and often included witty and sophisticated puzzles and games.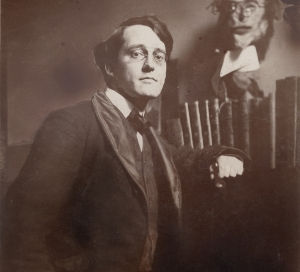 Sloan enrolled in the Pennsylvania Academy of Fine Arts, where he met the artist Robert Henri at an 1892 Christmas party. Henri would become a mentor and father figure to Sloan; Henri's Charcoal Club offered young artists a less expensive, more open-minded art training than was being offered at the Academy. The group also met at Henri's studio for weekly Thursday evening gatherings where discussions of art were coupled with shenanigans and socializing.
In 1894, Sloan's discontent with the Academy came to a head when a professor chastised him for sketching a classmate instead of the official model. He quit the school, marking the end of his traditional art education, and relied on his growing reputation as an illustrator and poster artist for financial support. He was prolific: between 1902 and 1916 he created more than 900 illustrations for books and magazines in addition to a steady stream of work for the Philadelphia Press where his puzzle drawings for the paper's Sunday edition were widely popular.
On a personal note, when a friend took the socially reserved Sloan to a Philadelphia brothel in 1898, he formed an instant attachment to one of the women. By the end of his first meeting with Anna Wall (better known as Dolly), he expressed his serious feelings for her and convinced her to leave her current partner. Despite the concerns of his friends, he began living with Dolly and they married in 1901. Their life together was complicated by Dolly's emotionally instability, frequent illnesses, and lifelong battles with alcoholism.
Mature Period
In 1904, Sloan moved to New York City, joining the circle of Henri artists who were already living there. He immediately began to create paintings that captured day-to-day moments of city life. Known as The Eight, this group shared a style of gritty realism and urban scenes that led to their nickname: The Ashcan School. Sloan became a major force in the organization and promotion of their work. When their untraditional realist themes were rejected from established exhibitions, Sloan was instrumental in organizing a show of their work at the Macbeth Gallery in February 1908. Highly publicized, the exhibition was a breakthrough for the American avant-garde, loosening the control held by more conservative art institutions. He helped to organize a much larger show of independent artists in 1910. Many members of the Henri circle were included in the 1913 Armory Show, marking The Eight's contribution to the advancement of modern art in America. Despite the stylistic differences among the Eight, their commitment to modern realism and artistic independence was facilitated by Sloan's diligence and dedication to the cause.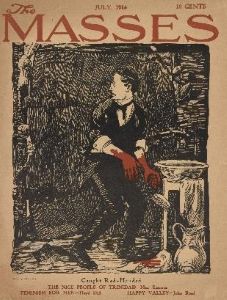 As Sloan's reputation as an artist was growing, so too was his interest in political activism. He and Dolly became devout supporters of Socialism. They were heavily involved in several campaigns to raise money to support striking workers and even to support the anarchist Emma Goldman. Sloan volunteered his time to serve as the art editor for the left-wing political magazine The Masses. He was a strong advocate for artistic freedom and the recognition of contemporary American artists. He was a founding member of the Society of Independent Artists (begun in 1917) and served as the organization's head for twenty-seven years.
In 1916, Sloan took his first full-time teaching job at the Art Students League. He liked the interaction with the students and their eagerness to learn from him. He also developed a reputation for challenging the established ways of teaching with one student describing his intensity as, "oh, how he rails against institutions; how he rails at commercial artists, portrait painters, etc!...He can swear real handy too." His classes were popular among students and his devout followers even referred to themselves as "the Sloanian nuts" with a deep sense of pride. One notable exception was a young Jackson Pollock, who allegedly dropped Sloan's drawing class when he wasn't allowed to focus on abstract imagery.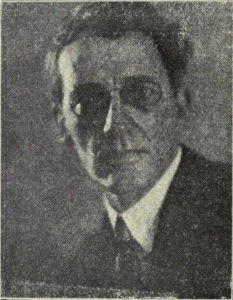 Sloan began spending his summer at the artistic colony in Gloucester, Massachusetts in 1914, however by 1919, he felt this retreat was becoming overcrowded. He was one of the first American modernists to begin summering in New Mexico, a change that inspired his future work. In addition to the new landscape forms, which were a great inspiration, he admired the work of the Native Americans of the Southwest. He became an advocate for tribal artists, first mounting an exhibition of their work at the Society of Independent Artists in 1922 and then by helping to bring about the Exposition of Indian Tribal Arts at a New York gallery in 1931; the show later traveled to other states and Europe.
Late Period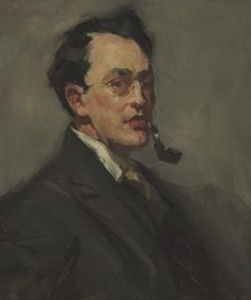 The last decades of Sloan's career focused more intensely on the landscape paintings of the American Southwest and an emerging interest in figures and nudes. Unfortunately for Sloan, his new approach (including cross-hatching lines to render the dimensionality of the figures and overglazing of the canvases) was not well received by the critics and his reputation declined.
During these years he suffered numerous health problems, incurring medical bills. He also had to deal with Dolly's intensifying drinking. She became jealous of any student or model who showed an interest in Sloan. Although he did have several affairs, he remained married to Dolly. In particular, one former student, Helen Farr, who joined the couple in New Mexico as she wrote a book of Sloan's teachings on art was a particular threat to Dolly. Despite her attempts to turn Sloan away from Farr, they began two-year affair in 1934 and the book "Gist of Art" was published in 1939.
After Dolly's death in March 1943, Helen Farr reached out to Sloan and they rekindled their relationship. The two married in February 1944 despite a forty-year age difference. With her support, Sloan's health recovered briefly and despite declining eyesight, he continued to paint. However, in 1951 he was diagnosed with cancer and died from complications after surgery.
The Legacy of John Sloan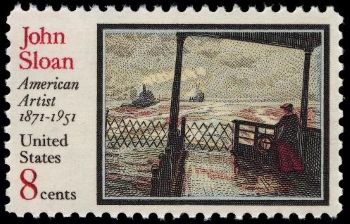 Sloan played a leading role in the Ashcan School's innovative and often gritty engagement with urban life. These paintings provided an unapologetic look at life and broadened the topics that were acceptable as fine art, advancing a uniquely modern American approach to realism. Although Sloan separated his personal politics from his painting, his unidealized examination of city life and his sympathy for his working class subjects would influence the Social Realists of the 1930s.
Sloan's teaching and his paintings helped to lay the foundation for the development of the Contemporary Realism movement, which can specifically be seen in the soft brushstrokes and vivid colors of Lois Dodd and Fairfield Porter. His work in creating new exhibition opportunities for independent artists, and his support of artistic freedom and innovation were crucial to the development of an American avant-garde.
Content compiled and written by Jessica DiPalma
Edited and revised, with Summary and Accomplishments added by Sarah Archino
"John Sloan Artist Overview and Analysis". [Internet]. .
TheArtStory.org
Content compiled and written by Jessica DiPalma
Edited and revised, with Summary and Accomplishments added by Sarah Archino
Available from:
First published on 01 Apr 2019. Updated and modified regularly
[Accessed ]