Progression of Art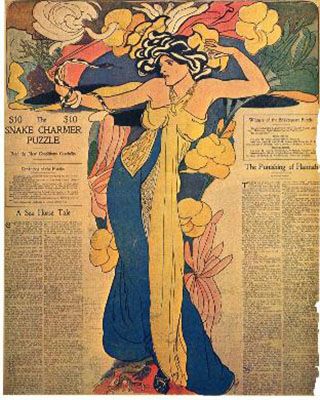 1901
Snake Charmer Puzzle
Sloan's foray into the art world began as an illustrator for newspapers and a designer of book covers and posters. His ability to succinctly yet artistically render eye-catching subjects and craft sophisticated questions made him a highly popular puzzle designer. This work on paper was created during his employment at the Philadelphia Press, where he created puzzles for the newspaper's Sunday edition from 1899. In this particular puzzle, readers are asked to find hidden flute player within the drawing of a snake charmer, submitting their answers to the paper who would award prizes.

While these puzzle drawings provided a much-needed income for Sloan, they were also an important opportunity for the largely self-taught artist to hone his skills. While he would become best known for his realist Ashcan School paintings, these early works show Sloan's earlier versatility in the Art Nouveau poster style. According to David Scott, in describing these paintings, "Sloan thoroughly enjoyed the work, and he poured ingenuity and imagination into the games he played with words, shapes, and colors.

Characteristic of Art Nouveau, Sloan's line ran into spirited fantasy when it had the freedom to take off on rhythmic excursions depicting plant forms, flowing hair, billowing or patterned drapery, or swirling water. Decorative passages were carried exuberantly to the verge of independent abstractions." Here, Sloan's colorful illustration features a woman, gracefully captured in motion with an "s" shape curve to her body. Her left arm is bent at a ninety-degree angle with her hand pointing towards the snake which she watches as it curls its way around her arm.
Ink and watercolor, color linecut reproduction - Collection of Delaware Art Museum, Wilmington, Delaware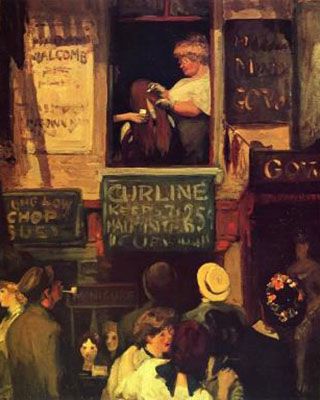 1907
Hairdresser's Window
For both the viewer and the figures in this street scene, the focal point of Sloan's painting is a female hairdresser, visible through the second story window of a building. Positioned in side profile, with gloved hands she is coloring the long red hair of a woman whose back is turned to us. It is a slice of everyday life, complete with the overwhelming visual display that characterized the urban experience in the early 20th century.

This work is an important early example of the Ashcan School, a group in which Sloan played a key role. Artists associated with this style featured day-to-day moments of life in New York City, preserving their mundane but gritty realism. At the same time, the painting becomes a statement about looking - both at the painting itself and at the world. According to John Loughery, "the theme of the window frame and the very act of looking inevitably became almost a preoccupation for Sloan...."

Sloan spent hours walking the city streets and sketching scenes like the one found here. He also worked from his window and rooftop, watching people go about their lives. At the same time that he documented this urban community, he often captured loneliness, the lack of connection, and the sense of isolation that can exist among a crowd. The private act of grooming is performed for an audience (unknown to the client), but all of these people remain strangers to each other. It is an accidental community, bound together for a fleeting instant.
Oil on canvas - Collection of The Wadsworth Atheneum, Hartford, Connecticut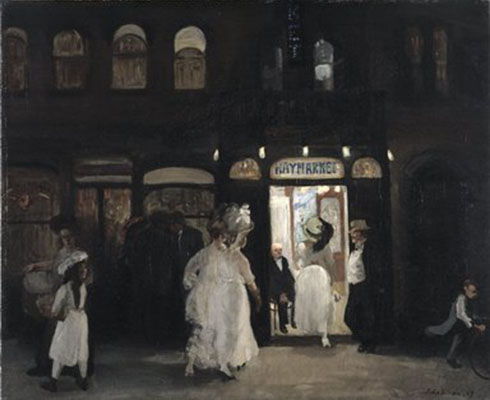 1907
The Haymarket, Sixth Avenue
A contrast in colors, John Sloan's painting features a group of women, elegantly dressed in white, entering a building in the darkness of evening. The sign above the open, illuminated doorway reads "Haymarket."

The painting, one of many New York City-themed works Sloan created as part of The Eight, depicts a dance hall. This was a scandalous subject, particularly as the women were shown entering the building (a dance hall of ill repute) without male escorts. This characterized them as independent modern women, in search of pleasure and not bound by the expectations of proper genteel society. This was radical for American art.

Despite its provocative subject, however, Sloan refrained from overt social commentary or critique. Even though he was personally involved with radical politics, Sloan's paintings generally lacked the social criticism that was the main goal for some of The Eight. Rather than showing city life through a single lens, Sloan's works are often morally ambiguous. According to John Loughery, for Sloan "...the city encompassed squalor and exuberance at one and the same time, and that moments of anguish and exhilaration were not antithetical but necessarily linked, or not so much overlapping as entwined."

Perhaps influenced by the unconventional background of his wife, Dolly, who had worked in a brothel, Sloan is often sympathetic to working women. Specifically in this work, the historian Thomas J. Gilfoyle claims that Sloan's representations of these prostitutes are more human, and that, "instead of depicting the prostitute in a brothel or as an offering for the supporting male, Sloan presented her as she presented herself and her neighborhood. The prostitute was, in essence, an ordinary woman."
Oil on canvas - Collection of Brooklyn Museum, Brooklyn, New York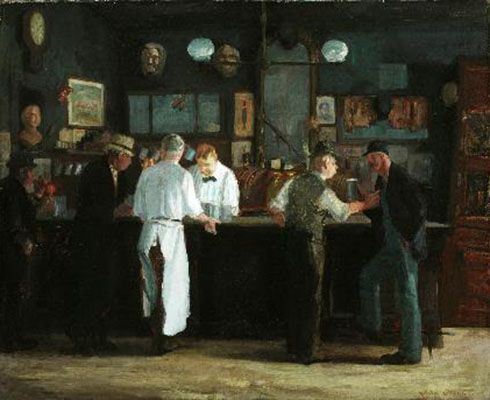 1912
McSorley's Bar
While working in the Ashcan School style, Sloan created many scenes of daily life in New York City; but what is important in this scene is that he was not simply an impartial observer at this bar, but a regular patron of the establishment. Interested in the range of customers at the (now legendary and still functioning) McSorley's bar, which only admitted men, Sloan captured these figures in a moment of animated conversation. Like Sloan's paintings of women, the men are presented without judgment or criticism, but rather with a detached fascination for their poses, gestures, and character.

In this painting, the large wood bar dominates the center of the composition, but it unites rather than divides the employees and the patrons. Distinguished by their white shirts and aprons, the two men tending bar are at the center, contrasting with the visitors who are engaged in conversation and drinks. The effect is lively, but not exceptional in any fashion; Sloan gives us an insight into an ordinary scene of daily life without embellishing it for greater dramatic effect.
Oil on canvas - Collection of Detroit Institute of Arts, Detroit, Michigan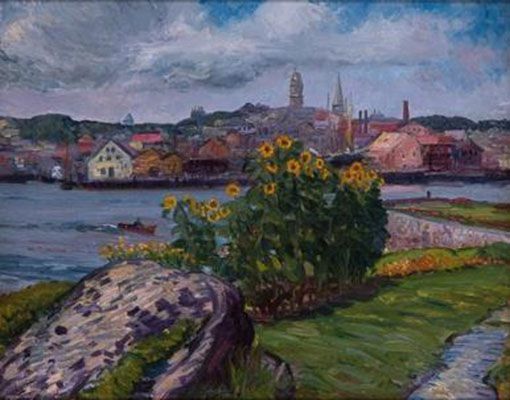 1914
Sunflowers, Rocky Net
Water dominates the center of Sunflowers, Rocky Net, nestled between a distant village of houses and steepled buildings and a patchy field of green grass in the foreground. A large rock on the left stands in stark contrast to the wild sunflowers that grow along the water's edge.

The summer of 1914 was important for Sloan, who joined the seasonal artistic community in Gloucester. Free from the often-oppressive burdens of city life, it was a period of explosive creativity for Sloan. In this first summer, he created sixty paintings in an attempt to meet a goal of making one painting a day. Most of these works featured the landscape views of Gloucester. In a shift from his usual working routines, the art historian John Loughery noted that Sloan got "into the 'habit of working,'" and would "paint outdoors every morning regardless of inspiration, and consider his art in a more abstract, less literary way." As we see in this work, when freed the gritty subjects of city life, Sloan adopted a looser brushstroke and incorporated a broader range of colors. The shift highlights the influence of the Impressionism and Post-Impressionism, specifically the sunflower motif suggests a visual nod to Claude Monet and Vincent Van Gogh.

The Gloucester landscapes marked a turning point for Sloan as he moved away from the Ashcan School style which had previously dominated his work. After this, he would explore a rich variety of approaches and styles in the remaining decades of his career.
Oil on canvas - Collection of Cape Ann Museum, Gloucester, Massachusetts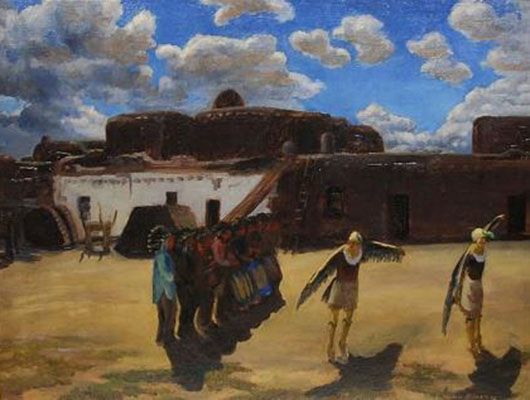 1921
Eagles of Tesuque
John Sloan's painting Eagles of Tesuque features two members of the Pueblo Indian tribe performing the ceremonial Eagle dance. A line of Native Americans stand in a row to the left of the dancers. The background is a line of pueblo houses set against a brilliant blue, cloud-filled sky.

This work speaks to an important theme in Sloan's oeuvre: the landscapes and the people of the American Southwest. Following the advice of Robert Henri, Sloan began to summer in Santa Fe, New Mexico in 1919. Unlike anything he had experienced on the East Coast, the landscape provided much inspiration for his paintings of which the artist stated, "I like to paint the landscape of the Southwest because of the fine geometric formations and handsome color. [...] The ground is not covered with green mold as it is elsewhere. [...] Because the air is so clear you feel the reality of things in the distance." In time, this region would attract other modern artists, most notably Georgia O'Keeffe, drawn to the color and atmosphere, as well as the escape from the hectic life of New York City.
Oil on canvas - Collection of The Colorado Springs Fine Arts Center, Colorado Springs, Colorado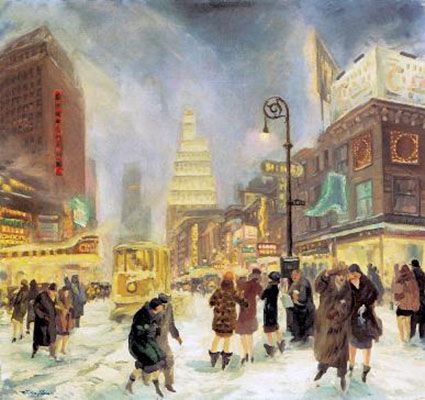 1927
The White Way
Set at the busy intersection of New York City's Broadway and Fiftieth Streets, Sloan conjures a cold wintry day of snowy streets crowded with hurried pedestrians. Behind them are illuminated numerous buildings, a street light, and a trolley bus traveling down the street.

The inspiration for this work was made from a sketch he actually drew in the freezing cold, capturing the atmosphere and energy of a spontaneous moment. While the subject of city life had been a recurring theme for Sloan, this later work celebrated the city as bright and dynamic, with less attention on the individual experience than his earlier Ashcan School paintings. The work is more observational in nature, rendered in a lighter palette and looser brushstrokes that gives it a more impressionistic feel. This represented a general shift in Sloan's work; soon after this painting was finished, he would shift much of his attention to landscape paintings, portraits, and nudes.
Oil on canvas - Collection of Philadelphia Museum of Art, Philadelphia, Pennsylvania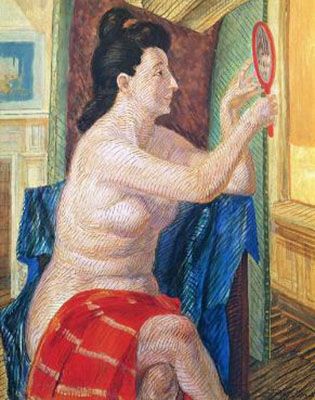 1950
Nude with Red Hand Mirror
As reflected in the title, this painting features a nude female seated in a chair, legs crossed and partially covered with a red blanket, with her body turned to the right so that she can see her reflection in a small red mirror she holds in her right hand. She stands out from her surroundings, seeming almost too large for this small corner of the room, with her pale skin sharply contrasting with the vibrant blue cloth and red blanket around her.

This painting illustrates two characteristics of Sloan's later career in both its subject and its style. Beginning in the 1920s, Sloan began painting female nudes often. This painting also provides a good example of the unique cross-hatching line technique Sloan used to enhance his figures. Rather than sweeping brushstrokes, the dimensionality of the female's figure is rendered in a series of curving and overlapping lines.

This combination of a highly traditional subject with an innovative technique was not well received by many critics, nor the public who struggled to understand it. David Scott explained that contemporary viewers were troubled by the approach since "his figures basically represented a transcription of the visual world as we know it, whereas the surface markings belonged to another plane of abstraction." This combination of abstract and figurative design made his work less appealing to those who had previously appreciated his realism. At the same time, it remained too naturalistic to appeal to collectors of more abstract painting, leaving little market interest for these paintings. The decision to boldly change styles at this late stage of his career demonstrates Sloan's commitment to experimentation and his belief in artistic freedom. Despite the critical and financial consequences, John Sloan was indeed a modern artist, unafraid to push boundaries and try new things.
Tempera with overglaze on panel - Collection of The John Sloan Trust, Wilmington, Delaware
Related Movements & Topics