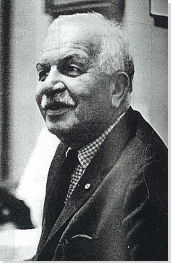 Born: September 12, 1898 - Kaunas, Lithuania
Died: March 14, 1969 - New York, New York

"If I am to be a painter I must show the world how it looks through my eyes, not theirs."

Biography of Ben Shahn
Childhood and Education
Born into an Orthodox Jewish family, Shahn witnessed both anti-Semitism and political persecution during his childhood in Lithuania. The Tsar's forces arrested Shahn's socialist father and imprisoned him in Siberia. As a young boy, Shahn began to take a stand against social injustice, a moral stance that would define his life's work. While as a youth studying the Bible, he accused God of acting unjustly when he struck a man dead who had disobeyed his command in the story of the building of Solomon's Temple. Initially, Shahn refused to return to religious school until the teacher would acknowledge this injustice; later, he only returned because of the urging of his beloved grandfather. In 1906, when Shahn was 8 years old, his family immigrated to New York and reunited with his father who had long since escaped and settled in Brooklyn. The year 1906 was the peak year of Eastern-European Jewish migration to America so Shahn's is very much an immigrant's story. While a child back in Lithuania, Shahn first became interested in art; but, as resources were scarce, he had to draw on the pages of his books.
In Brooklyn, his American fifth-grade teacher noticed and encouraged Shahn's nascent artistic talents. One year later he received his first paid art job writing names on graduation diplomas, the first time a student had been given such an honor. Despite his obvious talent, Shahn's mother demanded that Shahn forego a high school education and instead get a job and help the financially strained family. His mother's actions caused irrevocable damage to their relationship. Fortunately Ben Shahn obtained a job that nurtured his artistic growth as an apprentice in his uncle's lithography shop, where he developed his love of letters, a life-long fascination and talent; by age 19 Shahn was a professional lithographer. In addition to taking art classes at the famed Educational Alliance on New York's Lower East Side, Shahn continued his education through self-study and night classes. By the fall of 1919, Shahn had earned enough money to pursue a college education and proceeded to study at New York University, the College of the City of New York, and the National Academy of Design.
Early Training
In 1922, after Shahn's marriage to Tillie Goldstein, who had been a suffragette and political activist, the artist resumed work as a lithographer. Concurrently, he continued to train as an artist, and took two lengthy trips to Europe and North Africa to study the environs, people, and the Grand Paintings of Europe. During the second, highly productive trip in 1928, he had created more than two hundred watercolors and drawings.
Once back home in Brooklyn, Shahn began working full-time creating paintings, manuscript lithographs, and photographs. Having basically taught himself photography - with a modicum of advice from his friend and celebrated photographer Walker Evans - and in need of a good camera, Shahn made a deal with his brother to buy him one which Ben would give back if he failed to get a photo published from the first roll of film he took. Determined, as alway, Shahn won the bet when in 1934 a photo of a theater group performing on a New York City sidewalk was published in New Theatre, a radical arts magazine.
In 1933 famed Mexican Muralist Diego Rivera hired Shahn, along with several other promising artists, to apprentice on his mural Man at the Crossroads at the newly constructed Rockefeller Center; young Nelson Rockefeller first commissioned the premiere Mexican muralist, but later destroyed his unfinished fresco due to Rivera's inclusion of a portrait of Lenin. Under Rivera's tutelage, Shahn learned the demanding art of fresco or painting with dry pigments on wet plaster. With the formation of the New Deal Arts Program under FDR, Shahn would pursue several mural commissions but was not successful until 1936, when the painter secured a commission for the community center of Jersey Homesteads. Homesteads, now called Roosevelt, New Jersey, was a government funded cooperative housing development built for Jewish garment workers from New York City, the majority of whom were political radicals. Shahn and his second family with artist Bernarda Bryson would make Homesteads their home.
Often Shahn created work to protest social injustice, such as the infamous trial and execution of Sacco and Vanzetti. During the 1930s and the FDR era, Shahn worked as a photographer and graphic artist for the federal government's Resettlement Administration. Shahn sought to photograph the dire living and agricultural conditions that poor Southerners struggled under. He would later go on to work as a graphic artist in the Allied forces during World War II for the Office of War Information, also a government agency.
Mature Period
With the devastation caused by World War II, and the mass execution of six million fellow Jews, Shahn turned away from Social Realism and towards what he came to call "personal realism." While still working with the human figure, Shahn's paintings became less about society as a whole and turned much more personal and symbolic. Gaining further recognition with the public and the art world, in 1947 he became the youngest artist to have a retrospective at New York's Museum of Modern Art. In sharp contrast to the Abstract Expressionism that was increasing in popularity, and despite some critics' negative reviews, Shahn's realist works had broad appeal.
Shahn's work often had a progressive political bent that, at times, courted controversy. Active on the Left, he was eventually investigated by the FBI which accused him of producing artwork for Communist newspapers and magazines, and belonging to Communist art organizations during the 1930s (when to do so, in fact, was legal). In 1959, during the McCarthy Witch hunt and the Cold War era, Shahn bravely refused to testify before members of the House Un-American Activities Committee, and in doing so protected other artists on the Left. In an attempt to humorously turn the tables a bit, during one investigative visit by the FBI to Shahn's home, the artist decided to go over-the-top in making them welcome offering them lunch, introducing his daughter, and engaging in long conversations which made it impossible for the agents to quickly leave despite their obvious discomfort. Regardless, the FBI maintained an active file on Shahn up until his death.
Later Period
Shahn had a prolific career as a graphic artist. He was an illustrator for CBS television and for such national magazines as Esquire, Harper's, and Time. He also returned to his Jewish roots by creating mosaic murals for several synagogues. All the while, the pursuit of justice through art remained his main concern. Shahn responded to the 1954 tragedy on the Lucky Dragon fishing boat in which the fishermen suffered the effects of radiation from America's testing of the hydrogen bomb, by painting a series depicting the men and the nuclear effects on their bodies. Teaching was also important to Shahn and while at Harvard University for the 1956-57 academic year, he presented six lectures on art, which were later published as The Shape of Content (1957); impressively, the book remains in print and provides much insight into his artistic beliefs and practices, and the life of an artist.
In 1969, Shahn died of a heart attack shortly after having surgery to remove a tumor on his bladder at the age of seventy. The artist had remained active throughout the last years of his life.
The Legacy of Ben Shahn
Ben Shahn's use of his art to counter social and political injustices came to exemplify Social Realism and socially conscious art. His works narrate the plight and struggles of many living in the 20th century while simultaneously providing the foundation for future generations of politically committed and figurative artists such as Leon Golub and muralist Mike Alewitz. Shahn passionately believed in the role of art to help serve the human condition, to point out injustices, and to draw alliances rather than create dissention. Other artists whose work was tied to social movements such as the Black Civil Rights Movement, the Anti-Vietnam War Movement, and the fight for reproductive freedom, find both a visual and philosophical predecessor in Shahn's lengthy career.
Most Important Art
The Passion of Sacco and Vanzetti (1931-32)

This is the only easel painting out of Ben Shahn's series of twenty-three gouaches depicting elements of the trial and subsequent execution of the two Italian immigrants, Nicola Sacco and Bartolomeo Vanzetti who were accused of murder during a robbery in Massachusetts. At the time and still today, controversy surrounds the guilty verdict, with many believing that the men were condemned because they were anarchists and because of the overt anti-immigrant sentiments of the era. In this painting, the three members of the Lowell Committee who denied the defendants' appeal hold lilies as they stand over open coffins containing the bodies of Sacco and Vanzetti. Judge Thayer can be seen in the background staring out the courthouse window onto the scene.

Shahn submitted this easel painting to an exhibition organized by Lincoln Kirstein at the Museum of Modern Art in New York. The museum's Board of Trustees objected to Shahn's depiction of the Lowell Committee members who were friends to many of the museum's trustees. Despite the Board's demand that Shahn's works along with the equally objectionable works by Hugo Gellert and William Gropper not be shown, the many other artists in the exhibition and the curator Kirstein refused to participate if the three artists were banned. The show eventually moved forward including Shahn's work with many of the trustees resigning in anger.

The painting's topic provides an early example of Shahn's use of his art against social injustice. This work helped to establish him as one of the great Social Realist painters. Also in the development of this artwork, Shahn had begun to think sequentially about narration through art, a process which ultimately led him to paint his complex public murals. Rather than painting for himself as other modernists did, Shahn painted for the public and for the cause of Sacco and Vanzetti, while simultaneously drawing upon the cubistic forms of Picasso in his figures. Shahn successfully melds together the formal with the political in this work.

Read More ...

Ben Shahn Artworks in Focus:
Ben Shahn Overview Continues Below
If you see an error or typo, please:
tell us
Cite this page

Content compiled and written by The Art Story Contributors
Edited and revised, with Synopsis and Key Ideas added by Diana Linden
" Artist Overview and Analysis". [Internet]. . TheArtStory.org
Content compiled and written by The Art Story Contributors
Edited and revised, with Synopsis and Key Ideas added by Diana Linden
Available from:
First published on 07 Jun 2016. Updated and modified regularly.


[Accessed ]