I do believe abstraction is and was meant to embody deep emotion. I believe that's its job, in the history of art.
I was always artistic - right from childhood - but my love of painting came a bit later. It followed my love of music.
When I got into art school, I thought it was paradise. I wanted to be an artist so much that I was really driven and nothing could stop me.
I work on stretched linen canvas, sized so that the surface already has a sense of tension when I begin. It is a very rich and reactive surface. I begin by drawing on the canvas with a kind of loose line, very simply and freely. I paint very thinly, which allows me to change the drawing if I want to.
I look at my paintings for a very long time before letting them out of my studio. I like to get on the treadmill and look around at all of my paintings while I exercise. I try to stare them down to make them reveal their weaknesses. If they reveal weaknesses, they get repainted.
The power of a painting has to come from the inside out. It's not just an image. It's an image with a body and that body has to contain its spirit. What's behind it decides everything. How it starts will define how it ends.
I wanted to do something in my life that wasn't ordinary - which wasn't normal. I couldn't bear to live my life as a normal person, put another way: conventionally. So if I had a choice between living in suburbia and being dead, I would rather be dead. That implies I am going to do something with my life that is not ordinary. Then it is only a question of what that is. I could have gone into a number of different things.
My work is really based on a kind of idealism and romanticism with beauty and form and profundity all wrapped up.
As you go through life you're presented with different possibilities at different points in your life and you have to realize what those possibilities are. When you're fifty, you don't have the possibility to be twenty, but you do have the possibility to be fifty and everything that that means; all the accumulated power that you have and the vitality that you still have.
I don't think an abstract painting is something you worship. It is something that is part of the world. It is as if the spirituality in art stepped off a pedestal, or from behind a sheet of glass, and has joined the world of the living. That, of course, is the contradiction with it because many people find it more exclusionary than an icon painting.
The whole point of painting is that it has the potential to be so humanistic, so expressive. To give that up is a tremendous mistake because then what you are doing is imitating forms of technological expression which can be manifested more directly, more efficiently, and frankly, more beautifully, in their original form.
I want my brushstrokes to be full of feeling; material feeling manifested in form and color.
They are abstract paintings and they are quite lyrical. But they remind you of things that exist in the world. They remind you of the way the world is ordered.
I try to make paintings that everybody can relate to; in terms of their drawing, it's a very simple kind of counting. It's based on rhythm or simple architectural structures. You can also relate it to music, rhythmical musical structures or mathematical structures. I'm not making them complicated. They are very simple.
What I am painting is a simple divisional structure, but you see the way it is painted, what color it is painted, and how many times it is painted in relation to that simple structure.
They are like intimate paintings on a giant scale. They maintain the connection with painting; they don't give that up. At the same time, the language I use is the language of the contemporary world you can find anywhere, on computer screens, things are arranged in rows and lines; it's simple numerical order.
If I stand in the subway in New York and I look down, everything is repeated. That's how we put the world together now. And that is how I put my paintings together. In that sense they are in complete accord with the contemporary world so people can enter them quite naturally.
My paintings are not known to be uplifting. I'm not a jolly painter. Now they've become a lot more vital. I don't control as much.
There's a lot of darkness in my work but there's a lot of light in it too, because I'm always trying to paint the whole world, yearning for the union with life.
I am in the business of making something sublime.
In the end art has to be something that you can love.
Biography of Sean Scully
Childhood
The eldest of two boys, Sean Scully was born in Dublin, Ireland in 1945. When he was just four years old, his family emigrated to London, travelling by boat across the Irish Sea in search of a new life (Scully later dedicated his painting Precious (1985) to this perilous journey during which the boat was lost at sea for over eight hours). Once in London, the Scully family settled in an Irish community in Islington, before moving to the suburbs of Sydenham. Though he considered himself an adopted son of London, Scully was proud of his Irish heritage stating "I'm Irish in the mythic, romantic sense but, in the living sense, I'm a Londoner".
Scully remembers his childhood as an unsettled time, marred by poverty, anger and domestic violence. He described his mother as a strong, forceful character who was overprotective of her eldest son. Scully said, "I had a desperately unhappy childhood because in our house two people were always in a state of not being loved - usually my brother Tony and my dad". As an escape from his tumultuous family life Scully developed a penchant for saving and caring for injured birds.
The Scully family regularly attended Catholic Church and Sean recalled how the church offered a place of spiritual refuge from the grim realities of school life: "(church) was all reds and golds and whites and black, then I went to the local school and I entered a world that was grey, hard, spiritually empty and very, very violent". Indeed, the first paintings Scully encountered were during Catholic mass. He specifically recalls seeing a series of devotional paintings ("They were very geometric, like Russian paintings" he later recalled) known as the stations of the cross, illustrating the scenes leading to Christ's crucifixion. He also came across a reproduction of Picasso's 1901 painting Child with a Dove, stating that "it was as important to me as the Church in pointing to art as an escape from that working class environment". By the tender age of 9, Scully had already decided he would become an artist.
Scully left school at the age of 15 and took on many different jobs to support himself including working as a messenger, a trainee photograph re-toucher, a letterpress typographer, a plasterer and a crane operator. During this unsettled period he became a member of a street gang, later admitting, "I was brawling, committing burglary, gang-fighting. It was rough, seriously rough". But despite his adolescent transgressions, Scully always carried the Catholic conviction that life always offered a better situation and he was soon using his spare time more creatively.
Early Training and Work
After turning 17, Scully began to attend night school, gaining qualifications through the help of an educational programme called Floodlight. He also began to attend evening classes at the Central School of Art in London, developing a particular interest in figurative painting. When he was 19, Scully saw Vincent van Gogh's Chair (1888) at the Tate Gallery in London. It proved to be a moment of epiphany: "Until then, all paintings, including the ones I liked, seemed to be about artifice [...] the Chair, looked so honest, like anybody could have painted it. That had a profound effect on me. Looking at that painting was like looking through a beautiful window. It gave me access".
In 1965 Scully's first wife gave birth to a son, Paul, who later died in a car accident aged just 18. The same year he began a three-year course at Croydon College of Art in London. While here he came to admire artworks by Henri Matisse, Emile Nolde and Karl Schmidt-Rottluff and through their influence he developed a penchant for hard-won figuration (often consisting of dense layers of highly wrought paint).
On completing his studies at Croydon Scully went on to study art at Newcastle University. After discovering Abstract Expressionism, and seeing an exhibition of paintings by Mark Rothko at the Whitechapel Art Gallery in London, his gradually moved away from figuration towards abstraction.
While still a student, Scully followed in the footsteps of Henri Matisse, Paul Klee and August Macke, making a road trip to Morocco in an old truck with eight friends. There he was deeply attracted to the rich, warm colors and geometric patterns of textile prints. He said, "I saw the striped fabrics that the Moroccans dye [...] I saw those stripes everywhere [in the galabeyas and robes], and when I got back to work I was making grids from stripes of colour". Scully was so drawn to Moroccan culture he almost decided to stay for good: "The temptation not to return to an urban environment was powerful on me. It was a moment of extreme crisis when I almost did not return to England".
Scully did return, however, and graduated from Newcastle in 1972. He remained in the University as a teaching assistant, as well as teaching one day a week at the nearby City of Sunderland College of Art. In 1972, Scully was awarded the Frank Knox Fellowship to study at Harvard University in Cambridge, Massachusetts. On visiting the United States for the first time he was impressed by the expansive, large format and slick, controlled surfaces of Minimalist American painting and his work became more ambitious, with more rigid, controlled geometric patterns on a bigger scale. A series of group and solo exhibitions followed on his return to London.
Mature Period
In the early 1970s Scully achieved commercial success for his stylised, geometric "supergrid" paintings. Collapsing together influences from Moroccan textiles, the urban environment and Piet Mondrian's Boogie-Woogie series, his work featured intricate layers of complex patterns layered on top of one another. His grids were created by using masking tape to create tight, mechanical edges. But Scully was gradually losing interest in this style since he felt it had become too populist: "I was able to support myself through painting right from the beginning, but I became poor because I wanted to [...] make my work in some way profound" he said later.
On receiving the Harkness Fellowship award in 1975 Scully was able to move to New York City with his girlfriend, the artist Catherine Lee. Between 1975 and 1982 Scully invested a new energy into his art, saying, "I wanted to make something that was austere and very high-minded. I set the bar high". The paintings he made were sparcer, more monochromatic and philosophical, influenced by the dominant trends in New York, namely Minimalism, Conceptualism, and specifically the paintings of Jasper Johns, Agnes Martin, Robert Ryman, Gene Davis and Brice Marden. Indeed, he worked closely with Marden, absorbing and sharing ideas about simplicity, structure and movement before emerging with a freer, more emotive form of image making.
In 1978 Scully married Catherine Lee and decided to dedicate a painting to her every year. This resulted in a group of paintings now known as the Catherine series. Scully took on a teaching post at Princeton University, allowing him to remain in New York where he felt increasingly at home. Indeed, the city provided the ideal backdrop for his style of patchwork abstraction, as he explained, "In downtown Manhattan I look at the way people patch things. You can tell by the way a large plywood sheet has been nailed into place on a construction site that no one is reverent. Sometimes the metal patches on the sidewalk are even rougher. I see a sort of urban romance in the expedients that people use to keep a place like Manhattan together".
In 1980 Scully travelled to Mexico where he was inspired to bring more color and expression into his work, saying, "Along the Pacific Coast of Mexico, the people living in squarish houses paint them with big patches of blue or red or some other colour. Form gets distorted by a subjective response, and that redeems it. That's wonderful, like Minimalist painting gone wrong". The following year he decided to stop using tape to mask edges in his paintings, imbuing in them with a looser, softer surface.
In 1983 Scully became an American citizen. The same year, his 18 year old son from his previous marriage died tragically in a car accident, leaving the artist bereft and distraught. He said, "Basically, I went insane but didn't deal with it because I wanted to keep painting".
Throughout his grieving period Scully carved a niche for himself in America, infusing his earthy, sensual paintings with a deeply melancholic streak. Although the dominant trend by this time was Neo-Expressionism - or what Scully called "melodramatic figuration" - his contemplative, loosely-geometric abstractions offered a unique sense of physicality and character that made his art much loved by critics and buyers. He said, "My work had an aggression, a scale and metaphorical references that could compete with American figuration". His larger than life canvases made reference to the geometries in art that have existed for centuries, subjects ranging from early religious paintings, Giorgio Morandi's still life studies, Piet Mondrian and Mark Rothko's abstractions, Bridget Riley's Op Art lines and Jasper Johns' loaded, symbolic flag stripes.
Late Period
Throughout the 1990s Scully's career continued to flourish. He made several more visits to Morocco, including a trip in 1992 to make a BBC film on Matisse, who had visited Morocco in 1912-13. In 1995, he took part in the prestigious Joseph Beuys Lectures in Britain, Europe and the United States at the Ruskin School of Drawing and Fine Art at Oxford University in England.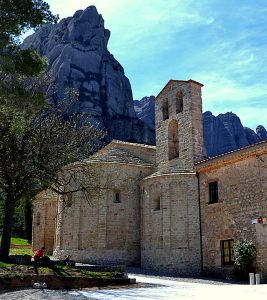 After divorcing his second wife (Lee) he married the artist Liliane Tomasko in 2006. The pair had a son, Oisín, in 2009. Since then he has had several major solo and retrospective exhibitions in locations as far reaching as the United States, China, Italy, Germany, Switzerland and Austria. In 2015 Scully completed a permanent installation for the restored Santa Cecilia de Montserrat monastery in Barcelona. Speaking of his frescoes, he said, I wanted "to add a little joy to the chapel [...] because people always associate spirituality with great austerity and great deprivation and it doesn't have to be like that". The "Scully Chapel" has invited comparisons with the Matisse Chapel in the French Riviera and the Rothko Chapel in Texas, though Scully has refuted comparisons with the latter on the grounds that he thinks Rothko is "very depressing and bleak and [that] you have to wring the paintings to get anything out of them".
Scully has continued to experiment with new directions, expanding into three dimensions with a series of ambitious, monumental sculptures, including a series in Yorkshire Sculpture Park in England. In his recent paintings he has also returned to the figuration of his student days, as seen in a series of works that were influenced by his experiences as a father which he titled Eleuthera.
The artist currently lives and works in New York with his wife Liliane and their son in an established base in downtown Manhattan, a place which he describes as, "prosperous, ruthless and filled with exotic energy". He also has studios in Barcelona and Berlin, and as an escape from the city, a second home in the wild, Bavarian countryside south of Munich. His interest in the solidity of art continues today and he said in a recent interview, "A lot of people are interested in art as a form of entertainment or as a one-liner. I'm interested in mystic profundity, primitive utterance and the whole pathos of the history of painting. This is a deep ambition".
The Legacy of Sean Scully
Scully is known today for his vital contribution to American abstract art in the 1970s and 1980s, bucking the trend for figurative Neo-Expressionism in favour of a deeply personal, lyrical language.
His powerful, bravado paintings have contributed to the argument that abstraction is still a current and relevant language with endless possibilities, and his ongoing explorations into a Post-Minimalist language have strongly influenced the next generation of painters who continue to pursue avenues of possibility opened up by his practice. For example, Scottish artist Calum Innes' drip paintings share Scully's contrast between hard edge and loose paint, creating the same open and closed figure-ground relationships. Bernard Frize explores visible, geometric brushstrokes reminiscent of Scully's later paintings, with vivid colors and sleek surfaces creating a contemporary abstract language. Angela De La Cruz, Avery Preesman and Adrian Schiess all produce work that exists in the middle ground between painting and sculpture, giving many of their artworks a raw anti-figurative status. Phyllida Barlow's monumental sculptures, meanwhile, juxtapose grids and gestural expression, echoing much of Scully's work. Scully was elected a Royal Academician in 2013 and has been twice shortlisted for the Turner Prize (1989 and 1993).
Content compiled and written by Rosie Lesso
Edited and published by The Art Story Contributors
"Sean Scully Artist Overview and Analysis". [Internet]. .
TheArtStory.org
Content compiled and written by Rosie Lesso
Edited and published by The Art Story Contributors
Available from:
First published on 06 Apr 2020. Updated and modified regularly
[Accessed ]