Progression of Art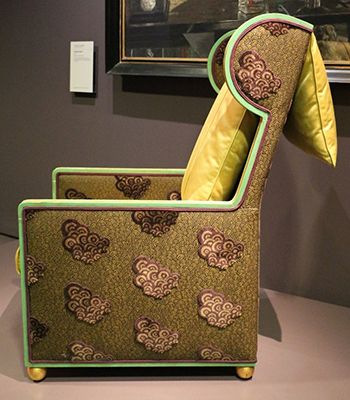 1913
Bergère dite à "Oreille cassée"
This early example of Ruhlmann's work already forebodes signature hallmarks, which would inform his Art Deco pieces of the 1920s that made him famous. The chair features four golden ball feet and a high back with oreille cassée, or, "broken ears," made to envelop the sitter in privacy. A matching gold-colored cushion folds over the top. A pattern of floral-shaped swirls covers the exterior of the chair, outlined in bright, light green trim. It was debuted at the 1913 Salon d'Automne at the Grand Palais in Paris.

This piece is indicative of Ruhlmann's style before World War I, when he was more inspired by the Art Nouveau and Arts and Crafts movements. For example, the print on the material is much busier than this later, sleeker fabric works. However, his use of expensive materials is already apparent. This piece contains the characteristics of the style philosophy that Ruhlmann maintained throughout his life: to provide luxury combined with comfort.
Wood, gold, lacquer, fabric - Musée d'Orsay, Paris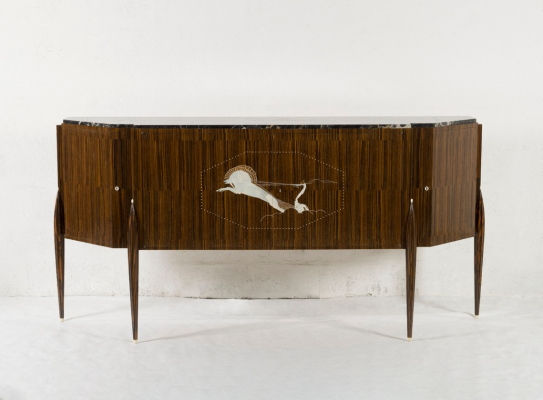 1921
Meuble au char
This monolithic console table looks heavy and sturdy yet seems to balance perfectly on four stiletto legs. Designed to be positioned against a wall, the console is beautiful yet understated and able to provide a backdrop to other stand out pieces of furniture in a room. The piece is intelligently functional: access to the console's cupboards is almost undetectable due to Ruhlmann's use of minimal keyholes.

The sleek design is enhanced by the expensive use of materials, namely Macassar ebony, an inlaid ivory chariot motif, and marble top. Macassar ebony was one of Ruhlmann's favorite materials due to its inherently striking and unique visual appeal. However, in this instance the designer used the nature of the wood subtly enough not to detract from the form of the cabinet.

This unique piece signifies the beginnings of Ruhlmann's experimentation with unusual materials and his move away from the styles other designers were producing in Paris at this time. He was starting to set himself apart from his Art Nouveau contemporaries with more simplified forms, which didn't imitate nature, but rather accentuated the intrinsic beauty of the materials themselves.
Macassar ebony, ivory, mahogany, marble - Musée d'Art Moderne, Paris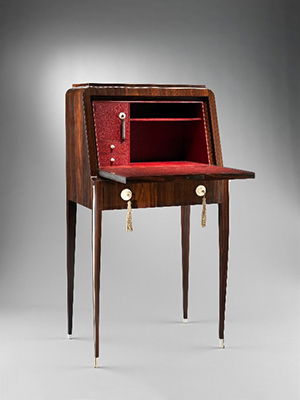 c.1923
"Tibattant" desk
This compact bureau combines Ruhlmann's signature ethos of marrying beauty and functionality in design. A fold-down front reveals the practical and organized interior, with shelves and compartments for the owner's paperwork and documents. This pragmatism is merged with opulence: the interior is lined in cherry-red leather and features delicate ivory handles hung elegantly with tactile silk tassels. The fold-down front also doubles up as a writing surface, before neatly closing to hide its function. A larger drawer underneath the fold-down front provides more storage space. Completing the piece are four slender tapered legs - another hallmark of Ruhlmann's work.

The desk's title alone demonstrates the influence of other cultures on Ruhlmann's increasingly luxurious designs. Translated as the "Tibetan" desk, it reflects the trend of foreign inspiration that was celebrated by the burgeoning Art Deco movement, in both its decorative trimmings and in its use of materials. For example, the tropical Macassar ebony wood, sourced from Cuba, was selected for its aesthetic effect as well as its practicality. This exploration of the exotic could be seen as a turning away from traditional French modes of design, and the popular Art Nouveau style, which sought inspiration from nature. As well as looking further afield in terms of materials, this bureau was a rethinking of classical design motifs seen in eighteenth-century furniture design, such as the delicate cabinets of the era of Louis XV. This combination of influences, which had never before been seen together, carved out Ruhlmann's distinctive reputation in the furniture market of France during the early 1920s.
Macassar ebony, ivory, leather, aluminum leaf, silver, silk, oak, lumber-core plywood, poplar, mahogany - The Metropolitan Museum of Art, New York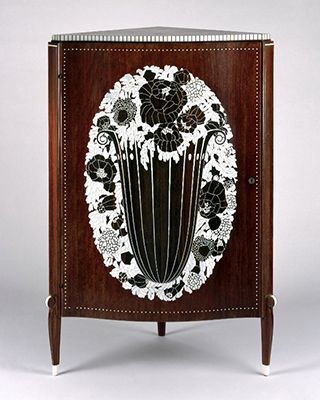 c. 1923
Corner cabinet
This example from Ruhlmann's collection of cabinet designs combines two straight sides with a slightly curved front, ideal for placing in the corner of the room. Given this positioning, it is quiet and unassuming, not intended to be a showstopper, or focal piece. The curved front opens to reveal a storage space with three removable shelves, providing both luxury and usability for the owner. The whole cabinet is completed with three slender legs; a signature Ruhlmann style derived from French cabinets produced during the reigns of Louis XV and Louis XVI.

This corner cabinet is a prime example of Ruhlmann's intentional choice of exotic materials. For instance, the kingwood veneer was chosen for its natural pattern, and strengthened by the mahogany underlayer. Ivory inlay was used to create the complex floral motif on the front. Ruhlmann further echoes this motif through subtle ivory touches throughout: the dots around the front of the cabinet, the squares along the top of the cabinet, and at the ends of the front two legs.

This cabinet also demonstrates a Ruhlmann specialty -his capability to adapt his pieces in accordance with a client's specific needs or tastes. The motif of the flowers in the vase proved so popular that it was also featured on the front of his "État" cabinet commissioned by the Metropolitan Museum of Art in 1925.
Kingwood veneer on mahogany, ivory - Brooklyn Museum, New York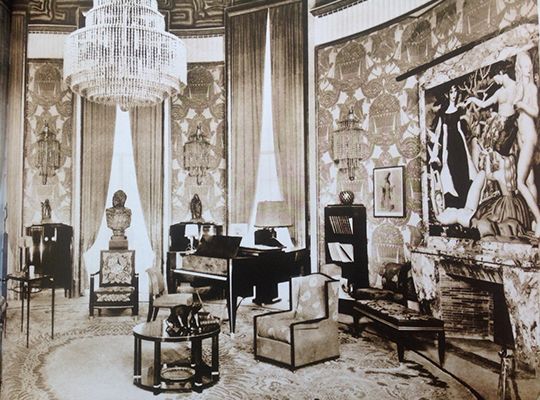 1925
The Salon of the Hôtel du Collectionneur
Ruhlmann's Salon of the Hôtel du Collectionneur was exhibited at the Exposition Internationale des Arts Décoratifs et Industriels Modernes in Paris in 1925. Ruhlmann's friend, the architect Pierre Patout, designed the pavilion itself, which included an entryroom, dining room, office, bedroom, bathroom, and this central salon. The salon featured an array of decorative art, including a prominent, large-scale painting by Jean Dupas, which hung above the fireplace. Interspersed into this staged environment were Ruhlmann's own designs, such as the grand piano crafted from Macassar ebony. Other collaborators represented throughout these interiors included the metalworkers Edgar Brandt and Claudius Linossier, the sculptors Joseph Besnard and Antoine Bourdelle, the silversmith Jean Puiforcat, and the ceramicist Jean Mayodon.

The Salon marked Ruhlmann's place as the leader of the Art Deco movement in France. It showcased his ability to both design and to curate, envisioning as a whole how his work would integrate with that of others in the home of a wealthy collector. It also gave potential buyers a glimpse into his longstanding principles of how form and function could be combined with elegance in one's home; a virtual advertisement for his talents that were seen by hundreds of thousands of visitors, some of which would become his most elite and illustrious clients. His collaborative working methods also created a space in which a client would be a connoisseur, collecting pieces from a variety of sources rather than just commissioning one producer.

The design historian Alastair Duncan described the critics' response to Ruhlmann's pavilion as, "unanimous in their choice of Ruhlmann's Hôtel du Collectionneur as the Exposition's most spectacular event."
Mixed media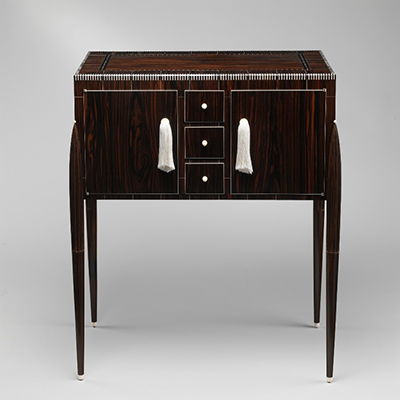 c.1925
Fuseaux Cabinet
Like other cabinets made by Ruhlmann in the first half of the 1920s, this Fuseaux cabinet combines beauty and utility, offering a functional piece of furniture for a discerning clientele. Formally, the cabinet is very simple, allowing for the natural grain of the Macassar ebony to act as decoration. Simple geometric inlays of ivory and silvered bronze complement the wood. The cabinet includes three small drawers in the center, flanked by larger compartments with silk tassels for handles. Finally, the cabinet rests on four slender legs. It has been suggested that the design was for a man's dressing table, but Ruhlmann's records also describe it as a liquor and cigar cabinet.

This specific cabinet was sold by the Établissement Ruhlmann et Laurent to the Metropolitan Museum in 1925, as a direct result of the company's participation in the Exposition Internationale des Arts Décoratifs et Industriels Modernes in Paris that year. The enthusiasm of globally renowned museums to immediately purchase and commission designs directly from Ruhlmann demonstrates his unique value: such museums rarely recognized talent during the creator's lifetime, preferring to collect posthumously.

Only seven productions of Ruhlmann's Fuseaux cabinets are known to exist, including this one,and one in the Musée des Beaux-Artes in Lyon, France, all created and sold between 1920-1949. Ruhlmann's meticulous records show that about 50 working hours were required just to produce one of the cabinet's legs. This level of attention to detail and craftsmanship was a hallmark of Ruhlmann's obsessive designs throughout his career.
Macassar ebony, ivory, silk, silvered bronze - The Metropolitan Museum of Art, New York
Related Artists
Related Movements & Topics