Biography of Georges Rouault
Childhood
Georges-Henri Rouault was born in a cellar on May 27, 1871 during the tumultuous "Bloody Week" at the end of the Paris Commune. A stray shell struck the family home and the young expectant mother had to be moved into the cellar where she gave birth to her second child.
A frail little boy, Rouault spent a happy childhood in the working area of Belleville in Paris. His father, Alexander, was a carpenter employed in the Pleyel piano factory, and he soon became heir to his father's love of craftsmanship. Rouault's whole family shared an interest in creativity and encouraged Georges's love for art. Indeed, his grandfather (on his mother's side) had built up a collection of Honoré Daumier's lithographs and reproductions of paintings by Rembrandt, Courbet and Manet and Rouault would later comment that he went to school first with Daumier.
Early Training and Work
Rouault began to draw at an early age and by the age of fourteen he was working as an apprentice to a glass painter and medieval windows restorer named Georges Hirsch. This early life experience is often said to be the source of the heavy black lines that characterize Rouault's mature style. Even after a long day at work, he would walk to the other side of Paris to draw from antiques and from life at the School of Decorative Arts. He would also spend Sundays at the Louvre making sketches.
Aged eighteen, Rouault enrolled in the School of Fine Arts in Paris. Like Matisse, Marquet and Camoin, he studied under the renowned Symbolist Gustave Moreau. Rouault soon became his Master's favorite pupil and his personal friend. Moreau was a progressive, open-minded tutor who conscientiously cherished and respected the unique personalities of his students and would always strive to give his pupils the space to develop their individual artistic predilections.
Numerous works from this period display the influence of Moreau on the young Rouault who fantasized about winning the famous Prix de Rome. In 1894, Rouault won the Prix Chenavard but failed in his attempt to win the more coveted Prix de Rome. After that failure (twice), Moreau himself advised his mentee to drop out of school and to continue his career independently. Rouault left the school but Moreau continued to encourage him. Indeed, the pair formed a strong bond and Rouault would usually adhere to his mentor's advice. Still in his early twenties, Rouault started to contribute annually to the Salon des Artistes Française. He also began to visit the Ambroise Vollard gallery where he saw works by artists of the calibre of Cézanne and Gauguin.
The sudden death of Moreau in 1897 devastated Rouault. Around the same time, his parents moved to Algeria to support his sister whose husband had passed away. Despite being entrusted and appointed Curator of the Moreau Museum in 1898, Rouault fell into a deep depression. He endured a violent crisis and a long period of solitude and sorrow that he called his "abyss". He stopped painting for a while. "It was then," he commented later, "that I learned the truth of Cezanne's famous words, 'Life is horrifying'".
In 1901, Rouault decided to spend some time at the Benedictine Abbey of Ligugé where his friend, the novelist Huysmans, wanted to create a secluded community for Catholic artists. The artist had converted to Catholicism in 1895 and was close to the French Catholic intelligentsia of the time. At Ligugé, the group agreed to resist publicity and everything that flattered their creative vanities. Rouault, indeed, resolved never to pander to public taste. The passing of the so-called Waldeck-Rousseau law against religious associations in 1902 led to the dissolution of the community and Rouault returned to Paris. Later that same year, he spent some time in the resort area of Evian-les-Bains where he finally recovered his equilibrium. He resumed painting with a renewed vigor and reflected: "I underwent a moral crisis of the most violent sort. I experienced things which cannot be expressed by words. And I began to paint with an outrageous lyricism which disconcerted everybody".
Inspired by Moreau's ideas and his own philosophical and religious beliefs, Rouault developed a highly individual expressive style, and picked subject matters that reflected his personal mistrust of the corruption and complacency of bourgeois society. He would soon abandon Moreau's symbolism and directed his attention to the display of human misery. He started to haunt law courts and began depicting corrupt judges in a Daumier-like style. With some fellow-artists, he asked prostitutes to come to his studio to paint them. His fascination with outcasts and entertainers such as clowns, acrobats, jugglers and dancers helped him to experiment with form and color, while ruminating thematically on human misery and loneliness.
His well-known attraction to clowns started as early as 1905 when the artist happened to witness a scene that would mark his vision of life. While out walking one day, the artist came across a "nomad caravan, parked by the roadside". It was a circus, preparing for its next public performance. Rouault's eye fell upon one of the figures: an "old clown sitting in a corner of his caravan in the process of mending his sparkling and gaudy costume". The artist was intrigued by the contrast between the clown's "scintillating" costume and ostensibly happy demeanour, and his private life "of infinite sadness" which he saw reflected in all people: "I saw quite clearly that the 'clown' was me, was us, nearly all of us [...] We are all more or less clowns" he concluded.
Inspired by his observations on everyday reality, Rouault imbued his paintings with human experience. His output at that time is characterized by the violence of the drawing and the dynamism of the line. In a heartfelt reaction against academicism, he had already taken part in the creation of the progressive Salon d'Automne of 1903. He would soon participate himself, notably in the 1905, when he exhibited with to the Fauves and Matisse. He was indeed an affiliate of the Fauvists and experimented himself with pure color, form and composition. Matisse and Rouault shared a fruitful working relationship as testified to in their long correspondences. Moreau had been central to both men's artistic development. Color was central to both men's aesthetic but, unlike Matisse, Rouault added bold heavy lines to his jewel-like tones and drew on his Catholic faith for his subject matter.
Rouault was a taciturn man who seldom visited cafes and never really participated in the Bohemian life of Paris, preferring to stay closer to Catholic circles. He had by this time discovered the writings of the radical and polemical Catholic Leon Bloy and he embraced the ideas of a writer who preached spiritual revival through suffering and poverty. Bloy was, however, known for his bigotry and bad temper and he hated Rouault's paintings which he found ugly. Nevertheless, the two men remained close friends until the writer's death in 1917. The painter was particularly struck by the novel La Femme Pauvre. The book follows the miserable life of a woman named Clotilde who, animated by her strong faith, is able to endure all her sufferings. Rouault was deeply inspired by the book and based some of his characters on Clotilde. He introduced Bloy to painter George Desvallieres who had been Moreau's pupil as well and a founder of the Salon d'Automne. After meeting with Bloy, he became, like Rouault, a militant and engaged Christian artist who championed avant-garde art. The two artists would in fact share a friendly working relationship for many years to come. In 1908, Rouault married Marthe Le Sidaner, a pianist and the sister of the painter Henri Sidaner. They would remain married until the end of his life, raising four children together.
Mature Period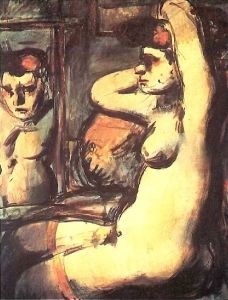 Rouault started to gain some recognition in the art world during the 1910s. Heavier forms outlined with thick black lines and oils began to appear in his painting in this period. He also started to experiment with other media, especially engraving. In 1910, Druet gave him his first solo show, yet despite this early success, the artist cut a poor, solitary figure. The humble income from his steady job at the Moreau Museum was not enough to sustain the whole family and in 1912 the Rouault family moved to Versailles where they lived in a squalid, rat-infested, house in an old quarter of the town. Within a few days of arriving in Versailles, Georges's father, with whom he had had long discussions on the nature of art, died. This was yet another shattering blow for the painter and he found comfort in the company of Jacques Maritain, another member of the Catholic revival movement. Maritain was a respected philosopher who had converted to Roman Catholicism in 1905 (having also fallen under the influence of Bloy). This period proved a turning point for Rouault's whose art would become more and more Catholic in its outlook.
Unable to lessen the pain from his father's passing, Rouault started a series of Indian ink drawings, which would eventually serve as the base of the engravings of his monumental masterpiece, the Miserere book. Rouault would have to wait until 1948 to see this project reach fruition when the book was published with a total of 58 engravings. The initial drawings were all based on the 50th Psalm of Repentance in Catholic liturgy, Miserere mie Deus, but Rouault was also influenced by the horrors of World War I, and his own concern for the marginalized in society.
During WWI, the artist was declared unfit for service. The whole family moved to the country in Normandy where Rouault was still able to paint in relative peace. The image of Christ would become more and more prevalent in his output and in 1917 Rouault signed a contract with art dealer Ambroise Vollard. The artist had known the dealer for many years and had started to discuss their terms as early as 1913. Rouault finally decided to give Vollard artistic exclusivity in return for a fixed salary; the dealer even made a studio available on the top floor of his own house where Rouault was able to work at his own pace. Rouault had achieved financial peace of mind and was now able devote all his energies towards his career. However, Vollard was known to be a jealous and controlling patron who liked to monopolize the work of his artists.
Vollard loved books and prints too and commissioned many illustrated books from Rouault. Vollard became more and more demanding and the artist painted less and less, concentrating more on printmaking. He illustrated several book during this period including the sequels to Pere Ubu by Alfred Jarry (1927) and the Fleurs du Mal by Charles Baudelaire (1928). In 1928, Rouault and his "brother in art", the poet and critic Andre Suares, had completed a book project on which they had worked together for several years. Vollard, who harbored a petty grievance against the poet, refused to publish Suares's writings. Though frustrated, Rouault agreed to replace Suares's poetry with his own writings, naming the finished book The Circus of the Shooting Star.
Despite his forays into printmaking, Rouault, from the period of 1927-8, committed to paint only in what would become his signature style: heavy black lines encircling colors and shapes. He took the decision to use only oil, abandoning watercolor and gouache altogether. Clowns, prostitutes, but also the figure of Christ, dominated his work. His Catholic worldview had grown stronger over the year and brought to his output an even highly spiritual dimension. As scholar William Dyrness stated: "Rouault searched to paint the archetype of the human condition in the figures of clowns, prostitutes and lower-class people who are to be ameliorated by family solidarity or the presence of Christ".
During his mature period, Rouault participated in many exhibitions and these proved relatively successful with the critics. In 1929, he designed the décor and costumes for the ballet The Prodigal Son for his friend Sergei Diaghilev and in 1937, Rouault gained worldwide recognition when he presented forty-two paintings at the Paris World's Fair. Outside of France, meanwhile, Matisse's son, Pierre, would give Rouault three solo exhibitions at his gallery in New York between 1933 and 1947.
Late Period
In 1939, Vollard was killed in a car crash and Rouault found himself suddenly released from his contract with his dealer. However, Vollard's estate sealed the entrance to his house preventing Rouault from retrieving his sketches, notes, and unfinished artworks. World War II had forced Rouault to leave Paris for the south of France long before the matter was resolved. Once in the south, however, he joined other displaced artists and continued to paint.
It is not until 1947 that Rouault was able to finally settle his legal case against the Vollard estate. He had successfully sued Vollard's heirs for the return of some 800 paintings, claiming that they were unfinished and that his reputation as a painter would be damaged by their sale in an unfinished state. The court decided that the painter was the rightful owner of his own paintings - "provided that he had not given them away of his own volition" - and he secured the return of over 700 unfinished paintings. A year later, before a public notary, Rouault burnt 315 unfinished works that he felt he could no longer complete. He would burn more works a few years later. For the artist, it seems, the trial was a moral more than a material triumph.
Happy and contended, warmer tonalities began to appear in his paintings. The final ten years of his career are characterized by brilliant colors, less earnest pictures, and the return to landscapes. He would experiment with colors until the end of his life. Finally in 1949, the Catholic Church commissioned windows from him for the church at Plateau d'Assy, in Haute-Savoie, France. By 1956 Rouault was too frail to paint and in 1958, he died at the age of 87. He became the first artist in history to be given a state funeral by the French government. In 1963, his family donated almost 1000 unfinished works to the French State.
The Legacy of Georges Rouault
Rouault holds a special place in the history of modern art. He was contemporary of the Cubists, Fauvists and Expressionists without ever joining their ranks. He developed a highly individualistic style but because he was a passionate Catholic, and often depicted religious themes, he was never fully accepted as a modernist artist. Clement Greenberg had dismissed him by saying in 1945: "That Rouault, pictorial exponent of the pornographic, sadomasochistic, 'avant-garde' Catholicism of Léon Bloy, should be hailed as the one profoundly religious painter of our time is one of the embarrassments of modernist art". He was mistrusted both by modernists, who found him too conventional, and by religious writers who found his religious sensibilities not traditional enough.
Rouault's legacy only started to be reevaluated in the 1980s. Today, critics tend to consider him more as an artist who demonstrated an unique ability to marry modernist experimentation with faith and spirituality. His friendship with ambiguous radical catholic figures has also been recontextualized in 20th century France. More emphasis is given to Rouault's commitments to social and political issues and to the plight of marginalized groups. His long trial also set a precedent in the history of ownership and copyright in France. The legislation was favorable to the artist and mandates that an artist owns his or her art.
Interestingly, Rouault's work is greatly appreciated in Japan. He is revered by Japanese calligraphers who celebrate his lines, comparing him with the greatest Chinese calligraphers. One Zen master even said: "Rouault's lines contain the weight of life". Japanese artists look beyond his subject matters and focus on Rouault's mastery of drawing and on his profound spirituality.
Content compiled and written by Pich-Chenda Sar
Edited and revised, with Summary and Accomplishments added by Antony Todd
"Georges Rouault Artist Overview and Analysis". [Internet]. .
TheArtStory.org
Content compiled and written by Pich-Chenda Sar
Edited and revised, with Summary and Accomplishments added by Antony Todd
Available from:
First published on 26 Feb 2020. Updated and modified regularly
[Accessed ]