Artists
Richard Prince
Biography and Legacy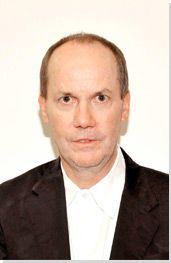 Born: 1949 - Panama Canal Zone

From Our Sponsor
"So sometimes it's better not to be successful and well known and you can get away with much more. I knew what I was stealing 30 years ago but it didn't matter because no one cared."

Biography of Richard Prince
Childhood and Education
Richard Prince was born in 1949 in the Panama Canal Zone, where his parents were stationed with the United States government. In an interview with the English author, J.G. Ballard, eighteen-year old Prince maintained that his parents worked for the Office of Strategic Services (OSS), a forerunner of the modern CIA; given Prince's love of hoaxes, however, and Ballard's later career as a renowned science fiction novelist, this claim is dubious at best. The family later relocated to Braintree, Massachusetts, outside of Boston. Growing up in the 1960s, he embraced the era's distinct counter-cultures, even attending Woodstock. Prince admits to exhibiting obsessive tendencies in his adolescence, such as rearranging his room multiple times and vacuuming his carpet into patterns.
After graduating high school in 1967, Prince made a short trip to Europe, returning to the United States to attend Nasson College, a private liberal arts college in Maine. In 1973 he fulfilled his dream of moving to New York City, where he juggled several odd jobs; most notable was his stint at Time Inc. where he worked in the tear sheet department. Responsible for distributing articles within the company, he would clip them from magazines, leaving behind images and advertisements. Through this process, he discovered his first source of inspiration: the repeated cliches and patterns of advertising. In a process that the artist compares to beachcombing, Prince dug through pages and pages of unwanted magazine ads and began to experiment with them.
Early Period
Without any traditional artistic training, Prince's emergence into the art world was more notable for his exploration of contemporary art theory, than for his technical proficiency. He began by collaging and re-photographing images from marketing campaigns and mass media sources. These techniques of appropriation were part of a larger movement, often referred to as the Pictures Generation, of questioning authorship, originality, and tradition. He mined stereotypes of American culture and various subcultures, selecting their most recognizable attributes and isolating them from any supporting context. His Cowboy series, re-photographed images of the iconic Marlboro Man without any advertising text, was an early success. He used similar strategies of appropriation for his Girlfriends series, which used images of biker girls from motorcycle and car magazines, and his Nurse paintings, drawn from the covers of pulp fiction novels.
While Prince began as a photographer, he has explored different media, including painting, digital manipulation and even three-dimensional work. He uses readymade materials, such as his Hood sculptures, which are made from mail-ordered car hoods, painted to reflect the American fetishization of the car.
Prince's fame grew quickly: within 12 years of his first solo show in the city, Prince was given an exhibition at the Whitney Museum of American Art and his work began breaking records at auction. Prints of his Cowboy (2000) and Spiritual America (1981) rank among the 10 most expensive photographs ever sold at auction.
Current Work
In recent years, Prince's use of appropriation has been problematic, resulting in multiple lawsuits. Shortly after Prince joined the Gagosian galleries in 2008, his "Canal Zone" series sparked a costly lawsuit when the French photographer, Patrick Cariou, sued Prince for the unlawful use of his original photographs. A number of Prince's paintings in this series were based on photographs taken by Cariou. The case has remained influential, weighing artistic freedom and fair use guidelines against copyright protections. The rulings were mixed, initially supporting Cariou's claim and then supporting Prince upon appeal. The case was settled in 2014, allowing that 25 of 30 paintings from he "Canal Zone" series did not violate Cariou's copyright, with an out of court agreement compensating the artist for the additional five images. Prince's most recent series, New Portraits (2014), based on Instagram photos, has also resulted in legal action by the original photographers, a matter that remains unresolved at the time of this writing.
A bibliophile, Prince collects rare editions of books. He specializes in texts by the Beat Generation, a group of writers in the 1950s known for their antiestablishment stance and emphasis on spiritual, but not necessarily religious, themes. Prince owns a copy of On the Road inscribed to Jack Kerouac's mother as well as the copy formerly owned by Neal Cassady, Kerouac's close friend and inspiration for a central character. In 2011, the Bibliotheque Nationale de France held an exhibition, "Richard Prince: American Prayer," of Prince's books paired with his artwork. The artist also funded a library in his local town to house his collection.
The Legacy of Richard Prince
Continuing a practice that began in the era of Andy Warhol and Pop art, Prince's practice of blurring the boundaries between fine art and advertisement, along with his frequent and unapologetic use of appropriation has altered the ways in which artists understand their ownership of images. His use of visual cliches reinforced Cindy Sherman's exploration of visual stereotypes and his method of rephotographing influenced Sherrie Levine's reproductions of modernist art. His brazen and unapologetic manner was an important model for the Young British Artists (YBAs), especially the work of Damien Hirst. Nearly forty years after first stirring controversy, Prince continues to be one of the most provocative artists working today.
Most Important Art
Spiritual America (1983)

Prince's most infamous appropriation presents us with a highly disturbing image and questions of authorship, ownership, and consent. Originally taken by a commercial photographer, Gary Gross, in 1976, this photograph of a young Brooke Shields is unsettlingly near to child pornography. Shields, age 10, stands at the center of the frame, her arms outstretched to expose her nude figure. Her gaze meets that of the viewer with a look that is disconcertingly alluring. Light from the window bounces off her glistening skin and the white smoke that rises up to her knees. This mature expression and seductive stance are in direct conflict with her undeveloped body and obvious youth. It is doubtlessly a provocative and highly sexualized image of a prepubescent girl.

While the image is visually troubling, the story of its origin is also unsavory. The original photograph had been taken with the consent of Shields's mother, who sold Gross the unlimited publication rights for $450. At the time, in 1976, Shields was relatively unknown. In 1983, the year of Prince's rephotograph, Shields and her mother had sued Gross in an attempt to suppress the image, but were unsuccessful. In the press surrounding this court battle, the photograph was never reproduced by the mainstream media, but Prince found it in an adult publication (Little Women), rephotographed it, and presented it in a gallery on the Lower East Side of Manhattan. Visitors to the show were only admitted by invitation, transforming the exhibition into an elite event; yet, as this was the only image on display, viewers had to acknowledge that they had come specifically to see this controversial work, making them complicit in the exploitation of the young Shields. Prince therefore exposed not only the salacious work, the dubious conditions of its origin and the consent of the subject, but also the public's fascination with scandal. The title of Prince's rephotograph and of the exhibition, Spiritual America, was taken from a pre-existing source, an Alfred Stieglitz photograph of a gelded horse, often interpreted as a critique of American prudishness or repression.

The recontextualization of this disturbing photograph reveals a distinction between fine art and commercial photography: in its original context, meant for distribution in adult publications, the work borders on child pornography; presented as an artwork, Prince joins a tradition of representing the female (including the prepubescent) nude. Rather than clarifying the distinction between high and low art, however, Prince's rephotograph lingers in the gray area between them; he has created a work that speaks the language of both the highest and lowest registers of culture, without resting completely in either one. The framing of Shields's highly aestheticized body between two figurative sculptures recalls a tradition of figurative painting. In the gallery context, viewers are expected to dispassionately appreciate her beauty, and yet, this new context does not entirely erase the traces of the image's origins, something uncomfortably tawdry remains. Even the lofty title, Spiritual America, does not transform the photograph into high art, but helps to position Prince's work as a critique of American culture, exploitation and ambition.

Unsurprisingly, the work remains highly controversial. In 2009, it was banned from an exhibition at the Tate Modern in London at the demand of the police. The photograph was replaced by a 2005 version, Spiritual America IV, in which Brooke Shields, then 40 years old, reproduced the original pose while dressed in a bikini. This work has been applauded for returning agency to Shields, who acknowledges the original photograph while choosing, as an adult, the terms of how she wants to display her body.

Read More ...

Richard Prince Artworks in Focus:
Richard Prince Overview Continues Below
If you see an error or typo, please:
tell us
Cite this page

Content compiled and written by The Art Story Contributors
Edited and revised, with Synopsis and Key Ideas added by Sarah Archino
" Artist Overview and Analysis". [Internet]. . TheArtStory.org
Content compiled and written by The Art Story Contributors
Edited and revised, with Synopsis and Key Ideas added by Sarah Archino
Available from:
First published on 22 Jul 2016. Updated and modified regularly.


[Accessed ]