Progression of Art

c. 1936-8
Animal Head
This work, an abstracted study of an animal head, shows Pousette-Dart's interest in tribal and Jungian themes of confrontation and sacrifice. These themes are the main focus of his work in the 1930s and early 40s. The oval shape is repeated and modified to suggest eye, horn, egg, yolk, and fetus, all surrounded by his characteristic black contour line.
Oil on canvas - Hollis Taggart Galleries, New York, NY

1941-2
Symphony No. 1, The Transcendental
Symphony No. 1, The Transcendental is a large painting, considered by many to be the first mural-scale work of Abstract Expressionism. Evoking at once musical notes, cell-like squiggles, and the orbits of a planetary system, the work suggests the universal forms that inhere in the world at large. While the spiritual theme and many of the shapes are familiar from his 1930s work, Pousette-Dart's style has become more painterly and textured.
Oil on canvas - Metropolitan Museum of Art, New York, NY

1951
Chavade
Pousette-Dart created a number of works in the early 1950s like this one, using pencil and white paint on canvas or board. Originally prompted by a tight budget, the approach shows Pousette-Dart exploring an ethereal side to the abstract grids of Picasso and his New York School heirs. One can discern the characteristic ovals, eye-shapes, and arcs, but rendered in a softer and more --- manner.
Oil and pencil on canvas - Museum of Modern Art, New York, NY

1958
Illumination Gothic
Pousette-Dart developed his pantheon of diamonds, circles, and organic shapes into vertical compositions in the 1950s and 60s. The thickly layered forms in this work suggest an underwater seabed, a stained glass window, or the streaming refractions of filtered light. Where in earlier paintings there are still some distinct, quasi-representational forms, the elements here are abstract and fluid, diffused across the colored ground.
Oil on linen - Estate of Richard Pousette-Dart

1961
Golden Presence
With its allover style of colored dots, Golden Presence exemplifies Pousette-Dart's pointillist approach. Up close, one can see the highly textured surface daubs and marks. From far away, the densely layered surface suggests a landscape, garden, or other spatial presence. Pousette-Dart here evokes the spiritual element not through suggestive subject matter but through color, texture, and the veil-like, shimmering surface of the work.
Oil on linen - Valerie Carberry Gallery, Chicago IL
1987-90
Now a Turning Orb
In Now a Turning Orb, Pousette-Dart employs familiar forms from his career, like nested circles, pointillist dots, and curved arcs and lines. Here, as in many of his late works, Pousette-Dart balances a sense of structure and harmony (in the even weave of the gridded forms and the central circle) with dynamism and energy (in the vibrating brushstrokes and the sense of whirring motion).
Acrylic on linen - Private collection, Munich
Similar Art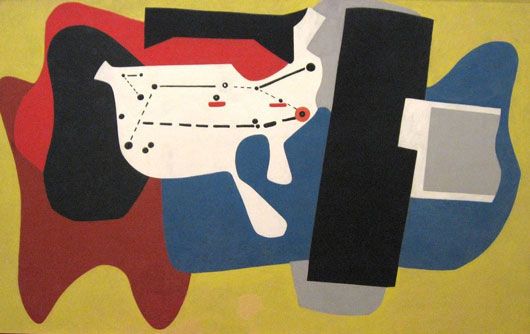 Aviation: Evolution of Forms under Aerodynamic Limitations (1937)

Pictograph (1946)
Related Artists
Related Movements & Topics