Artists
Michelangelo Pistoletto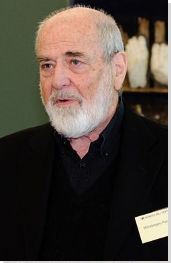 Michelangelo Pistoletto
Italian Sculptor, Painter, Conceptual, and Performance Artist
Movements and Styles: Arte Povera, Conceptual Art
Born: June 25, 1933 - Biella, Italy

"At the crossroads between abstraction and representation, where I think every young painter today has passed or remained, I chose the representation of humans, because I feel it best suited to realizing my need to express particular feelings and situations of the human condition, what for me is the most vital and burning issue of all time."

Summary of Michelangelo Pistoletto
Though well-trained and with a facility for classical painting techniques, early in his career Pistoletto developed a stronger interest in the conceptual aspects of art objects. This included his use of humble materials such as tissue paper and mirrors, which helped lay foundations for the Arte Povera movement. Influenced by the social implications of more experimental tendencies in theatrical performance of his time, Pistoletto promoted a greater role for art in society and politics through his later projects that attempted to re-fashion the human world while involving many creative collaborators and crossing disciplinary lines, including mixing elements of music, theater, and installation, along with other visual art elements. He also designed works so that each would appear to be created by a different artist, defying notions of "branding" a signature style. Both playful (in his unconventional means) and serious (in his high-minded goals of changing the status quo), Pistoletto is a rare figure in arts practice for his commitment to do things differently, both in the art world and the world at large.
Key Ideas
Helping both set the goals and provide some idiosyncratic means for the Arte Povera movement's attempt to dissolve the borders between art and life, Pistoletto rejected conventional art world practices with his constant shifting of the type of work he created, and by his insistence on avoiding the creation of objects only for visual admiration.
Pistoletto's introduction of unusual materials as components in his sculptures, installations and paintings is meant to excite active participation by viewers not only with art but with one another and the world around them by bringing art into life, and life into art. He accomplished this whether through incorporating a viewer's own shifting image into a painting, or by engaging their own ideas, or physical or social interactions to become part of the works of art. He didn't simply create such works to be "finished" once and for all, but rather launched them into the world to live their own complex, unfolding lives with the help of their audiences and viewers.
Both the content of the art experiences he produced as well as the locations he produced them in - insisting on occurring outside traditional gallery and theater spaces, and with the engagement of non-artists from all walks of life - have sought a more significant role for art in the real world through projects that have attempted to transform economics and politics as well as the environment.
Michelangelo Pistoletto was born into an artistic family. Before his parents' marriage, his mother Livia Fila, was a pupil of his father, artist Ettore Olivero Pistoletto. A year after Pistoletto was born his father moved the family to Turin and opened an art restoration workshop. As a child, Pistoletto's father taught him how to draw, and at age fourteen he began working in his father's workshop. Pistoletto learned about art history through studying the important old master paintings that his father helped to restore. Pistoletto described how, despite his father's wishes that he too become a painter, from a young age he had no interest in painting only the landscapes and still-lifes he might see, but looked to question the nature of both reality and representation. He did this while re-activating viewers experiences with art objects in order, as he later stated about his work, "to give a part of myself to those who wish to give a part of themselves." That is, he sought to make a more dynamic, shared exchange between artists and audience.
| | | |
| --- | --- | --- |
| Michelangelo Pistoletto's childhood, life, career, and various anecdotes | | Read Michelangelo Pistoletto's Biography |
Important Art by Michelangelo Pistoletto

The below artworks are the most important by Michelangelo Pistoletto - that both overview the major creative periods, and highlight the greatest achievements by the artist.


Artwork Images

Tre ragazze alla balconata (Three Girls on a Balcony) (1962-1964)

Artwork description & Analysis: Tre ragazze alla balconata (Three Girls on a Balcony) is one of a series of paintings on reflective materials that artist Michelangelo Pistoletto began working with starting in 1961. In this work's foreground, three women look out over a balcony rail into a gallery while reproductions of paintings resembling those of artists Ellsworth Kelly and Andy Warhol have been placed in the background. The mirror paintings, which form the foundation of Pistoletto's body of work, were an important example of work created as part of the short-lived Italian art movement known as Arte Povera. To create their work, artists associated with this movement used commonplace materials, such as clothing, rocks, and, in the case of Pistoletto, oil and pencil on tissue paper.

In this series, Pistoletto placed cut-outs of drawings on this paper onto the reflective surface of a mirror to allow for a secondary layer of engagement for viewers, who, beyond passively viewing the work, instead become part of the work, as his or her image - and the space from which they are viewing - is reflected back. When exhibited, Pistoletto's mirror paintings are often displayed at a height lower than standard museum levels - this viewpoint actually gives casual viewers the opportunity for both seeing themselves as part of the work of art and shift their , showcasing the works in the context of the surrounding environment.

Oil, graphite on tissue paper mounted to mirror-polished stainless steel - Collection of Walker Art Center


Artwork Images

Quadro da pranzo (Oggetti in meno) (Lunch painting [Minus Objects]) (1965)

Artwork description & Analysis: Quandro da pranzo (Lunch Painting) consists of a wooden frame containing simple geometric renderings of two life-size wooden chairs and a table, which, when hung, allows the gallery wall to be incorporated into the painting. Much about the work, including the furniture and even the title referencing a meal, begs for the viewer to use the object. And yet that capacity for use is withheld in the way in which the piece is presented - which is neither flat like a painted representation of a table and chairs, nor as fully three dimensional and free-standing as a functional version of those furniture items might be. In this way, Pistoletto transformed a utilitarian object into art. This work is part of the Minus Objects series created by the artist between 1965 and 1966 that consists of a variety of non-representational, self-contained objects that bear little resemblance to the artist's other work. Made early in Pistoletto's career, the artist considered these works to be an act of liberation and served as a kind of escape from the increasing demand for his mirror paintings. When first exhibited together in 1966 as an exhibition in the artist's Turin studio, the Minus Objects were not well received, in part because those in the commercial gallery world did not know how to represent or market them. Challenging notions of what is or could be art, this work and the Minus Objects are considered fundamental to the Arte Povera movement and would become one of Pistoletto's most important bodies of work.

Wood - Collection of Walker Art Center


Artwork Images

Venus of the Rags (1974)

Artwork description & Analysis: Venus of the Rags, Pistoletto's iconic large-scale sculpture, consists of a classically rendered figure of the goddess Venus staring into a colorful mound of rags and discarded clothing. The inherent tension that exists between the two strikingly different objects leads the viewer to contemplate a myriad of contradictions raised by the work such as classical versus contemporary, use of monochrome versus color, hard and soft, precious and common, highbrow and the everyday. As part of its efforts to better connect art and life, the Arte Povera movement attempted to critique established cultural institutions and undermine the prevailing commercialization of art by putting into the foreground unusual combinations of materials for making artwork.

In this work, the traditionally rendered marble Venus pays homage to the rich cultural history of ancient Roman culture. The rags, in contrast, are commonplace, many of them having been used by the artist himself while working in his studio. The placement of Venus so close to the pile of rags that her face can no longer be seen not only allows for the traditional to become eclipsed by ordinary materials, but shows the full spectrum of color and greater dimensions of the rag mound. The way the goddess is turned to attend to the rags - the sort of tools used to produce her statue - credit the labor of that creativity as essential and even more important than the statue itself.

Marble and textiles - Collection of Tate
More Michelangelo Pistoletto Artwork and Analysis:
Influences and Connections
Influences on Artist
Artists, Friends, Movements
Influenced by Artist
Artists, Friends, Movements

Interactive chart with Michelangelo Pistoletto's main influences, and the people and ideas that the artist influenced in turn.
View Influences Chart


Influences on Artist

Michelangelo Pistoletto
Years Worked: 1962 - present
Influenced by Artist

If you see an error or typo, please:
tell us
Cite this page

Content compiled and written by The Art Story Contributors
Edited and published by The Art Story Contributors
" Artist Overview and Analysis". [Internet]. . TheArtStory.org
Content compiled and written by The Art Story Contributors
Edited and published by The Art Story Contributors
Available from:
First published on 23 Jan 2016. Updated and modified regularly.


[Accessed ]