Progression of Art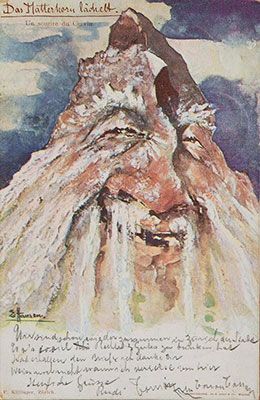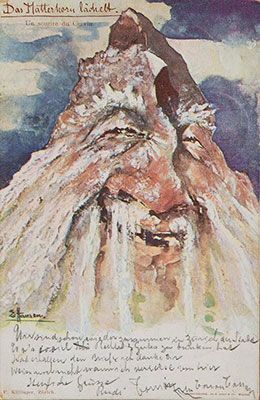 1897
The Matterhorn Smiles
One of Nolde's most commercially successful postcards, The Matterhorn Smiles anthropomorphizes that iconic Alpine mountain giving it human facial features. This photomechanical reproduction from an original lithograph, demonstrates that Nolde was already exploring ways to use the medium in less realistic and representational ways.

As Nolde discovered upon his arrival in Paris, this kind of image was related to the art of the Symbolists. Typically identified by emerging "eerie, phantasmagorical creatures," according to art historian Karl Ruhrberg, Nolde's postcards openly demonstrate an engagement with the same idea, turning mountains into grotesque, human-like figures (much like Odilon Redon did earlier).

The other, more abstract strain of Symbolism, represented by Paul Gauguin, combined color and Christian iconography in a new, expressive way that Nolde later made his own. Gauguin and his contemporary, Vincent van Gogh, who might be considered the forerunners of Expressionism, were both important influences upon Nolde. Like them, he does not use color to precisely render a photorealistic image, but rather to create a wistful look at an imagined scene. In his Matterhorn image, he uses an impressionistic approach to render the mountain but presents it as a face imbued with human emotion. By freeing the mountain from its grounding in nature, Nolde has established the basic premise for Expressionism as he later practiced it.
Photomechanical print in color on coated cream b-wove card, with inscriptions in pen and blue ink (recto) and pen and brown ink (verso); with postal stamps (verso) - Art Institute of Chicago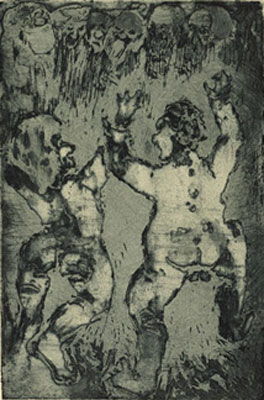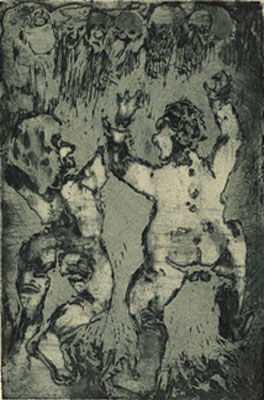 1905
Joy In Life (Lebensfreude)
Although Nolde was living in Berlin at the time this print was created, it is reminiscent of Matisse's fauve painting of the same year in both title and spirit. He produced Joy In Life shortly before joining the Die Brücke group after having been in conversation with its members during this period. Their influence can be seen most notably in the subject matter. The etching represents two exuberant figures, a man and woman, in the foreground dancing. The background recalls Nolde's earlier Symbolist influences in the row of mountains with human faces.

Dance was an art form that heavily interested Die Brücke artists. In many ways, it embodied important ideas about self-expression for the group. Its ability to be spontaneous, abstract and expressive without necessary concern for formalized technique fit with what the group was hoping to accomplish with their artworks. The accessibility of dance was also important; almost everyone can dance and use it as a form of self-expression, and the group was interested in finding new ways to relate to the masses.

As an etching, Joy In Life exemplifies how Nolde engaged with the medium in a new and dynamic way. Although he saw Dürer's masterful prints during his travels the previous decade, by this point, he was no longer interested in making prints from his etchings as exact reproductions. Influenced by the lithographs and prints of Honoré Daumier and Édouard Manet that he saw in Paris, he treated each print as a unique work. He experimented with technical aspects of the medium such as the amount of ink and paper types and pushed the medium to act beyond its original intention of easily duplicating an image with drawing-like precision. In doing so, and through teaching other artists his ideas and techniques, the nearly obsolete medium of printmaking, for which German art was known, saw a resurgence, and grew to become one of the most popular ways of proliferating art in early-20th-century Germany.
Etching (ink on paper) - Museum of Modern Art, New York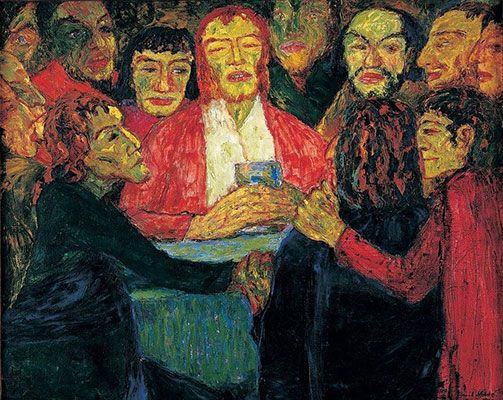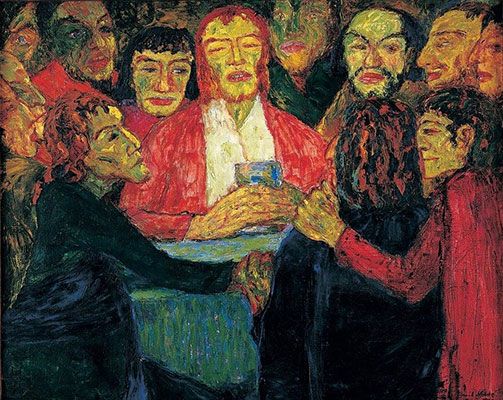 1909
The Last Supper
Religious subject matter appeared in Nolde's oeuvre shortly after recovering from a bout with food poisoning that nearly killed him. These works are widely considered to be his most powerful. The gaunt appearance of Christ in the piece has led some to speculate that Nolde identified with Him, having just recovered from a near death experience. The choice of subject matter may be attributed to Nolde's early travels that included a trip to Milan where he viewed Leonardo da Vinci's Last Supper. Its influence remained with him for years afterward. However, this painting is starkly different from traditional representations of the religious scene. There is no depth or spatial context to the space, no sprawling table, just 13 men mostly surrounding the central figure. The light source seems to come from Christ himself at the center of the canvas. Painted in bright yellows, reds, oranges, and white, Christ is almost crowded by darker figures, looking on as he holds a chalice in his hands. Nolde's concern with this piece was not to illustrate a scene from the New Testament, but rather to capture the emotion and experience of the event. The colors, composition, and loose brushstrokes, all hallmarks of the style of Die Brücke, work together to express how Nolde imagined that moment to be.

Painted just after leaving Die Brücke, The Last Supper met with great success. In 1912, it was acquired by the museum in Halle. It was not, however, without strong objection. Dr. William von Boden, a leading authority of the time, who had himself curated a collection of old master paintings in Berlin, strongly objected to its acquisition because of its non-traditional presentation.
Oil on canvas - Staten Museum for Kunst (National Gallery of Denmark)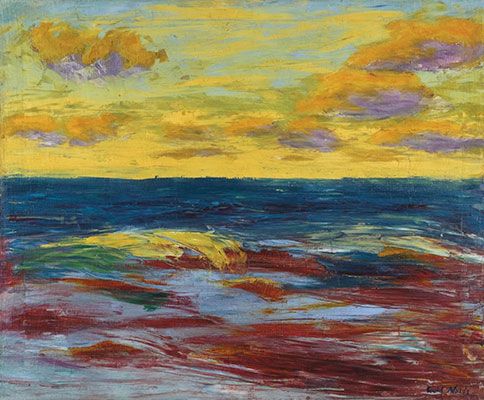 1910
Meer Bei Alsen (Sea Off Alsen)
From the spring of 1903 until 1916, Nolde spent the warmer weather in a remote cottage on the island of Alsen in the Baltic Sea. His isolated location allowed for few distractions and he increasingly used color to respond to the natural world around him. Seascapes characterized by constantly moving clouds and water were a favorite subject. They held an energy and expression that fascinated him, much like dance.

Meer Bei Alsen (Sea Off Alsen) is one of Nolde's earliest representations of the sea, showing waves crashing and clouds moving across the sky. His use of color moves away from that found in the natural world to the symbolic, where red, traditionally a hue associated with aggression and violence, suggests the force of an angry sea. Its unusual use in the foreground not only gives the sea movement but also a sense of foreboding in an otherwise serene composition consisting of complementary hues.

The broad brushstrokes, reminiscent of Van Gogh's Post-Impressionist style, convey the restless movements of the clouds while the complementary yellows and purples describe the ever-changing light and colors in a marine environment. While not an exact description of the natural world, the expressive use of color reflects it in this unique interpretation. Of his seascapes, art historian Max Sauerlandt writes that Nolde painted the sea, "eternally in motion, ever changing, living out its life in and for itself: a divine, self-consuming, primal force that, in its untrammelled freedom, has existed unchanged since the very first day of creation."
Oil on canvas - Private Collection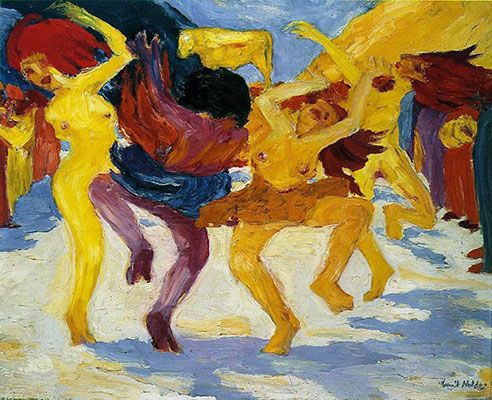 1910
Dance Around the Golden Calf
Dance Around the Golden Calf reflects Nolde's strong religious background and echoes Fauvism in its bold use of color and subject matter. In its depiction of naked or near naked women it suggests a nascent interest in Primitivism and offers a rationale for his later travels in the South Pacific where native societies had previously inspired the work of Gauguin.

The story that inspired the image is taken from the book of Exodus in the Old Testament. It was feared that Moses, who had left the Israelites for forty days to journey up Mt. Sinai, where he received the Ten Commandments, might not return. The golden calf was crafted in his absence to fulfill the spiritual needs of these unsophisticated people. The exuberant figures in the foreground dance with wanton excess before the false idol. They may be seen as symbols of the paganism and decadence that the commandments would rectify. In his use of bright colors, slashing brush strokes and uninhibited, rhythmic movement, Nolde uses the vocabulary of Expressionism to condemn the dancers without being explicitly didactic.
Oil on canvas - Staatsgalerie Moderner Kunst, Munich, Germany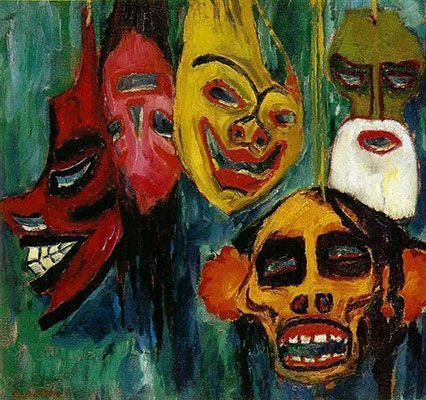 1911
Mask Still Life III
Mask Still Life III depicts five masks with various grotesque expressions. Although the painting is classified as a still life, it is anything but still. Masks, with their ability to convey a range of emotions, held a unique place in Europe, particularly in the north and were readily available for sale. James Ensor's Post-Impressionist piece, Portrait of the Artist Surrounded by Masks (1899), to which Nolde's painting is a clear response, shows Ensor surrounded by masks of a similar nature and may have been inspired by those hanging in his father's souvenir shop. Karl Ruhrberg writes that Ensor's piece is, "suffused by deep skepticism in the face of a materialistic world," and that this left him with, "his mistrust of the real world around him, and with an anxiety that causes him to see nothing but death and decay everywhere." Nolde's piece takes these motifs and pushes them farther - there is no human figure in his masks to ground the piece in the familiar or with whom viewers can identify.

Nolde's brushstrokes in this piece are as expressive as the masks; they have a wild, ominous urgency to them. The dark, greenish blue background provides a strong contrast to the rich yellow, red, and orange colors of the masks. With their frozen yet clearly conveyed emotion, masks as subject matter encapsulate the driving force behind German Expressionism.
Oil on canvas - The Nelson-Atkins Museum of Art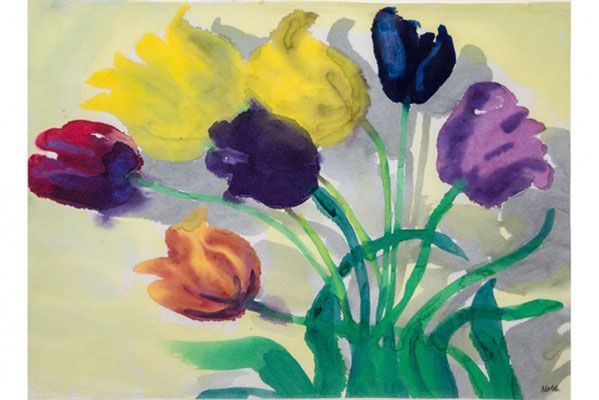 c. 1940
Tulips
An example of Nolde's watercolor works, Tulips shows a brilliant bouquet of the flowers against an indeterminate background. In a medium that is notoriously difficult to control, Nolde skillfully establishes the individual blooms with their subtle color and form variations without losing their individuality to back runs and blooms caused by using too much water. The bright, colorful composition with its subject matter of abstracted flowers becomes a completed composition in the Expressionist style itself and not a study for a larger painting. It is also a reminder of Nolde's interest in Van Gogh, who did many flower paintings, and also Wassily Kandinsky, his fellow member of the Blaue Reiter, who also worked in watercolor.

In his use of more unusual, darker colors for the flowers, it suggests the ominous period that was about to unfold both historically and personally for Nolde's. His watercolor paintings came to be regarded as a symbol of resistance to the Nazi regime. Ordered to stop painting after being identified as a degenerate artist, his decision to continue to paint using watercolors so the smell of oil would not alert officials is seen as an act of civil disobedience. Nolde also holds the dubious distinction of being the artist whose work was most confiscated by the third Reich.
Watercolor on Japanese tissue paper - Private Collection
Similar Art
Related Artists
Related Movements & Topics