Biography of Masaccio
Childhood and Early Years
Masaccio was born Tommaso di Ser Giovanni di Simone Cassai in the winter of 1401 in a town close to Florence. His father was Ser Giovanni di Simone Cassai, a notary, and his mother Monna Iacopa, the daughter of an innkeeper. Masaccio and his brother Giovanni both became painters, though neither of their parents had been artists. Their grandfather, however, was a maker of wooden cabinets (cassoni), which were often painted, and the family name Cassai comes from the word for "carpenter" in Italian. Giovanni continued work on such objects throughout his artistic career, earning him the nickname lo Scheggia (the splinter) on account of this, as well as his slim build.
Masaccio was apparently artistically inclined from childhood. He became known as, "Masaccio", meaning "clumsy Tom", because he did not pay any attention to people, politics, or his own personal appearance, preferring to focus on his art. With whom Masaccio trained is unknown, although it is likely that he would have taken up an apprenticeship in his teenage years, as was customary for young artists at the time. A century later, the early art historian Giorgio Vasari claimed that 'some figures made by him in his earliest childhood still survived in Masaccio's hometown, although any such paintings have now been lost.
Mature Period
In 1422 he joined a specialist Florentine painting guild, Florentine Arte dei Medici e Speziali, indicating that he was working as an independent artist in the city by this time. The exact date of Masaccio's move to Florence is unknown, and could have been as early as the occasion of his mother's second marriage in 1412.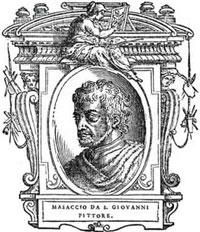 Not much more is known until, around 1423, he travelled to Rome with Masolino, an artist he would collaborate with throughout his career. There he studied the classical statues, whose forms he would begin to incorporate into his painting as he moved away from the then popular Gothic style. Upon his return, he began work on a number of panel altarpieces for churches in Florence, some with Masolino. The arts in Florence were thriving, and during this time Masaccio was exposed to the work of artists such as Brunelleschi and Donatello. Brunelleschi, an architect, had "discovered" the concept of linear perspective, which had a major impact on Masaccio's work, and the influence of Donatello's sculpture is evident in the "sculptural" depiction of figures in Masaccio's mature works.
Late Period
Masaccio's growing prestige reached a peak in 1425, as he joined Masolino to paint a series of frescoes to decorate the Brancacci Chapel in the church of Santa Maria del Carmine in Florence. These monumental frescoes would prove to be some of the most important of his career, featuring scenes from the bible that he painted to accompany those done by Masolino. When Masolino travelled to Hungary later that year, the decoration was left to Masaccio alone. He continued work on it for some time, even returning to the chapel in between working on other commissions. During this time, Masaccio began to receive other prestigious commissions, most notably for the fresco in the church of Santa Maria Novella.
Masaccio travelled to Rome in 1428, where he died in the second half of the year at the age of just 26. The circumstances surrounding his death remain mysterious. A rather dramatic account reports that he was poisoned by a rival artist (not impossible given the intense competitiveness of the art world at the time), although many now believe he died of the plague. In any case, as Brunelleschi said, in the death of Masaccio "we have had a very great loss".
The Legacy of Masaccio
Despite his short career, Μassacio proved himself to be one of the most important artists of the Early Renaissance. He is often seen as one of the first artists of the Renaissance proper, and his works were studied and used as inspiration by those in the movement after him such as Fillipo Lippi, Fra Angelico and Andrea del Castagno. Piero della Francesca was particularly influenced by his use of linear perspective, and later in the Renaissance Leonardo Da Vinci, Raphael and Michelangelo were all influenced by his sculptural depiction of the human form. Masaccio has rightly been heralded as one of the most important figures in the history of Western painting, introducing the perspective and naturalism that would characterise the art of the Renaissance, and continue to dominate Western European art until the late 19th century.
It is a testament to Masaccio's virtuosity that his influence did not die out with the Renaissance, or with the artistic upheavals of the late 19th and early 20th centuries, which began to challenge naturalism and perspective. Several members of the Bloomsbury Group, a close-knit artistic community active in the first half of the 20th Century, sketched his works in the Brancacci Chapel, studying his use of light to create solid sculptural forms. Of the Bloomsbury Group, his influence can be seen most clearly in the figurative paintings of Duncan Grant, who spent two years in Italy between 1902-3 copying Masaccio. Stanley Spencer, Philip Guston and Balthus also took inspiration from him, as did the artists of Pittura Metafisica, an Italian precursor to Surrealism, who looked to Masaccio for his use of form and linear perspective, as well as his role in their Italian artistic heritage. This is best seen in the paintings of Giorgio de Chirico, who incorporated both one-point perspective and the 'sculptural forms' - appearing as literal sculptures - from Masaccio into his own work.
Content compiled and written by Jacqueline Kent
Edited and published by The Art Story Contributors
"Masaccio Artist Overview and Analysis". [Internet]. .
TheArtStory.org
Content compiled and written by Jacqueline Kent
Edited and published by The Art Story Contributors
Available from:
First published on 19 Oct 2018. Updated and modified regularly
[Accessed ]