Progression of Art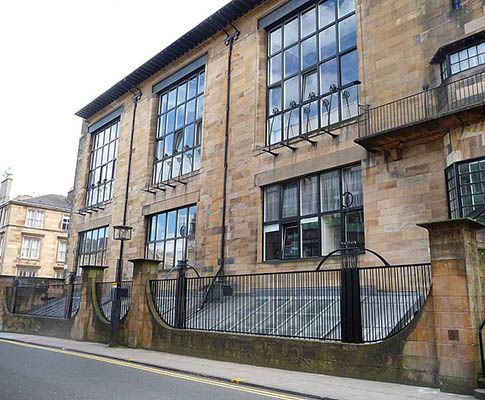 1899-1909
Glasgow School of Art
Mackintosh redesigned both the interior and exterior of the Glasgow School of Art to stand as a shining example of his early, forward-looking, pluralist architecture. The building was made of stone in order to reference Scottish Baronial tower houses, which Mackintosh considered incredibly modern in their original use of iron and glass. Mackintosh was always sensitive to surrounding architecture and existing national traditions but at the same time added his own free style aesthetics; on the left-hand side of the building there is an entrance reminiscent of an ancient ziggurat built to unusual, non-classical proportions. As such he seamlessly merges a wide variety of different influences.

Perhaps most prominently, and especially in the interior, Mackintosh displays his interest in Japanese design; as well as overall restrained decorative elements. He created a functional iron screen on the North facade which bears similarity to Japanese heraldic emblems or 'mon'. The exterior of the building served as notable inspiration for Bauhaus director Walter Gropius' Fagus Factory (1911-13), through its very similar rectilinear composition and window design.

From a philosophical perspective, Mackintosh sought to unite the body and spirit, and beauty and function through perfectly designed interior space. The library was built at the heart of the art school building and inside the space was carefully divided by wooden beams akin to Japanese houses and illuminated by large windows. This part of the facade stands in contrast to the East Front where windows were kept to a minimum. Art historian Alan Crawford described this part of the building, "a pause in the design, such as occurs between the chapters of a book or the verses of a poem."

The studio spaces within were simple and austere but were decorated - by balancing contrast - with exuberant floral ironwork akin to Hector Guimard's classic Art Nouveau designs for the Paris Metro (1900). Art historian Nikolaus Pevsner claimed such juxtapositions as "essential to grasp the fusion in his art of puritanism with sensuality." Traditionally furniture was viewed as an extension of architecture but for Mackintosh it served as more of a complement. The square chandeliers in the library as well as the curved and colorful shapes in the stained glass windows clearly highlight the artist's interest in Symbolism, and overall, the building has been dubbed by writer Cairney as "Mackintosh's self-portrait" and by the design historians the Fiells as "Mackintosh's masterwork".
Stone, Glass, Iron, Wood
1900
Interior for Mackintosh's Mains Street Flat
Mackintosh began to design the interior for his own Glasgow flat shortly before his marriage to Margaret Macdonald, and the two of them moved in soon afterwards. While Mackintosh largely left the original features intact he rearranged the rooms to create what Cairney has praised as a "living, three-dimensional work of art, a breathtaking space within four square walls". One of Mackintosh's friends, Muthesius, described the home as a "fairy-tale world" and noted that even a book left out would disturb the minimalist and perfectly harmonious scheme. Even the fireplace had been lovingly modified with a curved wooden top piece in order to soften it and to make the overall space feel more homely. The couple's furniture, pictures, and cushions for the cats were added.

There is a strong disregard for materialism illustrated by the clean lines, delicate coloring, and generally uncluttered interior. As such we are presented with a stark contrast to the heavily draped, ornate, and dark more typical British Victorian interior. Some furniture was brought from Mackintosh's Regent Park dwelling and modified slightly, whilst the tables, a smoker's cabinet for the dining room, a white writing desk and new decorative panels by Macdonald were all made specifically for the new residence. Quiet complementary color schemes were created, mostly grey and white, or brown, black and white (in the dining room), and this was all off set and completed by select Japanese prints and subtle arrangements of twigs and flowers.

It has been suggested by art historian Pamela Robertson, that the photographs taken of this flat could be considered misleading, for they were all taken in black and white. They were in fact highly interested in color and drawn to the enriching effect that touches of color could have. For example, the panels in the artists' bedroom were green and their stained glass was purple. They did not omit color as much as create a neutral space so that one could actually see color, a bit like a gallery in that respect.
Wood, glass
1900
Installation for the Eighth Secessionist Exhibition
In 1900 Mackintosh and Macdonald were invited by the architect and figurehead of the Viennese Secession, Josef Hoffman to present a collaborative design for "The Scottish Room" at the 8th annual exhibition of the movement held in Vienna. The result was a recreation of one of the many tea room interiors that Mackintosh had designed in Glasgow. Changes were made furnishing the space however, making it relatively sparse overall, but with a show-stopping piece by Macdonald hanging on the wall. Macdonald had made a large oil-painted gesso on hessian piece (her typical media) that featured five women depicted in her signature overlapping and floral style. It had originally been made for Miss Cranston's Ingram Street Tea Room and named The May Queen. Admired greatly by Mackintosh, he said of his wife's work, "Margaret has genius, I have only talent".

Some of the furniture included was in fact brought from the couple's Mains Street flat, whilst other pieces were made especially for the space. A magazine at the time, The Studio commented on the spirituality of the installation; "The composition forms an organic whole... the effect of sweet repose filling the soul." Muthesius, writing for Die Kunst, praised this installation as having "a seminal influence on the emerging new vocabulary of forms, especially and continuously in Vienna."

Mackintosh's biographer, Thomas Howarth wrote that after this exhibition the "the entire Viennese movement blazed into new life" with an "outpouring of decorative work and furnishing... bearing a striking superficial resemblance to that of Mackintosh." Two of the best examples of direct influence following Mackintosh's iconic display are Hoffman's Sitzmachine Armchair (1905) and Gustav Klimt's Beethoven gesso frieze (1902), although Klimt is more likely to have been influenced by the work of Macdonald.
Wood, glass, textiles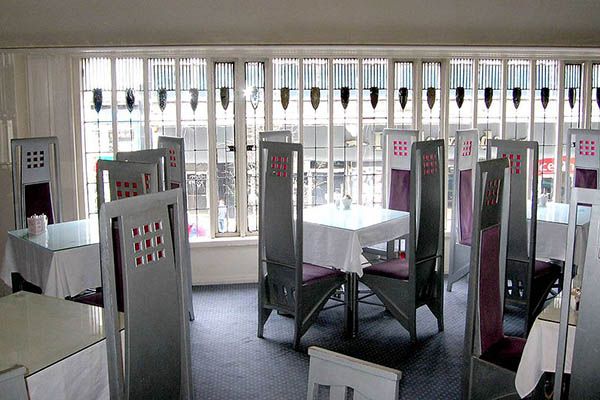 1903
Room de Luxe in the Willow Tearooms
Tea rooms were a popular alternative to working men's clubs in Glasgow and had arisen from the campaigns of Scotland's vibrant Temperance movement (which stood against the consumption of alcohol). Catherine Cranston opened a number of these tea rooms in Glasgow and all were designed by Mackintosh, to whom Cranston had entrusted complete creative freedom.

The Willow Tearooms, shown here as they appear now, were originally decorated with dark timber beam ceilings that were once again heavily inspired by Japanese design. Upon entering the building's entirely white facade, visitors were naturally guided around the space by the tall back chairs and assortment of decorative metal screens. A repetitive series of wall panels showcased images of roses, peacocks, tall women, and fruits. The motifs were all directly related to systems of thought outlined by the Symbolist avant-garde and accordingly, often spurred controversy as visitors read sexual connotations in the work. Art historian, Alan Crawford interpreted these opinions to highlight "a gap between public, ornamental functions and private, symbolic meanings."

Mostly, such controversy was encouraged in order to increase footfall through the tea room. Mackintosh even designed the dresses and chokers of the serving waitresses, arranged and ordered the flowers, and designed different colored bells for ordering with glass balls which dropped to the kitchen. This was indeed a "total design", and the famous architecture historian, Nikolaus Pevsner noted that "[i]n the Cranston tea-rooms extraordinary effects were created in the surroundings...".
Wood, glass, textiles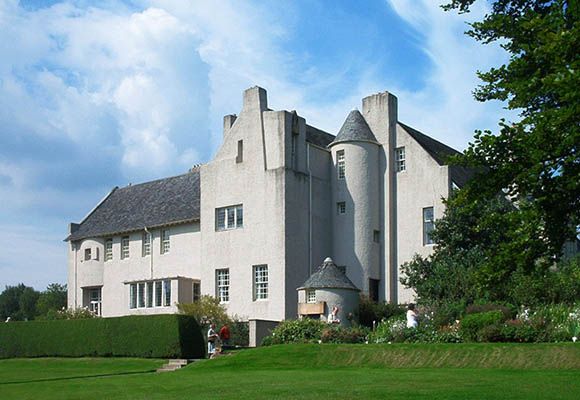 1904
Hill House
This building once again highlights Mackintosh's eclectic tastes and influences. He said himself, "It is not an Italian Villa, an English Mansion House, a Swiss Chalet, or a Scotch House. It is a Dwelling House." Here in particular, as well as traces of the Scottish Baronial style, there is also strong influence coming from the Arts & Crafts movement, and more specifically, from the architecture of CFA Voysey.

Incredibly thick walls push the front door into a recessed portico so it appears like a portal between two different worlds, that of Mackintosh, and that of everyone else. Indeed, it was the interior of this building that was designed first and the Fiells note that "each of his architectural and interior projects must be considered as complete organic unities in which the whole was very much more important than the sum of the individual parts." The library, similar in part to that of the Glasgow School of Art was built of tall, dark wood and surrounded by highly colored and enameled glass. Light floods into the house from the top of the stairs and the reflections from stained glass windows - featuring flowers and nude women - change as the sun moves throughout the day. For the exterior, Mackintosh presented his usual asymmetrical window organization, and solid and yet still somehow soft-looking walls.

Since the terrible fires at The Glasgow School of Art, Hill House is now the only Mackintosh building to still stand in its entirety.
Stone, iron, glass, wood, textiles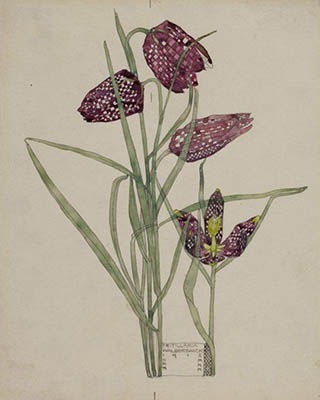 1915
Fritillaria
By 1900 Mackintosh's flower studies had begun to emerge as an important part of his overall body of work. Having left London and staying in Walberswick in Suffolk he completed approximately 30 flower watercolors in a standard format intended for a book publication. Unfortunately this plan did not come to fruition due to the onset of the First World War.

In this example the washes are saturated while still stylized and as such, Cairney noted that they show "botanical exactness coupled with... artistic fancy." Many of Mackintosh's flower paintings and other botanical illustrations were created in collaboration with Margaret Macdonald. Indeed they are signed with both artists' initials, 'CRM MMM'. The font of this text is a special one invented by Mackintosh and links this later work to the posters that he had produced earlier in his career. Mackintosh noted how "Art is the Flower - Life is the green leaf. Let every artist strive to make his flower a beautiful living thing... you must offer the flowers of the art that is in you - the symbols of all that is noble - and beautiful - and inspiring." This watercolor also serves as an important midway point between earlier Symbolist watercolors that were translated into design features, and his more commercially minded landscape paintings made whilst living in France.
Watercolor - Hunterian Museum & Art Gallery, Glasgow
Similar Art
Related Artists
Related Movements & Topics