Biography of Caspar David Friedrich
Childhood and Education
The sixth of ten children, Caspar David Friedrich was born into a strict Lutheran family. He became familiar with tragedy at an early age, losing his mother when he was seven, and two sisters to childhood illnesses. Perhaps the most impactful loss was the death of his brother, Johann, who drowned while trying to rescue the then thirteen-year-old artist when he fell through the ice.
Educated by tutors, Friedrich began taking drawing lessons in 1790 from university professor Johann Gottfried Quistorp. His early interest in art was encouraged and at the age of twenty, he enrolled at the Copenhagen Academy. In addition to studying the masters, he developed his lifelong interest in nature and landscape. Importantly he also submersed himself in spiritual and mystical poetry that would serve to influence his later work and provide the foundation for his role as one of the leaders of German Romanticism.
Early Career
In 1798, the artist finished his studies and moved to Dresden, where his work found an admiring audience. From these earliest paintings, Friedrich espoused Romantic ideals, including the spiritual potential of art and the expression of religious sentiments through the power of nature. According to the artist, "man's absolute goal is not man, but the divine, the infinite. It is towards art, not the artist, that he should strive! Art is infinite, finite all artists' knowledge and ability." For Friedrich the landscape became the primary vehicle for rendering visual manifestations of the sublime, as can be seen in The Cross in the Mountains (1807-08) and Morning Mist in the Mountains (1808).
During these years of the Napoleonic Empire, Friedrich's investment in the landscape also carried political significance as he depicted typically German sites with a sense of pride and power practically beyond worldly limit. Until the fall of Napoleon in 1815, many of Friedrich's contemporaries interpreted his paintings through this lens of political self-determination and cultural heritage, believing they held the promise of future independence from foreign rule.
Mature Period
Quickly gaining recognition as one of the leaders of the Romanticism movement in Germany, Friedrich's 1816 election to the Dresden Academy resulted in a steady salary. This allowed for his 1818 marriage, at the age of forty-four, to Caroline Bommer with whom he would have three children; two daughters and a son. Despite his reputation as a solitary figure who had once stated, "in order not to hate people, I must avoid their company," the marriage had an immediate impact on his career. He began depicting his wife in some of his paintings, transforming his well-established motif of a lone figure immersed in the landscape to occasionally feature a couple.
Friedrich gained the attention and patronage of important international figures. The recognition he received when The Monk by the Sea (1808-10) and Abbey in an Oak Forest (1809-10) were exhibited at the Berlin Academy brought him into the path of Prince Friedrich Wilhelm Ludwig of Prussia who bought the two paintings. The ruling family would continue to support the artist until his liberal political views caused him to fall out of favor. His art was also well received in Russia as Tsar Nicholas I purchased some of his works for his court. In 1830, Prince Alexander of Russia commissioned the artist to make a series of transparent pictures (now lost) that were to be exhibited lit from behind in a darkened room in combination with music.
Friedrich's Romantic sensibilities found a kindred spirit in the famous German poet Johann Wolfgang von Goethe, whose writings epitomize the literary iteration of the movement (Goethe was actually much older than Friedrich, and already a star by the time they met). Yet Goethe's systematic work with color theory suggests a more objective and methodological approach to the visual arts, which underpinned their 1816 falling-out. Goethe suggested that Friedrich should paint clouds as a way of documenting their various types; Friedrich disagreed, feeling such studies were not in keeping with the Romantic ideals of the divinity of nature and would be merely a scientific exercise.
Later Period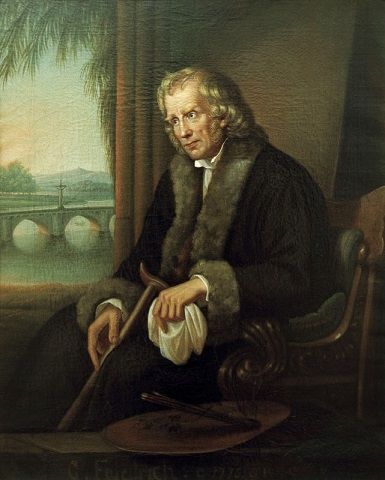 The losses experienced by Friedrich in his early years were echoed once again in later life. The 1820 murder of his friend and fellow artist Gerhard von Kügelgen sparked a severe depression, during which he turned to teaching as a means of solace and comfort. During this decade, his career suffered from a growing interest in Realism and Naturalism in German art; Friedrich's loyalty to Romantic landscapes fell out of fashion. This contributed to him being denied the position of landscape painting chair at the Dresden Academy in 1824. Shortly after he fell ill, lacking the strength to paint in oil until 1826.
By 1830, the already solitary figure had disengaged further from public life. He grew increasingly melancholy and suspicious of friends and his wife whom he wrongly believed was engaging in infidelity. Choosing to stay in the privacy of his studio and entertaining only his closest friends and family, some scholars have interpreted his later works as gloomy meditations on death and the passing of time. Still these last years of his life were productive, seeing the creation of important works such as The Stages of Life (1835).
On June 26, 1835 Friedrich suffered a stroke that left him partially paralyzed and again limited his artistic output to drawings. Before his death in May of 1840, he suffered a second stroke and was reduced to poverty.
The Legacy of Caspar David Friedrich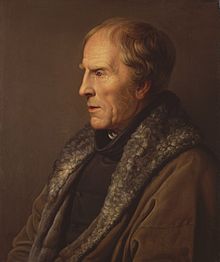 As part of a second wave of German Romantics, Friedrich expanded beyond the ideas of symbolism embraced by the Nazarenes to create a new, sparse language of evocation rather than illustration. His dedication to landscape painting as an alternative to traditional religious or history painting, encouraged his contemporaries to reconsider the genre.
This elevation of the landscape format would have national and international impact. Many American artists studied in Dresden, Germany during the 19th century and learned from Friedrich's example. In particular, the artists of the Hudson River School similarly created awe-inspiring landscapes laced with spiritual and political significance.
Friedrich's suggestive use of symbols to imply deeper meanings was also an important example to the 19th-century Symbolists and the 20th-century Surrealists, who also embraced his creation of poetic moods. Furthermore, his minimalism and broad fields of color were foundational to Abstract Expressionism and Color Field Painting. This was confirmed in a 1961 article where art critic Robert Rosenblum directly established a link between the then developing Color Field Painting movement in America to Friedrich's The Monk by the Sea (1808-10).
In Germany, Friedrich was considered the quintessential struggling, and triumphant creative spirit; to the point where Nietzsche is said to have had him in mind as the archetypal human that infused his philosophical theories of a passionate, productive existance. More infamously, Hitler used the artist's creations as proof of German superiority to other races.
In more recent years, the rehabilitation of Friedrich's work from its abuse by Nazi propagandists has influenced new generations of modern German artists such as Anselm Kiefer and Gerhard Richter. He provides an example of strong Germanic heritage while also showing quiet evocations of absence and loss, important themes in postwar European painting.
Content compiled and written by The Art Story Contributors
Edited and revised, with Summary and Accomplishments added by Sarah Archino
"Caspar David Friedrich Artist Overview and Analysis". [Internet]. .
TheArtStory.org
Content compiled and written by The Art Story Contributors
Edited and revised, with Summary and Accomplishments added by Sarah Archino
Available from:
First published on 14 Jul 2017. Updated and modified regularly
[Accessed ]