Progression of Art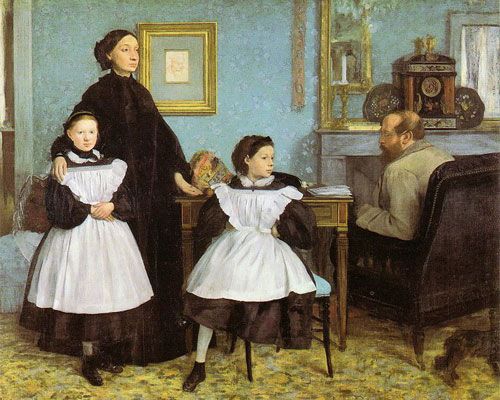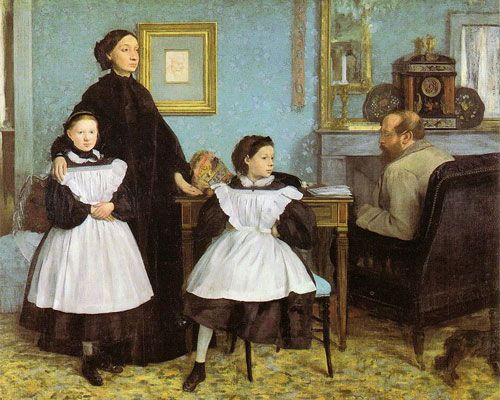 1858-67
The Bellelli Family
This portrait, with its subdued palette and its unconventional grouping of figures, such as the man having his back to the viewer, demonstrates the impact of Realism on the young Degas. He created it over the course of several trips to Italy, spanning 3-4 years. Each family member — his aunt, her husband and his two young cousins Giovanna and Giuliana — was sketched individually, and then organized into a family portrait, becoming more of a study of individual personalities than a study of them as a group.

Degas had the chance to spend much time with his aunt and her family, but it was not an altogether happy family. The aunt was disappointed in her husband, away from home, and mourning her father's passing. So this early, breakthrough work is also a reflection on Degas' (relatively limitted) experience in a family setting. Here, the father is suggested to be emotionally distant from his wife and daughters, while the mother stands dignified and decisive. Giovanna on the left is clearly the mother's favored daughter, while Giuliana, with one leg poised, is positioned just so to suggest a division in her allegiance.
Oil on canvas - Musée d'Orsay, Paris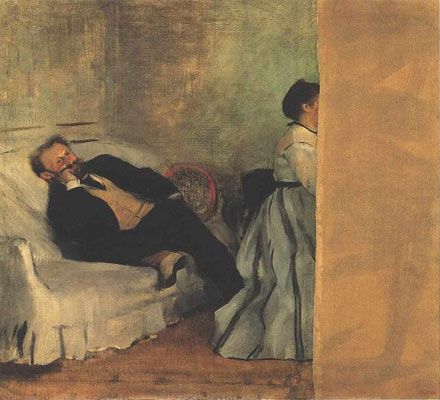 1868-69
Monsieur and Madame Édouard Manet
This unconventional portrait of Manet and his wife provides a wonderful example of Degas as the "distant spectator," capturing a moment of solitude that the subjects might prefer go unnoticed. However, a riddle surrounds it. Degas painted it as a tribute to his friends, and it originally showed Mme. Manet playing the piano. However, some time after he had presented the portrait to them, he visited their house only to discover the painting had been mutilated and the right of the picture had been cut away. Degas was furious and removed the picture, though it was never repaired. Some scholars believe it was the depiction of the disharmony in the relationship between the couple that was the reason that Manet slashed the canvas.
Oil on canvas - Kitakyushu Municipal Museum of Art, Japan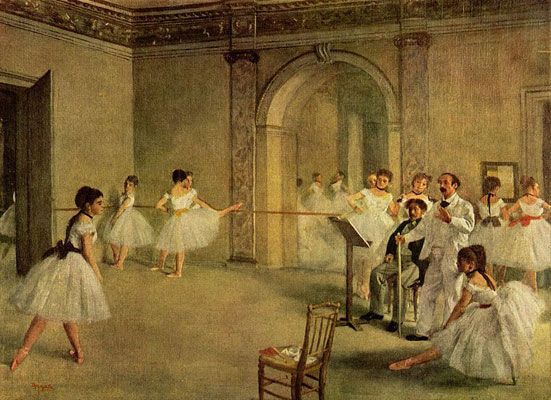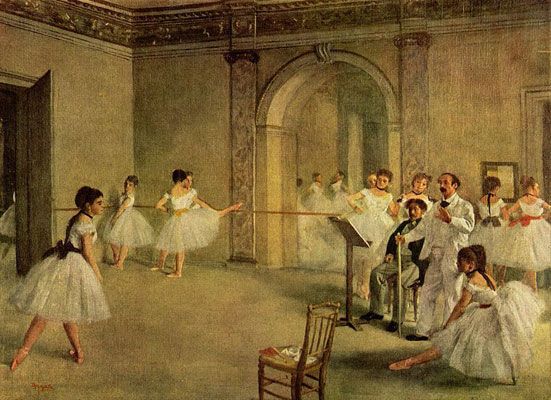 1872
Foyer de la Danse
There is something unique and alluring in all of Degas's studies of ballerinas, of which there are many. In Foyer de la Danse he presents us with one of the unconventional perspectives that are so typical and distinctive in his work. Rather than evoke the light and atmosphere of the scene, as some of his Impressionist peers might have done, Degas has chosen to create a striking arrangement of space, one which echoes the experiences his contemporaries might have had throughout the new modern city. To achieve this, rather than compose the figures in a more orderly and centered fashion, he has dispersed them about the canvas, leaving a chair incongruously placed in the center foreground. Instead of viewing the room as a traditional box-like container for the figures, he paints it at an angle, suggesting multiple vantage points, almost as if this were an early blueprint for Cubism. The approach is characteristic of his modern, realist approach to composition.

The author Sebastian Smee wrote that Degas had the idea "that when people were listening to music, their habitual self-consciousness switched off. Their tendency to present themselves, and to respond defensively to their awareness of being watched, was no longer an impediment to truth-telling. They had lost the power to censor themselves. Something more essential, more truthful would emerge, and play across their faces. Degas wanted to capture that." Indeed, often in his works music is playing, or else, for example, a woman is bathing and similarly dropping her guard.
Oil on canvas - Louvre, Paris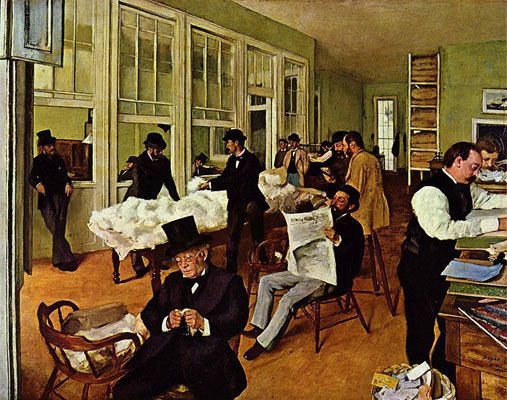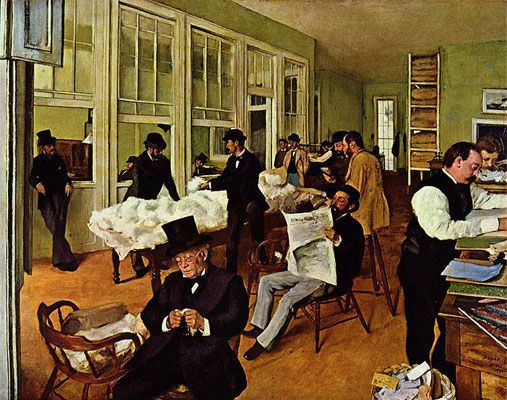 1873
A Cotton Office in New Orleans
Like his earlier study of the Bellelli family, A Cotton Office in New Orleans is the result of several individual sketches and careful attention to detail over a length of time. In the center, reading a newspaper, is Degas's brother, Rene, and in the foreground, somberly handling a ball of cotton, is Rene's father-in-law, Michael Musson, who operated the cotton exchange. Its complex handling of deep space and multiple figures is testimony both to Degas's skill in composition, and his love of striking perspectives, something that makes his work stand out from that of many of his peers among the Realists and Impressionists. He manages to knit together the fractured space by stretching areas of white across the center of the picture, letting our eye move from the cotton on the left, through the newspaper, to the shirt of the figure on the right.
Oil on canvas - Musée des Beaux-Arts, Pau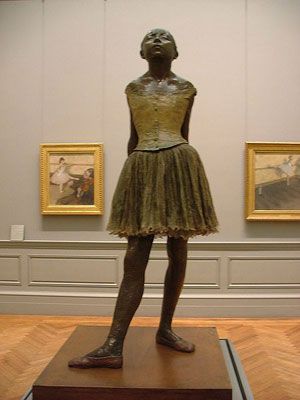 1881
Little Dancer of Fourteen Years
Originally cast in wax, with a skeleton comprised of paint brushes, Degas's study of the young ballet student Marie van Goethem was eventually cast in bronze in 1922, five years after the artist's death. In fact, 27 bronze sculptures were made. It is characteristic of a number of wax sculptures he produced after the 1860s. When he exhibited this figure at the sixth Impressionist exhibition of 1881 (the only such figure to be publicly shown), viewers were shocked by its realism. It is highly unusual in incorporating a miniature gauze skirt, silk bodice and fabric slippers, and in this respect prefigures the introduction of real objects into sculpture in the 20th century.
Bronze with cloth accessories - Metropolitan Museum of Art, New York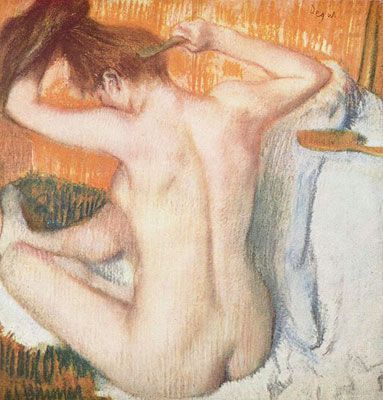 1884-86
La Toilette (Nude Arranging Her Hair)
La Toilette is typical of Degas's many nudes, and typical of an approach to the nude that made this body of work particularly controversial - both among his contemporaries and among latter-day critics. It demonstrates his tendency to capture the figure from behind, while washing; to show only a fragment of the figure in order to suggest the whole; and to place the figure in shallow space, allowing her contours to produce the strong linear design that balances the picture. Critics attacked his nudes for never having distinct faces, and seemingly to be wiping themselves as if they are not clean, as if Degas depersonalized his subjects.

Degas's interest in the nude might have been encouraged by his academic training, though his posing suggests the modern innovations of the Realists and Impressionists. Indeed when Degas exhibited a suite of pastel nudes such as this at the sixth Impressionist exhibition of 1886, critics attacked their unusual posing. The picture also demonstrates the artist's use of pastel, which he usually painted on tracing paper - the paper allowing him to produce numerous sketches that are easily manipulated across his many studies of form.
Pastel on paper - Pushkin Museum, Moscow
Similar Art
Related Artists
Related Movements & Topics