Progression of Art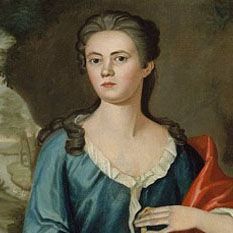 1753
Mrs. Joseph Mann (Bethia Torrey)
Though Copley was only 15 years of age when he produced this, one of his earliest known portraits, he had already had extensive access to early eighteenth century prints, and borrowed compositional features, such as posture and clothing, to inform his own portraits. Rather than plagiarism, however, it was the accepted practice for aspiring artists to self-learn by copying the work of earlier masters. Here, for instance, Mrs. Joseph Mann, the 22-year-old wife of a tavern keeper in Wrentham, Massachusetts, handles a string of pearls, and her attire, a white-trim, scoop-neck dress, mirrors directly a mezzotint of William Wissing's portrait of Princess Anne.

Despite the requirement to copy, Copley was already applying Bostonian traits that would appeal directly to tastes of his patrons. Here, for instance, Mrs. Mann is posed against an American landscape setting. Her portrait might have even been seen as provocative to conservative tastes since the removal of her necklace invites the suggestion that she is about to undress. Copley offsets this potential scenario however by raising her bodice to cover her cleavage. He also gives Mrs. Mann a cold detached stare which went against the more alluring gaze in the Princess Anne portrait.

Copley's portrait had manifold technical shortcomings - brushstrokes are still very heavy, there is little-to-no sign of textual subtly between sitter and her surroundings, and Mrs. Mann's anatomy (the little finger on her left hand for instance and her missing earlobe) lacks coherence - yet despite these flaws there is a great deal to admire in the fledgling work of an artist of such tender years. Notably, Mrs. Mann possess a very strong psychological presence and this, coupled with his bold use of color, had already started to distinguish Copley from his mentors.
Oil on Canvas - Museum of Fine Arts - Boston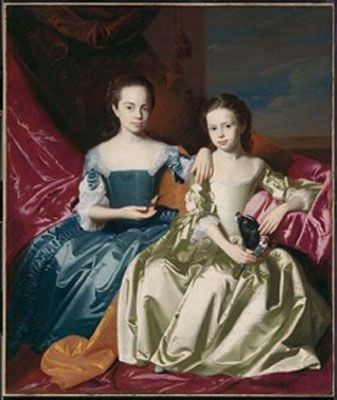 1758
Mary and Elizabeth Royall
An early commissioned portrait, Mary and Elizabeth Royall shows the two daughters of Isaac Royall, one of New England's most prevalent merchants. In the painting, teenaged Mary (on the left) and Elizabeth, her younger sister, gaze outwards. They are both dressed in rich, highly detailed jewel-toned dresses that indicate their wealth. As is common in his portraits, Copley used props to add meaning: Mary holds a pet hummingbird, which may suggest her father's trades in the West Indies, while the King Charles Spaniel (thought to have originated in East Asia) in Elizabeth's lap was a breed made famous in the seventeenth century through their association with King Charles II. The velvet drapes that surround them reinforces the sense of regal opulence in the work.

Art historian Paul Staiti remarked that the patron "undoubtedly hoped [the piece] would read as a pageant of his family's wealth". However, it is not only wealth that makes this portrait seem like the daughters' "coming out"; Copley also carefully rendered the sitters' personalities and their bond. Mary's left hand, which rests on her sister's shoulder, lends a casualness to the otherwise highly formal scene. This ability to innovate with the traditional genre of portraiture by capturing personality through small details in posture and expression set the artist aside, and made him Boston's most popular portraitist even at the age of just 22.

According to Erica E. Hirshler of the Boston Museum of Fine Arts, the "obedient pets and the girls' modest demeanor were [...] meant to indicate the girls' character, showing them to be polite, disciplined, well-mannered young women - good daughters and good future wives". As she says, "this projection did indeed come to pass" when Elizabeth married William Pepperell, the son of the merchant Deacon Nathanial Sparhawk, in 1767, and Mary married George Erving, the American diplomat (and later US consul in London) in 1775. Erving left for England in 1778 and was reacquainted there with Copley who painted a family portrait that included a posthumous likeness to Elizabeth who had died from dysentery in 1775.
Oil on canvas - Museum of Fine Arts, Boston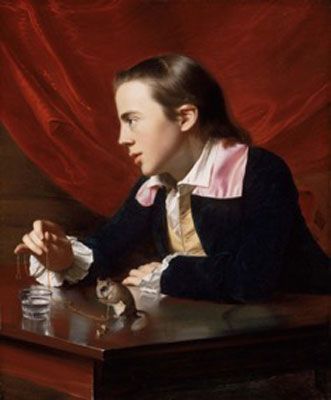 1765
A Boy with a Squirrel
A Boy with a Squirrel, considered by many to be Copley's greatest masterpiece, was the artist's first submission to the Society of Artists in London (in 1766). The subject is Copley's younger stepbrother, Henry Pelham, and was the first of his portraits to be exhibited overseas.

The varied elements of the composition offered the artist the chance to promote his technical abilities amongst his European colleagues; the image's textural complexity; its light and shadow, is in abundant evidence through the contrasts between the clothing materials, the water, the fur of the squirrel, the gold of the boy's chain, and the velvet backdrop. Yet perhaps the most striking formal feature of the painting is in the rendering of the highly polished mahogany table. Copley demonstrates his deft ability to capture reflections, shown here in the detail of the nut, the glass of water, the squirrel's white abdomen and even the sitter's white cuffs.

Copley also dared to show Pelham in profile which was exceedingly rare for portraiture of this period. Complementing its textural quality, then, Copley brings a psychological ambiguity to the portrait. Looking beyond the picture frame, Pelham could be observing an out of frame incident or, as seems more likely, he is caught in a state of adolescent reverie. The painting had been delivered to London by Copley's friend R. G. Bruce who returned to New England with the glowing endorsement of Sir Joshua Reynolds who wrote "in any collection of painting [A Boy with a Squirrel] will pass for an excellent picture, but considering the disadvantages ... you had labored under, that it was a very wonderful Performance". Reynolds was referring to Copley's limited circle of peers in Boston and the Englishman's endorsement finally persuaded him to further his career by relocating to London.
Oil on canvas - Museum of Fine Arts, Boston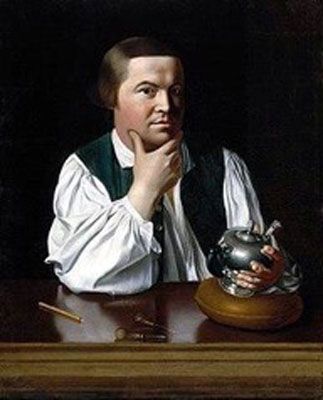 1768
Paul Revere
Copley's portrait of Paul Revere, the silversmith, and later folk-hero of the American Revolution, saw the artist turn away from his usual merchant subjects. The image, however, predates Revere's historic night-time ride to Lexington on the eve of the revolution that alerted the colonial milia of the approach of British troops (and thus allowing Revolutionary leaders John Handcock and Samuel Adams to escape capture). Here though he was meant to be viewed very much as an "ordinary" artisan. Revere, like Henry Pelham in Boy with a Squirrel, is shown sitting at a reflective polished wooden table. His right hand placed on his chin, Revere adopts a considered pose as he engages the gaze of the viewer. In his left hand is an undecorated silver teapot, while placed on the table are his engraver's burins.

On the one hand, Copley's painting presents an idealized version of Revere's working conditions: the table is too clean and polished to resemble a working bench and the silversmith's clothes and hands are washed clean. On the other, it is, by the standards of the day, a rather informal portrait. At a time when it was the norm for sitters to present in their "Sunday best", Revere is shown in his working attire, a choice that acts to displace his middle-class status. His shirt is fashioned from plain white cotton, he is missing any formal neckwear (such as a cravat) and his waistcoat is unbuttoned. Nor does he wear a jacket or wig, the latter being a staple status symbol for a person of Revere's social standing.

Though Copley prided himself on his political neutrality, his portrait of Revere, an engraver of political cartoons since 1765, carried political symbolism. A silversmith would craft many objects, such as buckles, cutlery, tankards and sugar tongs, yet the fact that he is pictured with a teapot seems like an overtly political gesture. A year before the painting was produced, the British government had passed to so-called Townsend Act which imposed taxes on tea (in addition to some other imported goods). Indeed, tea had by now become a divisive commodity and led, ultimately, to the Boston Tea Party of 1773 in which radicals raided vessels in Boston Harbor and threw the cargo of tea overboard.
Oil on canvas - Museum of Fine Arts, Boston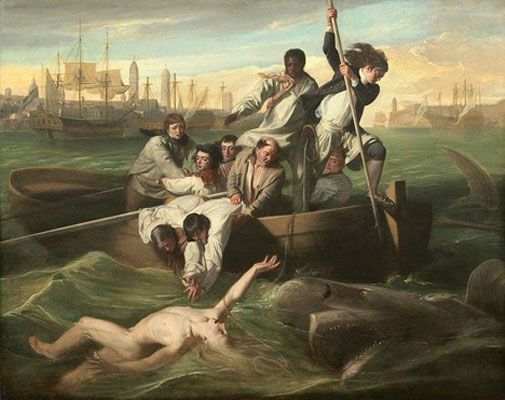 1778
Brook Watson and the Shark
In Brook Watson and the Shark, Copley applied his skills in portraiture to a narrative featuring multiple figures. The painting garnered widespread praise when exhibited in 1778 at the Royal Academy. The work depicts a real event from about 30 years prior where Brook Watson, a 14-year-old crew member on a trading ship in the West Indies, decided to abandon his heavy clothes and go for a swim. Soon after entering the water he was attacked by a shark. Here, Copley has pictured the dramatic moment where Watson is about to be rescued, just in time to save him from being attacked by the shark for a third time (close inspection of the lower-left corner shows that his foot is already missing). One reviewer at the Royal Academy felt moved to recommend the painting for the "softness of coloring" and the "frightened appearance of the man assaulting the shark".

Aside from being a prime example of Copley's ability to represent a dramatic story, weaving nuances into each figure through their expressions, the work was also a work of experimentation for the artist. Art historian Bryan Zygmont has compared the many figures, most notably the harpooners, to works by Raphael that Copley would have studied on a tour of Italy. Others have drawn connections to 18th-century French painting. Whatever Copley's formal influences, the work was unlike anything he had produced till that point. It also signals one of Copley's ambitions: to be accepted as a history painter which was then regarded as the noblest genre.

With the help of this composition, Copley, who was made an associate member of the Royal Academy of Arts in 1776, succeeded in his ambition of gaining full membership in 1779. In addition, this work was widely circulated in prints, and even prefigured the theme favored by Romantic artists whereby man is pitched against the forces of nature. As Historian James Thomas Flexner observed, Theodore Géricault's The Raft of the Medusa "is so close [...] in subject matter and conception that some critics believe that the French artist must have been influenced by an engraving after the American's picture".
Oil on canvas - National Gallery of Art, Washington, D.C.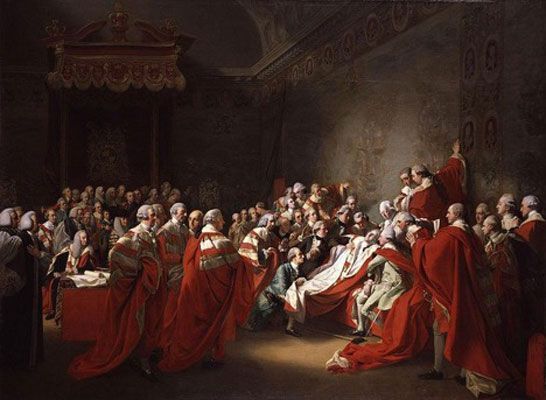 1781
The Death of the Earl of Chatham
The Death of the Earl of Chatham is one of Copley's most famous mature works. It exemplifies his skill at blending the best qualities of portraiture with history painting. Here, the Earl of Chatham is shown moments after he had delivered a speech to the House of Lords through which he sympathized with the plight of Americans despite arguing against independence. To create this 7.5 by 10 foot-canvas, Copley painted the likenesses of each present member of Parliament leading to some 55 individual portraits within the overall composition. On the surrounding walls, the artist included tapestries depicting Britain's defeat of the Spanish Armada.

The artist's dexterity at constructing compositions shines through in this work. Rather than placing the Earl of Chatham in the center, he has painted him slightly to the right. This allowed Copley to heighten the sense of drama through the use of light, guiding the viewer's eye to the collapsed figure. Doing so was an astute decision: with so many figures dressed alike in a small space, he needed to create open space in the composition to emphasize the event.

Both Copley and Benjamin West started compositions of this event, but West left his unfinished so as to not interfere with the possibility of his friend's success. It was a generous gesture based on the fact that Copley was struggling financially at the time. Indeed, the painting marked a pivotal shift in the artist's commercial outlook. Recognizing the special merits of the work, he rented a separate room to exhibit the painting on its own at the same time as the annual Royal Academy Exhibition, which featured works by Gainsborough and Reynolds, and charged for admission. He also converted the composition into prints for wider circulation. Copley's risk paid off. His single work exhibition brought in over 20,000 paying visitors, while the Royal Academy's exhibition lost about a third of its viewers. The merchants who supported Chatham also began to commission Copley for portraits, bringing him much needed commercial fortune.
Oil on canvas - Tate, London
Related Artists
Related Movements & Topics