Artists
John Singleton Copley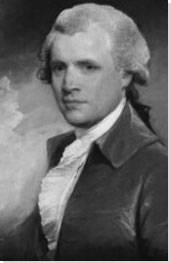 John Singleton Copley
American-British Painter
Movement: Neoclassicism
Born: July 3, 1738 - Boston, MA
Died: September 9, 1815 - London, United Kingdom

"In this Country [...] there is no examples of Art, except what is to [be] met with in a few prints indifferently exicuted [sic], from which it is not possable [sic] to learn much."
Summary of John Singleton Copley
Having almost single-handedly created a vision of what Federal Period art would be, Copley rightfully takes his seat in the pantheon of great American artists. The supreme colonial artist, and by common consent the greatest American painter of the eighteenth century, his portraits have become symbols for the US's merchant class and helped mark America's "coming of age" as an independent nation. Having moved to England, he matched his success in America by adding historical painting to his repertoire. Known as a figure with exquisite artistic and social skills, he became a key figure in the British art scene having been elected into the Royal Academy and receiving royal patronage until the end of his life.
Key Ideas
Copley's direct approach to characterization presented a challenge to the more romantic contemporary English society portraits from which he took his lead. His eye for direct observation gave rise to a series of natural portraits that conveyed the nobility and heroism of pioneers of the early American way of life.
In producing portraits of Paul Revere, and American founding fathers like Samuel Adams and John Hancock, Copley, albeit inadvertently, documented the building of the American nation. His sophisticated early portraits reveal the country's coming of age as a self-governing entity.
The excellence of Copley's portraits could be attributed in part to an academic foundation. A book of Copley's studies of the human anatomy (now housed at the British Museum) shows that he was making precise anatomical drawings before the age of twenty. His swift ascent and sustained eminence in England meanwhile was a result of his innate ability to handle paint and to produce images that overshadowed anything seen before by an American artist.
Copley was one of the pioneers of the private exhibition, promoting his art and marketing prints of his own work to mass audiences in England. As a result, Copley's work saturated the market to a degree that was then unprecedented in the history of commercial art.

A portrait of John Hancock by John Singleton Copley in 1765
John Singleton Copley was born in 1738 to Irish immigrant parents, most likely in Boston, Massachusetts. A tobacconist by trade, his father, Richard Copley, moved to the West Indies around the time of his son's birth in an attempt to improve his failing health. He would however pass away in the West Indies, leaving his son's mother, Mary Singleton, to manage the family business and to raise her son as a single parent.
| | | |
| --- | --- | --- |
| John Singleton Copley's childhood, life, career, and various anecdotes | | Read John Singleton Copley's Biography |
Important Art by John Singleton Copley

The below artworks are the most important by John Singleton Copley - that both overview the major creative periods, and highlight the greatest achievements by the artist.

Mrs Joseph Mann (Bethia Torrey) (1753)

Artwork description & Analysis: Though Copley was only 15 years of age when he produced this, one of his earliest known portraits, he had already had extensive access to early eighteenth century prints, and borrowed compositional features, such as posture and clothing, from these images to inform his own portraits. Rather than plagiarism, however, it was the accepted practice for aspiring artists to self-learn by copying the work of earlier masters. Here, for instance, Mrs. Joseph Mann, the 22-year-old wife of a tavern keeper in Wrentham, Massachusetts, handles a string of pearls, and her attire, a white-trim, scoop-neck dress, mirroring directly a mezzotint of William Wissing's portrait of Princess Anne.

Despite the requirement to copy, Copley was already applying Bostonian traits that would appeal directly to tastes of his patrons. Here, for instance, Mrs. Mann is posed against an American landscape setting. Her portrait might have even been seen as provocative to conservative tastes since the removal of her necklace invites the suggestion that she is about to undress. Copley offsets this potential scenario however by raising her bodice to cover her cleavage. He also gives Mrs. Mann a cold detached stare which went against the more alluring gaze in the Princess Anne portrait.

Copley's portrait had manifold technical shortcomings - brushstrokes are still very heavy, there is little-to-no sign of textual subtly between sitter and her surroundings, and Mrs. Mann's anatomy (the little finger on her left hand for instance and her missing earlobe) lacks coherence - yet despite these flaws there is a great deal to admire in the fledgling work of an artist of such tender years. Notably, Mrs. Mann possess a very strong psychological presence and this, coupled with his bold use of color, had already started to distinguish Copley from his mentors.

- Museum of Fine Arts - Boston

Mary and Elizabeth Royall (1758)

Artwork description & Analysis: An early commissioned portrait, Mary and Elizabeth Royall shows the two daughters of Isaac Royall, one of New England's most prevalent merchants. In the painting, teenaged Mary (on the left) and Elizabeth, her younger sister, gaze outwards. They are both dressed in rich, highly detailed jewel-toned dresses that indicate their wealth. As is common in his portraits, Copley used props to add meaning: Mary holds a pet hummingbird, which may suggest her father's trades in the West Indies, while the King Charles Spaniel (thought to have originated in East Asia) in Elizabeth's lap was a breed made famous in the seventeenth century through their association with King Charles II (and had in fact been linked with British royalty since the time of Queen Mary I's rule in the sixteenth century). The velvet drapes that surround them reinforces the sense of regal opulence in the work.

Art historian Paul Staiti remarked that the patron "undoubtedly hoped [the piece] would read as a pageant of his family's wealth". However, it is not only wealth that makes this portrait seem like the daughters' "coming out"; Copley also carefully rendered the sitters' personality and their bond. Mary's left hand, which rests casually on her sister's shoulder, lends a casualness to the otherwise highly formal scene. This ability to innovate with the traditional genre of portraiture by capturing personality through small details in posture and expression set the artist aside, and made him Boston's most popular portraitist even at the age of just 22.

According to Erica E. Hirshler of the Boston Museum of Fine Arts, the "obedient pets and the girls' modest demeanor were [...] meant to indicate the girls' character, showing them to be polite, disciplined, well-mannered young women - good daughters and good future wives". As she says, "this projection did indeed come to pass" when Elizabeth married William Pepperell, the son of the merchant Deacon Nathanial Sparhawk, in 1767, and Mary married George Erving, the American diplomat (and later US consul in London) in 1775. Erving left for England in 1778 and was reacquainted there with Copley who painted a family portrait that included a posthumous likeness to Elizabeth who had died from dysentery in 1775.

Oil on canvas - Museum of Fine Arts, Boston

A Boy with a Squirrel (1765)

Artwork description & Analysis: A Boy with a Squirrel, considered by many to be Copley's greatest masterpiece, is the first portrait painted by Copley with the intention of being exhibited at the Society of Artists in London (in 1766). The subject is Copley's younger stepbrother, Henry Pelham, and was the first of his portraits to be exhibited overseas.

The varied elements of the composition offered the artist the chance to promote his technical abilities amongst his European colleagues; the image's textural complexity; its light and shadow, is in abundant evidence through the contrasts between the clothing materials, the water, the fur of the squirrel, the gold of the boy's chain, and the velvet backdrop. Yet perhaps the most striking formal feature of the painting is in the rendering of the highly polished mahogany table. Copley demonstrates his deft ability to capture reflections, shown here in the detail of the nut, the glass of water, the squirrel's white abdomen and even the sitter's white cuffs.

Copley also dared to show Pelham in profile which was exceedingly rare for portraiture of this period. Complementing its textural quality, then, Copley brings a psychological ambiguity to the portrait. Looking beyond the picture frame, Pelham could be observing an out of frame incident or, as seems more likely, he is caught in a state of adolescent reverie. The painting had been delivered to London by Copley's friend R. G. Bruce who returned to New England with the glowing endorsement of one Sir Joshua Reynolds who wrote "in any collection of painting [A Boy with a Squirrel] will pass for an excellent picture, but considering the disadvantages ... you had labored under, that it was a very wonderful Performance". Reynold's was referring to Copley's limited circle of peers in Boston and the Englishman's endorsement finally persuaded him to further his career by relocating to London.

Oil on canvas - Museum of Fine Arts, Boston
More John Singleton Copley Artwork and Analysis:
Influences and Connections
Influences on Artist
Artists, Friends, Movements
Influenced by Artist
Artists, Friends, Movements

Interactive chart with John Singleton Copley's main influences, and the people and ideas that the artist influenced in turn.
View Influences Chart

| | | | | |
| --- | --- | --- | --- | --- |
| Artists | | Personal Contacts | | Movements |

Influences on Artist

John Singleton Copley
Years Worked: 1752 - 1815
Influenced by Artist

| | | | | |
| --- | --- | --- | --- | --- |
| Artists | | Personal Contacts | | Movements |
If you see an error or typo, please:
tell us
Cite this page

Content compiled and written by Ximena Kilroe
Edited and published by The Art Story Contributors
" Artist Overview and Analysis". [Internet]. . TheArtStory.org
Content compiled and written by Ximena Kilroe
Edited and published by The Art Story Contributors
Available from:
First published on 30 Nov 2019. Updated and modified regularly.


[Accessed ]